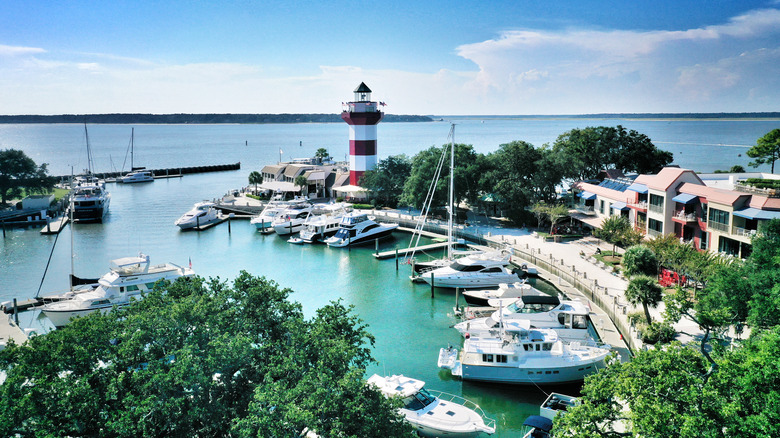 The thought of surviving a family vacation can sometimes feel daunting, but with the right location, lodging, and smart packing, it's sure to be incredible for everyone. There are plenty of popular American tourist destinations to consider, but South Carolina's Hilton Head Island should definitely top your list. It's only 12 miles long and five miles wide, but it's packed with family-friendly activities and can easily be reached from both Charleston, South Carolina and Savannah, Georgia. Among its many attractions are gorgeous hiking trails, miles of beaches right along the Atlantic coastline, golf galore, and restaurants and shops for every taste. It's really no wonder Hilton Head has repeatedly been voted the No. 1 island in the Continental U.S.
The island boasts a sunny, subtropical climate that's perfect for being outdoors all year long, which is a good thing because with all of the lush nature (think marshes, creeks, lagoons, and forests) you'll never want to be indoors. What's more, the focus here is really on fun for the whole family. Indeed, the island's many great resorts have made it a point to ensure that visitors of all ages have an unforgettable vacation.
To help make your planning a little easier, we've scoured the island's accommodation options to find the ones that put the most emphasis on varied family-friendly activities and have plenty of rave reviews. Here are the nine best resorts on Hilton Head Island for your next family vacation.
Disney's Hilton Head Island Resort
Calling all Disney lovers! Disney's Hilton Head Island Resort combines the charm of Hilton Head Island with a little Mickey magic for the ultimate family getaway. While the theme here is not as blatantly Disney as it would be in a theme park resort, there are still plenty of nods to the House of Mouse, including Mickey waffles at breakfast, outdoor Disney movie screenings, and bingo with Goofy. In fact, the resort's cast members have received endless praise on TripAdvisor.
As the resort notes on its site, it's designed in the style of a 1940s hunting and fishing lodge and it boasts a prime location right on the water. In addition to beach access, there are activities for every age. Families can borrow board games from the front desk, join in group activities (like campfire singalongs), or head over to Disney's Beach House. Located just 1.25 miles from the hotel via bike or a free shuttle, the area has a pool and clubhouse with plenty of games to keep the kiddos entertained. An epic family pool day is also a must. While older members can enjoy the Big Dipper pool, complete with a twisting water slide, younger kids can safely get in on the fun as they splash around the Little Dipper Pool.
Depending on the size of your family, you can choose from the deluxe rooms, which sleep up to four adults, or a villa, which can accommodate up to nine.
Hilton Grand Vacations Club Ocean Oak Resort Hilton Head
Hilton Head Island's claim to fame is its miles of beaches and the Hilton Grand Vacations Club Ocean Oak Resort takes full advantage of that. Located right on the Atlantic Ocean, the resort is focused on getting you as close to the water as possible, at all times. For one, there's direct beach access, but there are also two pools right by the water, as well as a cozy picnic area with charcoal grills by the coastline. What's more, the on-site restaurant, which is aptly named Oceanside Bar & Grill, has stunning water views and romantic seating areas placed around fire pits perfect for date night. While the adults soak in some culinary delights, the kiddos can let loose in the nearby kids' activity center, complete with popcorn, game consoles, and board games. Indeed, this hotel is all about family, and guests really appreciate the friendly staff, as well as the fact that they organize loads of kid-centric fun. "There was a weekly calendar filled with daily activities for the kids posted throughout the resort," shared one traveler. "Ours did not want to leave!"
Family travelers also love that the suites are more like condos, with lots of room for everyone, plus a full kitchen. Another highlight of this property is that it's just a 10-minute stroll to Coligny Beach Park, the most popular oceanfront park on Hilton Head. Here, you can ride bikes on the beach, enjoy the boardwalk, or rent beach chairs and bask in the sun and surf.
Omni Hilton Head Oceanfront Resort
If your family loves being active, the Omni Hilton Head Oceanfront Resort is right for you. Located in the luxe Palmetto Dunes Oceanfront Resort community, it will give you access to tennis courts, three golf courses, plus an impressive 11-mile-long lagoon system that can be explored by bike. Then, there's the huge pool complex which is one of the most impressive on the island. Water lovers of all ages will be able to get their pool fix thanks to two family-friendly pools (including a gorgeous palm-lined one that clocks in at 3,600 square feet!), an adults-only pool, and a splash pad for the youngest of guests.
Equally noteworthy is just how many activities there are to keep tireless kids busy. If you're looking to unwind with some me-time, Omni Hilton Head Oceanfront Resort has you covered. While you bask in the sun, kids can enjoy a children's playground made just for them or try their hand at outdoor ping-pong and life-size chess and checkers. What's more, this resort has a seasonal kids' camp for ages 4 to 13, which is supervised at all times and offers unique daily activities. But rest assured, the staff is happy to accommodate kids year-round. As one guest shared, they made her son's birthday extra special by "ensuring that when we arrived into our beautiful suite, there were pool toys for him, bubbles, crayons, and a super cute towel sculpture of a birthday cake."
The Westin Hilton Head Island Resort & Spa
While there are plenty of beautiful resorts to choose from on Hilton Head Island, The Westin Hilton Head Island Resort & Spa will soon boast what are perhaps the prettiest (and newest) guest rooms. That's because their serene suites are being fully renovated for 2023. This resort also has some of the best views around, which you can enjoy from your own private balcony. What's more, its impressive palm-lined pools (three, to be exact) are just steps away from the white sandy beach. The ability to land on a private stretch of pristine Atlantic beachfront in seconds is unique and not something you'll soon forget.
The Westin Hilton Head Island Resort & Spa boasts about the fact that it's located on the north end of the island, which is less visited by tourists and will provide a quieter, less crowded experience. That's not to say kids won't have a great time splashing around the pool, enjoying live music, and taking part in special, organized activities. Plus, foodies of all ages will absolutely love the resort's focus on delicious cuisine. There are four on-site restaurants serving traditional dishes from the South Carolina Lowcountry, using what the resort calls "farm and sea to table" ingredients. What's more, kids (and kids at heart) are sure to become obsessed with the firepit rentals, which come with a complimentary s'mores kit. Yum!
Sonesta Resort Hilton Head Island
If you prefer to do some major exploring rather than simply taking it easy on the resort grounds, the Sonesta Resort Hilton Head Island might just be your perfect choice. Whether you want to go bike riding, kayaking, enjoy some retail therapy, or bask in the great outdoors, this hotel gets you close to it all. Located on the southern end of the island, it's surrounded by a slew of activities and is just one mile from the Shipyard Golf Club and Coligny Plaza Shopping Center. Just an extra mile past that and you can be at the Vandermeer Tennis Center, Shelter Cove Harbour & Marina, or Audubon Newhall Preserve. Of course, you'll also want to take advantage of the resort's many amenities. There's a zero-entry lagoon swimming pool, an on-site spa, and three tasty restaurants. Plus, visitors absolutely love the beautiful, lush layout of the grounds.
This resort offers one of the best-supervised kids clubs around. The seasonal Just Us Kids club is open to kiddos aged three to 12 and offers activities that last the morning (complete with lunch), afternoon (accompanied by a snack), or the whole day. They've even got you covered if you'd like to have a special date night. Thanks to the Just Us Kids Night Out program, the little ones can enjoy dinner, swimming, games, and a movie from 6 p.m. to 10 p.m. while you spend some quality, adults-only time.
Marriott's Grande Ocean
Searching for a homey travel experience on Hilton Head Island? Marriott's Grande Ocean offers just that with its two-bedroom villas. The spacious properties are perfect for larger family getaways and feature a full-out living room, dining room, and stocked kitchen. Each villa also has a furnished balcony that's made for entertaining and, as soon as you step out into the resort, you'll be bombarded with more luxe amenities. Between three outdoor pools, an indoor pool, a fitness center, putting green, on-site restaurants, spa, and easy beach access, there really is something for everyone. There's even a seasonal kids' camp.
Another bonus is that this resort is located less than a mile from Coligny Plaza Shopping Center (perfect for some retail therapy!) and less than three miles from two lush nature reserves. Audubon Newhall Preserve is a 50-acre preserve with free guided tours and boardwalks surrounded by lush greenery while Sea Pines Forest Preserve has freshwater lakes, where kids of all ages can try their hand at fishing, as well as plenty of opportunities for bird watching and flower spotting.
Hundreds of travelers have rated it five stars on TripAdvisor and left glowing reviews about how friendly the staff is, how well-maintained the resort is, and the fact there's something for all guests. As one gushed, "We enjoyed two of the pools on property; the grilling out event; bingo (Tiana was the best!); bird wildlife presentation; and participated in the complimentary wine tasting!" It's no wonder many have vowed to return.
Palmetto Dunes Oceanfront Resort
The Palmetto Dunes Oceanfront Resort is not your traditional resort. The optimal destination for larger family groups (or simply ones looking for added privacy), this resort lets guests choose between spacious condominium-style complexes and vacation rental homes, meaning there's plenty of room for everyone. Not to mention there are specialty activities for every taste and age. As the resort itself boasts, "Kids need more than junior versions of parent activities — they need specially designed programs just for them," which is exactly what's delivered.
Golf lovers, for example, will enjoy trying out all three courses and yes, there are specialty programs that cater to even the youngest golfers. Meanwhile, tennis and pickleball aficionados will love year-round play at the Palmetto Dunes Tennis & Pickleball Center, which made it onto Tennis magazine's list of "The 50 Greatest U.S. Tennis Resorts." Not only do they offer classes for all ages and skill levels, but they also have more courts than any other center on the island.
And that's not all. This resort offers so many activities for kids and adults alike, you're bound to run out of time. Other highlights include cooking demos, surf lessons, wine tastings, plus fishing and boating adventures at Shelter Cove Harbour & Marina, the largest marina on Hilton Head Island. The dolphin cruises are especially memorable. Indeed, Family Vacation Critic loves the focus on family activities and multigenerational vacations. "Palmetto Dunes offers the epitome of a Hilton Head family vacation," they gushed.
Marriott's Barony Beach Club
Located in the lush Port Royal Resort area of Hilton Head Island, Marriott's Barony Beach Club will immerse your family in nature, as it brings you close to salt or freshwater lagoons, 19 walking paths along the Atlantic Ocean and Port Royal Sound, plus an Arboretum. Check into one of the two-bedroom, two-bath villas and you'll feel right at home with all of the amenities you'd ever need, including a full-sized kitchen and even a washer and dryer. Indeed, a number of family visitors have called out how great it is to have such spacious rooms that can fit the whole gang.
Head outside and you'll have access to top amenities, including golf and tennis courts, a spa and fitness center, an outdoor pool with water slide, a heated activity pool, a shallow kids' pool, and even a heated indoor pool, which you won't find at many other resorts. And while Planner at Heart notes there is no drop-off club for the kids, there are plenty of things for them to do, especially if they're a little bit older. Kiddos can enjoy lawn games, like bocce ball or cornhole, take a spin on the tree swings, or participate in courtyard activities, including bingo, movie nights, scavenger hunts, and ice cream socials. However, the one perk we're especially intrigued by is the resort's unique farmers' market online store: It lets you order groceries sourced from local farmers and fishermen, which are then delivered right to your door. Sign us up!
The Sea Pines Resort
Looking to immerse yourself in nature and get a little closer to some local wildlife? Then you need to look no further than The Sea Pines Resort. Located within the 5,000-acre Sea Pines community, it's surrounded by lagoons, saltwater marshes, tidal creeks, and, of course, miles of oceanfront beaches. Guests can't stop gushing about how entwined the resort is with nature and they love the fact that you can see dolphins from the pier and spot alligators in almost every pond. You can also try your hand at horseback riding or explore the Sea Pines Forest Preserve, which boasts wetland boardwalks, fishing docks, and plenty of opportunities to spot critters great and small.
Alternatively, you can ride bikes to the nearby Harbour Town Lighthouse (a must-see for all Hilton Head Island visitors!), enjoy some golf, or give tennis a go. What's more, being close to the Harbour Town Marina means fishing and dolphin-watching excursions are easy to organize and the chance to paddle with dolphins is sure to be a hit with folks of all ages. Not to mention the marina is the island's most popular and boasts shopping, restaurants, and live entertainment to boot. Another perk? You can choose from a whopping 400 rental homes and villas, so you can pick just the right location and amenities to best suit your family.