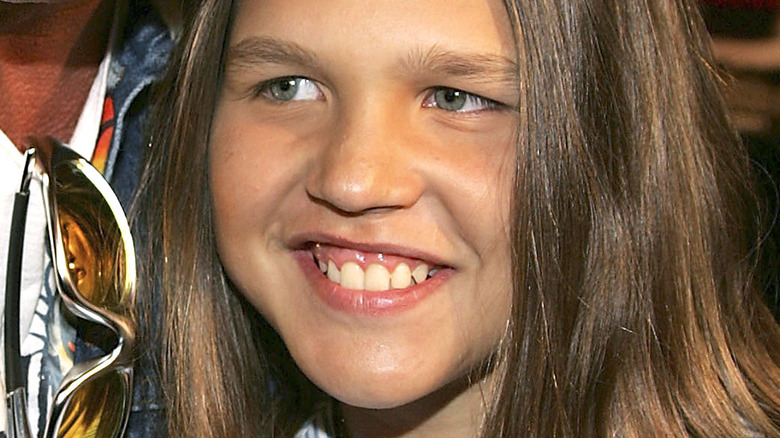 Remember Little Hercules? He was the pint-sized 8-year-old Ukrainian-American bodybuilder, making headlines in the early 2000s while making many of us feel very inadequate. He was cute as the dickens and scary as heck, in equal measure. He was dubbed The World's Strongest Boy, so naturally, such a title would suggest an eventual World's Strongest Man, yes? Not so fast.
As a young boy, instead of attending school and running around on a playground, Richard Sandrak (aka Little Hercules) followed an intense training regimen that resulted in a sculpted physique that put many adults to shame. But at what cost? His father allegedly pushed the younger Sandrak to extremes, and many people speculated that the boy took dangerous steroids in order to achieve his muscular frame.
So what does this short stack of shredded muscle look like now in his 20s? Would you believe his appearance is actually … pretty normal?
Little Hercules is proud of his past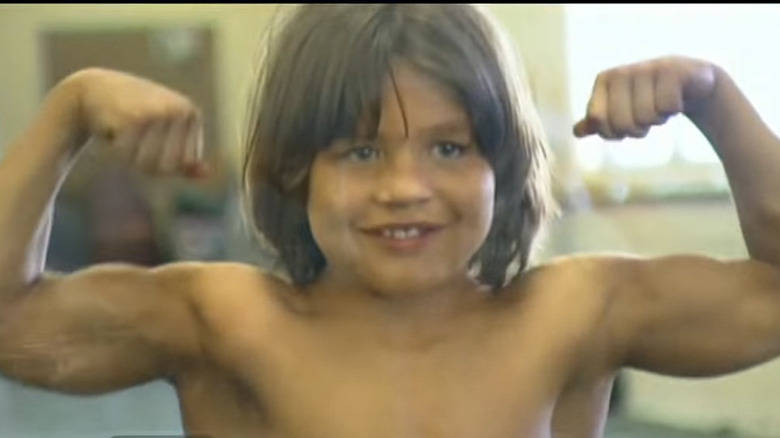 Richard Sandrak isn't upset about his childhood. On the contrary, as he told The Guardian when he was 15 years old, "I've never been forced to train or do anything against my will. My parents used to train all the time and I wanted to join in. It was mostly my choice. It's just what I grew up doing. I was never forced. It was never an issue." His choice or not, he endured a lot to be the bulked up boy who inspired and appalled people in equal measure. On top of the reported hundreds of push-ups and sit-ups a day, restrictions against junk food, and high-intensity interval training as punishment, it'd be understandable if Little Hercules had turned into a moody teenager, in light of the domestic violence incident that saw his father sent to prison.
Despite that, Sandrak said to The Guardian, "I have to say my parents are my heroes because they've helped me develop throughout my life." His manager cut in to say, "His father is no longer in the picture." So Sandrak finishes, "Yeah. I meant my mom."
As a teen, Sandrak resumed training with Frank Giardina, but gone were the days of hours-long sessions. Instead, the teenager followed a more relaxed regimen (though it might still look intense to some).
He got to bump elbows with some famous people
Like anyone, Little Hercules had good times and bad times. Because of his notoriety and unique build, he got opportunities that a lot of kids would have loved. He was able to attend the premiere of 2005's "Get Rich or Die Tryin'" with professional wrestler and professionally muscled man Hulk Hogan. Richard Sandrak later made his first feature film, titled "Little Hercules in 3-D," with Hulk Hogan, Elliott Gould, and several other big Hollywood names. The film wasn't particularly well-received, nor did it make much money, but hey, have you ever been in a film with Hulk Hogan?
Movie stardom was not to be, however, as a quick look at Sandrak's IMDb profile shows that he only appeared in a handful of projects as an actor and just a few as himself. Even though he might not have the career of Arnold Schwarzenegger, he actually went on to make waves in Hollywood — just in a different way.
Skateboarding and stunting
Is … is that really Little Hercules? It's been awhile. Now in his 30s, Richard Sandrak has proven not to be a big Hercules but a mortal human. Standing at about 5'8" or 5'9" (depending on the source), you would never guess he's the same person we met all those years ago, when he was 8 years old and shredded. At last report, Sandrak is a stuntman at Universal Studios Hollywood's WaterWorld show, performing feats such as being set on fire and diving into water from a 50-foot drop. Fun! Pictured: Richard taking a dive from afar. Now that he's not spending so much time at the gym, he keeps in shape by skateboarding, running, and other cardio. And, again, jumping off of platforms while on fire.
"No, I don't lift weights [anymore]," Little Hercules said in an "Inside Edition" interview. "If anything, it just got boring." And with that, he's blown our minds. The Little Hercules we knew didn't live for anything but weights. He seemed like the kind of person who got bored between reps. But given the pressures he was reportedly under, it's probably healthy that he's moved on to more normal pursuits in life.
Infinity and beyond?
There is a particular part of Richard Sandrak's "Inside Edition" interview that we'd very much like to highlight. You will notice, following the question, "If you could have your dream job today, what would it be," that less than half a second passes before Sandrak has given the question all the thought he needs to in order to give a perfectly chill reply. "Quantum scientist. For … more specifically, maybe even an engineer at NASA," he informed the interviewer.
In light of his past, he definitely seems like a cool guy: He loves his parents, he takes care of himself, he's proud of his past — it's enough to make you swoon, especially after the interviewer swoops back in for one last check on Lil Herc's NASA aspirations, asking, "Would you see that becoming a reality?"
But our man is unflappable. "Absolutely," he replies without hesitation. "There's no reason that it couldn't be." Oh, Little Hercules. We are swooning.