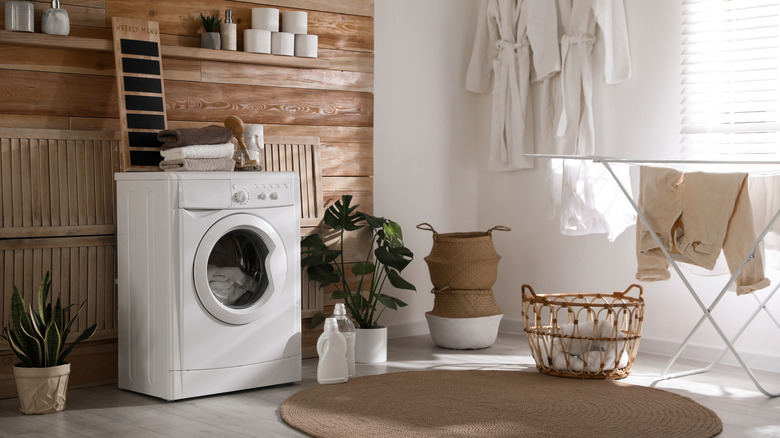 Having a laundry room is a great amenity in your home and makes the chore not only easier but much more streamlined and simple. That is, as long as it's organized. A chaotic, disorganized room can very quickly become overwhelming and make laundry even more of a hassle than it already is.
While it's not the most glamorous room in your home to decorate and organize, it's still important. There are also countless products and methods for organizing your laundry room for optimal efficiency and space-saving. The Happy Housie recommends using baskets for storing cleaning supplies, jars for laundry tabs and clothesline hangers, labeled caddies for laundry supplies, labels for clarity, and shelving or cupboards for extra storage, for example. The Container Store also recommends making use of wall and door space through hanging drying racks. There are plenty of ways to organize your laundry room — the key is finding a convenient one-stop shop for all the organizational supplies. The popular home improvement store Home Depot is good for more than tools or garden supplies — they also have great supplies for getting your laundry room in order.
Water hyacinth storage baskets
One simple way to organize any room, but especially your laundry room, is storage baskets. Home Depot's Seville Classics water hyacinth storage baskets, which come in a two-pack for $35, are a great option for those in need of some order in their laundry room. The small square baskets are made of woven water hyacinth and can be used to store any number of laundry supplies, including detergent, bleach, spot cleaner, towels, and more.
Storage baskets like these are great for displaying on open shelving for convenient but discreet storage and organization, adding decorative appeal to your laundry room, but they can just as easily be tucked away in your cabinets or cupboards. These particular baskets have a 4.5-star rating and an impressive 100% customer recommendation rate. The weave is aesthetically pleasing, but the wire framing helps keep it sturdy. They also have handles for moving them around the room as needed and can be folded flat.
Retractable accordion drying rack
While dryers are incredibly convenient and quick, they shouldn't be used for every single piece of clothing — some need to be air-dried. Certain types of fabric are prone to shrinking or stretching, or suffering other heat damage if run through the dryer, so you should hang them to preserve their shape.
Laundry racks can be bulky and unsightly in the middle of your laundry room, though. Home Depot's Danya B retractable accordion drying rack costs $153 and is discreetly designed as a wall shelf with an accordion-style rack that pulls out as needed. It can hold up to 20 pounds of clothing spread over 10 hanging rods and has five coat hooks placed under the rods, allowing you to use the shelf functionally even when it's folded back. There's a sizable top shelf for storing decorations or other laundry supplies. The wood shelf has a white finish, a 4.7-star rating, and a 100% customer recommendation rating.
Quadro laundry bin
One of the most important key elements of laundry room organization is having at least one laundry basket, if not a few. Home Depot's Wenko Quadro laundry bin is a large, sturdy laundry basket with a simple but attractive design, contributing to both the decoration and functionality of the room.
The basket comes in four colors — beige, petrol, gray, and red. They all cost $49.25, except the red shade, which costs $43.60. It's large and made of polyester with a water-resistant interior and privacy cover to hide your laundry between washes. This can also help keep kids or pets out of the basket, either getting into dirty toys and clothes or eating a sock. Its wheels allow you to roll it across the room to the washer and dryer or around your home to pick up dirty clothes and towels. The hamper has a 5-star rating and a 100% customer recommendation rate, with customers saying that it's a perfect size and rolls smoothly.
Wall-mounted folding drying rack
Having a foldable or collapsible drying rack is incredibly convenient for air drying your clothes, and even more so when it doubles as a work surface or folding station. Home Depot's Honey-Can-Do wall-mounted folding drying rack has a drying rack that folds out, meaning it can also double as a folding station.
This rack also can be hung on the wall or over doors, whether to another room or a closet. When not in use, the rack folds against the wall. There's also a small walnut-colored wood shelf on the top that can hold up to 10 pounds, whether that's an iron, detergent bottle, towels, decor, or other organizational tools, like the earlier mentioned baskets. Its sleek and simple design is versatile and the rack itself can hold 40 pounds of clothes. It costs $103, and it has a 5-star rating and a 100% customer recommendation rate.
Chrome rolling urban laundry center
Instead of a few larger hampers, consider adding one divided basket in your laundry room. As Home Storage Solutions 101 explains, creating a sorting system for your different types of laundry is very important for an optimally organized room. Home Depot's Honey-Can-Do chrome rolling urban laundry center has three separate, removable, and washable baskets for organizing dirty clothes.
The whole laundry center is made of chrome and is on wheels. It extends to 74 inches in height with a 30-inch wide hanging bar at the top, allowing you to hang dry or store hanging clothes. It also has a top shelf for extra storage. For $123, it comes with a limited lifetime warranty — and it seems customers are satisfied, with a 4.9-star rating and a 100% customer recommendation rate. Since it's on wheels, you can move it around your laundry room as needed. It has storage for dirty laundry, clean laundry, and either decorations or cleaning supplies.