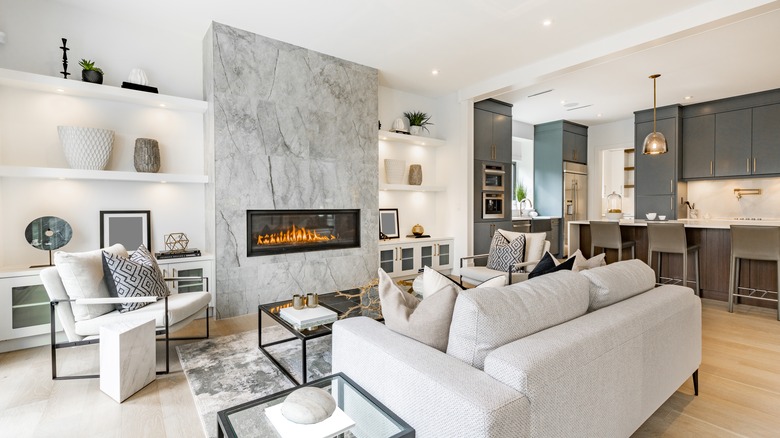 There are several reasons you may be considering a home renovation project. According to We Heart, most individuals who decide to take on a renovation project want to improve the functionality or appearance of their home. Beyond these more obvious benefits, however, there are several other reasons to consider a renovation projection. Renovating a home can increase the property value. Even if you're not looking to sell your home in the near future, you can still benefit from the increased equity in the property. Home renovation projects can also make a home more energy efficient, address safety concerns, and make a home more functional or welcoming.
However, home renovation can also be expensive — sometimes prohibitively so. Rocket Mortgage shares that it costs an average of $15,000 per project. If you don't have that type of money to invest in your home right now, all is not lost. There are some budget-friendly renovations that can help you enjoy many of the benefits home remodeling has to offer, without the hefty price tag that comes along with it.
Applying a fresh coat of paint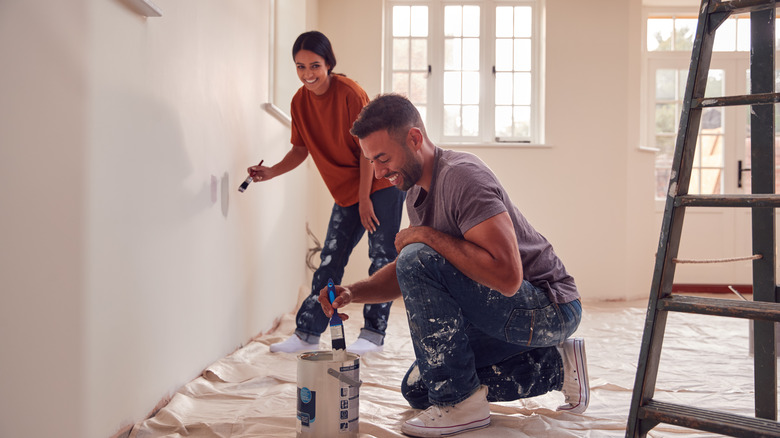 Repainting some of the rooms in your home is a relatively easy and cost-effective project. Great Goats Landscaping shares some of the benefits that applying a fresh coat of paint to interior living spaces can deliver. A fresh coat of paint does more than make your walls look nice. It can actually improve your mood. Chances are, the current color on your walls has been there for a long time. When you choose a different color, you're giving your brain something new to look at. The shade of paint you choose can also impact your overall mood and the feel of the space. For example, if you're looking to create a more relaxed environment, a green or blue color can be best. Conversely, if you want to make a more productive office space, try yellow.
Freshening up the paint can also decrease Volatile Organic Compounds in the home. Today, you can find low-VOC paints to use, while older paints — such as what may currently be on your wall — could be emitting VOCs into the air. Repainting your walls can also increase your home's value, help you update or modernize the look of the space, and protect your walls against damage or moisture.
Depending on how much time you have and your comfort level, painting is a home improvement project that you could tackle yourself. According to Angi, if you already have the majority of the supplies you need — like ladders, drop cloths, trays, and brushes — you may be able to complete an interior painting project yourself for under $200. Of course, that total could vary based on the specific type of paint you choose and the size of the room. Hiring a professional will be more expensive, costing an average of $1,100 per room.
Upgrading your door knobs
If you have mismatched or outdated door knobs, this is a relatively simple and low-cost home improvement project that you could tackle on your own. Door Locks Direct highlights some of the benefits of upgrading your door knobs. This small change can update the look of the home and keep it from having such an outdated feel. If your door knobs are currently mismatched, replacing them all with the same model can help make the home feel more put together. Alternatively, you could choose a few different styles or finishes when installing new knobs if you prefer an eclectic look.
Beyond the appearance of the home, updating old door knobs with new ones can also improve the safety of your home. New door knobs for your exterior doors may come with a deadbolt or feature better construction to keep unwanted guests from entering your home. If your old door knobs are loose, tend to stick, or are otherwise difficult to open or latch shut, a new set of door knobs can also help to make your home much more functional.
While you could hire a professional for this task, many individuals find that upgrading the look of their door knobs is a project they can tackle on their own. In most cases, you'll just need a screwdriver to remove the old door knob and insert the new one into the existing hole. However, if you'd prefer to hire someone to complete this project for you, Airtasker shares that installation costs start at $37, but could cost hundreds of dollars for more complex jobs, such as deadbolts.
Replacing bathroom and kitchen faucets
If your bathroom and kitchen faucets are outdated or don't work properly anymore, this is another relatively low-cost project that can deliver some of the benefits that remodeling brings. Ravinia Plumbing highlights some of the benefits that installing new plumbing fixtures has to offer. They note that new faucets can help increase the home's value. Homeowners may be able to get back as much as 85% of the costs of completing remodeling projects in a kitchen or bathroom.
New kitchen and bathroom faucets can also help a home feel more updated and modern. Even when they're functional, older fixtures just look old and outdated. Newer pieces are sleek and modern. They also come in different finishes — like brushed nickel or brass — to match the rest of the accessories in your kitchen or bathroom.
According to Forbes Home, purchasing and installing a new faucet in the kitchen or bathroom typically costs between $150 and $400. Your location, the type of faucet, and any special features (such as touch sensitivity) can all impact the overall cost of the faucet itself and the price you can expect to have it installed by a professional.
Enhancing the lighting in your home with LED bulbs and fixtures
You can also consider installing new lighting fixtures in your home to give it a more modern feel. Even if you don't have the time or money to consider all new lighting fixtures, there's a small change that can still have a huge impact on the space — replacing traditional bulbs with LED light bulbs. Medford Remodeling shares how LED lighting helps to make a room look much brighter. They can be used for both accent lighting and primary lighting in a space, and, depending on the features offered by the light fixture itself, are often dimmable. You can even find color-changing LED lights to really change the look of your space.
LED bulbs are also long-lasting. They may last for up to 100,000 hours of continuous use, which would mean the bulb could potentially last for 11 years. LEDs are also a good option for outdoor use because they can resist the elements. With LEDs, you also don't have to wait a few seconds for the bulb to brighten up all the way. The same cannot be said about other types of lighting, which often turn on at a lower brightness level and take a few seconds to reach the full brightness you desire.
Another huge benefit of LED lighting is that it is more eco-friendly than choosing other types of lightbulbs. Fluorescent bulbs are made with mercury, which means they can pose a risk to the environment if they are broken or discarded. Plus, with their significantly longer lifespan, LED bulbs can cut down on production needs and waste. According to the Department of Energy, switching to LED lighting can also save an average of $225 in energy expenses.
Painting the kitchen cabinets
If you're tired of your outdated kitchen, but don't have the funds for a full kitchen remodel, there are other ways to upgrade the look of the space. One relatively inexpensive option is to paint the kitchen cabinets. According to Frei Remodeling and Construction, applying a fresh coat of paint to kitchen cabinets can help modernize the overall look of the kitchen.
Paint also offers protection against moisture and heat. We all know that there can be a lot of heat and moisture present in a kitchen, so this is a pretty big benefit for protecting the wood and helping the cabinets last longer. Painted cabinets are also less likely to show dust, helping your kitchen look cleaner. Plus, paint allows you to change the look of your kitchen. You can choose any cabinet color you like — from a more traditional white to a bolder blue or red. Consider the look of the counters and the rest of the space and whether you're looking to make a statement with the color you select.
Painting your cabinets instead of replacing them can also deliver huge savings. Forbes Home notes that painting kitchen cabinets typically costs between $400 and $1,250, depending on the size of the kitchen and other factors. You may even be able to complete this task yourself for as little as $200. Compare this to the cost of purchasing new kitchen cabinets, which generally costs between $4,000 and $13,000, according to Home Advisor.
Adding a new kitchen backsplash
Another way to enhance the look of your kitchen is to add a new kitchen backsplash. MSI explains why a kitchen tile backsplash is a good addition to any kitchen. There is such a wide range of styles and colors of tiles, that you can customize the look of your kitchen and add character. You may decide to opt for a neutral subway tile or choose something with brighter colors to serve as the focal point of your kitchen.
A tile backsplash does more than just improve the way your kitchen looks, however. It also works to create a barrier between the wall and the rest of the kitchen. With all the moisture and water in a kitchen, this can be very important for protecting the walls against water damage. Tile is also much easier to clean than painted walls. If something splatters on the walls when you're cooking, you can just use a sponge with some warm water to remove the mess from the backsplash. You also won't need to worry about the tile getting damaged by the ingredients you're cooking with or water, which may not be the case with painted walls.
Angi shares that the cost to add a kitchen backsplash is typically between $600 and $1,300. A range of factors, such as the complexity of the tile pattern, the size of your kitchen, and the amount of labor that will be required to install the backsplash can all impact the price. The type of tile you choose can also play a huge role in determining the final cost. For example, ceramic tiles may only cost about $2 per square foot, while marble can cost upwards of $95 per square foot.
Restoring your deck
If your deck has seen better days, it doesn't necessarily need to be replaced. SNL Painting explains that wood decks can show signs of damage and wear from rain, snow, sun, and other causes. Sometimes the wear and damage are minor, other times it is much more severe. Wood deck restoration can help you make an older or more worn deck look new again. The degree of damage will impact the level of restoration needed, with some decks just requiring a new coat of stain and others requiring a full restoration treatment.
Restoring your deck offers several benefits to your home. First, it can help improve the appearance of your space. With a new stain, your deck will look new again, creating a more welcoming space. Similarly, restoring a deck can increase the value of your home, helping you get more money should you decide to sell.
Maintaining a deck is also important for safety reasons. Keeping up with restaining every few years helps to prevent the wood from rotting or deteriorating. If the wood does rot, it can pose a safety hazard and will cost a lot more money to fix. In some cases, it could even be necessary to completely replace the deck if too much of the wood has rotted.
Refinishing hardwood floors
You can breathe new life into hardwood floors by refinishing them. According to Bona, wood floor refinishing involves removing the existing finish and then applying a new finish to the floors. The refinishing process involves sanding the floor down, which can also help with removing dents or scratches from the surface.
There are some signs to look for that can help you know if it is time to refinish your floors. These include scratches on the floors, discoloration, stains that won't come off, and water damage. Hardwood floors are thick enough to be sanded and refinished up to six times, so even if this is a project you completed years ago, you can still renew your floors again. In addition to cleaning up scratches, dents, and areas of discoloration, a refinishing project can help you update the look of your home. If desired, you can remove the current stain color and sand down to the original wood. This gives you the freedom to choose a different stain to change the look and feel of your space.
Refinishing hardwood floors tends to cost between $1,082 and $2,552, according to Angi. The exact cost to refinish your floors will depend on the number of square feet, where you live, and the contractor you hire. You could potentially complete this task yourself for between $500 and $1,000. However, it is relatively complicated and if you sand too much or don't sand properly, you could damage the floors to the extent that they need to be replaced.
Giving your fireplace a makeover
Kylie M. Interiors shares several ideas for upgrading the look of your fireplace on a budget. If you're tired of the outdated brass surround on your fireplace, consider painting it. Many brass surrounds can even be removed, allowing for an easier painting job. To paint the brass surround, you'll need to start by sanding down the shiny surface to make sure the paint will stick to it. Then, apply a heat-resistant primer followed by a heat-resistant spray paint in your desired finish and color.
Another way to upgrade an outdated fireplace on a budget is by using simple tiles. If you have old tile around your fireplace, try covering it with peel-and-stick tiles. These are available in a range of styles and colors to help you make your fireplace an attractive part of your living space.
Applying a fresh coat of paint to the mantel can also help enhance the fireplace's appearance. Sand down the finish, apply a coat of primer, and paint the mantel with a new color to upgrade its look. Again, there are a nearly unlimited number of color options, so you can find the perfect color to coordinate with your space. In addition to painting the mantel itself, you can also consider painting the brick or stone hearth if you're tired of its look.
Installing a closet organizer to declutter the closet
Do you dread opening the closet door and trying to find what you're looking for? If so, consider making your space more functional and attractive with a closet organizer. According to The Closet Works Inc., a closet system can help keep your closet in order and make it easier to find what you're looking for. You'll have space to hang items or place them in drawers or on a shelf, depending on the layout you choose.
With an organized closet, you'll have more time to do what you actually need to do in the mornings, rather than hunting for a hidden item in the closet. Closet organizers also help to make the most of the room. This gives you the chance to use more vertical space which can allow you to store even more items.
As with other projects, the cost to install a new closet organizer can vary. According to Home Advisor, some of the factors that will impact the total project cost include the material of the organizer you choose. Additional features and accessories, such as cabinets, drawers, baskets, shoe racks, and lighting, can also impact the total cost. The typical range for installing a closet organizer is between $685 and $2,568.
Hiring a professional to deep-clean your carpets
While keeping up with regular vacuuming is important, having your carpets professionally cleaned can deliver additional benefits and help make your home feel more updated. West Hartford Carpet Cleaners shares that professional carpet cleaning is more effective than simply vacuuming.
While vacuuming simply uses suction to remove dirt and debris, carpeting cleaning utilizes some sort of cleaning agent — such as steam or shampoo — to remove stubborn dust or dirt. A professional carpet cleaning also helps to return the carpet's nap to its original height. If your carpets are looking particularly beat down, a carpet cleaning could help bring them back to their original appearance. Using shampoo or steam, rather than just the suction from a vacuum, also helps to sanitize the carpets and gets rid of contaminants. Moreover, it can also be effective at removing pet odors or other unpleasant smells that seem like they'll never go away. Similarly, professional cleaning can also benefit individuals who suffer from allergies by removing irritants from the carpets.
If you're looking to have your carpets professional clean, Angi says that you should expect to spend an average of $180, with prices typically ranging between $123 and $240. You may end up spending more if there are tough stains to remove or if you have a large home with lots of carpeting. The area in which you live can also impact the price that a professional will charge.
Giving your front yard a facelift
Think beyond the inside of your home when looking for ways to upgrade it on a budget. American Home Shield shares different ideas for enhancing your home's curb appeal without spending a lot of money. They note that a few small touches can go a long way in making the outside of your home more welcoming and attractive. One area to consider is your front porch. Think about applying a fresh coat of paint to the front door and replacing its hardware to make it look more updated. You can also elevate the look of your porch with some faux tile or by power washing it and the walkway approaching it.
Another way to improve your home's curb appeal is by hiding some of the less-attractive elements, such as trash cans, cable boxes, and air conditioner units. Consider placing wooden lattice panels around these elements to keep them out of sight. Planting bushes around them — with sufficient room to grow — can also work to keep them hidden. Improving your yard's landscaping with some new flowers or bushes can also help improve its overall look. You could even add a few planters along the walkways or on your front porch for pops of color and a welcoming vibe.