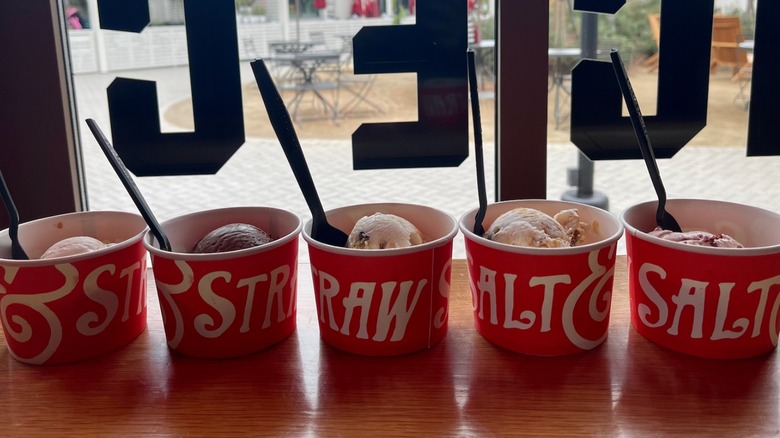 Salt & Straw leveled up its dairy-free ice cream game before the end of the year. On December 30, the ice cream shop launched a new menu of limited-time dairy-free ice cream flavors inspired by Americana desserts. This line strives to embrace indulgence and showcases the shop's creative approach to vegan ice cream.
These flavors join Salt & Straw's extensive vegan offerings, including classics like Freckled Mint Chocolate Chip and Marionberry Coconut Sherbet. The brand even offers a monthly vegan "Pints Club" ice cream subscription. This ice cream chain will make your dessert dreams come true if you need or want to steer away from dairy. And for those who don't mind dairy, trust us, you won't even taste the difference.
When we heard about the Dairy-Free Decadence Series, we knew we had to get our hands on these scoops. We tried the new lineup of dairy-free ice cream flavors at Salt & Straw, and our favorite flavors may surprise you.
What flavors and ingredients are included?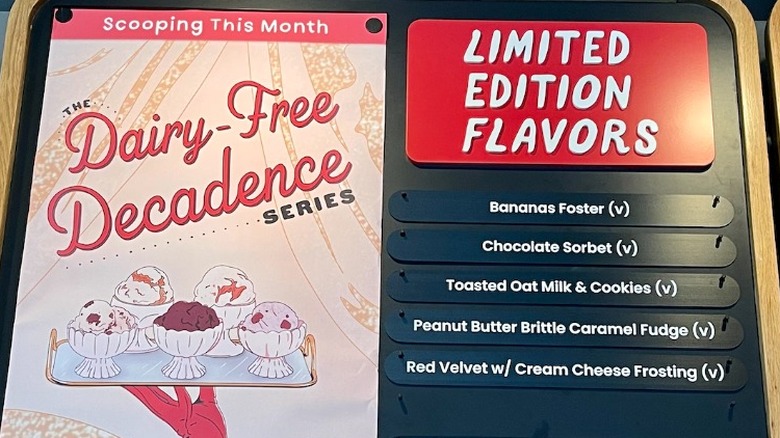 The new Dairy-Free Decadence Series includes classic dessert flavors: Bananas Foster, Chocolate Sorbet, Toasted Oat Milk & Cookies, Peanut Butter Brittle Caramel Fudge, and Red Velvet with Cream Cheese Frosting. Each scoop brings unique flavors and ingredients.
Bananas Foster creates a tangy caramel with banana purée, rum, molasses, and warm spices. Salt & Straw swirls the mixture into a delicate banana-infused ice cream made from a coconut cream base. Next, Chocolate Sorbet mixes dark cocoa powders with rich chocolate to create a velvety ganache with a dash of flaky salt.
The third flavor, Toasted Oat Milk & Cookies, is Salt & Straw's vegan take on the classic milk and cookies. The flavor features chocolate chip cookies in cinnamon-spiked vanilla oat milk ice cream — the shop then adds chunks of ganache to bandage the sweetness.
Peanut Butter Brittle Caramel Fudge (say that five times fast) features a creamy coconut vanilla ice cream topped with semi-sweet caramel fudge and mixed with crispy brittle-studded peanut butter. Last but not least, Red Velvet Cake with Cream Cheese Frosting mixes classic red velvet cake into a coconut ice cream with red velvet batter. Additional chunks of red velvet cake are slathered in creamy cheese frosting, creating a beautiful reddish-pink dessert.
How much do the dairy-free flavors cost?
Like all reviewers, we want to add a disclaimer that we tried these flavors in Southern California, where prices can be higher than in the rest of the country. To ensure our stomachs could hold enough ice cream to give each flavor the proper taste test it deserved, we opted to order the kid size version in each flavor.
Our receipt for a kid's scoop of all five flavors totaled $22.50, or $4.50 per cup. We consider this to be a steal of a deal if you like trying multiple flavors or want a more petite dessert. Our expert ice cream scooper also suggested saving money by splitting a single scoop to try various flavors in one cup. We usually would love this option to mix flavors together, but again, we wanted to ensure we followed the taste-test protocol to provide the best review possible.
And like any other Salt & Straw ice cream, the shops offer samples so you can taste any flavor before ordering a full cup or cone.
How long will these flavors be available?
If these flavors sound good to you, race to your nearest Salt & Straw or place an online order while you can. You can taste the new flavors from December 30, 2022, through February 2, 2023.
Salt & Straw offers monthly flavors and maintains a reputation for continuously launching delicious and unique flavors. For example, in November 2022 the shop introduced its holiday series with five new flavors in keeping with the trend of holiday ice creams created to capture the coziness of the season. These flavors included but were not limited to Gingerbread Cookie Dough⁠, The Great Cookie Swap (which was vegan), and Peppermint Cocoa.
If the thought of a timeline to try these flavors stresses you out, we suggest ordering them to be shipped to your door so you can keep in the freezer for as long as you need. We have a feeling once you learn our favorite flavors, you'll be racing to try these delicious new treats. It's hard to beat this luxurious and dairy-free lineup.
What is the nutritional value?
The nutrition of the new Dairy-Free Decadence Series doesn't stray far from the chain's other flavors (via Salt & Straw). The brand's ice cream already does not contain eggs, unless expressly noted, and all items are gluten-free, unless listed as an allergen on the flavor's page. We dove into the ingredients for this series to point out anything to be aware of when trying these flavors.
Each pint contains three servings. and all serving sizes are 2/3 of a cup. Chocolate Sorbet contains 200 calories per serving, and Bananas Foster has 290 calories.
Toasted Oat Milk & Cookies and Red Velvet Cake with Cream Cheese Frosting contain lengthier lists of ingredients, and both come in at 320 calories per 2/3 of a cup. It comes to no shock then that Peanut Butter Brittle Caramel Fudge offers 350 calories in its scoop.
Overall, for a delicious treat, these serving sizes and calorie counts will not set you back on your healthy eating plans if you eat them in moderation.
Did we like some flavors?
Now to the essential details: the taste review. We're going to start with Chocolate Sorbet, Toasted Oat Milk & Cookies, and Red Velvet with Cream Cheese Frosting flavors.
We kicked off our flavor test with Chocolate Sorbet. We found this flavor to be less like "licking brownie batter straight from the bowl," as the Portland-based creamery's website suggests, and more of a rich chocolate with a massive punch of sea salt. We're chocolate lovers til we die, but this one missed the mark for us.
Next, we tasted Toasted Oat Milk & Cookies. While the flavor profile suggests it pays homage to our favorite childhood snack, the oat milk didn't provide enough creamy flavor for the base of this ice cream. We would have loved a richer milk flavor to compliment the cookie crisps.
Finally, Red Velvet with Cream Cheese Frosting took us by surprise. We love a traditional red velvet and cream cheese combo, but this flavor yielded more of a strawberry cream cheese flavor. While we did not expect this flavor, it's creamy and delicious if you like strawberry ice cream.
Did we love the other flavors?
Last but certainly not least, we tasted the Bananas Foster and Peanut Butter Brittle Caramel Fudge flavors.
The Bananas Foster left us wondering if we could ever enjoy the original dessert over ice cream again. This ice cream ranked No. 1 in the sweetness department, and the delicate banana had us coming back for another bite.
Then the Peanut Butter Brittle Caramel Fudge reminded us of our favorite chocolate peanut butter candies. This exceptional flavor didn't yield incredible caramel tones, but we ignored this as the other flavors melted in our mouths. Salt & Straw nailed the textures and flavors in this iconic recreation of the peanut brittle treat.
While these two new flavors exceeded our expectations more than the three that preceded them, we enjoyed trying all of the flavors in the Dairy-Free Decadence Series. We love seeing Salt & Straw continue to level up the flavor profiles each month and look forward to what the next month brings.