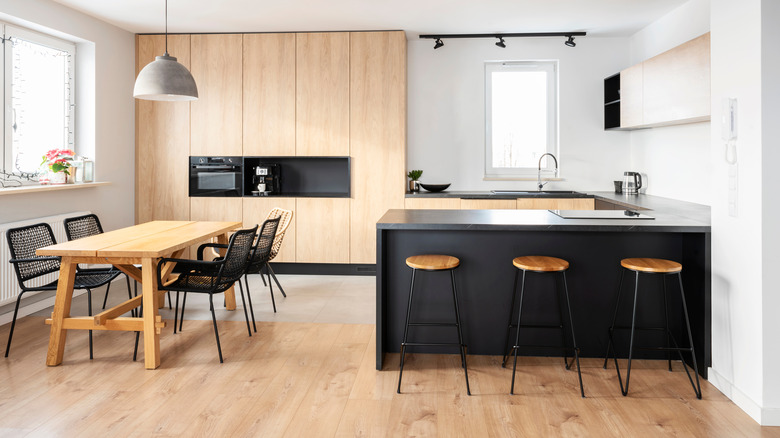 We may receive a commission on purchases made from links.
Kitchen design can be a double-edged sword in many ways. While it's enjoyable to design a beautiful, bright kitchen, it also needs to be functional, which can create a lot of limitations. Deciding where to place appliances, how to design counters and where to place them in your kitchen, and so on, can be difficult. One obstacle you may run into is whether to include an island or not.
If you own your home, and you're either designing or remodeling your kitchen, you may be faced with the choice to add an island. There are plenty of advantages to installing one — added counter space, seating, and filling up a large, open area. However, there are also disadvantages. For one, it can be difficult to include kitchen islands in smaller kitchens. They can also cost anywhere from $3,000 to $5,000 to install, according to NerdWallet. And, if you're a renter or don't want a costly installation, adding an island isn't even an option. If you want the conveniences of an island, though, without the cost or permanence, keep reading for some crafty alternatives.
Rolling island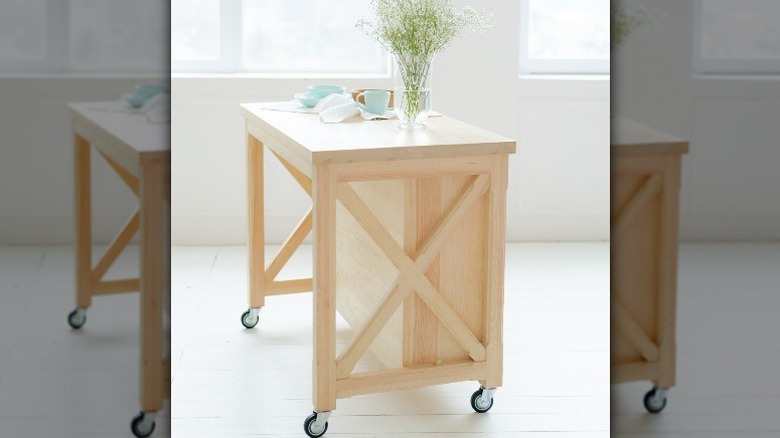 An easy, affordable, and non-permanent way to add counter and storage space in your kitchen in lieu of an island is with a kitchen cart, also referred to as a rolling island. As The Home Depot explains, these will usually have shelves, drawers, hooks, and sometimes cabinets for storing and organizing pots and pans, utensils, glasses, dishes, and so on. They also have a sizable countertop space for either storage or food preparation.
Kitchen carts are also a great way to add decorative appeal to your kitchen. If you have a more rustic, farmhouse, or cottage-inspired kitchen, you can find wooden or butcher-block rolling islands. There are also more modern, metal carts. Rolling islands also have the convenience of being lightweight and on wheels, so you can pull them closer as needed, which can be incredibly useful if you're cooking or baking something with lots of complicated steps or ingredients. They can be found as larger, full-sized islands, like Ikea's Förhöja cart, or smaller, compact models, like Ikea's Beväm cart.
Dining table
Kitchen tables are another great way to create more preparation and workspace, as well as the seating offered by islands. Not only that, but a dining table in your kitchen is a great space to spend time with your friends and family, whether eating or preparing meals, or simply gathering (via Oldways).
One of the major advantages of a kitchen island is, of course, extra countertop space. While a dining table in your kitchen won't provide a full on preparation station, you can certainly sit down and chop vegetables, or use the surface for extra space when cooking — as long as you sanitize it before and after use. It doesn't offer the extra storage that islands usually do, though; but it does provide much more adequate, spacious, and/or intimate seating than barstools do at an island. You can add a spacious six- to eight-person dining table if you have the space, or a small two- to four-person table in a smaller kitchen.
Nook
If you're up for a more permanent island alternative, consider a breakfast nook instead of a dining table. This is especially ideal for smaller or longer kitchens, which have enough space for the bench installation, but not enough for an island. Not only are nooks a great way to fill up an unused corner, but they're a very attractive room addition, providing space for you and your family to spend time together, during meal time or otherwise.
Breakfast nooks offer all the same alternatives to islands that dining tables do, such as extra preparation and tabletop space, and extra seating in your kitchen. Plus, as Cabinfield points out, lots of benches in breakfast nooks have flip tops with storage underneath, providing just as much storage, if not more, than an island would with cabinets or side shelving. They're also a great and comfortable space to relax, either with a book, homework, cup of coffee, or just to relax — much more comfortable than a barstool.
Baker's rack
If you're not worried about an eating or sitting area, and mostly want the convenience of extra storage and workspace, a baker's rack is probably best for you. A baker's rack is a pretty general term, but it refers mainly to a tall storage shelf with spots for glasses, dishes, appliances, and other kitchen supplies.
Baker's racks typically have larger bottom shelves and thinner top shelves, with one large flat, counter-height shelf for food preparation, but it's also a handy place to put bulkier items like microwaves, toasters, air fryers, stand mixers, and so on. They can be found in more industrial, all metal racks, or a more rustic, contemporary style, like this one from Vasagle on Amazon. Other similar options include a microwave cart, stainless steel shelving, or coffee or bar carts, all of which are available with wheels for conveniently moving around your kitchen.
Bar height table
Another affordable, non-permanent island alternative is a counter or bar height table, which gives the look and feel of an island without the costly installation or permanency. You can also slot your bar stools underneath the table, saving space in your kitchen while still having a place to sit and eat.
These tables are available in every kind of décor style, and can look like a dining table with wood or an island with marble or wood countertops. They can also be found as one- or two-seaters, depending on your needs and space availability in the kitchen. Some of them also have storage on the sides, like this one with shelves from Fotosok on Amazon.
Others have cabinets for more discreet storage. These provide extra counter space, a workstation, and a place to eat — just like an island, but for hundreds of dollars instead of thousands. Dining Furniture Showcase points out that these tables are also great for entertaining, since all food and drinks are at counter-height, allowing guests to stand around the table and eat or drink as they desire, or pull out a bar stool and take a seat.