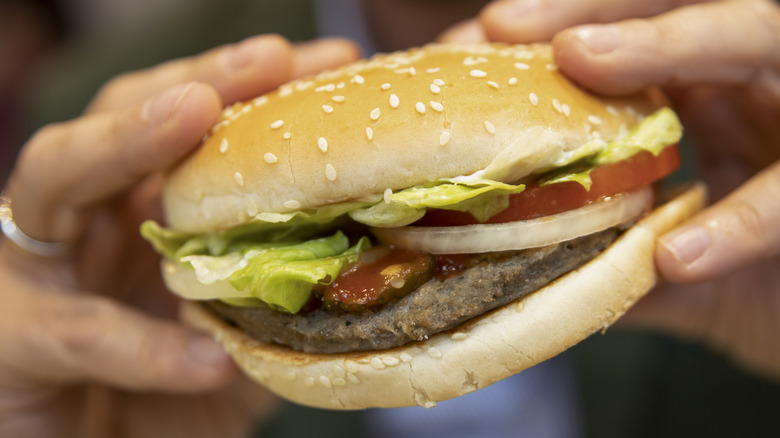 Some of us may remember the cutthroat Burger Wars of the latter 20th century, when fast food burger chains like McDonald's, Burger King, and Wendy's directly competed with each other through advertising, even at the cost of their own profits (via Los Angeles Times). It was a time of experimentation and innovation and led to the creation of a wide variety of burgers.
USA Today points out that old rivalries die hard, and potshots are still being made in the early 21st century. In 2010, Burger King answered McDonald's popular McRib sandwich with its own BK BBQ rib, for example. But we are here to talk about burgers, not ribs.
Some of the burgers on this list were once quite popular and their discontinuation remains a baffling mystery. Some were met with a lukewarm welcome and quietly removed from menus before they had a real chance, much to the disappointment of select fans. In the constant battle for a larger share of the market, it's possible we might see some of these burgers make a comeback, even for a limited time. If we make enough noise, perhaps they will.
McDonald's Big N Tasty Burger
The rivalry between McDonald's and Burger King is legendary and has been a source of inspiration for some of the chains' creations. In 1997, the Associated Press reported that McDonald's sales were not what the company was hoping for. Meanwhile, direct competitors Burger King and Wendy's were taking larger and larger bites out of the market.
In the late 1990s, McDonald's attempted to dethrone the King by making its own version of the Whopper, Burger King's star burger, which it named the Big N Tasty. The quarter-pound beef patty was dressed with ketchup, mayonnaise, onions, dill pickles, lettuce, and tomato on a sesame seed bun.
Both the Whopper and Big N Tasty sold for 99 cents at the time, a good deal for frugal-minded customers. Sadly, within 15 years, the Big N Tasty began disappearing from menus. Chicago Tribune reported the burger's removal from area restaurants in June 2010. It turns out that those who compete with the Whopper get whupped. Or do they?
If you travel outside U.S. borders, you may come across a sandwich called the Big Tasty on certain McDonald's menus. It's essentially the original Big N Tasty with the addition of Emmental cheese and a special smoky sauce. What's stopping McDonald's locations in the U.S. from adding this to their menus? Salivating mouths want to know.
Burger King's Angry Whopper
Why tinker with a good thing? To boost sales of course! Burger King has never replaced the Whopper from its menu, but it has occasionally added variations. Take the Angry Whopper, a regular Whopper beefed up with the addition of cheese, slices of jalapeño, a sweet Angry sauce, crunchy Angry onions, and hickory-smoked bacon (via the Fast Food Post). According to Fast Food Menu Prices, the choice of cheese varied by country. In the U.S. it was American cheese, in the U.K. it was pepper jack, and in Mexico Manchego was used.
The Angry Whopper actually originated in the U.K. in 2008. A year later, it hopped across the Atlantic to the U.S. market, where it lasted around six years before being replaced by the even spicier (but not so popular) Angriest Whopper. The Angry Whopper was rereleased in 2019 for a limited period. Only time will tell if it makes another comeback.
Wendy's Bacon and Blue burger
In response to the discontinuation of the short-lived Bacon and Blue, a burger topped with strips of bacon and blue cheese, one Wendy's customer vented on Reddit about the company's annoying habit of making delicious limited-edition sandwiches that disappear after a few weeks. According to HuffPost, Wendy's was the first fast-food restaurant chain to use blue cheese on a burger in the early 2010s. Five years later, it took the flavor up a notch by using a toasted brioche bun.
Liz Geraghty, Wendy's vice president of marketing in 2015, commented that the combination of artisanal ingredients and bold flavors "will awaken the hamburger connoisseur in all of us," adding that the company was dedicated to creating delicious burgers for consumers (via Bacon Today). Sure, it may have been a bit messy with the blue cheese and special sauce. But if Wendy's is so dedicated to giving its customers what they want, then why isn't this burger getting a comeback? Even for a limited time.
McDonald's Arch Deluxe
In 1996, McDonald's first tried its hand at creating a premium burger for the sophisticated adult palate by introducing the Arch Deluxe. The price was higher than other menu items, which put some customers off. The burger consisted of a quarter-pound beef patty, lettuce, tomato, cheese, onions, ketchup, a signature mustard-mayonnaise sauce, and optional strips of bacon.
McDonald's threw a lot into making the Arch Deluxe, including launching the most expensive advertising campaign in fast-food history at the time (via The New York Times.) In its first year, the burger was expected to bring in $1 billion, which did not happen. However, McDonald's claimed it was not expecting the Arch Deluxe to be the chain's savior in a time of sluggish sales. President and chief executive at the time, Edward H. Rensi said in a memo, "Only those who expected a miracle were disappointed." The year after its introduction, the price of the Arch Deluxe, along with other menu items dropped, which was not a popular move with franchisees, according to Wall Street Journal.
One of McDonald's biggest mistakes with the Arch Deluxe was marketing it to adults and insisting through advertising that children would hate it (via Marketing91). McDonald's tried again in 2018 with three varieties of Archburgers (via Burger Lad). However, they were only available in very select regions and advertising was limited. Maybe try a better launch next time, McDonald's? We know of some fans who would be mighty pleased.
Whataburger Chop House cheddar burger
Whataburger is known for its extra-large portions and extensive burger customizations. That's not to say it doesn't offer specialty burgers as well, like the Chop House cheddar burger, which first hit menus in the summer of 2009 and made a comeback in 2010 for a limited time (via PR Newswire).
The burger boasted quite the flavor profile with two grilled beef patties, grilled onions, melted shredded cheddar cheese, two slices of bacon, and a creamy steak sauce all piled on a toasted bun. It was available in both regular and junior sizes. At the time, Whataburger's Director of Marketing commented that the burger's launch proved a hit because consumers enjoyed the nuanced flavors and the use of real cheddar.
Indeed, fans were still thinking about the burger in 2018. One posted about it on Reddit: "I need it in my life right now, when are they going to bring it back?" Someone else started a petition on Change.org that has garnered over 1,000 signatures in four years. Fans can only hope these pleas will be heard.
Jack in the Box mini sirloin burgers
Back in 2007, Jack in the Box became the first major fast-food chain to put sirloin burgers on its menu, with optional toppings like cheese, onions, and bacon (via QSR). It wasn't a bad option for health-conscious customers, since ground sirloin is leaner and less greasy than ground beef (via Black Bark BBQ).
Within two years, Jack in the Box also debuted the sirloin burgers in mini forms (aka sliders). The Christian Science Monitor pointed out that 2009 was a big time for mini burgers, giving Jack in the Box no shortage of competition. Sadly, when the chain installed new menu boards in 2011 (per FoodBeast), the mini burgers were not included.
That was not the end of the pint-sized sandwiches, however, as sliders had another resurgence in popularity in 2014. Who is to say they won't do so again? Mini burgers are the perfect party food due to their convenient portable size, and we're sure there would be enough people around to gobble up each bite.
Burger King's burger shots
In 2009, the year of the miniature burger, Burger King released Burger Shots, mini broiled burgers that came in pairs with up to three pairs per box. This was not Burger King's first attempt at a mini burger, however. In the 1980s, Burger King had similar Burger Bundles and Burger Buddies (per Nation's Restaurant News). However, restaurant kitchens had difficulties with the smaller patties falling through the slats in their grills, which could explain why the product was discontinued.
Surely innovations have been made in grilling in the past 30 years. And maybe not everyone has a Whopper-sized stomach. In 2011, Singapore Burger Kings marketed Burger Shots to women who weren't as impressed by the signature burger's larger size (via Campaign). The company promoted the shareability of burgers paired together. This sounds like a great option for families with little hands and little mouths to feed if you ask us.
Wendy's Gouda bacon cheeseburger
We've already seen how Wendy's likes to experiment with different kinds of cheese on its burgers. This time it's aged Gouda with a Swiss Gruyère fondue sauce, garlic aioli, and strips of applewood smoked bacon on a quarter-pound beef patty (via PR Newswire). It may have been a bit messy, but it was a real win for cheese lovers.
Wendy's Chief Concept and Marketing Officer Kurt Kane said in 2015, "Nobody creates a cheeseburger and fries experience like Wendy's." Kane noted that the never-frozen beef was already a consumer favorite, and paired with various types of cheese it highlighted yet another mouthwatering flavor profile.
After it was discontinued, one Redditor wrote: "IMO it was the best LTO they have ever had … I miss it every day. Does anyone know if it is ever going to make a comeback?" Unfortunately, no one has been able to offer a definitive answer.
McDonald's Angus burger
As we've seen, fast-food restaurants like to experiment with different kinds of beef in their burgers, like standard ground beef versus ground sirloin. In 2006, McDonald's introduced the Angus Burger, giving it a thorough test run in select Los Angeles locations (via The Motley Fool) before taking it nationwide in 2009 (via QSR Magazine). Angus beef comes from a specific breed of cow rather than being a cut of beef and is famous for its marbling and juicier flavor, according to Aspen Ridge Beef. The Angus burger was a step toward offering more sophisticated, premium items on the McDonald's menu.
Then came the rising beef prices of 2013, which NBC News reported was largely due to drought. As a result, not only did McDonald's push its chicken options but the decision was made to cut the Angus burger, which came in at a pretty hefty one-third of a pound of beef. Company spokesperson at the time, Danya Proud, said, "While these burgers will no longer be available in our restaurants, they may still play a future role on our menu." If you are still craving a McDonald's Angus burger nearly a decade later, you will probably have to take a trip Down Under or keep your eyes peeled for its return elsewhere.
Hardee's Beyond Thickburger
In 2019, The New Yorker ran an article discussing the introduction of the vegan burger patty brands Beyond and Impossible hitting the fast-food market. October of that year saw the partnering of fast food chains Hardee's and Beyond Meat; thus the Beyond Thickburger was born. A charbroiled Beyond burger patty was paired with a toasted bun with toppings including lettuce, tomato, onion, dill pickles, ketchup, mustard, and mayonnaise.
Despite the excitement, many customers expressed on Twitter a year later that they had a hard time getting the plant-based burgers. One user expressed dismay after being told the burgers were discontinued because "nobody was ordering them" and asked, "do I look like nobody to you?" Another tweeted, "y'all need to go support the beyond burger!!!" A Redditor indicated in October 2020 that the Beyond Thickburger had quietly been removed from Hardee's menus.
According to Gallup, one in four people in the U.S. reported eating less meat than they used to in 2020, and this trend is unlikely to go away any time soon. Hardee's should seriously rethink discontinuing this burger.
Burger King Turkey Burger
Ground turkey is generally lower in saturated fat than ground beef, which many in the medical community believe lowers the risk of heart disease (via Healthline). Perhaps because of this, the consumption of red meat in the U.S. has been steadily declining over the past several decades, while the consumption of poultry has increased considerably, as shown by Agricultural Economic Insights.
Given all of this, it only makes sense for fast food chains to offer red meat alternatives on their menus. And Burger King did — for a time. In 2013, the Associated Press reported on the release of a new more health-conscious sandwich, the first of the top three fast food chains to do so. Eric Hirschhorn, head of global innovation for Burger King at the time, commented that turkey burgers were becoming more and more popular in the restaurant industry. Reception on Twitter was mostly positive, so it is a little bewildering that Burger King would give up on the turkey burger as a menu staple.