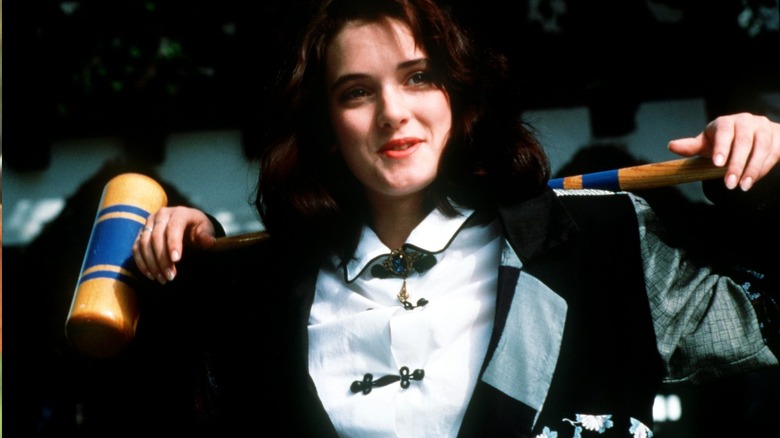 Once considered a poor man's version of Netflix, Amazon's Prime Video service has improved by leaps and bounds in recent years, now boasting an impressive collection of films. From old classics to new releases, its library has something for everyone. Amazon has even become a legitimate player as an independent studio, with several of its films nominated for Academy Awards. In 2022, the company received four nominations: three acting nods for "Being the Ricardos," and a best hair and makeup honor for "Coming 2 America." But even if your tastes run counter to awards fodder, there's plenty on the service to tempt the budding cinephile in all of us. Here are 60 of the best films that you can find currently on Prime Video.
Updated on January 4, 2023: Prime Video makes changes to its catalog every month, adding some films while removing others. We'll be keeping this list updated to reflect the best movies you can find on the service at this very moment.
All the President's Men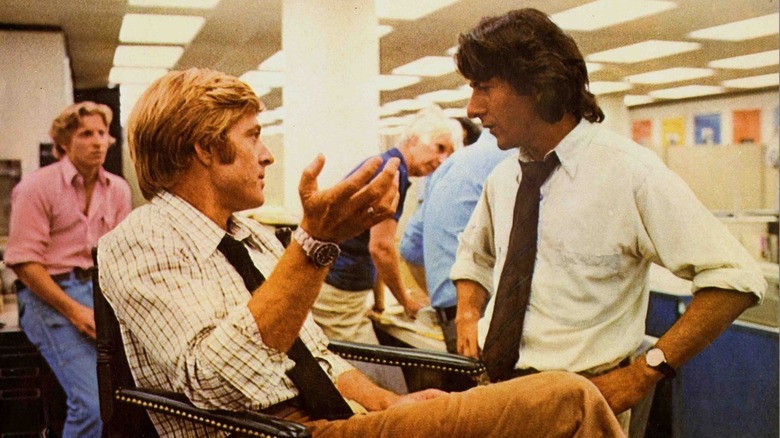 For decades, filmmakers have been trying to perfect the hard-hitting journalistic thriller. For our money, however, none has come close to topping "All the President's Men." The film stars Robert Redford and Dustin Hoffman as Bob Woodward and Carl Bernstein, respectively, two reporters from the Washington Post who begin investigating the Watergate burglary and walk away with perhaps the most damning expose of the 20th century. President Richard Nixon is implicated in the crimes for which he would eventually resign from the office to avoid prosecution. The amount of tension and drama the film is able to inject into scenes that are often little more than rote interviews and information gathering is a credit to its actors, director Alan J. Pakula, and writer William Goldman.
Starring: Dustin Hoffman, Robert Redford, Jason Robards
Director: Alan J. Pakula
Year: 1976
Runtime: 138 minutes
Rating: PG
Rotten Tomatoes Score: 94%
Anthropoid
Based on Operation Anthropoid, a plot by the Czech resistance to assassinate Reinhard Heydrich, the highest-ranking Nazi in Prague, "Anthropoid" is a moving World War II film that ventures outside the traditional sphere of Britain, France, and the United States. Cillian Murphy and Jamie Dornan play the two Czech operatives who have been tasked with spearheading this operation, putting together a team that will execute Heydrich while simultaneously avoiding the attention of the Nazi occupiers who lurk down every street. The stakes are high — both men are fighting for their country, and they know the deadly consequences of failure. The end result is a deeply emotional war drama that brings to life the sacrifices made by Czech freedom fighters.
Starring: Cillian Murphy, Jamie Dornan, Charlotte Le Bon

Director: Sean Ellis

Year: 2016

Runtime: 120 minutes

Rating: R

Rotten Tomatoes Score: 66%
The Big Sick
Based on the real-life romance between Kumail Nanjiani and Emily V. Gordon (both of whom wrote this screenplay, and were eventually rewarded with an Oscar nomination for their efforts), "The Big Sick" is an unconventional love story. After a brief romance, Emily's plan to break up with Kumail hits a snag when she becomes seriously ill and falls into a coma, leaving Kumail able to do little more than sit in a hospital waiting room, hoping that she'll wake up. During this agonizing wait, he bonds with Emily's parents, played with wit and empathy by Ray Romano and Holly Hunter. As their relationship grows, Emily's illness forces him to reckon with the depths of his feelings for her. An unexpectedly genuine romantic comedy, "The Big Sick" blends laughs with emotional resonance.
Starring: Kumail Nanjiani, Zoe Kazan, Ray Romano

Director: Michael Showalter

Year: 2017

Runtime: 120 minutes

Rating: R

Rotten Tomatoes Score: 98%
Blow the Man Down
A studio like Amazon is at its best when it puts its faith in the sort of low-budget, independent filmmaking that we see in "Blow the Man Down." Two sisters, living together in a small fishing town in coastal Maine and grieving the recent loss of their mother, have their lives upended when they cross paths with a violent stranger. It sounds like it's going to be pretty dark (and, at times, it is) but it's also genuinely hilarious, managing to blend tragedy and humor to make one of the better black comedies in recent years. Margo Martindale as a local brothel owner is reliably excellent, but it's the film's two stars, Morgan Saylor and Sophie Lowe, who steal the show.
Starring: Margo Martindale, Morgan Saylor, Sophie Lowe

Director: Bridget Savage Cole, Danielle Krudy

Year: 2019

Runtime: 91 minutes

Rating: R

Rotten Tomatoes Score: 98%
Captain Fantastic
Ben doesn't just want his kids to be smart. He wants them to be philosopher-kings, with knowledge and skills that can't be acquired by simply going to school. In "Captain Fantastic," Viggo Mortensen's Ben raises his large family off the grid, homeschooling them against the backdrop of the Pacific Northwest. However, when his wife dies by suicide and his in-laws express concerns about their way of life, Ben has to not just bury his spouse, but also prove that he deserves to keep custody of his children. Mortensen is in rare form throughout "Captain Fantastic," but the film gets its heart from the excellent cast of young actors who make up his family.
Starring: Viggo Mortensen, George MacKay, Frank Langella

Director: Matt Ross

Year: 2016

Runtime: 119 minutes

Rating: R

Rotten Tomatoes Score: 83%
Catherine Called Birdy
Too often, women in films and television shows about medieval life are defined by the pain, suffering, and violence they face. While this isn't to say those weren't issues that women faced in this time period, it can be a little suffocating when those are the only experiences shown on screen. "Catherine Called Birdy," which features "Game of Thrones" breakout star Bella Ramsey, is a breath of fresh air because although it highlights the hardships that Birdy faces as she comes of age, it also captures the spirited sense of willful defiance that makes her future far more hopeful than other films in this genre would allow.
Starring: Bella Ramsey, Andrew Scott, Billie Piper

Director: Lena Dunham

Year: 2022

Runtime: 108 minutes

Rating: PG-13

Rotten Tomatoes Score: 86%
Charade
If there was an award for the film that feels most like an Alfred Hitchcock thriller without actually being directed by Alfred Hitchcock, "Charade" would win it, hands down. This quirky little mystery stars Audrey Hepburn as a woman who returns from a vacation in the Alps only to discover that her husband has been murdered and a group of nefarious men are on the hunt for his missing fortune. Together with Cary Grant, she has to find the money before they do, and stay alive in the process. Stylish and even funny as it delivers a legitimately engaging thrill ride, "Charade" is entirely charming.
Starring: Audrey Hepburn, Cary Grant, Walter Matthau

Director: Stanley Donen

Year: 1963

Runtime: 115 minutes

Rating: NR

Rotten Tomatoes Score: 94%
Chi-Raq
Leave it to Spike Lee to take the classic Greek play "Lysistrata," in which a group of women go on a sex strike in a bid to convince their husbands and lovers to stop fighting in the Peloponnesian War, and transplant it to modern day Chicago. The storyline of "Chi-Raq" is essentially the same: On the south side of Chicago, the women are exhausted by the constant gang violence in their community, and are willing to use unconventional methods to force the men to put down their weapons. Aside from a stand-out performance from Teyonah Parris as Lysistrata herself, "Chi-Raq" has the added distinction of being the very first film produced by the newly-minted Amazon Studios.
Starring: Teyonah Parris, Wesley Snipes, Samuel L. Jackson

Director: Spike Lee

Year: 2015

Runtime: 127 minutes

Rating: R

Rotten Tomatoes Score: 82%
Cold War
It's difficult to think of an on-screen romance in recent years that is more dysfunctional yet emotionally arresting than the one we see in "Cold War." Tomasz Kot stars as a scout putting together a team of dancers and singers who will travel Europe performing traditional Polish folk music. Joanna Kulig plays Zula, his star, a magnetic singer with so much talent and charisma that it's difficult to take your eyes off her. An unlikely romance unfolds between the two, but their relationship is as troubled as it is electric. They spend ages reuniting all over Europe, only to self-destruct when they finally have an opportunity to just be together. With gorgeous cinematography and two charismatic lead performances, "Cold War" is an unconventional romance for the ages.
Starring: Joanna Kulig, Tomasz Kot, Joanna Depczynska

Director: Pawel Pawlikowski

Year: 2018

Runtime: 90 minutes

Rating: R

Rotten Tomatoes Score: 92%
Come to Daddy
Is there anything more emotionally satisfying than when a former child star decides to invest their fortune into their weird little passion projects? Daniel Radcliffe does it, appearing in strange indie projects rather than chasing the next big blockbuster franchise, as does Elijah Wood, who has gone from the career-defining role of Frodo in "The Lord of the Rings" to a burgeoning champion of low-budget horror. He stars in "Come to Daddy" as Norval, a man who reluctantly agrees to meet with his estranged father in a rundown cabin in rural Oregon — there certainly couldn't have been less creepy places for them to reconnect, right?
Norval gets a lot more than the Hallmark family reunion he was expecting, however; "Come to Daddy" is still a horror movie, after all. It's small in scale but was received well by critics, with Sarah Hagi of The Globe and Mail writing that in, "blending the best of indie horror with B-movie violence and gore, it's exactly what it needs to be for both the audience and Norval."
Starring: Elijah Wood, Stephen McHattie, Martin Donovan

Director: Ant Timpson

Year: 2020

Runtime: 93 minutes

Rating: R

Rotten Tomatoes Score: 86%
The Courier
Sure, "The Courier" may be the ultimate dad movie: a Cold War-era espionage thriller in which an unassuming upper-middle-class man gets to indulge in his James Bond fantasies. But it's also genuinely engrossing, led by a deceptively strong performance from Benedict Cumberbatch. He plays Greville Wynne, a somewhat stodgy and thoroughly conventional English salesman who is tasked with using his business credentials as cover while he acts as a courier between the Secret Intelligence Service and a Russian spy. Although initially reluctant, Wynne becomes emotionally invested in the job, and discovers hidden reserves of strength along the way.
Starring: Benedict Cumberbatch, Rachel Brosnahan, Merab Ninidze
Director: Dominic Cooke
Year: 2020
Runtime: 111 minutes
Rating: PG-13
Rotten Tomatoes Score: 85%
Daniel Isn't Real
In the world of Hollywood horror nepotism, there is no greater achievement than "Daniel Isn't Real." The film stars Miles Robbins (son of Tim Robbins and Susan Sarandon) as Luke, a wealthy young man with mental health issues who, while struggling during his first semester at college, is reunited with his childhood imaginary friend, Daniel (Patrick Schwarzenegger, whose father is … well, you know). But although Daniel initially seems to want to help Luke, it's clear before long that his intentions are far more nefarious.
The biggest coup of "Daniel Isn't Real" is that it's actually pretty good. Schwarzenegger has a mischievous charm that turns to malevolent on a dime, and Robbins pulls off the tortured everyman with a maturity beyond his years. What begins as a darker take on the (admittedly already pretty dark) "Drop Dead Fred" takes on a life of its own as its two lead actors play off one enough perfectly.
Starring: Miles Robbins, Patrick Schwarzenegger, Sasha Lane

Director: Adam Egypt Mortimer

Year: 2019

Runtime: 96 minutes

Rating: R

Rotten Tomatoes Score: 84%
The Electrical Life of Louis Wain
Benedict Cumberbatch and an endless sea of adorable cats — what more do you really need? In "The Electrical Life of Louis Wain," Cumberbatch stars as the titular Louis, an English cartoonist whose engaging anthropomorphized illustrations of cats went a long way towards making the domesticated feline a staple of the middle-class Victorian household. But although his images are adorable, Louis' life isn't easy. He begins by drawing pictures of his own cat for his dying wife (Claire Foy) in an effort to cheer her during her last days, and struggles with mental illness throughout the film. Nonetheless, "The Electrical Life of Louis Wain" is a magical film that captures the beauty of unconventional points of view.
Starring: Benedict Cumberbatch, Claire Foy, Andrea Riseborough

Director: Will Sharpe

Year: 2021

Runtime: 111 minutes

Rating: PG-13

Rotten Tomatoes Score: 70%
Emergency
When two Black college students head back to their dorm room after a night of drinking, they're met with an expected problem: There's an unconscious white girl asleep in their apartment. Together, they have to figure out a way to get her safely home without endangering themselves; they worry that, as Black men, if they call the police they'll be asking for trouble. Blending dark comedy with a fresh social awareness, "Emergency" is a clever and frequently tense piece of satire that will entertain viewers while driving home certain unwelcome realities about life as a minority in America.
Starring: Sabrina Carpenter, RJ Cyler, Donald Elise Watkins

Director: Carey Williams

Year: 2022

Runtime: 105 minutes

Rating: R

Rotten Tomatoes Score: 92%
Emma
There are three things in life that are certain: death, taxes, and Jane Austen film adaptations. This latest interpretation of "Emma" stars Anya Taylor-Joy as the young Miss Emma Woodhouse, who is embroiled in efforts to matchmake amongst her friends and relations. Director Autumn de Wilde builds a feast for the eyes, imbuing each set with a maximalist whimsy that makes the entire production look warm and inviting.
Taylor-Joy's performance as Emma is an ever-so-slightly modernized interpretation of the character — she walks a line between fitting into the period setting and unleashing a perfect 21st-century side-eye at the ridiculousness that frequently surrounds her. She is joined by two magnificently cast supporting actors, with Johnny Flynn as her romantic interest Mr. Knightley (who, as far as we're concerned, can go toe-to-toe against Mr. Darcy from "Pride and Prejudice" any day of the week) and Mia Goth as an impressionable woman of questionable birth who Emma takes under her wing.
Starring: Anya Taylor-Joy, Johnny Flynn, Mia Goth

Director: Autumn de Wilde

Year: 2020

Runtime: 125 minutes

Rating: PG

Rotten Tomatoes Score: 86%
E.T. the Extra-Terrestrial
One of the most magical children's films ever made, "E.T. the Extra-Terrestrial" stars Henry Thomas as Elliott, a lonely boy whose life is turned upside down when he crosses paths with a wayward alien known as E.T. The two develop a bond so profound that their life forces actually become connected to one another — when E.T. experiences pain and his health begins to fade, Elliott's begins to deteriorate as well. But love and friendship prevail over the shady U.S. government, as Elliott executes a now-iconic rescue mission to return E.T. to his home planet. With moving performances from Thomas and Drew Barrymore, expert practical effects, and a soaring score courtesy of John Williams, "E.T. the Extra-Terrestrial" enjoys a permanent soft spot in the hearts of viewers everywhere, especially those who first watched it as a child.
Starring: Henry Thomas, Drew Barrymore, Dee Wallace
Director: Steven Spielberg
Year: 1982
Runtime: 115 minutes
Rating: PG
Rotten Tomatoes Score: 99%
Funny Girl
Decades before the whole Beanie Feldstein and Lea Michele debacle was a glimmer in the eye of theater nerds, Barbra Streisand originated the role of Fanny Brice in "Funny Girl." She stars as the real-life comedienne, who made her way up through the world of vaudeville in the early 20th century. Along the way, she meets and falls in love with the roguish Nicky Arnstein, played by the preternaturally charming Omar Sharif.
Their on-screen pairing caused quite a stir at the time — the Six-Day War broke out between Israel and Egypt while "Funny Girl" was in production, creating even more controversy for its Jewish and Egyptian leads. The Egyptian authorities considered revoking Sharif's citizenship, to which he commented in an interview with the New York Times, "I told them neither in my professional nor private life do I ask a girl her nationality or religion when I kiss her." Streisand, in true Fanny Brice fashion, allegedly quipped, "Egypt angry! You should hear what my Aunt Sarah said!"
Starring: Barbra Streisand, Omar Sharif, Walter Pidgeon

Director: William Wyler

Year: 1968

Runtime: 151 minutes

Rotten Tomatoes Score: 93%
Heathers
Even though Veronica (Winona Ryder) hangs out with the popular clique at her high school with a trio of girls named Heather, she never stops feeling as though she doesn't fit in. Matters only get worse when she falls in love with teen rebel J.D. (Christian Slater) and becomes accidentally involved in a string of murders. This is "Heathers," a subversive 1989 comedy whose pitch-black sense of humor stands in defiance of the lighter and more upbeat John Hughes output from the Brat Pack. Wringing humor from subjects that have no business being funny, "Heathers" is fascinatingly surreal.
Starring: Winona Ryder, Christian Slater, Kim Walker

Director: Michael Lehmann

Year: 1989

Runtime: 103 minutes

Rating: R

Rotten Tomatoes Score: 93%
Hook
"Hook" may not be for everyone, but if you watched it as a kid in the 1990s, you're likely still mourning the loss of dear, sweet Rufio. Although it's widely considered one of Spielberg's lesser efforts, it still has plenty of his trademark magic. Robin Williams stars as Peter Banning, a workaholic lawyer who neglects his wife and two children whenever the office calls. But when his son and daughter are kidnapped by Captain Hook (Dustin Hoffman, who probably still has a stomachache from chewing all the scenery), he goes on an adventure to Neverland, where he learns that he's actually the legendary Peter Pan. After falling in love with Wendy's granddaughter, Moira, Peter finally decided to grow up, losing all of his memories of Neverland in the process. With the help of the Lost Boys, he gets back into fighting shape, ready to take on Hook in an epic battle to save his children.
Starring: Robin Williams, Julia Roberts, Dustin Hoffman
Director: Steven Spielberg
Year: 1991
Runtime: 142 minutes
Rating: PG
Rotten Tomatoes Score: 29%
House of Gucci
Excess, thy name is "House of Gucci." This extremely maximalist film stars Lady Gaga in a rags-to-riches story that begins with her marrying into the powerful Italian fashion family and ends with her hiring a hitman to murder her ex-husband, Maurizio Gucci. But look, we've all done things we're not proud of.
"House of Gucci," like the eccentric, ultra-rich family it's about, does nothing by halves, and it commits to the chaos with an excitement that borders on perversion. Jared Leto alone gnaws on every piece of scenery he can find, producing an Italian accent that does not resemble anything heard on the planet Earth. But the film's garish tendencies are all part of its charm, making "House of Gucci" an oddly enjoyable experience if you allow yourself to be taken along for the ride.
Starring: Adam Driver, Lady Gaga, Jared Leto

Director: Ridley Scott

Year: 2021

Runtime: 157 minutes

Rating: R

Rotten Tomatoes Score:63%
I Want You Back
When Peter (Charlie Day) and Emma (Jenny Slate) are dumped by their significant others, they create a special pact: Each will befriend the other's ex, and attempt to sabotage their new relationships. This is the plot of "I Want You Back," an offbeat romantic comedy that succeeds on the charms of its two leads. Day and Slate have great comedic chemistry, which helps overcome the fact that their messed-up sabotage plan should make both of their characters extremely unlikable. As a light-hearted diversion, "I Want You Back" is pleasant enough, serving as one of Amazon Studio's most endearing romantic comedies.
Starring: Charlie Day, Jenny Slate, Scott Eastwood

Director: Jason Orley

Year: 2022

Runtime: 111 minutes

Rating: R

Rotten Tomatoes Score: 87%
The Invisible Man
There is perhaps nothing scarier than knowing in your bones that something is wrong and having no one believe you. A modern feminist twist on the Universal monster classic "The Invisible Man," this Leigh Whannell-directed production stars Elisabeth Moss as a woman who struggles to escape the clutches of her abusive, controlling millionaire boyfriend. She finds refuge with a close friend, but can't escape the feeling that, even though her boyfriend is supposedly dead, he's actually playing a twisted game to manipulate her from beyond the grave.
With a powerful leading performance from Moss and a clever directorial style that makes you sense a nefarious presence even when you're looking at nothing, "The Invisible Man" rewrites the blueprint for how to take a classic horror figure and update it to make it even more chilling for modern audiences.
Starring: Elisabeth Moss, Oliver Jackson-Cohen, Aldis Hodge

Director: Leigh Whannell

Year: 2020

Runtime: 124 minutes

Rating: R

Rotten Tomatoes Score: 92%
The Invitation
What is it about Hollywood and the prevalence of creepy, subversive cults? In "The Invitation," Will (Logan Marshall-Green) steels himself for a dinner party that will be awkward for a number of reasons. The first is that it's being hosted by his ex-wife Eden (Tammy Blanchard) and her second husband David (Michiel Huisman). The second (and arguably the most pressing) is that David kind of seems as though he might want to use his guests in some sort of ritual sacrifice? The ultimate party foul.
The tension in "The Invitation" builds deliciously: Will feels as though something isn't quite right from the very beginning, but is forced to question himself throughout the film. Is there legitimately something wrong, or is he predisposed to be distrustful of David because he's the man who, in his eyes, took Eden away from him? Compulsively watchable and tightly edited, "The Invitation" is a masterclass in psychological horror from Karyn Kusama.
Starring: Logan Marshall-Green, Tammy Blanchard, Michiel Huisman

Director: Karyn Kusama

Year: 2016

Runtime: 99 minutes

Rating: NR

Rotten Tomatoes Score: 89%
Jennifer's Body
Once upon a time, no one thought much of a humble horror movie called "Jennifer's Body," which is about a teenage girl with a taste for human flesh. These days, the critical reappraisal is in, and the majority of viewers see the charm and cleverness in director Karyn Kusama's film. Amanda Seyfried stars as a typical teenager who begins to notice some unsettling changes in her best friend, Jennifer (Megan Fox) — namely, that she seems to be on a little bit of a murder spree. With elements of zombie and demonic possession films, "Jennifer's Body" also operates as a thoughtful, witty examination of female sexuality and empowerment.
Starring: Megan Fox, Amanda Seyfried, Adam Brody
Director: Karyn Kusama
Year: 2009
Runtime: 101 minutes
Rating: R
Rotten Tomatoes Score: 46%
La La Land
A loving ode to the old-fashioned Hollywood musical, "La La Land" stars the unbeatable combination of Emma Stone and Ryan Gosling as a pair of lovers who fall for each other while waiting for their big breaks. Mia is a fledgling actress who just needs one audition to go her way, and Sebastian … well, Sebastian's one of those guys whose whole deal is that he's really into jazz. There are a handful of really catchy songs in "La La Land," including its bold opening number, "Another Day of Sun," and Mia and Sebastian's haunting duet, "City of Stars," but the film also succeeds on an emotional level. The last set piece of the film, in which Sebastian sees Mia at his jazz club years after they've broken up and imagines the life they could've had together, is a pure gut punch.
Starring: Emma Stone, Ryan Gosling, John Legend
Director: Damien Chazelle
Year: 2016
Runtime: 128 minutes
Rating: PG-13
Rotten Tomatoes Score: 91%
Late Night
"Women aren't funny," a generation of male comedians insisted. The female-driven comedy "Late Night" completely obliterates that premise. In it, Mindy Kaling stars as Molly, an aspiring writer who gets a shot at the big time when she is hired by a failing late night talk show headlined by the famously prickly Katherine Newbury (Emma Thompson). Katherine came up in a different era of comedy, and struggles to connect with younger viewers. Molly is tasked with freshening up Katherine's act, and in the process, the two form a strong bond that allows Katherine to rediscover the spark that she once had. Both a celebration of women in comedy and a commentary on the mediocrity of many talk shows, "Late Night" is an underrated gem.
Starring: Mindy Kaling, Emma Thompson, Hugh Dancy

Director: Nisha Ganatra

Year: 2019

Runtime: 102 minutes

Rating: R

Rotten Tomatoes Score: 80%
Licorice Pizza
20-something screw-up Alana and former-child-star-turned-entrepreneur Gary Valentine aren't the most conventional of friends. But, over the course of "Licorice Pizza," we see how they're drawn to each other again and again. Sometimes it's platonic, sometimes it's romantic, but usually it's somewhere in between. Paul Thomas Anderson's latest film is a love letter to Los Angeles in the 1970s, and its sunny narrative is less about plot and more about cultivating atmosphere. Anderson's work is remarkable, but the real coup of "Licorice Pizza" is its two inexperienced leads, who bring charm and empathy to the roles of Alana and Gary.
Starring: Cooper Hoffman, Alana Haim, Bradley Cooper

Director: Paul Thomas Anderson

Year: 2021

Runtime: 133 minutes

Rating: R

Rotten Tomatoes Score: 91%
The Lord of the Rings: The Fellowship of the Ring
Before "The Rings of Power" and before "The Hobbit," there was the original "The Fellowship of the Ring." (OK, technically the film takes place after both of those, but go with it.) A hobbit named Frodo is given a terrible burden: He must deliver the One Ring into the fires of Mount Doom, and he must do so without being corrupted by it. The first installment in Peter Jackson's "Lord of the Rings" trilogy, "Fellowship of the Ring" sets the stage for an epic adventure, allowing audiences to become fully immersed in the fantasy setting (lovingly brought to life courtesy of New Zealand) before expanding its scope in "The Two Towers" and "Return of the King."
Starring: Elijah Wood, Viggo Mortensen, Ian McKellen

Director: Peter Jackson

Year: 2001

Runtime: 178 minutes

Rating: PG-13

Rotten Tomatoes Score: 91%
Love and Monsters
Released a little over six months into the pandemic, "Love and Monsters" came at a time when we were perhaps most in need of a cheery apocalyptic comedy, one complete with a cute dog. An always charming Dylan O'Brien stars as Joel, a well-intentioned but vaguely incompetent survivor who lives in an underground bunker, thanks to the hordes of giant insects that now roam the land. But when Joel receives a transmission from his high school sweetheart, he decides to make the perilous journey to her settlement, a trip that will bring him into contact with the murderous creatures that have essentially taken over the planet.
"Love and Monsters" is light, even considering the existential dread of its post-apocalyptic setting, and well-paced. The monster designs are creative and unique, with eccentric flourishes that separate them from your run-of-the-mill giant creepy crawly. David Ehrlich of IndieWire called "Love and Monsters" the "rarest kind of movie these days: A fun, imaginative, genre-mashing adventure that was made with a modest amount of big studio money."
Starring: Dylan O'Brien, Jessica Henwick, Michael Rooker

Director: Michael Matthews

Year: 2020

Runtime: 109 minutes

Rating: PG-13

Rotten Tomatoes Score: 94%
Lucy and Desi
When it comes to classic TV sitcoms, "I Love Lucy" is pretty much the gold standard. Lucille Ball and Desi Arnaz were beloved by American audiences when the show was on the air, and remain icons to this day. Amy Poehler's documentary "Lucy and Desi" is a love letter to their creative and personal partnership, exploring both figures as people and showing how they revolutionized the burgeoning television industry. With interviews from their daughter, Lucie Arnaz, and first-person recordings of Lucille Ball herself, "Lucy and Desi" is both informative and deeply intimate.
Starring: Lucille Ball, Desi Arnaz, Carol Burnett

Director: Amy Poehler

Year: 2022

Runtime: 103 minutes

Rating: PG

Rotten Tomatoes Score: 91%
The Man in the Iron Mask
Following "Titanic" and "Romeo + Juliet," Leonardo DiCaprio was a newly-minted teen heartthrob who was determined to prove himself as an actor. So, it makes sense that he would be attracted to "The Man in the Iron Mask." In it, he takes on the dual roles of the cruel King Louis (seemingly an attempt to stretch himself beyond leading man roles) and his kind-hearted identical twin brother, Philippe, a character more firmly in DiCaprio's wheelhouse. Philippe has been imprisoned in an iron mask for nearly a decade — because of his resemblance to the king, he poses a near constant threat to Louis' sovereignty. The legendary Three Musketeers, now more than a little long in the tooth, hatch a plot to exchange Philippe for Louis and install a just and empathetic ruler on the French throne. As a swashbuckling adventure, "The Man in the Iron Mask" is more than a little melodramatic, but it knows exactly what kind of film it is and commits fully.
Starring: Leonardo DiCaprio, John Malkovich, Jeremy Irons
Director: Randall Wallace
Year: 1998
Runtime: 132 minutes
Rating: PG-13
Rotten Tomatoes Score: 32%
Marry Me
Jennifer Lopez and Owen Wilson may not be the most obvious on-screen romantic pairing, but their work together is surprisingly charming in "Marry Me." Lopez stars as pop icon Kat Valdez, who is about to marry her fiancé during the concert of the century when she learns that he's been having an affair with one of her assistants. Put on the spot and unwilling to be made into a laughingstock, she takes control of the situation with the rash decision to marry a random stranger in the audience — in this case, public school teacher and professional math geek Charlie (Wilson).
At first, they have some growing pains as they endure the media circus until they can get the marriage annulled. But, predictably, sparks begin to fly. A rare film that showcases romance on the other side of 40, "Marry Me" is a sweet rom-com that relies entirely on the likeability of its two stars.
Starring: Jennifer Lopez, Owen Wilson, Sarah Silverman

Director: Kat Korio

Year: 2022

Runtime: 112 minutes

Rating: PG-13

Rotten Tomatoes Score: 61%
Master
"Master" is an unsettling reminder that, however much liberal arts colleges talk about inclusion and diversity, people of color still face unfair prejudices on even the most allegedly enlightened campuses. Regina Hall stars in "Master" as Gail Bishop, the new master of Ancaster, a prestigious college in New England. The school has had its fair share of tragedy: It is allegedly haunted by a woman who was hanged for witchcraft, as well as the school's first Black student, who committed suicide in her dorm room in the '60s. The psychological horror of the place weighs heavy on the minds of not just Gail, but Jasmine Moore (Zoe Renee), a Black undergraduate who is struggling to fit in with her wealthy white classmates.
Starring: Regina Hall, Amber Gray, Zoe Renee

Director: Mariama Diallo

Year: 2022

Runtime: 99 minutes

Rating: R

Rotten Tomatoes Score: 75%
Mr. Jones
Adolf Hitler's crimes are well-documented, but significantly fewer people know about Stalin's mass murder campaign in Ukraine, heartbreakingly detailed in "Mr. Jones" by director Agnieszka Holland. James Norton stars as Welsh journalist Gareth Jones, who travels to the Soviet Union in the 1930s with the intention of interviewing Stalin about his economic plans. While there, however, he uncovers the chilling truth about Stalin's forced famine in Ukraine, during which millions of Ukrainians starved to death and countless others were forced to resort to unthinkable acts to survive. The narrative is unfortunately a little muddled, but the moments that expose the depth of suffering during this time period are utterly devastating.
Starring: James Norton, Vanessa Kirby, Peter Sarsgaard
Director: Agnieszka Holland
Year: 2019
Runtime: 118 minutes
Rating: NR
Rotten Tomatoes Score: 86%
My Man Godfrey
In this Depression-era comedy, Carole Lombard stars as Irene Bullock, a ditzy socialite who takes part in a scavenger hunt in which a homeless man must be collected to win the game. The rich have to have their own kind of fun, after all. So, she finds one such man, Godfrey (William Powell), and decides to offer him a position in her family's house as a butler. He slips into the role perfectly, but little does Irene know that Godfrey is more of a wanderer, with a fortune that would rival her own. Lombard and Powell have incredible chemistry with one another, which makes sense: They had been married in real life, and although they divorced three years before making "My Man Godfrey," they remained good friends.
Starring: Carole Lombard, William Powell, Gail Patrick

Director: Gregory La Cava

Year: 1936

Runtime: 90 minutes

Rating: NR

Rotten Tomatoes Score: 97%
The Northman
"I will avenge you, father. I will save you, mother. I will kill you, Fjölnir." These are the words repeated throughout "The Northman," as Alexander Skarsgard's Viking hero Amleth sets out on a misguided journey of revenge. After watching his uncle murder his father and kidnap his mother, young Amleth grows up with a single-minded determination to check off every item on his to-do list. But the closer he gets to accomplishing his goals, the less they seem to provide him the emotional fulfillment he was looking for. Dark, stylistic, and just plain bizarre, "The Northman" is a fine contribution to Robert Eggers' filmography.
Starring: Alexander Skarsgard, Nicole Kidman, Anya Taylor-Joy
Director: Robert Eggers
Year: 2022
Runtime: 137 minutes
Rating: R
Rotten Tomatoes Score: 89%
One Night in Miami
What would it look like if Malcolm X, Sam Cooke, Muhammad Ali, and football-player-turned-actor Jim Brown were all in a room together? We don't actually know what would have been discussed at such a meeting, but Regina King's "One Night in Miami" explores the fascinating "what if" scenario, set in a Miami hotel room on the night of Muhammad Ali's (then Cassius Clay) title match against Sonny Liston. With powerhouse performances from Kingsley Ben-Adir, Leslie Odom Jr., Aldis Hodge, and Eli Goree, "One Night in Miami" takes on a stage-like tenor, with each actor getting the opportunity to deliver an effective monologue that highlights their character's complicated relationship with the civil rights movement.
Starring: Kingsley Ben-Adir, Leslie Odom Jr., Aldis Hodge

Director: Regina King

Year: 2020

Runtime: 110 minutes

Rating: R

Rotten Tomatoes Score: 98%
Ordinary People
"Ordinary People" sometimes gets a bad rap. It's a sentimental family drama that beat out "Raging Bull" at the 1981 Oscars, so most people see it as (if you'll forgive the pun) punching above its weight. But there's a lot to like about "Ordinary People," a film that explores the dynamics within a WASP-y upper-class family when their eldest son, Buck, dies in a freak accident. His younger brother, Conrad (played by Timothy Hutton, who became the youngest person to win a best supporting actor Oscar) considers himself responsible for his sibling's death, and that their mother (Mary Tyler Moore) blames Conrad as well is obvious — she can barely look at him without grimacing. With "Ordinary People," Robert Redford demonstrates that his best asset as a director is knowing how to communicate with actors, as he guides his main cast to career-high performances.
Starring: Timothy Hutton, Donald Sutherland, Mary Tyler Moore
Director: Robert Redford
Year: 1980
Runtime: 123 minutes
Rating: R
Rotten Tomatoes Score: 89%
The Outfit
If "The Outfit" was just a movie about a soft-spoken Mark Rylance making bespoke suits in 1950s Chicago, we'd still watch it. However, there's much more going on in Graham Moore's directorial debut, which begins as a traditional historical drama before quickly changing into a clever gangster movie. With the banter between zoot-suited Johnny Flynn and Dylan O'Brien and its unpredictable twists and turns, "The Outfit" evokes the feeling of a classic mob flick. At the center of it all is Rylance, who offers up a fascinating turn as a mild-mannered tailor with a dark past.
Starring: Mark Rylance, Zoey Deutch, Johnny Flynn
Director: Graham Moore
Year: 2022
Runtime: 105 minutes
Rating: R
Rotten Tomatoes Score: 85%
Paper Moon
Ryan O'Neal stars in "Paper Moon" as a con man who spends his time traveling throughout the Depression-era Midwest, tricking people into believing that their recently departed loved ones had put a down payment on a Bible, which the marks would then be expected to finish paying for. But the one thing he's not expecting is to suddenly take custody of a clever young orphan who insists on joining him on his cons and becomes a loyal, if irascible, partner. The chemistry between the two makes perfect sense: Ryan and Tatum O'Neal are father and daughter in real life. Tatum would win an Academy Award for her performance, becoming the youngest-ever winner in a competitive category.
Starring: Tatum O'Neal, Ryan O'Neal, Madeline Kahn

Director: Peter Bogdanovich

Year: 1973

Runtime: 102 minutes

Rating: PG

Rotten Tomatoes Score: 93%
Paterson
In "Paterson," a man named Paterson (Adam Driver) who lives in Paterson, New Jersey wakes up every morning to drive a local bus. In his spare time, he writes poetry in his prized notebook. It's a quiet film about a quiet life, but because of the skills of both director Jim Jarmusch and Driver it leaves a tremendous impact nonetheless. "Paterson" captures the simple, unvarnished experiences of an unexpected artist — his sources of inspiration, and how he overcomes adversity when the poems he pours his soul into are suddenly destroyed by his pet dog.
Starring: Adam Driver, Golshifteh Farahani, Chasten Harmon

Director: Jim Jarmusch

Year: 2016

Runtime: 118 minutes

Rating: R

Rotten Tomatoes Score: 96%
Pride
It's Britain in the 1980s, and Welsh miners are suffering through a painful and expensive strike in the face of Thatcherite austerity. They find support, however, in an unexpected place when a group of gay and lesbian Londoners commit to raising funds to support them. "Pride" is a warm and engaging movie about the bonds that are forged between unlikely parties when both make a commitment to treating each other as human beings. With a delightful ensemble cast that includes Imelda Staunton, Billy Nighy, Paddy Considine, Andrew Scott, Dominic West, George MacKay, and many others, "Pride" captures a rare sense of empathy that is impossible to resist.
Starring: Bill Nighy, Andrew Scott, George MacKay

Director: Matthew Warchus

Year: 2014

Runtime: 120 minutes

Rating: R

Rotten Tomatoes Score: 92%
The Report
"The Report" isn't an easy watch, but it feels like an essential one. The film stars Adam Driver as a government official who is responsible for putting together a report that will examine the use of torture on suspected terrorists at Guantanamo Bay. What he uncovers is chilling, with endless stories of prisoners being subjected to every kind of torture imaginable as CIA operatives unsuccessfully try to get information out of them. A damning indictment of American war crimes in the aftermath of 9/11, "The Report" forces viewers to confront the evil deeds done in the name of national security.
Starring: Adam Driver, Maura Tierney, Annette Bening

Director: Scott Z. Burns

Year: 2019

Runtime: 118 minutes

Rating: R

Rotten Tomatoes Score: 82%
Selah and the Spades
"Selah and the Spades," which is set at an elite boarding school, takes the concept of high school cliques to extremes. This particular school is literally run by the five different "factions," with the Spades essentially operating as drug runners for the entire student body. But Selah (Lovie Simone) has a problem: She's graduating, and she has no heir apparent to take over her operations. When Selah takes the new girl in school under her wing, she thinks she's found the perfect successor, but it isn't long before she begins to feel threatened by her protege. A smart, edgy coming-of-age story, "Selah and the Spades" is a wonderful showcase for Simone's screen presence.
Starring: Celeste O'Connor, Lovie Simone, Jharrel Jerome
Director: Tayarisha Poe

Year: 2019

Runtime: 97 minutes

Rating: R

Rotten Tomatoes Score: 86%
Shoplifters
Operating on the margins of Japanese society, the group of grifters featured in "Shoplifters" is a prime example of the kind of family that you find, as opposed to the type you're born into. They may not have traditional family values, but they are thoroughly committed to one another; in the end, the film asks us if a child is better off loved and valued in an eccentric (even illegal) family unit than neglected in a conventional home. Both heartwarming and ultimately devastating in how completely this clan embraces an abandoned child, "Shoplifters" is an emotionally moving examination of Japanese society.
Starring: Lily Franky, Sakura Andô, Mayu Matsuoka
Director: Hirokazu Kore-eda
Year: 2018
Runtime: 121 minutes
Rating: R
Rotten Tomatoes Score: 99%
Sound of Metal
When drummer Ruben (Riz Ahmed) first begins to hear a ringing in his ears, he shrugs it off as an occupational hazard. Then, one day, he walks up to discover that he has lost the majority of his hearing and will need to adjust to an entirely new life. "Sound of Metal" is an empathetic exploration of the transition between the hearing and Deaf worlds, with Paul Raci's Joe serving as a guide and mentor to Ruben. The film utilizes sound in innovative new ways: It's used to demonstrate Ruben's fading hearing, the harsh, mechanical sounds of a cochlear implant, and, finally, the peace of silence.
Starring: Riz Ahmed, Olivia Cooke, Paul Raci

Director: Darius Marder

Year: 2020

Runtime: 120 minutes

Rating: R

Rotten Tomatoes Score: 97%
Sunrise
They just don't make them like this anymore. "Sunrise: A Song of Two Humans" is a 1927 silent film that explores a marriage in distress. The Man (George O'Brien) and the Wife (Janet Gaynor) are perfectly happy in their quiet country life – that is, until the Woman from the City (Margaret Livingston) shows up. The Man is immediately smitten, and begins to fantasize about leaving (or worse, killing) his wife so that he can run away and lead a more exciting life in the city with his new paramour.
But, as the proverbial saying goes, the grass is always greener on the other side of the fence, and the Man may regret not appreciating what he had. "Sunrise" has the distinction of winning at the first Academy Awards ceremony, where it received the honor for best unique and artistic picture, and saw Janet Gaynor earn the first-ever best actress Oscar. Writing for the New York Times in 1927, Mordaunt Hall called it simply, "a film masterpiece."
Starring: George O'Brien, Janet Gaynor, Margaret Livingston

Director: F.W. Murnau

Year: 1927

Runtime: 110 minutes

Rating: N/A

Rotten Tomatoes Score: 98%
Suspiria
There's something about dancers and covens of witches that make for an unbeatable combination. "Suspiria" is based on the 1977 film by Dario Argento, awash with vibrant colors in open defiance of the accepted wisdom that horror films should be dark and moody. In this adaptation, Dakota Johnson stars as Susie Bannon, a talented young dancer who travels to Berlin in the 1970s to begin training at a new ballet academy. But is the school more than it seems on the surface?
Obviously. Come on, of course there is.
Although director Luca Guadagnino fails to capture some of the appeal of Argento's cult classic, he nonetheless creates a film that can be appreciated on its own merits. Anton Bitel of Little White Lies called it, "A beautiful, resonant feminist fairy tale at least half grounded in German postwar realities," and many critics praised the contributions of Tilda Swinton in particular, who played not one, not two, but three different characters in the film.
Starring: Dakota Johnson, Tilda Swinton, Mia Goth

Director: Luca Guadagnino

Year: 2018

Runtime: 152 minutes

Rating: R

Rotten Tomatoes Score: 65%
Sylvie's Love
Too often, people making films about Black romances seem to feel that the story needs to be tragic in some way, that the characters have to suffer to make the movie compelling. That's what makes "Sylvie's Love" such a breath of fresh air. Not everything goes perfectly between Sylvie (Tessa Thompson) and Robert (Nnamdi Asomugha), and they have their fair share of difficulties as they fall in love in 1950s Harlem, but the story is told with such a lightness of touch that makes it entirely endearing. A gorgeously filmed, optimistic story of missed connections and second chances, "Sylvie's Love" can't help but charm its viewers.
Starring: Nnamdi Asomugha, Tessa Thompson, Regé-Jean Page
Director: Eugene Ashe

Year: 2020

Runtime: 114 minutes

Rating: PG-13

Rotten Tomatoes Score: 93%
Thirteen Lives
There's nothing that Ron Howard loves more than an inspirational, real-life rescue story. It's like catnip to him. So, it's only natural that Howard would be drawn to the incredible story of divers who somehow managed to pull off the impossible and save the lives of an entire youth soccer team trapped in a cave system by unexpected flooding. "Thirteen Lives" focuses primarily on the efforts of the divers, led by Colin Farrell and Viggo Mortensen's characters, to find the boys and figure out a way to get them out alive. Although the story disappointingly doesn't focus much on the Thai boys' perspective, "Thirteen Lives" is nonetheless an incredibly compelling drama that's gripping throughout, especially during the extended dive sequences.
Starring: Colin Farrell, Viggo Mortensen, Joel Edgerton

Director: Ron Howard

Year: 2022

Runtime: 142 minutes

Rating: PG-13

Rotten Tomatoes Score: 86%
Time
Prime Video's catalog of documentaries isn't as well-known as that of its competitors, particularly Hulu and HBO Max, but it does have a few gems, chief among them "Time." Filmed over the course of two decades, it follows Fox Rich's efforts to have her husband Rob released from prison. The two committed a robbery in the early 1990s, a crime that would land Rob with an astonishing 60-year prison sentence. "Time" artfully manages to be both an intimate story of one family's experience with incarceration as well as a scathing indictment of a broken criminal justice system that tortures everyone it touches.
Starring: Fox Rich, Rob Rich II, Laurence M. Rich

Director: Garrett Bradley

Year: 2020

Runtime: 81 minutes

Rating: PG-13

Rotten Tomatoes Score: 98%
Train to Busan
South Korean cinema is no stranger to horror, but "Train to Busan" is perhaps the country's most groundbreaking and innovative zombie film. While on a seemingly routine train ride from Seoul to Busan, the passengers are jolted from their seats by the most unexpected event: A girl infected with a strange pathogen turns into a zombie, a condition that spreads from car to car as each new zombie begins to feed. The action and horror sequences of "Train to Busan" are all well-executed, but what helps this film stand out from similar movies is its dedication to its well-developed characters — we care about them so much, and are incredibly invested in their survival.
Starring: Gong Yoo, Don Lee, Jung Yu-mi

Director: Yeon Sang-ho

Year: 2016

Runtime: 118 minutes

Rating: NR

Rotten Tomatoes Score: 94%
Uncle Frank
When you grow up in a small town in the South feeling different, it's hard not to count down the days until you turn 18 and can start your own life. In "Uncle Frank," Sophia Lillis stars as Beth, a girl who moves to 1970s New York City, attending the same college where her Uncle Frank (Paul Bettany), another black sheep of her family, teaches. Frank is used to living a guarded existence for one very simple reason: He's gay, which his traditional, conservative family can't accept. But when Frank and Beth embark on a road trip home for a funeral, he may no longer be able to hide his true self.
Starring: Sophia Lillis, Paul Bettany, Peter Macdissi

Director: Alan Ball

Year: 2020

Runtime: 95 minutes

Rating: R

Rotten Tomatoes Score: 78%
Valley Girl
A "Romeo and Juliet" story for 1980s teens, "Valley Girl" stars Nicolas Cage as a boy from the wrong side of the tracks who falls in love with an L.A. princess, played by Deborah Foreman. When the two meet at a house party, they unexpectedly hit it off, and attempt to introduce each other to their respective worlds despite the disapproval of their friends and family. From the clothes to the music to the Valley Girl slang, the entire production of "Valley Girl" is like a time capsule for a very specific moment in the early 1980s, and its authenticity is part of its appeal.
Starring: Nicolas Cage, Deborah Foreman, Frederic Forrest
Director: Martha Coolidge
Year: 1983
Runtime: 95 minutes
Rating: R
Rotten Tomatoes Score: 83%
The Vast of Night
"The Vast of Night" is a good reminder that you don't need a massive budget to tell an interesting science fiction story. Leaning more on the tenor of "The Twilight Zone" than "Star Trek," the film is set in a small town in the 1950s. Two high school students, Everett (Jake Horowitz) and Fay (Sierra McCormick), stumble upon a strange radio frequency that interferes with their respective part-time jobs as a disc jockey and a switchboard operator, respectively. But, as they investigate, they discover that the frequency's source is from much further abroad than they expected. "The Vast of Night" is an alien film that doesn't actually require us to see aliens in order to be unsettling, as well as a tribute to the ingenuity of filmmakers who operate with limited resources.
Starring: Sierra McCormick, Jake Horowitz, Cheyenne Barton

Director: Andrew Patterson

Year: 2019

Runtime: 91 minutes

Rating: PG-13

Rotten Tomatoes Score: 93%
We Have Always Lived in the Castle
Who doesn't like a nice, modern Gothic thriller? Based on a novel by the legendary Shirley Jackson, "We Have Always Lived in the Castle" revolves around a pair of sisters (played by Taissa Farmiga and Alexandra Daddario), who both survived a mysterious family tragedy alongside their eccentric uncle, and who occupy the family estate. For the most part, they're perfectly content to live in relative isolation, but when an estranged cousin, Charles (Sebastian Stan), arrives and disrupts the status quo, the tensions that emerge threaten to split the family apart. Dark and eerie, "We Have Always Lived in the Castle" is one of the most atmospheric films we've seen in quite some time.
Starring: Taissa Farmiga, Alexandra Daddario, Sebastian Stan

Director: Stacie Passon

Year: 2018

Runtime: 96 minutes

Rating: NR

Rotten Tomatoes Score: 88%
Whale Rider
Paikea is the only child of the last male descendant of the Whale Rider. As such, she should be next in line to lead her Māori village. However, her twin brother died during birth along with her mother, and girls are not considered suitable for the position, no matter how perfectly Paikea may fit the role. This conflict is at the heart of "Whale Rider," in which young Paikea must prove to her grandfather and her community that she is more than a match for the challenges of leadership. The film features a stunning performance from Keisha Castle-Hughes in the lead role, which earned her an Academy Award nomination for best actress at the age of 13, making her the then youngest-ever nominee.
Starring: Keisha Castle-Hughes, Rawiri Paratene, Cliff Curtis
Director: Niki Caro
Year: 2002
Runtime: 101 minutes
Rating: PG-13
Rotten Tomatoes Score: 91%
When a Stranger Calls
It's one of the all-time spookiest urban legends: A teenage babysitter is alone, the children in her charge long having been sent off to bed, when she receives a chilling phone call asking her to check on the kids. The calls escalate until the story's sucker punch arrives: The policeman who's been attempting to help the babysitter informs her that the call is coming from inside the house.
The original story dates back to the 1940s, but it came of age in the 1970s with both "Black Christmas" and "When a Stranger Calls," which is perhaps the most definitive, faithful adaptation of the urban legend. The film stars Carol Kane in an early performance, and its first act has proven to be extremely influential in horror — the now-iconic opening scene of "Scream," with Drew Barrymore alone in her house talking to a malicious stranger on the phone, unquestionably owes a debt to "When a Stranger Calls."
Starring: Carol Kane, Charles Durning, Colleen Dewhurst

Director: Fred Walton

Year: 1979

Runtime: 100 minutes

Rating: R

Rotten Tomatoes Score: 41%
The Wolf of Wall Street
Martin Scorsese may be best known for mobster movies, but it's hard to think of any Mafia-type characters who are more inherently villainous than those we find in "The Wolf of Wall Street." Leonardo DiCaprio, Scorsese's It Boy of the 21st century, stars as Jordan Belfort, an entrepreneurial — if sociopathic — finance bro who climbs his way up the ladder on Wall Street. Nothing stands in the way of his pursuit of the almighty dollar, not even the federal agencies investigating his illegal business practices.
Pitch black but surprisingly funny, "The Wolf of Wall Street" depicts immoral stockbrokers as a pack of wild, vicious animals. Frankly, the metaphor is apt. Scorsese continues to find success in exploring different facets of toxic masculinity – "The Wolf of Wall Street" was nominated for five Academy Awards, including acting nods for DiCaprio and Jonah Hill, and grossed nearly $400 million worldwide.
Starring: Leonardo DiCaprio, Jonah Hill, Margot Robbie

Director: Martin Scorsese

Year: 2013

Runtime: 179 minutes

Rating: R

Rotten Tomatoes Score: 80%