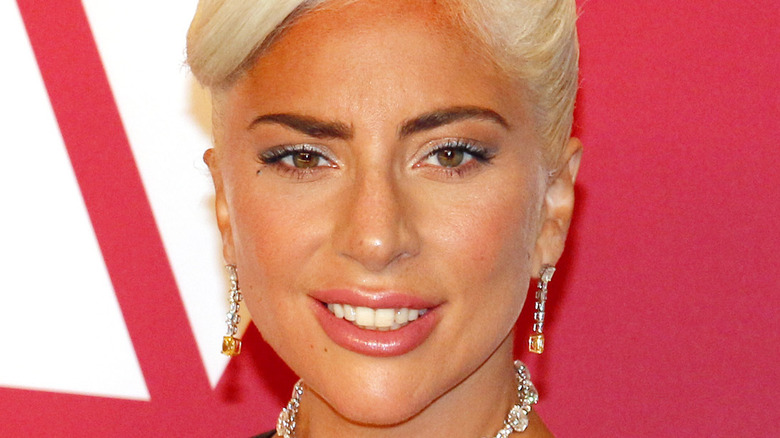 How do A-list stars always look their best on a red carpet? Well, thanks to the lovely people at Spanx, most celebs choose to wear shapewear under their designer gowns. While some public figures won't admit they use such products, other famous folk have been more than candid about working them into their wardrobes. "There are these great things called Spanx and they just squeeze you in," Gwyneth Paltrow once declared in an interview (via The Telegraph). "It's terrific!" And, three months after giving birth to daughter Daisy, songstress Katy Perry had to jump right back into work and kept it real with her fans by hilariously flashing her Spanx under her blue trench coat on social media.
While stars like Paltrow and Perry aren't shy to let the world know that they proudly use shapewear to keep everything intact, there are a few celebs who forgo shapewear and underwear. Believe it or not, lots of well-known people in Hollywood have admitted that they would rather go commando than wear their unmentionables, even if they are going out in public. From calling undies uncomfortable to wanting to just feel free, these stars have performed on stage or walked red carpets at prestigious award shows without any underwear.
Kelly Clarkson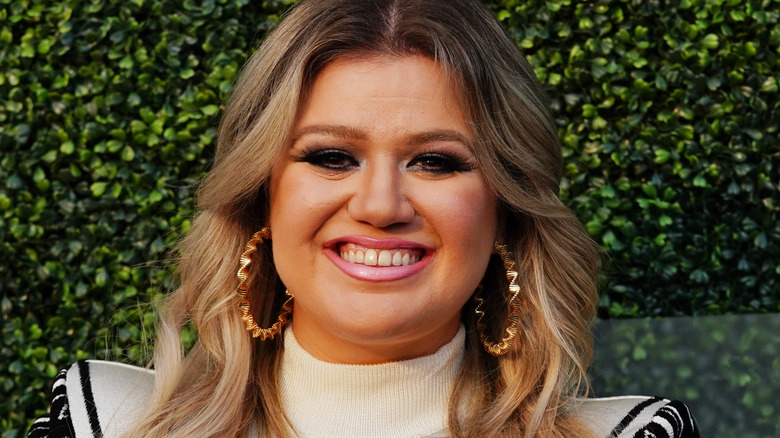 When Kelly Clarkson became the first person to win "American Idol" in 2002, she had no idea just how huge of a star she would become. To mark the 18th anniversary of her win, Clarkson reflected on the moment that changed her life, sharing in a tweet, "18 years ago today was the finale of the first season of "American Idol" and it changed my life! I'm still hustlin 18 years later because I know I am blessed to have the opportunities and I still love my purpose!" While the singer still takes the time out of her busy career to thank the singing competition show, she also once shared a very intimate detail about her time on "American Idol" that shocked fans.
According to Page Six, Clarkson got real with reporters at an event in 2008 about underthings, asking, "Why'd anyone want a little thing up their butt when they can go free?" She also proudly admitted that she went underwear-free the whole time she was on "American Idol." Was it possible that going commando was one of her tricks to winning the reality competition? Either way, Clarkson is one star that always wants to be comfortable wherever she is, not only ditching undies, but five-inch heels too, once telling reporters (via People), "I don't want to wear no stiletto. I am not a model and I am not Beyoncé. It's not going to happen."
Kim Kardashian
Before Kim Kardashian created her own shapewear line called SKIMS, the reality TV personality said she was never a fan of underwear. During her "party girl" days with Paris Hilton, the mogul told Rolling Stone that while she "rarely" wore anything underneath her clothing, she thankfully did not fall victim to a paparazzi landing a shot of her as she stepped out of a car, which has unfortunately haunted stars like Britney Spears and Lindsay Lohan.
In 2015, the "Keeping Up With the Kardashians" star told model Cara Delevingne for LOVE magazine (via OK!) that she had recently gotten back into the skivvies game. "I only started wearing underwear a month ago, and I never wore underwear until then," Kardashian said. "But I always pee all over my Spanx, it's a disaster. They aren't crotchless enough!" Let us hope Kardashian's line of shapewear and undergarments are made to better suit the star when she needs a bathroom break.
Christina Aguilera
If you have ever seen Christina Aguilera perform in concert, chances are the pop star was not wearing anything underneath her wardrobe. The "Can't Hold Us Down" singer has openly admitted that she is not a fan of underwear and likes to go commando. In 2012, Aguilera appeared on "Chelsea Lately" after host Chelsea Handler had fellow "The Voice" coach Blake Shelton on and joked that the songstress isn't a fan of pants. "I've heard all about the s*** Chelsea talked about me not wearing pants. So when they asked me to come on, I thought, I'll do it, if Chelsea did one thing for me," Aguilera said.
To Aguilera's delight, Handler came out on stage sans pants, with the singer stating, "Don't you feel free? You look hot. I think it's a good look for you. You're in pop star mode right now." However, during her interview, not only was it pretty clear that Aguilera would forgo wearing pants anytime she could, but she also would rather not deal with the garments that go under the pants. "I don't like to wear underwear," Xtina said. "I like to be as free as possible at all times. It's just who I am."
Octavia Spencer
Fans won't see actor Octavia Spencer wearing the highest heels or the tightest dress on a red carpet, and the same goes for shapewear or even underwear. As far as she's concerned, comfort is key. Talking to People at the Toronto International Film Festival in 2017, she shared her thoughts about all those undergarments, stating, "Ladies, it's not worth it. We don't even [need to] say what underwear it is. Just don't wear too much of it."
At the 2017 Golden Globes, Spencer kept her word when she walked the red carpet wearing a Laura Basci suit which allowed her to skip her underclothes. "I chose to wear a tuxedo, and in doing that, I was able to be freer, less underwear. A lot less underwear. And I was just radiant," Spencer said on "The Ellen DeGeneres Show." "Everyone was like, 'Oh, you're happy.' They thought it was because of the box office, and I'm thinking, my feet don't hurt and I am not cinched. It was wonderful.'"
"The Shape of Water" star also discussed how her fashion style has changed over the years with a mantra that comfort is key. "I think women are sexy when they are confident. I think trying to wear nine-inch heels and tights trussed up like a Thanksgiving turkey, those days are gone [for me]," Spencer shared with DeGeneres. "I think it's all about comfort and knowing what fits your body. And I'm there now, I'm all about comfort and what suits me."
Colton Underwood
"The Bachelor" lead Colton Underwood has become one of the most talked-about stars from the reality dating show ever since he was labeled "The World's Most Famous Virgin" during Becca Kufrin's season of "The Bachelorette." Underwood went on to act as the lead in the 23rd season of "The Bachelor" and became one of the sharpest dressers on the show. He once told Footwear News, "I got complimented on my shoes and watch the whole season. Coming into this, I took a lot of pride in my own fashion. I'm a firm believer in 'look good, play good.'" He also revealed a more intimate detail about his fashion choices: "I don't wear socks and I don't wear underwear." Did that mean the reality star went commando during his time as the Bachelor?
He and his pick, Cassie Randolph, ultimately broke things off in May 2020, with People citing a source as saying they'd ended things on good terms. However, TMZ later reported that Randolph had filed a restraining order against Underwood, which was later dropped. Following the split, Underwood came out as gay during an interview on "Good Morning America." He shared that he was very much in love with Randolph, which made coming out especially difficult for the star.
Kate Beckinsale
As The Sun reported at the time, actor Kate Beckinsale left little to the imagination when she attended the 2018 GQ Men of the Year Awards in a red and black dress by British designer Julien Macdonald. Her flowing gown resembled a tropical caftan that made heads turn with its swimsuit-style top that exposed plenty of skin. Now, if the ensemble has you wondering what kind of super specific undergarment one would have to find to fit under such a unique silhouette, the answer may very well be custom none-derwear.
Beckinsale has made it quite clear that she's not really into underwear. In a 2011 Maxim interview, she shared, "Yeah, I don't wear knickers. I mean, unless I'm wearing a very short skirt — or maybe if I'm going on a mountain expedition with extra layers. But no, I don't like them." And during an appearance on "The Late Late Show with Craig Ferguson," she confessed that she wasn't wearing any underwear after her microphone had fallen off and had nothing to hook it on to while joining the host on set.
Emma Thompson
Actor Emma Thompson transformed into the antagonist Baroness von Hellman in the Disney film "Cruella," but as she shared on "Lorraine," she took issue with one piece of her character's wardrobe. When Mark Heyes asked about the "serious underwear" she had to sport for the role, she said it was "like a torture item" before getting into her feelings about any and all underclothing. "I don't like underwear full stop. I stopped wearing underwear a long time ago," Thompson confessed. "It's not my scene. I don't like comfortable underwear. I find comfortable underwear uncomfortable."
Not only did she state that her underthings for her costume was "industrial," but she went on to share that she felt like she was "squeezing a tube of toothpaste" when it came time to get into the garment. "If you squeeze it hard enough things will come up and go down and make the shapes," she said. "But it's like you're dealing with a Plasticine person. If you put Mr. Blobby into that corset, he would look good."
Fans eager to see just what looks Thompson had to squeeze herself into can watch her in Disney's "Cruella" on Disney+.
Jamie Foxx
While playing "Burning Questions" on a 2020 episode of "The Ellen DeGeneres Show," actor and singer Jamie Foxx opened up about his undergarment-related habits. When Ellen DeGeneres asked him to name one of the ways he embarrasses his kids, he replied, "I don't wear underwear all the time. It's not a bad thing. I'm just a natural person so sometimes when I'm working on stuff, my kids. … Okay, let's just go with something else." The "Django Unchained" star tried to change the subject, but the visibly amused talk show host interjected, "No kid wants to see their dad walking around with no underwear." She makes a valid point.
Speaking of awkward family moments, Jamie Foxx joined forces with his daughter, Corinne Foxx, and released an eight-episode show called "Dad Stop Embarrassing Me!" The scripted series is based on some of their real-life (and cringeworthy) father-daughter moments. "It's literally my diary come to life," Corinne told the Daily News.
Kim Cattrall
Everyone has their own beliefs and opinions on how to maintain a healthy lifestyle, but "Sex and the City" alum Kim Cattrall says one way to keep our bodies in tip-top condition is by going without underwear. In an interview for Look magazine (via Express), the actor recommended more women follow in her footsteps, declaring, "My ultimate fashion advice is that it's a proven fact that if you don't wear underwear it's more ventilation and that's maybe healthier."
Not only was Cattrall happy to offer her very own wellness tips, but she also dished to the publication (via Tribute.ca) that she's content with growing old, proclaiming, "I thought in my 40s I was warming up and in my 50s I've taken flight. It's a different world now, thank God. I don't want to look 19. I don't want to look as perfect and beautiful as the fabulous Carey Mulligan. I like the way I look."
Aside from going without panties, the star has previously stated that she makes a point to stay free of nips and tucks. "I don't believe in cosmetic surgery, well, not yet," she told Reveal magazine (via the Independent). "I'd be too frightened. There are so many examples of things that have gone horribly wrong. I live in New York in an area where it is all around me." She also said she values looking healthy and "closer to my age."
Lady Gaga
Is it a shock to anyone that songstress Lady Gaga likes to live a knickers-less lifestyle? The singer once told the Daily Star (via Digital Spy), "I don't really wear underwear. It's rare I will. There's no point. And I'm not ashamed of it." However, in another interview with Rolling Stone, Gaga sang a different tune about underthings. "I feel freer in underwear, and I hate f****** pants," she said. "Plus, it's easier to dance."
Evidently, Lady Gaga wanted all her Little Monsters to dance around in their undies when she released sixth studio album "Chromatica" in 2020. Along with the record, Gaga sold limited-edition merchandise which consisted of crewnecks, sweatpants, briefs, and thongs. The themed items were a hit with her fans, and Insider reported that the green briefs and pink thong were the most popular items.
The singer has actually worn skivvies — and just skivvies — out in public on several occasions. Perhaps the most notable Lingerie Gaga moment was the time when, as Reuters recounted, she changed out of a bright pink ball gown into "a black bra, panties and sky-high platform boots" at the 2019 Met Gala.
Meredith Vieira
Broadcast journalist Meredith Vieira does not shy away from the fact that she does not like sporting underwear. Years after she let her "The View" co-hosts and audience know that she prefers to lead a no undies lifestyle, she made it quite clear to More magazine in 2014 (via Us Weekly) that she has not changed her stance. "I always thought, 'Why bother?'" she shared. "I've always been a pretty open book, for better or worse.'"
Looking back on her time on the morning chat show, the television personality told the publication, "I would say the craziest things [on 'The View'], and people would look at me like, 'Oh my God, what are you talking about?' I'd be screaming out, 'I don't wear underwear!' It was like something was the matter with me. I liked it. It was really, really fun.'" Keeping it authentic, Vieira did add that she is not always out and about with no undergarments on, explaining, "If it's pantyhose, it's built-in. And in the summer I wear leotards." You can't under-win 'em all.
Chrissy Teigen
Plenty of celebrities suffer wardrobe malfunctions, but Chrissy Teigen's was one of the most revealing. Teigen stunned the 2016 American Music Awards red carpet when she wore a black dress held together by safety pins and with slits that ran up her torso, revealing her toned legs. However, according to the Daily Mail, she accidentally flashed photographers more than just her legs when her dress shifted to show that she was not wearing any undergarments.
Teigen apologized for baring it all on the AMAs' red carpet — but of course, it was done in Teigen style, with the model shouting out her laser hair removal service. She wrote on Instagram, "(apologies to anyone harmed mentally or physically by my hooha) dress is #yousefakbar and shoes are @dsquared2 and laser hair removal is @sevlaseraesthetics."
In 2013, the Sports Illustrated model appeared on E! News' "Fashion Police" (via HuffPost), where she admitted that she wasn't a fan of underwear. Adding that she wasn't wearing any while on the show, Teigen said, "I just don't … like it." She also revealed her tricks when asked by the late Joan Rivers how she gets around not wearing any skivvies at that time of the month, but we probably didn't need to know that. TMI!
Jenna Bush Hager
Jenna Bush Hager is one celebrity fans might be surprised to learn doesn't like wearing underwear. The daughter of former President George W. Bush had to defend her no-underwear policy during a November 2022 episode of "Today" when co-host Hoda Kotb revealed the fact to the audience. Sharing that wearing undergarments can ruin an outfit, Hager stated, "I think it makes a more pretty silhouette. I also think you don't have to pack as much. There's a lot of pros to it!" She also jokingly added, "I'm sure my mom [Laura Bush] has never been more proud."
Hager also addressed her no-underwear rule when she appeared as a guest alongside Kotb on Andy Cohen's "Watch What Happens Live." After describing her and her husband, Henry Hager's, dinner with then-Prince Charles in September 2022, Cohen asked Hager if she chose to go commando that night. Nodding her head yes, she answered, "It was a beautiful tight dress. It would have shown." Even for the future king of England, Hager will not make exceptions!
Cara Delevingne
Being friends with Rihanna is a major plus when she chooses you to walk in her exclusive Fenty x Savage fashion shows. Celebrities like model Cara Delvingne have appeared in the songstress' shows a few times, like in 2019, when she took part in a dance performance wearing mint green lingerie. Delevingne was back at it again in November 2022, where she rocked bleached brows and dawned a black lingerie set. However, despite looking stunning in RiRi's lingerie, you won't catch the model wearing these looks at home, as she's revealed that she's not a fan of underwear.
Talking to People in 2019, Delevingne shared, "The first pair of underwear I bought was really cheesy Disney underwear. But I don't really like wearing underwear." Savage x Fenty, of course, caters to men and women of all body types, which is something Delevingne loves about the line — even though she personally prefers to go commando. "Everyone looked so gorgeous and was lifting each other up. It's so inclusive and is such wonderful feeling backstage," she said of the show. "There's so much love involved."
Lenny Kravitz
Lenny Kravitz has been making music since the '80s, with one of his most memorable performances occurring in Stockholm, Sweden decades later — although it wasn't the music that made the night so unforgettable. While rocking out onstage in 2015, Kravitz's leather pants split, and he exposed himself to the crowd as he was not wearing any underwear. However, the musician took the wardrobe malfunction all in stride, even posting a screengrab of a text message from Aerosmith's Steven Tyler on Twitter, who said, "Dude… No underwear and pierced … F*** me.. You never showed me that s***."
While Kravitz's accidental exposure may be in the top 10 most embarrassing celebrity wardrobe malfunctions, the artist didn't find it so horrific when speaking to Mr Porter two years later. Admitting that he isn't a fan of underwear, Kravitz revealed, "Do I have any underwear on now? No. Thus the problems that I incur." Laughing about the incident, he added, "I didn't rip them. They became ripped. It was fine. But it was a little cold in Sweden. I would've warmed it up a little, had I known."
Kris Jenner and Scott Disick
Remember when Kris Jenner had her own talk show? It was called "Kris" and ran for one season in 2013. Despite her short-lived hosting career, Jenner interviewed several celebrities, including her former son-in-law, Kanye West, who famously revealed the first photos of daughter North West at the time, whom he shares with ex-wife Kim Kardashian. Jenner also kept it in the family when she interviewed Kourtney Kardashian's former boyfriend and father of her three children, Scott Disick, who didn't reveal any adorable baby photos but did share some interesting tidbits about himself with the audience.
Co-hosting with Jenner, Disick played a "Fact or Fiction" game, where he shared that he prefers to go commando. "This is true. I can't afford it," Disick joked, with Jenner admitting that she, too, isn't a fan of underwear. "That makes two of us! We don't wear underwear, runs in the family," Jenner said.
Indeed, it does run in the family, with Kim Kardashian also making this list, as previously mentioned. However, it's worth noting that she's since switched from going underwear-free after launching her SKIMS line, which only makes sense.