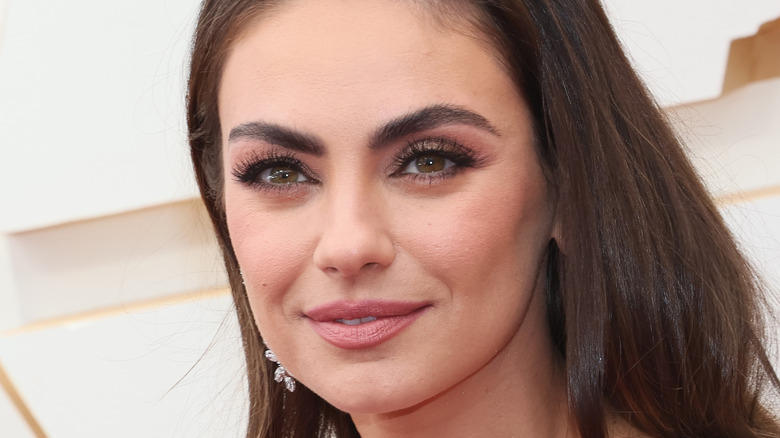 Fans practically grew up with Mila Kunis ever since she landed her breakthrough role in the fan-favorite TV series "That 70's Show" when she was only 14-years-old. Because of that, it's hard not to love the actor, considering she continued to bring the laughs with popular comedies like "Forgetting Sarah Marshall," while still proving she's seriously talented with her performance in "Black Swan." Even off-screen, Kunis appears to be just as lovable, raising over $30 million with her husband to help Ukrainian refugees. The beauty somehow comes off as pretty relatable too, like when she was annoyed her family's bathing habits made headlines, claiming on "The Ellen Show," "who cares?"
With that said, it should come as no surprise that Kunis has a ton of celebrity pals from Princess Beatrice to her former "The 70's Show" co-star Laura Prepon, who publicly credited Kunis for helping her get over mom-guilt. Then there's actor Kristen Bell, who once gushed to ET, "I was just lucky enough to work with Mila … We became great friends and that contributed to 'Bad Moms' … we love [each other]."
Another co-star who seemingly adores Kunis is Natalie Portman, despite their director, Darren Aronsky's, alleged attempt to create a rivalry between them on set. Yet Portman told Vogue, "Mila and I had had 'sweatpants nights' watching 'Top Chef.'" While it's clear Kunis has a great reputation, not everyone she's come across in Hollywood has taken to her. In fact, there are some stars that can't stand her at all.
She feuded with Demi Moore over Ashton Kutcher
It can definitely be assumed that Demi Moore is not a fan of Mila Kunis considering she's who Moore's ex-husband, Ashton Kutcher quickly moved on and started a family with following their 2011 divorce. However, Kunis denied the rumors that there was any overlap with their relationships or that she caused their split. She explained when they got together on the "Armchair Expert" podcast, saying, "He was post, post, post, way post-divorce but I think there was a lot of misconceptions about the divorce."
Regardless, Moore and Kutcher apparently didn't end on good terms. In her memoir, "Inside Out," Moore wrote, "The husband who I'd thought was the love of my life had cheated on me and then decided he didn't want to work on our marriage." While Moore probably irked Kunis by calling her now-husband a cheater, a source revealed to People, "Nothing came out in this book that Mila did not already know." Kutcher, on-the-other-hand, seemingly decided to respond by throwing his new happy family in Moore's face. He tweeted, "​​I was about to push the button on a really snarky tweet. Then I saw my son, daughter, and wife and I deleted it."
Despite Moore and Kunis' rumored feud over Kutcher, the two appeared together in a 2022 Super Bowl commercial that poked fun at them having a lot in common. So perhaps Moore eventually changed her mind about Kunis, or at least used their beef to make a nice paycheck.
Leslie Mann is bitter over Bad Moms
It's safe to say that Mila Kunis' 2016 comedy "Bad Moms" has been a major success. The film not only made money in the box office but, per Los Angeles Times, even resulted in a franchise, proving to Hollywood that audiences wanted more woman-based comedies. It also confirmed that Kunis herself had serious star power even though her role was originally supposed to go to someone else. According to The Hollywood Reporter, that person was Leslie Mann, who had signed on as the lead when the film was set to be produced by her husband, Judd Apatow. However, the power couple later decided to drop out of the movie entirely.
Yet after "Bad Moms" became a hit, Radar reported that Mann was pretty annoyed with Kunis because she was the one to replace her. An insider dished, "Leslie's very sore and b****y about the whole thing and can't let it go!" Whether Mann was actually pushed aside for Kunis or not, Apatow is allegedly just as bitter. The source explained, "[He] just holds grudges forever … And this was a case where he made the wrong bet."
There's also rumors that Mann isn't the nicest, even when her disdain isn't directed at Kunis. Not only have fans reported to the gossip account Deux Moi that she's not friendly in-person, but a former Los Angeles waitress went viral on TikTok for claiming that Mann and Apatow were impolite. She dished, "I wanted to like [them] so much but they were so rude."
Macaulay Culkin was hurt by their split
Macaulay Culkin is one of those celebrities who has managed to remain pretty private over the years, but if you ask Mila Kunis, he's also probably one of those celebrities who can't stand her. That's because the two had dated for almost a decade before they had what was apparently a very messy split in 2011. Kunis blames herself for that, telling the "Armchair Expert" podcast, "It's f***ed up what I did and it's f**ked up how I did it. When I got to be single I said … 'I genuinely need to know why I did what I did, and, like, regroup myself as a human."
While Kunis never revealed what she actually did to Culkin, per Showbiz Cheatsheet, there were rumors that she had cheated on him with her now-husband Ashton Kutcher. The two had gotten together shortly after her and Culkin broke up, which suggested there could have been some overlap. Yet their split still did come as a surprise to many. Only two year before, Kunis had gushed about Culkin to Women's Health, saying, "You find a steady rock in your life and that's all you need. We have our ups and downs, but work through them."
Unfortunately, the two seemingly parted on bad terms. Kunis revealed on "WTF With Marc Maron," "[We're] probably not as friendly as we could be … There are too many aspects of it that just prevented us from ever moving forward [from the] past."
Jessica Biel disliked her relationship with Justin Timberlake
Jessica Biel is another celebrity who is said to not like Mila Kunis, which stems from her past alleged fling with Biel's husband, Justin Timberlake. It was back when Kunis and Timberlake were filming their 2011 rom-com "Friends With Benefits" that rumors surfaced that they were more than just co-stars. A source dished to Us Weekly (via Glamour), that while Timberlake was dating Biel, he had been interested in Kunis, adding, "He tried every trick in the book."
Biel and Timberlake did coincidentally split later that year, just before he promoted the film with Kunis, who also happened to be newly single. Because of that, there were rumors that Kunis caused their break up. Even People reported that Timberlake and Kunis had been "pretty inseparable" mere weeks before, although they insisted they were just friends. Regardless, it makes sense that Biel wouldn't like any woman getting close to her man during their time apart, let alone one who had sex scenes with him. What's worse is that Biel had reportedly auditioned for Kunis' role in "Friends With Benefits" but was rejected in favor of Kunis.
According to OK!, even after Biel got back together with Timberlake, and Kunis moved on with Ashton Kutcher, there was still bad blood between the ladies. A source dished, "Justin would have actually liked Mila to be at his wedding, but Jessica said no." They even added that as of 2016, "They go out of their way to avoid each other!"
Mila Kunis bashed Perez Hilton in an interview
Gossip blogger Perez Hilton appears to despise Mila Kunis, which is somewhat fair since the "Family Guy" star did accuse him of basically ruining the entire entertainment industry. While on the "Armchair Expert" podcast, Kunis had apparently blamed Hilton for making her dislike fame, dishing, "I was happy. Everything was great … until, I would say, the rise of Perez Hilton. That's when I equate this industry crumbling." If that wasn't bad enough, she even lambasted him for inventing trolling. "To me, he was the first person that created ugly news … it allowed people to be mean … like this whole concept of trolling didn't exist," she said.
Hilton initially brushed off Kunis' accusations with a snarky post, thanking her for getting him some attention. He posted, "I hope I wake up to even more press picking this up tomorrow morning!" However, Kunis' comments did appear to have eventually upset him since he later told BBC, "Did Mila Kunis never read Us Weekly or National Enquirer or Star magazine? All of those existed before I ever did, and they did the exact same thing." He did add though, "Maybe I was the first to do it online."
It seems Kunis' outspoken nature, career successes, and past romances has made the "Four Good Days" star some enemies in Hollywood. But even if some celebrities can't stand her, there's millions of fans who obviously feel much differently, which is why she's the star she is today.