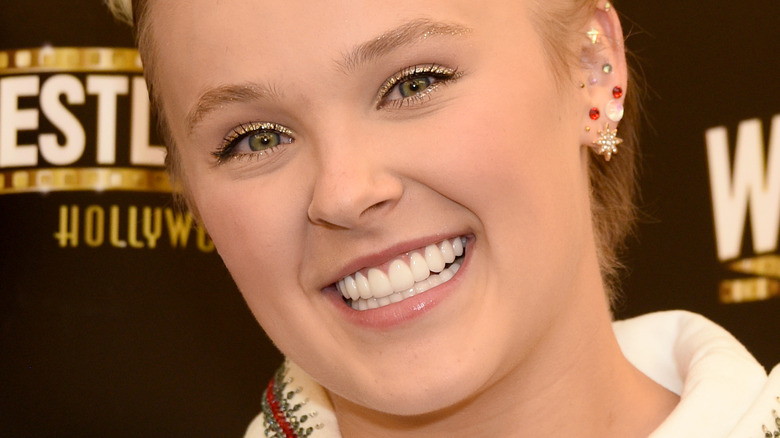 Joelle Joanie "JoJo" Siwa has over 12 million subscribers on YouTube as of this writing; needless to say, launching that channel in 2015 was a good move. In 2020, she told Forbes, "YouTube is what I'm invested in. YouTube is my life. I love YouTube. Next is TikTok. I love it because you can just make a dance video." The TikTok move didn't fail her as she currently has over 45 million followers on TikTok.
However, Siwa didn't start like a typical influencer. Her path to stardom began when she was 9 years old and competed on "Abby's Ultimate Dance Competition," followed by a stint on "Dance Moms." Passion for dance was in her DNA. Her mom, a longtime dance studio owner, once recalled in Rolling Stone, "When my husband would come pick her up at the [dance] studio, she would not want to leave at night. She was two years old; couldn't even dance or do anything. She was like, 'I just want to stay with you.'"
After getting her start at the dance studio, Siwa grew up in the spotlight. Fans have seen her go from training with Abby Lee Miller to finding YouTube superstardom to selling out shows around the world. She's also shared pieces of her personal life with fans, including her dating history. Fasten your hair bows, because we're about to unpack the reality star's relationship timeline.
She was linked to Mark Bontempo for a few months
In June 2020, JoJo Siwa confirmed to Seventeen that she was dating someone, but she was going to leave it at that. "I'm really in the public light and the thing is like, I don't care. That's a side of my life that I can keep public or I can keep private," she said. Eventually, fans found out she was dating Mark Bontempo, a social media star. However by November 2020, the relationship was over and fans went after her former boyfriend, which didn't sit well with Siwa. "Mark doesn't deserve hateful things like this. He deserves to have people support him. You have NO idea about Mark and I's relationship. how much fun it was,' she said on Instagram (via TooFab).
Bontempo's sister, Madison Fisher, and her husband, Kyler Fisher, also happen to be social media stars, and the pair addressed Siwa and Bontempo's breakup on their YouTube channel. The Fishers made it clear there was no bad blood. "They're like best friends ever," Madison said. "They both have a lot they're trying to accomplish. Life is super busy for both of them and it's just really hard."
Siwa was on the same page. As she told ET, "We never actually had any hard times, we never fought, we never were mad at each other. It was honestly a great time. It just, we had to work."
JoJo Siwa came out
In January 2021, JoJo Siwa came out through her social media platforms, letting the world know who she was. When asked about what label she used to identify her sexuality, she told People, "I like queer. Technically I would say that I am pansexual because that's how I have always been my whole life is just like, my human is my human."
As someone with a huge following — particularly of young people — she knew it was a big deal to come out and be open about her life. So, she took to Instagram Live to discuss what coming out meant to her. "I know everyone's situation is different and it might be harder for some people and easier for some people to come out or be themselves but I think coming out has this stigma around it — that it's this really, really scary thing, but it's not anymore," she said (via Us Weekly). There are so many accepting and loving people out there that it's OK."
In October 2022, Siwa jumped on the "One thing about me…" social media trend to share her own coming out journey. She recalled being drawn to Demi Lovato's "Cool for the Summer" and Jenna Dewan's "Lip Sync Battle" performance, but it took a little while for her to understand why. Siwa also shared that she eventually realized she was not interested in hooking up with men.
A cruise ship connection with Kylie Prew
A month after she came out publicly, YouTube star JoJo Siwa confirmed she was dating Kylie Prew. The "Dance Moms" alum met Prew on a cruise in January 2020. When they first crossed paths, Prew made it clear she was not there to fangirl over the dance celebrity, but hoped to form a genuine connection. Siwa recalled in People, "I told her my whole spiel that I tell everyone when they ask me my life story. She goes, 'I could have Googled that. I want to know your life story. You just told me about your career. I want to know about you.' And I was like, 'No one's ever asked me that before.'"
And with that, their love story bloomed; Siwa would go on to describe herself as being "Ky-sexual." During her relationship with Prew, the two took multiple trips to Disney World and Siwa seemed to be on cloud nine. However, by November 2021 they were over.
Following their breakup, Siwa told People that she was open to finding someone new, but she wasn't actively trying. "I haven't started dating at all, anybody, but whatever happens happens. I fell in love with somebody who I didn't ever expect to fall in love with … And so I think I learned to just trust life and whatever's supposed to happen is going to happen," she said.
Making TikToks with Katie Mills
Not long after splitting from Kylie Prew, JoJo Siwa was thought to be dating TikToker Katie Mills after the two sat courtside at a Lakers game in December 2021. During their rumored date, Jae Crowder of the Phoenix Suns almost landed on Siwa. "If I wouldn't have ducked, I would've been out," she shared on TikTok. "Down for the count. Honestly, it's really entertaining. Really spiced up the day." In addition to the basketball game date, the two also popped up on each other's TikTok accounts. Siwa has since deleted a video in which Mills is dancing with her, but Mills did not pull the video from her account.
Though they never officially confirmed a relationship, things came to a halt after some of Mills' old homophobic, transphobic, and racist social media posts resurfaced. Mills took to Twitter to apologize for the offensive content and acknowledged that she grappled with internalized homophobia as a kid. "My parents tried to hide who I was, sent me to conversion therapy, and made me shun out the LGBTQ+ community. I grew up being told by church leaders and bishops that being gay was a mental illness and that there was something wrong with me," she wrote. "I know it's not an excuse for that awful tweet I liked, but it's the only reason I can think of to why I would ever do that. I was young, dumb, not educated, and trying so hard to shun out the LGBTQ+ community in my life."
Kylie Prew's comeback
Some love stories have an open ending and the possibility for a second chance. That seems to have been the case for JoJo Siwa and Kylie Prew some months after they broke up the first time. In an April 2022 chat with Extra, Siwa confirmed that she was in a relationship, but she did not confirm her significant other's identity. "I'm very happy, I'm very much so in love. I am really lucky that I'm loved unconditionally, too, by this human and she is awesome," the "Dancing with the Stars" finalist shared. Fans immediately figured out that she'd restarted things with Prew, and Siwa confirmed the reunion with a since-deleted Instagram post (via PopSugar). The reality star wrote, "If you love something let it go, if it comes back…."
Siwa also told People the relationship was going well the second time around. "It's good to have people that have your best interest around you, and she really does have mine," she shared. "We're still learning things, setting new boundaries, releasing boundaries… all the normal things."
However, not too long after their relationship rekindled, Prew shared on Instagram Live (via Buzzfeed) that she and Siwa were no longer an item, but there weren't any hard feelings. "I've been single for almost two months, and it's okay," Prew said. "It's not deep, I promise. Everything's fine. Not everything has to be messy and gross because it's not, and I just want to clear the air."
She and Avery Cyrus started as friends
JoJo Siwa's relationship status changed again after she began making TikTok videos with TikTok star Avery Cyrus in August 2022. Speculation about the two began to bubble up after they took turns appearing on each other's accounts, but Siwa tried to keep the rumors at bay. "You know, Avery has been a really good friend of mine for like six months now," Siwa told Talent Recap. "She's awesome, she's literally like the coolest and I'm really grateful to have her as a friend of mine. She's a really good friend."
The friendship blossomed into something more. In October 2022, Cyrus officially asked Siwa to be her girlfriend while they were on a trip to Disney with Siwa's family. As the two rode on a boat, there was a sign waiting for Siwa that read, "Jojo be my GF?" After that, the couple was seen attending different events together such as the opening night of "Jagged Little Pill," and celebrating their one month together with a surprise picnic at the beach.
In an Instagram Live (via People), Siwa addressed the relationship with Cyrus after months of playing into the rumors with several TikTok challenges, mukbangs, and whispered words. "It's just so, so, so awesome. You guys probably haven't seen me this happy since I was on tour," she said.
The Avery Cyrus breakup
In December 2022, Avery Cyrus posted a TikTok video from a cruise she went on with JoJo Siwa and a bunch of other social media stars. At one point in the montage, Siwa gives her a gift and says, "This is my I'm sorry for breaking up with you present." The moment seemed sweet and amicable; Cyrus even commented, "We decided that we are better off as friends. We are both so young and still just trying to figure our stuff out!" However, the breakup took a turn for the worse.
Following the split, Siwa's mom asked her daughter about how she was doing and why she wasn't happy in an Instagram Story (via TMZ). Siwa's answer pulled zero punches. "Because I got used for views and for clout! I got tricked into being told I was in love and I got f***ing played," the "Dance Moms" alum declared. Yikes.
Siwa followed that up by posting a video on TikTok that sure seemed to be a dig at her split from Cyrus. Though she didn't name names, she did give yet another pretty straightforward explanation for their breakup: "You told one of my best friends that you were excited to be dating me bc you're 'growing your career and wanna get to the top.'" Yikes again. On the flip side, Cyrus told People she believed she and Siwa were still on good terms and was thrown off by her ex's comments.