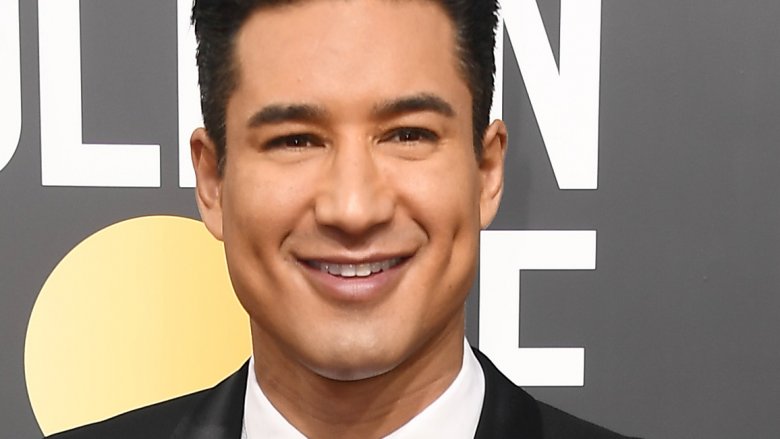 Mario Lopez broke out on the acting scene as high school wrestler/military brat A.C. Slater on the 1989 cheese-tastic Saturday morning sitcom Saved by the Bell. He quickly became a teen idol-turned-sex symbol … despite playing a "male chauvinist pig" and pairing parachute jeans with a hairstyle that was one part mullet and one part Jheri Curl. (Ah, the '90s!) Still, Lopez was really charismatic and had a great smile, so that certainly helped, as did the extreme popularity of his show about the low-stakes happenings at Bayside High.
After Saved by the Bell ended in 1993 — and its short-lived college years-based spinoff, Saved by the Bell: The College Years, bit the dust — Lopez went on to work consistently in television. The only problem is that a lot of his shows quickly disappeared and were easily forgotten. Here's a deep dive into why nobody in Hollywood wants the drummer from the Zack Attack to headline their projects anymore.
Forever Slater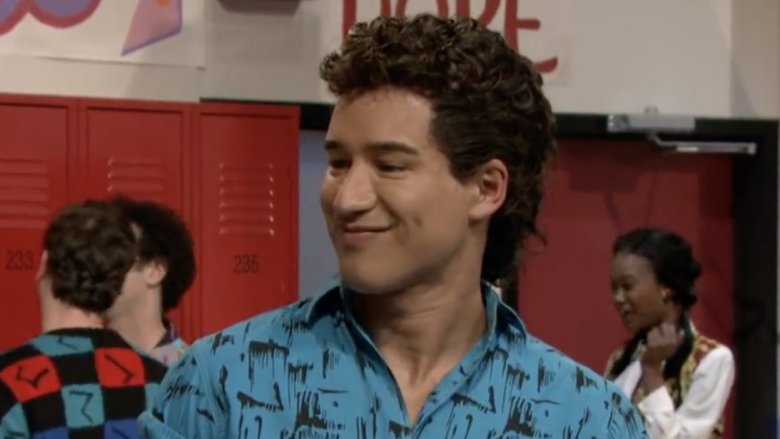 For many viewers and probably casting agents, Mario Lopez and A.C. Slater were one and the same. The people who put TV shows and movies together may have a hard time taking Lopez seriously, or, at the very least, separating him from his character and his work on a show that is the mental image most people conjure when they think of the early 1990s. After all, Lopez still fields questions about a possible reboot/reunion show, like he did in this November 2018 interview with Hollywood Life.
And while Saved by the Bell was a popular show, it wasn't exactly a Peabody Award-winning masterpiece. Casting agents probably never gave Lopez much of a chance to prove that he could do more than play a high school archetype (though one who could dance and threaten preppies). But hey, at least he had one big role, and he had it young, which is something most actors work their whole lives to achieve.
He flipped the script
Lopez mostly hosts things these days. That's not a bad career trajectory — smile, speak clearly, and guide the audience through one televised beauty pageant or entertainment news show after another. It's good for Lopez's bank account that he found his niche, because his history in the world of scripted, dramatic programming is such that producers may not want him to be part of their scripted, dramatic programming anymore.
After Saved by the Bell dominated Saturday morning TV (and teeny-bopper magazines) from 1989 to 1993, NBC took a gamble and moved the show to primetime … and most of the characters to college. Either the new time slot or the locale change (or both) put off audiences, and Lopez's stint on Saved by the Bell: The College Years ended after only 19 episodes.
After that, the hunky, good-looking actor naturally found a spot in one of the mid-'90s' many Baywatch knockoffs. On the USA Network's Pacific Blue, Lopez played a beachside bike patrol cop. The show lasted for five seasons with Lopez starring in just two. Lopez then moved on to the long-running soap The Bold and the Beautiful, but he was out of there after 46 episodes, which is nothing for a soap.
A lack of available Hollywood roles
Despite its corny jokes, hackneyed plot lines, and two-dimensional characters, one thing you can say about Saved by the Bell was that it was organically and casually diverse in an era where TV was still predominantly white. Of the "Bayside Six," two were portrayed by people of color: Lark Voorhies (Lisa Turtle) and A.C. Slater (Mario Lopez). Unfortunately, the rest of Hollywood took a while to get less white, which left Latino actors on the sidelines.
It's very possible that Lopez hasn't done as much dramatic work as, say, his Saved by the Bell cohort Mark-Paul Gosselaar because there just aren't that many roles for Latino performers. A 2016 study by the Media, Diversity, and Social Change Initiative (under the banner of USC's Annenberg School for Communication and Journalism) found that Latinos are among the least-represented cultural groups on TV and in movies. Out of more than 11,000 speaking characters studied, just 5.8 percent were of Hispanic or Latino descent.
Grease is the word
Lopez does occasionally get a break in the TV biz — sometimes thanks to colorblind casting. Lopez had a prominent cameo in Fox's live production of the musical Grease as fictional, '50s-era celebrity host Vince Fontaine. (As a former teen dream, Lopez was an inspired choice; Edd Byrnes, a 1950s teen idol, played Vince Fontaine in 1978's big-screen Grease.) Fontaine comes to Rydell High to tape an episode of his popular dance TV show — which means that Lopez, a TV host by trade, portrayed a TV host, i.e., the 1950s version of Mario Lopez.
Also, Fontaine is an unabashed womanizer who shamelessly hit on underage girls during his show's shoot in a high school gymnasium. That's a little awkward and unfortunate, considering Lopez's history of inappropriate behavior, such as his past infidelity and an alleged rape from his Saved by the Bell days. (More on those things below.) But hey, work is work.
From TV for children to adult affairs
It may seem like a sex or relationship scandal negatively affecting a celebrity's livelihood sounds like something out of the 1930s, when studios aggressively controlled the lives of their "contract players" and had huge staffs on hand to bury even the faintest whiff of career-tainting (and box-office-threatening) scandal. But in today's world of rapidly disseminating information and demand for celebrity/entertainment news, when a famous person messes up, they're quickly tried and "convicted" in the court of public opinion. Doing something dumb, gross, or downright horrifying can limit or end a career — and that might be what could have happened with Mario Lopez. What studio would risk the bad publicity by actively walking into the darkened orbit of a guy who was accused of rape on his first major gig … and who cheated on his celebrity fiancée just a few days before his wedding?
Yep, Mario Lopez did that. In 2004, Lopez married model and actress Ali Landry (best known as the pretty face representing Doritos), only for the whole thing to end in an annulment just two weeks later. Rumor had it that Lopez had cheated, which he confirmed to Howard Stern in 2011 (via Us Magazine), saying he "messed around" with a woman he met during his bachelor party festivities. "That was a situation where I was not mature and man enough," he said.
Extra! Extra! (He's on Extra)
The funny thing about Mario Lopez's career is that you can see the guy on TV every weekday if you want to, and you've been able to do that for a decade. Lopez has hosted Extra, one of America's many nationally syndicated celebrity news shows, for ten seasons. And that's not even counting his time hosting the show's weekend edition.
It's not the only show of its kind — there's Daily Mail TV, Page Six TV, Entertainment Tonight, and Access Hollywood — but Extra is the only light news program that features the relentlessly sunny and energetic Saved by the Bell star Mario Lopez providing the latest information on movies, TV, and trends. It's also the only one which films outdoors in the middle of Universal Studios and Universal CityWalk amidst the crowds. So take that, giant picture window at NBC's Today.
Crushing Lopez's next chapter
While Lopez has settled into a career as a Ryan Seacrest type, hosting an innocuous syndicated television program, he isn't always successful. In fact, when Lopez headlines any non-scripted TV series that isn't Extra, it tends to flop and go away.
Mario Lopez: One on One certainly had noble intentions. "My version of Oprah's Next Chapter," Lopez told Cosmopolitan. The show on NUVOtv found its host interviewing "Latinos specifically that are important in our community and hot right now in entertainment, sports, the political world." The show made it 20 episodes.
Nowadays, there are quite a few daytime talk shows which stole the panel format of The View, including The Real and The Talk. Lopez was an innovator then as a panelist on The Other Half, a 2001 talk show that was an unnecessary, all-male vision of The View. (Other hosts included Dick Clark and Danny Bonaduce.) In the summer of 2017, Lopez got to host a primetime game show: an unpopular, quickly canceled TV version of the smartphone game Candy Crush.
The price was wrong
The sting of failure and rejection can haunt an actor, if not affect their future prospects. What if that big audition they didn't quite nail would have been the one thing to bring them fame, fortune, and a lasting legacy? They're only left to wonder what could have been.
In 2007, Bob Barker retired from his 35-year gig hosting CBS's The Price is Right (and reminding viewers to spay and neuter their pets). The race to replace him was on almost immediately, and CBS was very transparent about who they were considering, inviting the public to attend test show tapings with the network's chosen candidates. Among those who vied for the job were John O'Hurley (Peterman from Seinfeld), perma-tanned actor George Hamilton, veteran game show host Todd Newton, … and Mario Lopez. Despite being approached by producers and being asked to audition, Lopez eventually lost out to Drew Carey.
He was accused of rape
Saved by the Bell put Mario Lopez on Hollywood's radar, but, in that town, you're only as good as what's coming up next. Lopez's career was in a make-or-break position when his teen sitcom wound down in 1993 … and a possibly criminal scandal that came to light during that time could have definitely affected his career and reputation. (And, if the allegations were true, well, that'd all be justified.)
In May 1993, Variety reported that police in California investigated a claim by an 18-year-old woman who accused Lopez, then 19, of raping her after inviting her to his home. Lopez's attorney, Wayne Keeney, denied the charges on behalf of his client. "Anybody who's met this kid or his family knows he's just a really gentle soul and a good person," he said. About a month later, prosecutors announced they wouldn't pursue a case against Lopez due to a lack of evidence — although a second woman had also come forward to report that Lopez had allegedly raped her two years earlier.