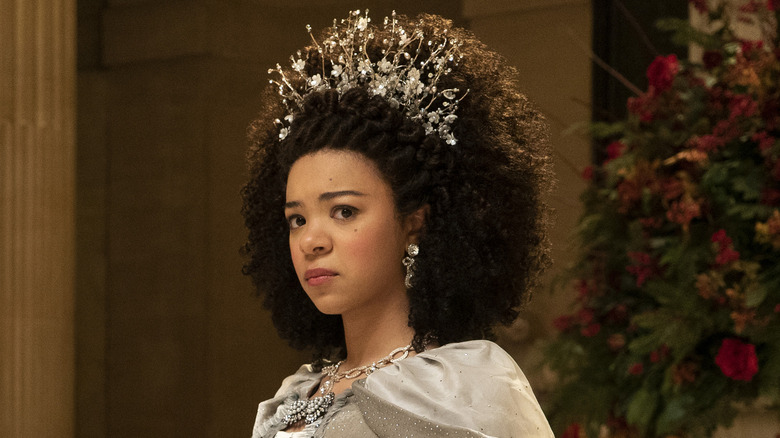 Back in 2017, Netflix signed television writer/producer Shonda Rhimes to a four-year content deal estimated to be worth $100 million. The first project that Rhimes — whose previous TV hits include "Grey's Anatomy," "Scandal," and "How to Get Away with Murder" — delivered was "Bridgerton," a sexy, quasi-historical period drama set in Britain's Regency era. Based on Julia Quinn's bestselling book series, "Bridgerton" proved to be one of Netflix's biggest-ever hits, resulting in the subsequent news that a prequel series was in development
Titled "Queen Charlotte: A Bridgerton Story," the limited series will focus on the origin story of breakout character Queen Charlotte (played by Golda Rosheuvel in "Bridgerton") as a young woman rising in British society. In addition, the series is slated to chronicle the early days of young Violet Bridgerton and Lady Danbury. "Many viewers had never known the story of Queen Charlotte before 'Bridgerton' brought her to the world, and I'm thrilled this new series will further expand her story and the world of 'Bridgerton,'" said Netflix's head of global TV, Bela Bajaria, in a statement to Deadline. Rhimes added, "As we continue to expand the world of 'Bridgerton,' we now have the opportunity to devote even more of the Shondaland fold to the 'Bridgerton'-verse."
The show set to debut sometime in 2023, but here are the details we know about Netflix's "Queen Charlotte: A Bridgerton Story" thus far.
Note: Potential spoilers ahead.
India Amarteifio stars as young Queen Charlotte
After Netflix gave the green light to "Queen Charlotte: A Bridgerton Story," casting began looking for the right actor to portray Golda Rosheuvel's Queen Charlotte as a young woman. In March 2022 — nearly two years after plans for the prequel were first announced — Netflix revealed that then-21-year-old India Amarteifio had landed the coveted role.
Despite her age, Amarteifio is no newcomer to television. Prior to being cast in "Queen Charlotte," she was known to British television viewers for her role as the daughter of Thandiwe Newton's character in the popular U.K. crime drama "Line of Duty." But that was just one of her many screen credits. She also appeared in such British series as "Doctor Who," "The Tunnel," "The Interceptor," and, more recently, "The Midwich Cuckoos." She also appeared in the film "Military Wives," the British miniseries "Fungus the Bogeyman," and an episode of the acclaimed Netflix comedy "Sex Education."
Netflix had apparently managed to keep news of Amarteifio's casting under wraps, something she addressed in an Instagram post celebrating the news that she'd be playing Queen Charlotte. "No words really. Thank you to my secret keepers for keeping it a secret. Absolute honour," she wrote, with her post earning a sweet reply from producer Shonda Rhimes. "Welcome to the family!" Rhimes wrote, accompanied by a heart emoji.
"Bridgerton" alum Adjoa Andoh (Lady Danbury) told Netflix, "As a complement to you both [India Amarteifio and Golda Rosheuvel] there is something so particular and fabulous about your whiplash, heartfelt, witty, sharp Queen Charlotte. India has absolutely grabbed all of that and made it her own and run with it and when I look at India, I see Golda. I see young Charlotte become older Charlotte and it's a beautiful thing."
Queen Charlotte's marriage creates the societal shift viewers witnessed in Bridgerton
"Bridgerton" is set in an actual historical period: the Regency era, the name given to the years when George, Prince of Wales, governed Britain as regent while his father, King George III, was incapacitated due to what was referred to as "madness." And while the setting and some characters may be grounded in history, viewers quickly ascertained that the show played fast and loose with historical accuracy, essentially presenting a sort of alternate-universe Regency period in which racial diversity among British aristocracy was the norm.
"Historians and Jane Austen purists may take offense, but this well crafted, escapist drama — where orchestras play covers of Ariana Grande and Billie Eilish hits — is not meant for them," explained Lorraine Ali in her review for the Los Angeles Times.
The origin of the multiracial society depicted by Shonda Rhimes in "Bridgerton," however, is something that will be explained in the prequel, "Queen Charlotte: A Bridgerton Story." As a Netflix press release explained (via Glamour), the series begins with Charlotte arriving in London, having been betrothed to King George III against her will. "Centered on Queen Charlotte's rise to prominence and power, this 'Bridgerton'-verse prequel tells the story of how the young Queen's marriage to King George sparked both a great love story and a societal shift, creating the world of the Ton inherited by the characters in 'Bridgerton,'" noted Netflix in its official logline for the show.
There was a real Queen Charlotte — and she may have had African ancestry
Depicting Queen Charlotte as a Black woman in "Bridgerton" has been seen as both bold and groundbreaking, yet the notion may not be as fanciful as some viewers have assumed. Queen Charlotte, in fact, was a real person, the wife of King George III. As The Guardian noted, the actual Queen Charlotte of Mecklenburg-Strelitz (her full title) gave birth to 15 children, was a patron of the arts who may have commissioned Mozart, and was reportedly described by her personal physician as having facial features characteristic of someone with mixed African and European ancestry.
That detail is one of many that led historian Mario de Valdes y Cocom to theorize that Queen Charlotte's ancestry was of African descent. Writing about Charlotte in an essay for PBS, de Valdes y Cocom noted that the queen's features were also described as "conspicuously African by her contemporaries" and that she was descended from "a Black branch of a Portuguese royal house." As evidence, the historian pointed to Flemish paintings from the 15th century, in which Black wise men (i.e., Magi) are depicted in visually recounting the birth of Christ, and that the men who modeled for those paintings were members of a prominent Portuguese family connected to Charlotte.
"At least 492 lines of descent can be traced from Queen Charlotte through her triple ancestry from Margarita de Castro y Sousa to Martin Alfonso de Sousa Chichorro, the illegitimate son of King Alfonso of Portugal and his Moorish mistress, Oruana/Madragana," the historian noted.
Golda Rosheuvel's Bridgerton-era Queen Charlotte is part of the new show
While "Queen Charlotte: A Bridgerton Story" is set decades earlier than "Bridgerton," with new actors cast as younger versions of Queen Charlotte and other familiar characters, there are roles for some "Bridgerton" actors in the prequel.
According to The Hollywood Reporter, the "Queen Charlotte" spinoff will feature Golda Rosheuvel reprising her role as older Queen Charlotte; in addition, Adjoa Andoh and Ruth Gemmell will appear, reprising their respective roles as Lady Danbury and Lady Bridgerton. As of this writing, it is not yet clear how the older versions of the characters will be integrated into the new series, given that the focus would be on the younger versions of their characters and the new actors cast to play them.
in an interview with TheWrap, Rosheuvel confirmed her participation in "Queen Charlotte: A Bridgerton Story," saying, "It's great and I'm thrilled to be in the spinoff as well, which is lovely. … She's a great character to play. I know the world really well; I know the character really well." Speaking with E! News, Rosheuvel said she was confident that the spinoff prequel would build upon the same elements that made "Bridgerton" so successful in the first place and which fans had come to expect. "We want modern stories," she explained. "We want stories that reflect the world that we're living in today. We want diversity, we want inclusion."
Fans received a first look at Arsema Thomas as young Lady Danbury
In September 2022, "Bridgerton" fans were given a first look at India Amarteifio in costume as Queen Charlotte; a few months later, another photo was released, this one featuring actor Arsema Thomas as young Lady Agatha Danbury, played in "Bridgerton" by Adjoa Andoh. According to a Netflix press release (via E! News), "Queen Charlotte: A Bridgerton Story" will also delve into the origin story of Lady Danbury, shedding some insight into the future relationship viewers have already seen in "Bridgerton."
"Under the thumb of a much older husband, Agatha uses Charlotte's arrival to find her way into society," noted the Netflix release, which accompanied the release of the photo featuring Thomas as Lady Danbury. "With keen knowledge of the once divided social scene and the intricacies of marriage, Agatha becomes a guiding light for the new Queen, all while finding her own voice and power we'll soon recognize as 'Bridgerton"s iconic Lady Danbury."
Andoh — who will be appearing in "Queen Charlotte" alongside "Bridgerton" co-stars Golda Rosheuvel (Queen Charlotte) and Ruth Gemmell (Lady Bridgerton) — teased what viewers can expect from the younger version of her character in the prequel. "These relationships are long lived between Lady Danbury, Lady Bridgerton and the Queen," she told E! News. "That's what the prequel is going to talk about. It's Shonda Rhimes writing it, so it is going to be fabulous."
Bridgerton producer Shonda Rhimes will be very hands-on
Given the sheer volume of shows that Shonda Rhimes is juggling via her Shondaland production company — a lengthy list that ranges from the unstoppable "Grey's Anatomy" to the recent Netflix limited series "Inventing Anna" — there simply aren't enough hours in a day for Rhimes to devote her time to all of them. And while Rhimes has turned over showrunning duties on her various series to others, she took a hands-on approach to "Queen Charlotte: A Bridgerton Story."
As Deadline reported, Rhimes is both executive producer and showrunner on "Queen Charlotte," and she is also writing all the scripts. According to Rhimes herself, that isn't that much of a heavy lift. "I'm very obsessed with Queen Charlotte, and I always call her the Beyoncé of the show," Rhimes said in an interview with Variety, expressing her love of the character. "I'm constantly saying out loud, 'God, I love her wigs' — somehow hoping that somebody will send me one of her wigs so that I can walk around wearing it."
In March 2022, Rhimes shared a photo in an Instagram post: the cover page for the first "Queen Charlotte" script, on which she's credited as the sole writer.
A Game of Thrones favorite heads up the supporting cast
In addition to India Amarteifio as young Queen Charlotte and Arsema Thomas as young Lady Danbury — not to mention Golda Rosheuvel, Adjoa Andoh, and Ruth Gemmell reprising their "Bridgerton" roles — Netflix issued a press release announcing other actors that had been cast in "Queen Charlotte: A Bridgerton Story."
According to the announcement, Michelle Fairley, who played Lady Catelyn Stark in "Game of Thrones," was cast Princess Augusta, described as "a royal determined to do whatever it takes to maintain her family's power." Corey Mylchreest (Adonis in "Sandman") is playing the young King George, described by Netflix as "handsome, charismatic, and a bit of a mystery." Sam Clemmett (Charlie MacDonald in "The War Below") has been cast as the younger version of Brimsley, the queen's right-hand man. Hugh Sachs, who plays Brimsley in "Bridgerton," will also appear in the prequel. Additionally, Richard Cunningham ("The Witcher)" is playing Lord Bute; Tunji Kasim ("Nancy Drew") is playing Adolphus; Rob Maloney ("Casualty") is playing the Royal Doctor; and Cyril Nri ("Cucumber") is playing Lord Danbury.
As was the case with "Bridgerton," the cast of "Queen Charlotte: A Bridgerton Story" will represent the same kind of envelope-pushing diversity that has been a hallmark in all Shonda Rhimes' various television projects. "It sounds arrogant to say it, but to me it makes me sad to have to say it," Rhimes mused in an interview with Variety. "We changed the faces that you see on television."
Netflix CEO Ted Sarandos was the driving force behind the Queen Charlotte prequel
Not only did the massive success of "Bridgerton" justify Netflix's $100-million deal with Shonda Rhimes, the show proved to be even more successful than had been anticipated. "With 'Bridgerton,' 82 million member households around the world watched it in the first 28 days," Netflix's head of global TV, Bela Bajaria, told Variety of the first season's boffo viewership numbers. "It didn't have to be the biggest — but it's amazing that it was." In fact, Variety noted, Netflix declared that "Bridgerton" was, at the time, the most-watched show in the streamer's history (a title that was later usurped by Korean thriller "Squid Game").
With that kind of viewership, a second season was a no-brainer — as was the idea of expanding the "Bridgerton" universe even further with a spinoff. Asked how she came up with the idea to focus that spinoff on Queen Charlotte, Rhimes gave the credit to Netflix CEO Ted Sarandos. "I'll be blunt: It was when Ted picked up the phone and called me and said, 'Why aren't we doing a show about Queen Charlotte? And will you write it?'" she told Variety.
Sarandos has been known to foster tight relationships with the talent Netflix acquires, and that's certainly been the case with Rhimes. "Shonda and I have gotten to know each other over the years and I have always had a tremendous amount of respect," Sarandos told Variety. He continued, saying, "I have sought her feedback and even delivered DVDs to her house myself of our upcoming projects."
Queen Charlotte may be even steamier than the first season of Bridgerton
E! News has been among the many entertainment outlets to point out that the second season of "Bridgerton" was significantly less steamy than the first, which pushed the envelope when it came to graphic sex scenes in a television drama.
However, questions about whether "Queen Charlotte: A Bridgerton Story" would be as sexually explicit as the original "Bridgerton" were seemingly laid to rest by an alleged insider who spilled some beans to the Daily Mail. "There is a young cast for the prequel and the sex scenes feature them. It is definitely going to satisfy those 'Bridgerton' fans who are complaining that there are no sex scenes in the second series," the source claimed. "In one storyline there will be a headboard banging hard against a wall. It will be more racy than anything from the first series."
Meanwhile, the source also claimed that "Queen Charlotte" will include some same-sex love scenes, particularly one in which Charlotte's aide, Brimsley (Sam Clemmett) is seen getting it on with another male character. "The series will be inclusive of homosexual people and not frightened of exploring gay relationships," the source explained, alleging that Netflix was responding to criticism that "Bridgerton" didn't depict any same-sex relationships. "It is something that is important to Netflix too, to make sure that viewers can recognize themselves on their programs," the source added.
Tantalizing photos surfaced from the set
In late August 2022, director Tom Verica took to Twitter to report that production on "Queen Charlotte: A Bridgerton Story" had wrapped. "This production, this cast, this crew…just wait," he teased.
While story details of the prequel spinoff have been kept closely guarded, some paparazzi photos taken during location filming proved to be intriguing to fans. In the photos, which surfaced in April 2022, Golda Rosheuvel is seen in costume as older Queen Charlotte, dressed in black while peering sombrely from a black carriage pulled by a black horse, while taking part in what appeared to be a funeral procession. Hugh Sachs, in costume as Brimsley, was also spotted in the scene, likewise reprising his role from the original series.
As for who the guest of honor at the funeral may be — or if it even is a funeral being depicted — remains to be seen, and will no doubt be revealed when "Queen Charlotte: A Bridgerton Story" makes its Netflix debut in 2023.