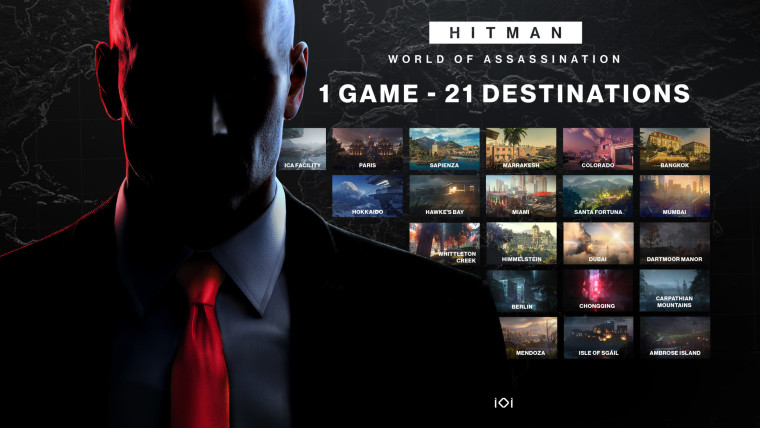 IO Interactive is overhauling its rebooted Hitman repertoire, combining the content from the trilogy into a single experience. With the change, Hitman 3 will become "Hitman – World of Assassination" and also contain locations and content from Hitman 1 and 2 for no extra charge.
Current owners of Hitman 3 are all getting this upgrade for free, and the developer is soon removing the standalone entries from sale across all platforms. As for why it's making this change, the studio said it is to reduce the confusion over which Hitman version to buy, what they contain, and the legacy import process.
"We're approaching these changes with a no compromises approach," explains the studio. "We want to make absolutely sure that the experience of entering or enjoying the World of Assassination is simple and straightforward."
When purchasing new, Hitman – World of Assassination will come in at $70 and offer Hitman 3, Hitman 2, and Hitman 1 Game of the Year content. There will still be some locations locked behind a separate paywall, namely DLC and expansion drops. These will be bundled into the new $30 Deluxe Pack containing Hitman 3 Deluxe, Seven Deadly Sins season pass, and Hitman 2 expansion pass content.
For those who partially own any of these post-launch expansion content, IO will also be providing a Steam bundle with "Complete the Set" discount functionality as well as individual purchase options from the in-game store across all platforms.
These changes will go into effect on January 26, 2023, meaning there's time to pick up Hitman 3 on discount to gain access to all the legacy content that will soon be unlocked. The content shift will arrive right before the new roguelike Hitman 3 Freelancer mode goes live as well.