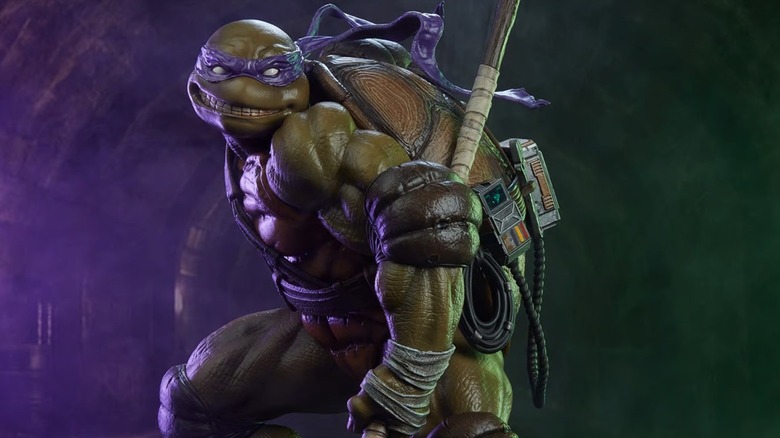 (Superhero Bits is a collection of stories, updates, and videos about anything and everything inspired by the comics of Marvel, DC, and more. For comic book movies, TV shows, merchandise, events, and whatever catches our eye, this is the place to find anything that falls through the cracks.)
In this edition of Superhero Bits:
The Joker is pregnant (yes, really).
Some pretty intriguing "Spider-Man: No Way Home" concept art.
"The Boys" spin-off "Gen V" already gearing up for season 2.
Hugh Jackman on the legacy of "X-Men."
Marvel Comics keeps teasing Grootfall, and it looks wild AF
Earlier this week, Marvel Comics announced a new event series of some kind titled "Grootfall." All we really knew is that, clearly, it would revolve around Groot. But what is it going to be, exactly? Well, the publisher has continued to release some teaser art for the series, including the above look at the members of the "Guardians of the Galaxy" who will be participating. Is this going to be a Western thing? Is it going to be post-apocalyptic? Honestly, all we can do right now is speculate, but a teaser poster has also been released, which you can check out by clicking here. We'll be sure to update once we learn more right here, so stay tuned.
Behold Hulu's new superhero Koala Man in this clip
You've heard of Batman, you've heard of Superman, but what about Koala Man?! Well, Hulu is bringing us a new show focused on that very everyman hero, appropriately titled "Koala Man." We've got a full trailer you can watch right here but the folks at IGN have also released a new clip from the show, which is actually executive produced by Justin Roiland of "Rick and Morty" fame. As for what the show's about? The synopsis reads as follows:
"Koala Man" follows middle-aged dad Kevin and his titular not-so-secret identity, whose only superpower is a burning passion for following rules and snuffing out petty crime in the town of Dapto. Though it may seem like any other Australian suburb, forces of evil both cosmic and man-made lie in wait to pounce on unsuspecting Daptonians.
Look for it on Hulu on January 9, 2023.
The Boys spin-off Gen V opens a season 2 writers' room, showrunner named
Well that sure didn't take long! "The Boys" spin-off "Gen V" is set to premiere sometime this year on Prime Video, but the brass at Amazon seems to have quite a bit of faith in the project. Case in point, according to Deadline, a writers' room for season 2 has already been opened, with executive producer Michele Fazekas to serve as showrunner. Fazekas had served as a co-showrunner on the first season alongside Tara Butters, but the latter will be taking a break. So Fazekas is going it alone! Still, the big thing here is that, while no official renewal has happened, things are trending in that direction. So fans of "The Boys" should have faith that this spin-off has the goods.
Watch Don Cheadle break down his career, including Rhodey in the MCU
Don Cheadle has been a huge part of the MCU for well over a decade now, having taken over the role of Rhodey, aka War Machine, in "Iron Man 2" back in 2010. And, with the "Armor Wars" movie on deck, he figures to be a part of it for at least a little while longer. But the man has had an impressive, sprawling career, which he recently broke down for the folks at GQ in the above video. For Marvel fans, of course, the video obviously spends a fair amount of time on his work in the biggest franchise on the planet. Check it out for yourself above.
Holy s***! The Joker is pregnant!
Yes, really! The Joker is pregnant in the pages of DC Comics right now and yeah, that's pretty wild. So, how did we get here? We won't get into specific spoilers right now but those who are interested in finding out can read "The Joker: The Man Who Stopped Laughing," with the wild reveal coming in the recently published issue #4. IGN did a pretty thorough breakdown for those who are just curious and don't want to read the full series though. The story in question was written by Matthew Rosenberg and drawn by Francesco Francavilla. In short, a certain magic user from DC gets pissed at Joker and, well, things get weird.
Hugh Jackman on the complex legacy of X-Men
While "Blade" did a lot to earn good will for the Marvel name theatrically, 2000's "X-Men" was undoubtedly a turning point in terms of superhero cinema. Though it is tricky as Bryan Singer directed many of those movies, and he has since come under fire with multiple allegations of sexual misconduct and poor on-set behavior. Heck, it lost him a job directing "Red Sonja." It's bad. Hugh Jackman, who played Wolverine in every one of Singer's films, recently addressed the elephant in the room in an interview with Variety. Here's what he had to say about it:
"There's a lot of things at stake there. 'X-Men' was the turning point, I believe, in terms of comic-book movies and I think there's a lot to be proud of. And there's certainly questions to be asked and I think they should be asked. But I guess I don't know how to elegantly answer that. I think it's complex and ultimately I look back with pride at what we've achieved and what momentum that started."
As for the Singer stuff, Jackman added, "This was my first movie in America, you gotta understand; it was all so new to me. I think it's fair to say that… There are some stories, you know… I think there are some ways of being on set that would not happen now. And I think that things have changed for the better." The actor is very clearly trying to be as diplomatic as possible here. It's possible for him to be proud of that work while acknowledging the ugliness behind it, and my read on it is that's what he's trying to do here.
Vulture appears in this Spider-Man: No Way Home concept art
Well over a year after the movie originally hit theaters, some new concept art from "Spider-Man: No Way Home" has surfaced online. The art in question was shared on Instagram by Phil Langone, a storyboard artist who worked on the film. As we can see, this artwork, in particular, is of note as none other than Michael Keaton's Adrian Toomes, aka Vulture, appears. Now, Vulture didn't appear in the final film, but it's clear that he was at least considered at one point or another. Looks like Keaton had to settle for showing up in "Morbius" instead.
James Gunn is working on an unannounced DC show, apparently
My day: wrote 1/3 of an unannounced DC TV show (😃); ok'd 100 VFX shots, did reference acting for Rocket, & gave editing notes for Vol 3; & had two big DC Studios meetings. pic.twitter.com/tmtuTbz1uF

— James Gunn (@JamesGunn) January 6, 2023
James Gunn is a busy, busy man. Not only is he trying to finish "Guardians of the Galaxy Vol. 3" right now, but he's also the co-head of DC Studios. He and Peter Safran are currently putting together a multi-year slate that will, it seems, reboot the DC Universe. In the above update of his recent, very long work day, Gunn reveals that he's actually writing a currently unannounced DC TV show. So, what is it? "Peacemaker" season 2 is still believed to be happening, and even before he took over his new post at DC Studios, he apparently had other DC projects in the works. Is this something entirely new? Something that we had already heard about? Who knows! Hopefully, we'll find out a little more soon enough.
Donatello TMNT statue by Premium Collectibles Studio
Lastly, the folks at Premium Collectibles Studio have opened up pre-orders for their Donatello statue from "Teenage Mutant Ninja Turtles." As the name of the company implies, this is a premium 1/3 scale statue that measures 24 inches tall and 14 inches wide. But all of that premium detail (and size) comes at a cost, as this bad boy will set you back a cool $1,205. Those interested in getting full details, or securing a pre-order, can do so by clicking here.