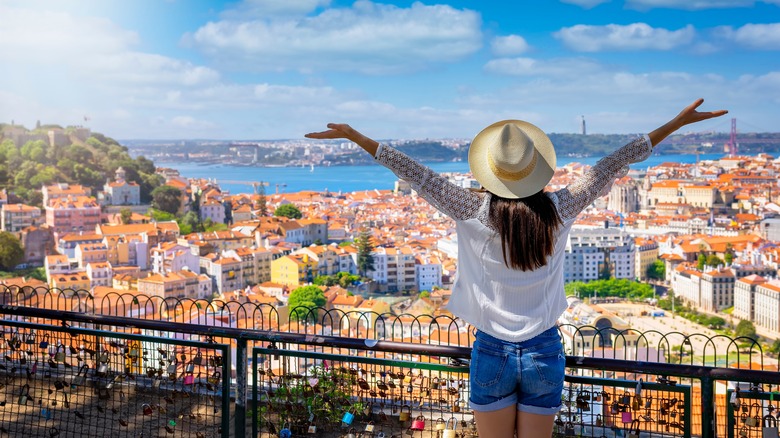 All year long, we look forward to relaxing beach days and time spent in the sun's warmth. Our daily dose of sunshine greatly benefits our well-being, from our moods to the nutrition we need. There is just something about those heat rays hitting our skin that sends serotonin racing through our bodies. Insider points out how the sun balances our biological clock, telling our bodies when to eat and sleep. Light increases melatonin release, making it more likely that you will get a good night's rest after a great day outdoors. The vitamin D we get from sunbathing encourages our serotonin production and is crucial for helping our body absorb calcium and phosphorus, which builds strong bones and healthy tissue.
Seasonal affective disorder, often called seasonal depression, is partly due to the changes our body experiences when we begin receiving less sun in the colder months. If you dread snow-covered streets and cloudy days the majority of the week, consider moving to a city that has nothing short of sunny days all year round. Move rated the top 10 sunniest cities, with Yuma, Arizona, taking first place.
Yuma, Arizona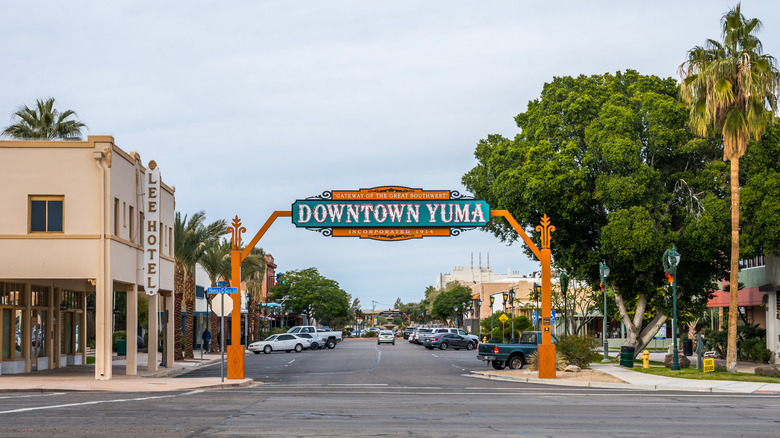 Based on the analysis of Move using the National Oceanic and Atmosphere Administration data, Yuma has 242 sunny and clear days a year. Among the sunshine, Yuma is very cultured in its Mexican and Native American heritage. These pioneer families, Spanish explorers, and indigenous people have been living here for generations, and you will see that beauty across the city. Visit Yuma offers a guide to the endless arts and entertainment available, from galleries and murals to live performances like orchestras, jazz bands, and theatre. Yuma's Art Center hosts a show year-round featuring local and national talent.
The scenic views are also to be explored, with destinations such as the Colorado River, Imperial Sand Dunes, and the Sonoran Desert lurking around the corner. Hiking, biking, hot air balloon festivals, and wildlife refugees will be plenty to fill your free time. Pay Scale found that Yuma's cost of living is 3% below the national average, and housing is even lower at 13%, with a median home price of $347,399. This affordable, sunny city is undoubtedly one to pack your bags for.
Phoenix, Arizona
Phoenix is runner-up in Move's top 10 sunniest places to live, said to have 211 sunny days a year. That is a whopping 57.81% of the year filled with beaming rays of warmth. Phoenix is the capital of Arizona and the fifth largest city in the United States, so it may be a surprise to learn that it is number 40 on the list of most expensive cities, per Phoenix Business Journal. Of course, this city is filled with spectacular desert landscapes, southwest eateries, and Latin dance clubs, but it is also a place for many sports fans.
Phoenix is home to the National Basketball Association's (NBA) Phoenix Suns, and even if you don't necessarily keep up with the scores, a good sports game is always a blast. Hello Landing notes that Phoenix is seeing job growth with a new Mayo Clinic and the city's pledge of $3.5 billion to the bioscience and healthcare fields. Tech companies make up 10% of Arizona's economy, its capital taking the lead. New jobs are opening just in time for you to consider a move to Phoenix.
Las Vegas, Nevada
Las Vegas came in third place with 210 sunny days per year, but we all know it's not just known for its sunshine. In a city that never sleeps, you'll find wild and crazy things to keep you busy daily. Gambling and entertainment rule the streets, attracting more than 40 million people and 20,000 conventions annually. However, if you want to live in Las Vegas rather than fly in for a weekend, Canyon Tours has a list of fun features that are not party central. This bustling city may seem far from anything serene, but must-see places like the Grand Canyon and Death Vally are only a few hours away.
Las Vegas' downtown strip features an art-centered day on the first Friday of each month, where artists share their work, from pottery and jewelry to musical performances and cooking. Theme parks, candy factories, and museums are littered around the city once you look past the rowdy nightlife. According to UpNest, the cost of living in Las Vegas is expectedly higher than the national average at 11.6%. Still, residents are likely to find lower housing and living costs compared to other Nevada cities.
Bishop, California
Coming in fourth place, Bishop, California, sees 201 of its days clear and bright. Nestled in the middle of the state along the Eastern border, the city feels like a small town. In a place that Citytistics reports to have a population of just under 4,000 and a living cost well below that of other California cities, this is where to live if you can't get enough outdoor adventure. Bishop rests at an elevation of 4,100 feet and features numerous hiking, mountain biking, fishing, and hunting destinations, all of which can still be enjoyed even during winter.
A large portion of Bishop's area is part of the Paiute Reservation and hosts a cultural center that sees to the Paiute and Shoshone cultures. Every May, Bishop residents look forward to the Mule Day Festival, which features rodeos, mule drives, music, and parades. After exploring countless museums and stuffing your belly with local food from bakeries and eateries, dip your toes into the lakes and hot springs surrounding the city. It doesn't get more relaxing than that.
Fresno, California
Fresno, California, comes in fifth with 194 sun-filled days, meeting more than 50% of clear skies year-round. Centered between the three national parks, Yosemite, Kings Canyon, and Sequoia, this city offers an escape into nature. But, even surrounded by these three alluring parks, Fresno is really known for its 1.88 million acres of farmland. Fresno is rich in its agriculture and produces, meaning you will find some of the best food in California.
UpHomes reveals that Fresno is ranked 18 out of 75 on the most affordable cities to live in the United States and that it's expected to see a surge in job growth of more than 12% over the next 10 years, gaining 43,000 jobs by 2024. Agriculture may fuel the city, but Fresno features many other growing career categories, such as oil and gas, construction, mining, manufacturing, retail, and transportation. Being only a few hours away from the bustling cities of San Fransisco, San Diego, and Los Angeles, you will find the perfect home in Fresno.