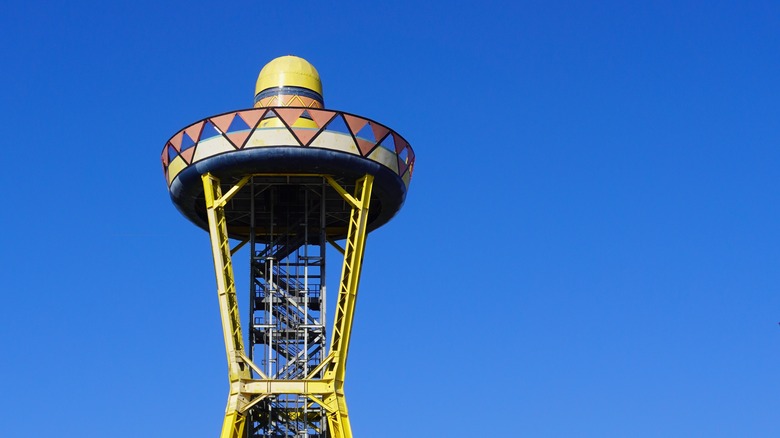 Sometimes the keys to a successful business are location and luck. These two factors, along with the creativity and ingenuity of South of the Border founder Alan Schafer helped to transform a modest beer stand into one of the largest tourist stops in the entire southeastern United States. In 1949, Schafer constructed a small structure along a state route to sell beer to locals and travelers. The 18-foot by 36-foot stand was strategically placed just inside the South Carolina border in the small town of Dillon, with neighboring North Carolina a stone's throw away. As some North Carolina counties were dry (no alcohol sales), Schafer's little business capitalized on location to draw in beer-thirsty residents from across the state line (via South of the Border).
But Schafer wasn't content with only selling beer to his customers. Within five years, he added a small grill, serving up to 10 patrons at a time. By 1954, Schafer expanded his operation, this time constructing 20 motel rooms for his growing tourism empire. Beer sales, revenue from food, and travelers seeking a night's lodging were only the beginning. One of the most expansive infrastructure projects in United States history was soon underway, making or breaking businesses and even entire communities involved or bypassed.
The announcement of the interstate highway system was a game changer for an already successful and budding enterprise for Schafer. When President Eisenhower announced 47,000 miles of "limited highway access" in 1956, Schafer and his business would be directly within one of these routes (via History and Headlines).
I-95 helped the business grow
When it was announced in 1964 that the newly-designed I-95 would pass along South of the Border's location, Schafer had already expanded his scope. The business began selling fireworks in 1962, once again taking advantage of a law prohibiting something across the border in North Carolina (per South of the Border). A cocktail bar was also added, and a gas station was constructed on the property to get even more revenue from travelers.
The year of the big interstate highway announcement was another year of giant changes for South of the Border, as Schafer was busy adding even more features. The business was selling small souvenir items to tourists for several years up to that point, mostly importing kitschy dolls, blankets, and novelties from Mexico. But Schafer added a variety store, barber services, and was even granted a post office.
Schafer saw even more opportunity in his roadside attraction. He commissioned the construction of a go-kart track and other recreational amenities. South of the Border was becoming a destination of its own. Travelers not only had a place to eat and sleep but now had options to unwind at a bar and a place to take any children that might be riding with them.
Schafer also built a looming presence that would tower over South of the Border, remaining there more than half a century later. Pedro, the 104-foot-tall statue of the attraction's mascot, stands to watch over Schafer's business enterprise. It has also been the center of attention and controversy for nearly as long.
The story behind Pedro
"Pedro" resulted from Schafer's travels to Mexico in the mid-1950s, where he traveled to secure various goods to sell as souvenirs at his business (via South of the Border). During his visits there, he became acquainted with two Mexican men he soon brought back to the United States. The names of these men have been lost to time, but locals near Schafer's business began to refer to them as "Pedro and Pancho" before dropping "Pancho" altogether and just calling each of them "Pedro."
These two men worked for Schafer as bellboys at his motel and were standouts in the rural southeastern community. Their presence at South of the Border, along with the bevy of Mexican imports that Schafer's business was selling, helped prompt Schafer to lean heavily into a dominant stereotypical Mexican theme for his growing tourist complex (via Time Magazine).
Aside from the giant statue of Pedro, there is also the "Sombrero Tower." This observation tower takes tourists 200 feet into the air and gives them an amazing view of the sprawling South of the Border complex and its picturesque surrounding landscape. Time Magazine tells us that Dillon locals refer to the tower as "the Eiffel Tower of the South."
The stereotypical Mexican theme took hold from the mid-1960s on. "Pedro" was the focal point of South of the Border, becoming its mascot. This cartoon caricature has been quite a force for the business since, covering billboards and print advertisements as well as standing tall along the skyline. And he's had his share of critics over the years.
Pedro has been the center of some controversy over the years
The idea that locals referred to the two men employed by Schafer as "Pedro" and "Pancho" instead of their given names was offensive. By calling them a common Mexican name lends to many other types of potential stereotyping that they may have faced all those years ago. And though more than 50 years have passed since Schafer first brought them to the United States to work, the stereotypical Mexican motif of South of the Border has blatant racial overtones that many point out as offensive.
The "Pedro" used in advertisements, particularly the attraction's billboards and found in statuary around the attraction itself, is clad in a sombrero and made to resemble a stereotypical Mexican bandit (per Roadside America). But it was more than just the offensive cartoon stereotypical likeness of a Mexican man that many people were angered by. Some have called for a boycott of the business (per SC Picture Project). The language used in the advertisements and signage included what was considered "Mexican-Speak," which was used to mock a stereotypical Mexican accent. In 1993, the Mexican embassy wrote a letter to Schafer, decrying the stereotypes and demanding that he tone it down. Schafer's response was to point out that his business imported more than $1.5M in goods from the country each year.
But since then, the broken-English puns have faded from the marketing campaign, disappearing from the billboards altogether. While the likenesses of "Pedro" still stand, the departure of the Mexican-Speak from the billboards does show a small step toward progress.
South of the border is known for its massive billboard campaign
Driving in either direction on I-95 will get you views of the many billboards that South of the Border have employed to get travelers to stop and take a peek at what their tourist spot has to offer. These massive signs dot the landscape from northern Georgia all the way north to Virginia, baiting drivers with the many offerings South of the Border promises. The billboards were designed by Schafer, who used the kitsch of his era to create a marketing campaign that was both eye-catching and made use of puns to get a laugh (via South of the Border).
At one time, there was 250 South of the Border billboards. Most of them were along the I-95 corridor and were as far south as Daytona Beach, Florida, and as far north as Philadelphia. The business' website reveals that the number of these signs has diminished over the years, but more than 175 still stand.
South of the Border today
If you are driving on I-95 today, you'll have one of the South of the Border billboards catch your eye as you get into the southeast. The massive tourist complex stretches over 135 acres of land and hosts several restaurants, shops, bars, and lodging (per Time Magazine). Though arguably past its prime, South of the Border is a functioning example of a relic from yesteryear, a place that seems a bit frozen in the time of its heyday. Perhaps that is part of the charm and why it draws millions of travelers annually.
The Sombrero Tower is still operating and is accompanied by an arcade. You can also see live crocodiles and many species of snakes in Reptile Gardens, and take your children to Pedroland Park. Here, there are two miniature golf courses, a carousel, a giant playground, bounce houses, and more games and rides for younger members of your family. There's also a large covered picnic area, giving visitors some respite from the blazing southern summer sun (per South of the Border).
Maura Judkis of The Washington Post visited the park in 2016 and noted that "everything at South of the Border is a photo-op." She maintains that time has taken a lot from there, penning that " … it all looks shiny from far away, but up close you can see the chips and cracks in the facade." But she also notes that it's in the cracks that make you want to stop.