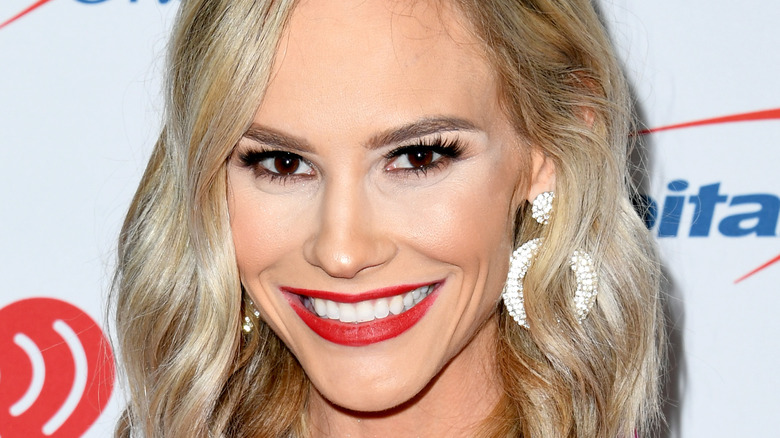 Meghan King graced "The Real Housewives of Orange County" from 2015 to 2017, where she and then-husband Jim Edmonds shared their lives with the reality TV world. But a lot has changed for her since her days as a Housewife. In fact, Meghan launched a YouTube channel where she's addressed the shift in her life that has offered her a new vantage point. "Seven years have passed since I first started the show, and in those seven years I have gotten divorced, I have had three children — one of my children has gotten a diagnosis of cerebral palsy — I've moved back to Missouri, I bought a house," she shared with ET. "I'm just living this totally different life than what I lived when I was on 'Real Housewives,' and I just thought it would be so fun to look back at those moments with [a] fresh perspective."
While a cursory scan through her Instagram account, complete with over 1 million followers, suggests Meghan is living the dream, her life hasn't always been easy. She's gone through ups and downs in relationships and health struggles with her children, not to mention a challenging journey to conceive her kids. But Meghan is remarkably resilient. "And small steps count, because each foot in front of the other allows us to travel miles we never knew [we] could," she said in an Instagram post about facing a fear. "So here's to me. Here's to FREAKING ME. I'm doing it! IM DOING IT!"
Without further ado, here are the tragic details about Meghan King.
Meghan King's challenging IVF experience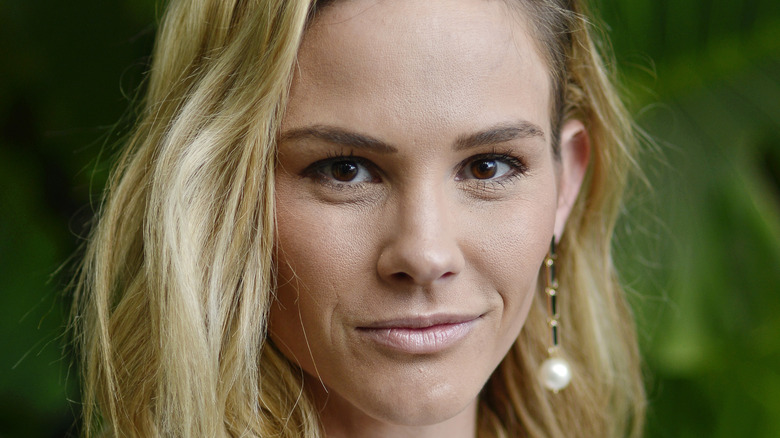 In order to conceive their three children, Meghan King and Jim Edmonds went through in vitro fertilization, and they showcased their experience on "The Real Housewives of Orange County." "I have a lot of friends who have had fertility issues," King told Us Weekly in 2016 after she revealed she was pregnant with her first child. "Some talk about it and some don't talk about it, but one thing is consistent: It's hard on every single one of them." Daughter Aspen Edmonds was born in November 2016.
In a November 2017 blog post, King announced she was pregnant again via IVF. While the theme of the post was obviously blissful, Meghan wrote about how challenging it was to get there. They had frozen female embryos but Meghan shared that she wanted a boy; Jim wasn't too concerned about the sex of the baby. Instead, Meghan explained, "he just didn't want me to have to again endure the emotional rollercoaster that comes with IVF." Though they knew firsthand that the experience can be difficult, they went into the second round of IVF with eyes wide open. She shared that they structured their IVF schedule so that Jim, a broadcaster for the MLB, could be there with Meghan. Thankfully, the process was successful. "Fast forward to today and I am pregnant! I'm not feeling the greatest," Meghan confided, "but we know that it will all be worth it in the end." Sons Hart and Hayes Edmonds arrived in 2018.
Did Jim Edmonds cheat while she was pregnant?
In June 2019, a story broke about Jim Edmonds having an emotional affair with another woman while he was still married to Meghan King. What's more, according to All About the Tea, he sent videos and photos of a sexual nature to the other person while Meghan was in labor. Jim said his behavior was unfortunate but that he did not physically cheat on Meghan, per Us Weekly. "Regrettably, I had a lapse in judgment. I engaged in an inappropriate conversation with this person," Jim said in a statement. "At no time was there any type of relationship or physical contact." He went on: "I never had any sort of a physical relationship outside of my marriage with her or anyone else."
Obviously, the situation was deeply upsetting to Meghan. "Anyone who has lived through infidelity knows how difficult it is to overcome and regain a strong marriage," she wrote in a blog post. "It requires both people to be all in. It requires the betrayer to put in the time and effort to repair the trust that was broken. To be fully open and transparent. Sadly, that's not what happened here."
Following the texting debacle, Meghan accused Jim of having an affair with their 22-year-old babysitter, after he took her out to hockey games. "To be clear, I don't know if Jim slept with our babysitter or whether they were just being exceedingly inappropriate by hanging out socially without either of them telling me," she added in her blog post.
Meghan King's son's health journey
When Meghan King's twins Hart and Hayes Edmonds arrived, she suspected there was a health issue. "From the minute he was born I knew something was different with Hart," she wrote in her blog. "The nurses struggled to straighten his legs to measure his length. He suckled hard, shallow, and often until I bled and he spit up black." She pushed to get proper testing done and discovered through an MRI that "Hart has minor Periventricular Leukomalacia on both sides of his brain," which is a form of brain injury. "I do not see his diagnosis as anything but a gift: we were chosen to take on this special person," she wrote.
In 2020, Meghan shared with her blog readers that Hart had been diagnosed with hypnotic cerebral palsy. "Hart's new diagnosis really means nothing different and changes nothing," she wrote. It just allows him to continue receiving the therapy he's already getting." The following May, she told People that Hart was "doing awesome."
Chatting with Page Six in September 2021 about her son's diagnosis, Meghan said she felt fortunate to have "so much support from so many people." While Hart is receiving excellent care, the former Housewife added that "new challenges always arise as he grows." But Meghan is, as we're continually seeing, resilient. As she wrote on her blog, "This is a heavy challenge as a mother: where do we go from here? This is where: one foot in front of the other."
Meghan King was shocked by the divorce
Meghan King and Jim Edmonds separated in October 2019 — hot on the heels of the intense challenges they faced because of Jim's infidelity scandal — and their divorce was finalized in May 2021.
Once they separated, Meghan spoke to Us Weekly and pushed back against Jim's public statements. "I have endured prolific controlling by Jim and it isn't slowing down," she said. "Even when I make an unassuming post on Instagram, he hurls insults at me for a battery of made-up indiscretions. I'm sick of the abuse and I won't engage anymore — and I don't have to."
Worst of all, Meghan said that from her vantage point, she didn't realize she and Jim were at the point of divorce and she thought there was still a chance for them to work on things. "Divorce had been discussed as something that could be possible but I truly thought he could change and work through his demons," Meghan told Us Weekly. She and her future ex-husband were on totally different pages, however, and she was entirely caught off guard by Jim's filing — so much so, she "had to find a divorce lawyer in a matter of hours." As Meghan saw it, Jim was ready to call it quits long before she was.
Co-parenting struggles after the divorce
Even co-parenting between Meghan King and Jim Edmonds was a challenge after their rocky split, as they navigated life as separated parents to their three children. When Us Weekly asked Meghan for advice on co-parenting in February 2022, she was candid about their miscommunication struggles. "I don't know what it is," Meghan said of the concept of co-parenting. "Like, I don't. I'd be the one to get advice. In order to coparent, you have to communicate right? Yeah, so that would be a good start. … Jim hates me. It's horrible."
But Meghan has made the best of things for her family. In November 2021, she posted pictures on Instagram of the new home she bought for her three kids. "These photos were taken on a dreary day one year ago when I bought this house all by myself," Meghan began, showing a photo of herself next to a very charming abode. "A year to date before that was when my world was rocked and I was forced to endure the most humiliating public split I'd ever [had] the displeasure of experiencing."
In the post about her new house, Meghan also opened up about the co-parenting struggles she faced. "I learned to single parent three preschoolers during Covid and managed to save enough money to leave my former family home and proudly provide a *much smaller, much cozier* PERFECT home for my kids," she wrote. That's certainly something to celebrate.
Jim Edmonds moved on with her former friend
Meghan King admitted some of the more personal details of her sexual relationship with Jim Edmonds when they were together. "We had just gotten married," Meghan said on a January 2020 episode of the "Intimate Knowledge" podcast (via The U.S. Sun). "I knew Jim had this bad boy past and we were newlyweds and trying to have fun. He wanted to have a threesome… We decided to have a threesome — a consensual adult decision — with a friend of mine." Meghan said that her friend Kortnie O'Connor was someone she felt familiar enough with to bring into the picture. She also shared on the pod that she'd heard Jim and Kortnie had become an item, calling the pairing "hurtful"; Jim claimed to E! News that Meghan and Kortnie don't have a friendship and "have not spoken in over three years." In a September 2020 "Radio Andy" appearance, Jim claimed to Andy Cohen that the threesome story "was all false" and alleged she made it up because she "needed a storyline for her radio show."
In April 2020, Jim's rep confirmed to E! News that he and Kortnie were seeing each other. In August 2021, the two announced they got engaged. Lest anyone think all involved parties eventually learned to let bygones be bygones, Kortnie told Daily Mail in October of that year that Meghan is "such a nightmare to deal with."
Jim Edmonds called the cops on Meghan King
In November 2019, Jim Edmonds and Meghan King had a nasty interaction right after their split and, as E! News noted, shortly before he announced he'd moved out once and for all. As a source told Us Weekly, Jim was at the house with their kids while Meghan was out with friends one evening. When she came home after "a couple glasses of wine," cops showed up to do a wellness check. "I called the police before she came home to keep from having an incident," Jim confirmed to People. Speaking with E! News, the retired MLB star said, "I knew she was coming home drunk and I was concerned."
According to Us Weekly's source, an officer apparently asked Meghan if she was okay to take care of her kids at that time, and she assured them that she was more than fine. The tipster told the outlet, "Meghan had never been so humiliated in her life." Thankfully, the kids slept through the entire debacle.
Meghan King has regrets about Real Housewives
It wasn't just relationships that have been challenging for Meghan King. She has some regrets about her time on "The Real Housewives of Orange County." In a chat with the dating app S'more for Instagram Live, Meghan said she wished she had been more of a forceful presence on the show. "It kind of bugs me when people say they don't have any regrets," Meghan said during the April 2021 conversation. "Like, I understand the intention behind that. Like, living with learning moments and all that." Meghan added that she certainly isn't one to sit down and watch reruns of her episodes on RHOC. "But like, I cringe at some stuff I do for sure. And looking back on the series, I look back and I can't even watch myself," she said.
For starters, she wishes she handled things with co-star Vicki Gunvalson differently. "[Vicki] deserved a lot more than what I said," Meghan explained. "But I kind of like, cringe at it just because it was many years ago and I would have reacted differently. I probably would have been a way bigger b****. And way more poignant about it."
Meghan has also said she regrets bringing in someone who would become one of the most controversial cast members in "Real Housewives" history. "I think Kelly [Dodd] has a lot of great attributes," she told E! News in 2017. "Unfortunately, I think those great attributes are completely overshadowed by her nastiness."
Meghan King's split from Christian Schauf
After Meghan King's bumpy divorce from Jim Edmonds, she found love with entrepreneur Christian Schauf, who founded Uncharted Supply Company. The two began dating in May 2020 after meeting on a dating app, according to Us Weekly.
Christian lived in Utah, so Meghan traveled back and forth, investing time in a long-distance relationship while still having a rocky time co-parenting her children with Jim. "I never thought it would go anywhere since he lives in Utah and I live in St. Louis and work in Los Angeles — but what the hell, it was quarantine and I wasn't physically seeing anyone anyway… until we did," Meghan wrote in her blog in June 2020.
While things seemed like bliss between the two, six months later, Meghan and Christian parted ways. "After a terrible split from my ex-husband I learned how to heal. I then met and dated a wonderful man: Christian," Meghan explained on her blog. "We laughed, went on adventures, made a long-distance relationship a thing of beauty, grew together, and then… well, we grew apart." The "Real Housewives" alum added that she had to take time to grieve the relationship with Christian. "This is life, these things happen," she went on. "So I put on my big girl pants, take a deep breath, take a little time to mourn, take a lot of time to reflect, and take forever to smile back on a beautiful experience of growth." Sounds like a lot of strength.
Her marriage to Cuffe Biden Owens fizzled
Meghan King had a fleeting romance with Cuffe Biden Owens, nephew of President Joe Biden. The duo married in Pennsylvania in October 2021, according to Page Six, with President Biden and Jill Biden in attendance.
"We connected on a dating app, texted for a day or two, then spent five straight hours on the phone the first time we spoke," Meghan told Brides. "By the time that call ended, Cuffe was booked and packed for a flight to St. Louis that took off in about eight hours. Within a week, we were back on the East Coast, meeting his family, and starting to plan our future together. We didn't leave each other's side for weeks."
However, just as quickly as it started, Meghan's relationship with Cuffe ended. On an episode of Teddi Mellencamp and Tamra Judge's "Two Ts In A Pod" podcast, Meghan said the relationship "from start to finish with him was only three months." Though the "whirlwind" marriage "didn't work out," she has come to terms with how everything ended up going. "It literally feels just like a nostalgic memory," she said. It certainly was a quick experience from start to finish, but Meghan has shown us that she can pick herself up and dust herself off no matter what happens.