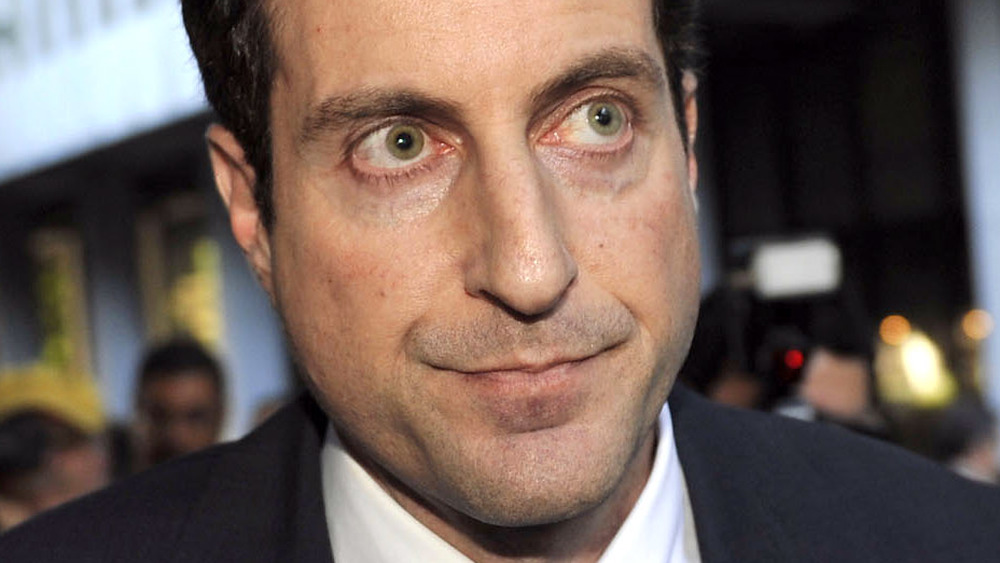 The world was infatuated with Anna Nicole Smith, who modeled for big brands like Guess, and even appeared in Playboy in the '90s. That fascination carried over to her constant companion, lawyer Howard K. Stern. Throughout Smith's career, Stern was often by her side, but he remained out of the limelight until The Anna Nicole Show premiered in 2002.
Stern actually appeared on the reality show, and fans quickly noticed that he and Smith had a connection that ran much deeper than friendship. They eventually exchanged vows in a "non-binding commitment ceremony" in September 2006, though Stern claimed they had plans to "make everything legally binding" soon afterward.
Sadly, Smith died of an accidental overdose in February 2007, but Stern's time in the spotlight was far from over. Not only did he wage a custody battle for Smith's then-infant daughter, but he also continued representing Smith's estate in efforts to claim a portion of the fortune left by Smith's deceased husband, oil tycoon J. Howard Marshall II.
So whatever happened to Howard K. Stern, Anna Nicole Smith's lawyer-turned-lover? Keep reading to find out.
Mixing business with … whatever this was
Howard K. Stern and Anna Nicole Smith's relationship started out as strictly business. According to People, Stern's law firm "handled Smith's modeling and show business contracts in the mid-1990s." In 1995, Stern's representation of Smith's affairs extended to the aforementioned fight for a piece of her late husband, billionaire J. Howard Marshall II's estate, during which Stern "presented Anna's direct examination in the court trial." The problem was: Smith wasn't included in her husband's will, triggering a decades-long legal battle with his surviving family members. Stern would continue to be involved in related litigation long after Smith's death (but more on that in a minute).
By the time The Anna Nicole Show premiered in 2002, the law firm Stern co-founded had been dissolved, and he had moved on to a new venture — a talent agency he founded called Hot Smoochie Lips, Inc. Smith was his only client. According to The Guardian, this was "an effort to represent every aspect of [Smith's] life himself."
But not everyone saw Stern as Smith's trustworthy companion. Bobby Trendy, who appeared on The Anna Nicole Show as Smith's interior decorator, was clear about his feelings toward Stern, and later went on to call the lawyer "a coattail-riding ambulance chaser" in an interview with The Village Voice. Yikes.
A wedding and a funeral
In September 2006, Howard K. Stern accompanied Anna Nicole Smith and her newborn daughter, Dannielynn, to the Bahamas, where they were married in a commitment ceremony. According to People, the two tied the knot aboard a catamaran off the coast of Paradise Island. Two days before the ceremony, Stern appeared on Larry King Live, where he claimed he was Dannielyn's biological father. The timing of both events raised the eyebrows of Smith's fans, who were already skeptical of Stern's motivations.
Detractors even speculated the two only married in the Bahamas to utilize a law that could possibly prevent Smith's former lover, Larry Birkhead, who was also claiming to be Dannielynn's biological father, from filing a paternity suit.
Unfortunately, just a few months after their impromptu wedding, Smith was found unresponsive in her hotel room and pronounced dead at the hospital. Bahamian paternity law notwithstanding, Smith's death triggered an intense, public paternity battle between Stern and Birkhead.
Daddy issues
Though Howard K. Stern was listed as the father on Dannielynn's birth certificate, that never stopped Larry Birkhead from firmly believing he was the girl's father. According to CNN, Birkhead and Stern "began battling in Bahamian courts" over the matter shortly after Stern fought another ugly legal showdown over where Anna Nicole Smith's body was to be laid at rest. A court-ordered DNA test later proved that Birkhead is Dannielynn's biological father. Regardless of what Smith's intentions were when he chose to tell the world he was the father, this was likely another devastating blow for him after losing his longtime friend and lover.
More importantly, Stern quickly did the right thing by Smith and Birkhead's daughter, allowing Birkhead immediate access to her after the release of the DNA results, even though custody issues were still pending. "We're gonna do what we can to make sure that the best interests of Dannielynn are carried out," Stern said outside the court hearing when the DNA results were announced (via People). "And I'm going to do whatever I can to make sure [Birkhead] gets sole custody."
Birkhead was eventually "awarded full custody," according to The Huffington Post, but that didn't mean Stern was out of Dannielynn's life forever.
Uncle Howard?
Nearly ten years after Anna Nicole Smith's death, Access Hollywood Live reported that Howard K. Stern had made sure to stay in Dannielynn's life. Even though he is no longer playing the father role, Stern is known to Dannielynn as a good friend of her mother's. Speaking with the tab, Larry Birkhead revealed, "(Dannielynn) does know Howard; she knows that he was mum's friend. Beyond that, he and I are friendly and we work together on estate things all the time … and he's been really supportive."
While this might surprise many people who followed the paternity suit, which seemed to portray a rivalry between the two, Birkhead claims that couldn't be further from the truth. He said, "I think people think that because of all the craziness that went down … that he and I are arch-rivals … I was just looking out for my daughter, so to have any grudges beyond that would mean there were some other intention on my behalf.
Anna Nicole Smith's perplexing prescriptions
As if losing his paternity claim while still grieving Anna Nicole Smith's death wasn't enough, Howard K. Stern then faced serious accusations regarding his alleged culpability in his (unofficial) wife's death. According to Today, the former model died of an "accidental overdose" of at least nine prescription drugs. She'd been extremely ill, suffering from a stomach flu, and had been mixing medications for that as well as meds for "anxiety, depression and insomnia." Her refusal to go to the hospital is what ultimately lead to her demise, but according to a statement by Stern's lawyers, Smith stayed put, because "she did not want the media frenzy that follows her."
In 2009, Fox News reported that Stern, along with two doctors, were charged with several felony counts of conspiracy and other charges related to fraudulent prescriptions — Stern faced six charges, and each doctor faced seven. The trio allegedly provided Smith with thousands of prescriptions during the years leading up to her death, according to prosecutors. Of the 11 prescription drugs found in the hotel room where Smith spent her last night, most of them were written to Stern and none were actually prescribed to Smith. Additionally, more than 600 pills (including 450 muscle relaxants) were missing from the bottles, most of which had only been filled five weeks earlier. That … does not look so good.
A matter of privacy
Howard K. Stern's legal battle over the charges brought against him relating to Anna Nicole Smith's death continued for years. In 2010, Stern was "convicted of two felony charges of conspiring to use fake names and false pretenses to score prescriptions," according to E! News, which he said was not related to "the appropriateness of the medication." Stern claimed that he arranged for the prescriptions to be in his name "to protect Anna Nicole's privacy and it was nothing more than that."
One year later, a judge "vacated" those convictions, citing "basic unfairness in the charging of the case." However, the year after that, an appellate court reversed that decision, once again causing Stern to face the possibility of jail time.
In 2015, Stern finally got vindication when the judge who "vacated" his original convictions, Los Angeles Superior Court Judge Robert J. Perry, "dismissed" them again. Speaking with reporters (via E! News), Perry said, "Howard Stern simply has been through enough … I find there is no reason to permit this case to go forward." He also blamed the charges and the lengthy court process on the notion that Stern was a public figure being used as an example.
He was involved in Smith's affairs long after she died
After Anna Nicole Smith's death, Howard K. Stern became the executor of her estate, which included her California home worth nearly $2 million. Though he told Fox News in 2011, that Larry Birkhead would "probably become [the estate's] sole administrator," as of 2013, Stern was still seemingly very much in charge.
According to NBC Los Angeles, Stern received court-ordered approval to sell Smith's former home, where Birkhead and his daughter had lived since 2007. Stern first put the home, which was featured on Smith's reality TV show, on the market for $1.75 million in 2011, but it eventually sold in 2013 for $1.3 million.
AOL reported that despite media reports of "a feud between Howard K. Stern and Larry Birkhead around the sale of the home," the two men actually worked together on the deal. A lawyer speaking on behalf of Stern additionally told NBC Los Angeles that all of the profits from the sale would be put aside for Smith and Birkhead's daughter, Dannielynn.
He went all the way to SCOTUS for Smith
On top of playing realtor, Howard K. Stern was also part of the continued legal battle for the money allegedly promised to Anna Nicole Smith when her ex-husband, J. Howard Marshall II, died. Throughout this 20-year legal battle, Smith was continually denied the money that she felt was rightfully hers, but Stern was still fighting on her behalf in 2015, according to Forbes.
Another Forbes analysis broke down Stern's involvement with the complicated probate battle that eventually made its way to the Supreme Court. Essentially, Smith joined Marshall's disinherited son in a lawsuit attempting to claim a piece of the billion-dollar estate that was left entirely to Marshall's other son, Pierce. A Texas court ruled against them. Meanwhile, Smith filed a bankruptcy claim in California, "alleging that Pierce had interfered with her potential inheritance." This resulted in an infamous $474 million judgement in her favor, which was thrown out by an appeals court who stated that the California suit was invalid "since it had been previously decided in a Texas state court." That's where the Supreme Court got involved — twice.
Agreeing to hear two cases related to "whether a federal court in California had jurisdiction over a Texas probate matter," SCOTUS never awarded a penny to Smith, but opened the door for further legal battles to drag on, which they did. Stern then attempted (and failed) to "bring sanctions against Pierce's estate … for 'discovery abuses' plus fees and costs." Amazingly, the case somehow still had life as of January 2017, although it is unclear, as of this writing, to what extent, if any, Stern is still involved.