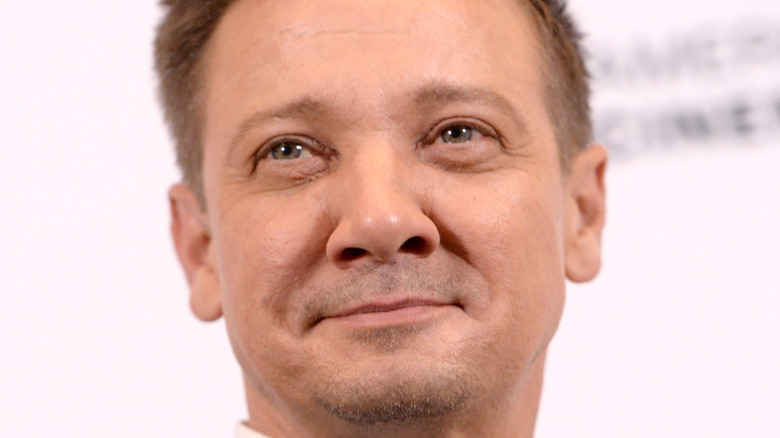 We may receive a commission on purchases made from links.
The following article includes references to allegations of addiction and emotional abuse.
Jeremy Renner was carving out a space in Hollywood as a versatile character actor before proving that he was leading man material in the 2008 war drama "The Hurt Locker." He was 37 years old when he earned his first Oscar nomination for his role as a bomb-disposal expert serving in the Iraq War whose unorthodox methods cause friction among the members of his team.
Renner's career trajectory took him from his first movie role as a stoner teen who just wants to party in the 1995 comedy "National Lampoon's Senior Trip" to portraying a real-life serial killer in the 2002 biopic "Dahmer" and an outlaw in the 2007 Western "The Assassination of Jesse James by the Coward Robert Ford." He then reshaped himself as an action star by joining the "Bourne," "Mission: Impossible," and "Avengers" franchises.
Renner has also amassed quite the collection of amusing anecdotes. On "The Graham Norton Show" in 2013, he recalled the embarrassing aftermath of mistaking Viagra for Ambien before getting on what turned out to be a sleepless flight. "All the flight attendants had a nice laugh," the star recounted. Renner also once told a crowd at London Film and Comic-Con that he tried to kill his superhero character, Hawkeye, off by constantly faking heart attacks during filming because he was unhappy with his introduction to the MCU, per the Radio Times. But that's just the tip of the arrow when it comes to what there is to know about Jeremy Renner.
Jeremy Renner got competitive as a child bowling prodigy
When Jeremy Renner was growing up in Modesto, California, his father owned a bowling alley, per Playboy. Renner picked up the sport quickly and excelled at it, discovering that he was capable of beating adults as a child. "I started bowling when I was three and had a 225 average at the age of 12. I toured a lot as a semipro," he said. But Renner told "The Dinner Party Download" podcast that he found his bowling success more of a burden than a boon, explaining that he put too much pressure on himself to keep topping his best scores. "I didn't have the emotional capacity or spiritual capacity to overcome my own, you know, anger or frustration from not bowling consistently enough," he recalled.
On "The Howard Stern Show" in 2017, Renner described how he would react to failing to meet his self-imposed high-performance standards, saying, "I would be kicking the ball return, cursing." He dropped the sport at age 12 because it was no longer fun to him. "I always joke that the game put me in therapy," he told Playboy. Even as an adult, Renner finds it hard to go to a bowling alley and have a good time. To avoid reawakening his competitive inner child, he makes an effort to not make an effort. "I just grab the pink sparkly [bowling ball] and just kinda roll it with one finger between my legs," he told Stern.
The Marvel star worked as a makeup artist
Before his acting work started paying the bills, Jeremy Renner sharpened his skills on the stage at Modesto Junior College. During his 2021 "Hot Ones" appearance, he revealed that his first-ever acting role was playing the Scarecrow in a production of "The Wizard of Oz." He learned to do his own theater makeup, which helped him land a job doing makeup at the mall. However, Renner realized that using Lancôme products to replicate the exaggerated, theatrical paint jobs he was used to was not going to win him any customers — or dates.
"I figured I could tone it down and do it on hot girls all day. It wasn't the case. It ended up being older ladies, which was just fine," Renner told Elle. He was also able to convince some customers that their everyday beauty looks were a bit too theatrical. "You want a guy's opinion on what looks good versus what you think looks good? That blue eye shadow up to your eyebrows does not. Let me try something else," he said while describing how he treated potential customers.
On the "Armchair Expert" podcast, Renner said that he got good enough at his job that he received a lucrative offer to do makeup for Playboy models, but he turned it down because he wanted to keep pursuing his dream of becoming an actor. "All I'd have to do is retouch some blemishes on some butts, essentially," he said, quipping, "This idiot didn't take the job."
Jeremy Renner got an offer to join a '90s boy band
Music has always been a big part of Jeremy Renner's life. Appearing on "The Tonight Show" in 2015, he revealed to Jimmy Fallon that he and some friends started a garage band in high school. Renner idolized Def Leppard, but his group lacked the skills needed to match the hair band's success. "No one played an instrument," he recalled. Their name was also lacking that je ne sais quoi that can magnify a group's mystique: Hot Ice. Still, when Renner's cousin, nicknamed The Hog, got married, Hot Ice did land one gig performing at the wedding reception, where hot dogs were on the menu.
Renner told Men's Health that he later taught himself guitar during a time period when he was so destitute that he was using candles to light his apartment, and on "Hot Ones," he revealed that he also frequented karaoke bars during those lean times. His singing voice was impressive enough that he rejected an offer to become a boy band member in the '90s, but when pressed by The Guardian, he wouldn't reveal the name of the group he could have joined. The actor did, however, tell Playboy that he performed a few gigs with some members of a popular '90s alt-rock band after meeting them during one of his karaoke outings. "I was also in a band here as a side project with a bunch of rock stars from Tonic," Renner said. "… It had an Eagles kind of sound but edgier."
He appeared in one of Pink's music videos
Before he played a bank robber in "The Town," Jeremy Renner landed a role as a sheriff in the Western-themed music video for Pink's 2003 song "Trouble." He wears a black hat to let you know he's a baddie, bashes Pink over the head with a bottle, and throws her in jail — before getting seduced into releasing her. When Renner shared an Instagram post about the video in 2017, he recalled doing a lot of perspiring on the hot, dusty set.
While he played her enemy then, Renner was a vocal ally of Pink in 2016. After she shared a message praising women who rely on their skills and smarts to succeed rather than their appearance, Renner quote-tweeted it, writing, "Strength and honor my lady!" Pink responded with an emoji fist bump, and Renner's reply was appropriately Western-themed: "Circle the wagons. We got paths to cross mama. Miss ya." On "Watch What Happens Live," Pink confirmed that the message Renner endorsed was a response to one of Kim Kardashian's racy selfies.
When he started recording music himself, Renner listed Pink as one of the artists he'd love to work with. "She's kind of got that thing where her voice is gritty and throaty and raw," he marveled to #Legend in 2015. Renner hasn't hit the studio with Pink, as of this writing, but he can boast filmmaker Taika Waititi making a cameo in his 2019 "It's Weird Not to Be Weird" music video.
Jeremy Renner's renovation side hustles
Jeremy Renner was still scraping by when he landed a role in the 2003 action film "S.W.A.T." Per Esquire, he had just two Benjamins in the bank at the time, but his movie contract made it possible for him to secure a loan. With the help of his longtime pal, Kristoff Winters, he used it to purchase a house. The friends renovated the property and did such an exceptional job that they received an offer for it: $900,000, which would leave them with a $241,000 profit. And thus, their lucrative house-flipping side hustle was born.
To save money, Renner and Winters used to live in the houses they were renovating — even if the plumbing and electricity was nonfunctional. When Renner's performance in "The Hurt Locker" earned him a ticket to the Academy Awards, their unconventional lifestyle made getting ready for the event a bit tricky. "I went to Starbucks to go brush my teeth in a tuxedo because I had no running water!" Renner recalled to the Observer.
The actor has also taken a shine to refurbishing old fire trucks. On "Armchair Expert," he said that he's purchased dozens of them and donated them to communities in need after getting the trucks in working order. He also uses slides, Slurpee machines, and other fun installations to transform the vehicles into massive mobile toys for children's parties. This unique hobby earned him his own aptly titled Disney+ series: "Rennervations."
His close friendship with Charlize Theron
Charlize Theron and Jeremy Renner worked together in the 2005 movie "North Country," which is about a sleazeball boss who sexually harasses the female workers at his iron mine. Renner plays said boss, while Theron stars as an employee who decides to fight back. During filming, Theron told IGN that she turned the tables on Renner when the camera wasn't rolling. "We'd cut, and then I'd be horrible with Jeremy and grabbing his a** and saying, 'Yeah, you like that? Huh?'" she recalled. Although she mock-harassed him as a lark, Renner became close friends with his co-star. Per People, Theron even threw a big party for him to celebrate his Oscar nomination for "The Hurt Locker" in 2010.
Renner and Theron were also spotted getting drinks together around this time, and their outings naturally sparked dating rumors. But Renner told People (via Digital Spy), "We're just friends. We're crazy about each other. I can go hang out with her and play her piano and sip Scotch." In a 2011 interview with Details, he revealed that he also consulted his former co-star when he needed advice on how to execute a proper Oscar campaign. "She told me to take it moment by moment. Don't f***ing freak out, just have fun," he recalled.
Some of Renner's other famous friends include his "S.W.A.T." co-star, Colin Farrell, and his "Avengers: Endgame" castmate, Chris Pratt. Renner told Us Weekly that his daughter, Ava, has also befriended Pratt and Anna Faris' son, Jack.
Jeremy Renner's related to an American Hustle co-star
The 2013 film "American Hustle" was a bit of a reunion for Jeremy Renner and Amy Adams, who first met at a karaoke bar in 1999, per The Scotsman. Little did Renner know that it was also a family reunion between two actors who had no idea they were relatives. People spoke with Ancestry researchers who discovered that Renner and Jennifer Lawrence — who have both coincidentally played bow-and-arrow-wielding action heroes — are once-removed fifth cousins. They share a familial link in a farmer from Kentucky named Robert Tague.
Upon learning the news, Renner invited J-Law to join his family for Thanksgiving in 2015. "I'll save a spot for you at the holiday dinner table … CUZ!" he wrote on Instagram. But Lawrence shouldn't expect Renner to come to the negotiating table for her just because they're blood. When Insider asked him to weigh in on the discovery that he and his "American Hustle" co-star, Bradley Cooper, were paid more than Lawrence and Adams, Renner said that he had no plans to start consulting with his female castmates during salary negotiations to make sure that everyone's pay is equitable.
"That's not my job," Renner said. "I don't know contracts and money and all that sort of stuff." His rep, however, later told ABC News that Renner is against the gender pay gap and wants women treated fairly, explaining, "He is most supportive, but doesn't involve himself in those conversations."
How Jeremy Renner broke both of his arms
On "The Howard Stern Show," Jeremy Renner said that he prefers to do his own stunt work, but some of his job requirements likely make him question this level of commitment to his craft. For a scene in "Mission: Impossible — Ghost Protocol," he had to lean out of a window on top of the Burj Khalifa in Dubai, which is the tallest skyscraper in the world. This made him so queasy that he had to warn Tom Cruise that he was in serious danger of launching his lunch on his co-star. "I almost vomited. I told him, 'Tom, I might throw something down on you,'" Renner recalled, per Digital Spy.
But when Renner suffered multiple injuries at work, it was from a much lower height. While filming the 2018 comedy "Tag," he fractured bones in both of his arms. "It was a freak accident. It was a stunt with a stack of chairs 20 feet high," he told IndieWire. The stack was supposed to fall over with him on top of it, but he went down without the chairs. "When the wire rig busted, I busted with it," Renner recalled.
During an appearance on "The Tonight Show Starring Jimmy Fallon," he revealed that he didn't immediately realize he was hurt, so he performed the stunt again. Renner later went to the hospital and learned the extent of his injuries, but he didn't let them stop him from returning to work to throw donuts at co-star Ed Helms for a bit in the movie.
Jeremy Renner had his own app
In 2017, Jeremy Renner created his own app to engage with his fans, much to the bewilderment of many. Monetizing a social media network centered on one's self seems more like something a Kardashian — or Elon Musk — would do, not a grizzled guy who raced in the Baja 500 and gunned down invasive rats while renovating one of his properties, per The Hollywood Reporter. But the app was a real thing that existed. It was a magical place where users could purchase stars to prove that they were more die-hard than other Renner fans and wish one another a "Happy Rennsday."
But all was not sunshine and rainbows in Rennertopia, according to The Ringer. Some fans complained that bullies were being allowed to run amok, and attempts at moderation resulted in complaints about censorship. However, what apparently killed the platform in 2019 were trolls who started impersonating Renner en masse, per The New York Times. "The app has jumped the shark. Literally," Renner wrote on the app before it shut down.
The app isn't the only Renner side gig that sounds like an entry on an AI-generated résumé for an entertainer in desperate need of cash. There's also his Jeremy Renner Amazon store that sells camping and archery gear and his musical Jeep commercials. It's enough to make you believe that Renning Hot, the Renner-branded hot sauce featured in "Glass Onion," is the real deal. But according to Vulture, it is not.
The Avengers star secretly got married
As reported by The Sun, Jeremy Renner first met Canadian model and artist Sonni Pacheco while filming the 2011 movie "Mission: Impossible — Ghost Protocol" in Vancouver. She was reportedly a stand-in for the film. Pacheco previously appeared in the 2009 comedy "American Pie Presents: The Book of Love," in which she's credited as "Splendid Wet T-Shirt Girl," per IMDb. She also reportedly worked as a Monster Energy spokesmodel.
In January 2013, Us Weekly reported that Pacheco was pregnant. By then, she and Renner had supposedly split up, with an insider saying that the parents-to-be had only dated casually. But Pacheco continued to reside in Renner's home in Los Angeles as the exes awaited their child's arrival. Their daughter, Ava Berlin, was born that March, and Us Weekly published photos of the parents out together with their baby girl two months later.
Renner revealed that he was romantically involved with someone in a November 2013 interview with Elle, saying, "My girl is masculine in a lot of ways, even though she looks like a supermodel. That works out. A girly girl just doesn't do it for me." The following September, he unequivocally confirmed that he and Pacheco were a couple, telling Capitol File that they had tied the knot. He also explained why he kept their marriage a secret: "I have tried to protect my family's privacy, my wife's privacy. I don't need her to get hammered with my life."
His ex made disturbing allegations amid their custody battle
In December 2014, E! News reported that Sonni Pacheco had filed for divorce from Jeremy Renner just 10 months after they wed. "Jeremy wanted out of the marriage almost as soon as he got into it," a source claimed. The insider added that Renner was concerned that Pacheco would try to gain sole custody of their daughter, Ava, so that she could take her back to Canada.
The actor did, indeed, find himself embroiled in a bitter custody battle. In legal documents obtained by TMZ in 2019, Pacheco accused Renner of verbal and emotional abuse and of having substance use issues. She further alleged that he spoke about killing her and taking his own life. According to Page Six, Pacheco additionally claimed that Renner left a bite mark on their daughter's shoulder, but Renner said that the mark was caused by Ava's skin getting "pinched" by her seatbelt.
Renner made allegations of his own, claiming that Pacheco sent nude photos of the actor to the evaluator working on their custody case in a bid to embarrass him, per TMZ. He also alleged that his ex is the one who excessively uses drugs. Both parties have categorically denied the accusations lobbed at each other, and Renner has explained why he doesn't want to address the custody case outside the courtroom. "It only empowers it," he told Men's Health in 2021, adding, "If you respond to it, you give it gas. I don't fuel s*** fires. I just don't do it."
If you or someone you know is dealing with domestic abuse, you can call the National Domestic Violence Hotline at 1−800−799−7233. You can also find more information, resources, and support at their website.
If you or anyone you know needs help with addiction issues, help is available. Visit the Substance Abuse and Mental Health Services Administration website or contact SAMHSA's National Helpline at 1-800-662-HELP (4357).
Jeremy Renner's missed out on some pretty big roles
Like every other star in Hollywood, Jeremy Renner has his fair share of films that got away. Screenwriter Zack Stentz revealed that he strongly advocated for Renner's casting in "Terminator: The Sarah Connor Chronicles," but he couldn't convince the powers-that-be that Renner was right for the role of Derek Reese. "It worked out for the best," Stentz tweeted. "Brian Austin Green was great, & Renner went on to do a little movie called Hurt Locker."
According to Renner, he was responsible for turning down his first shot at carrying a comic book franchise. While many would find the ungodly amount of money he was seemingly offered to play the lead in "Hellboy" heaven-set, Renner told Men's Health that he didn't feel like he could do the half-demon character justice. "I just felt if I wasn't connected to the material," he explained, "… I don't know how I'm going to do anything exceptional."
But one role he did regret missing out on was that of Max Rockatansky in 2015's "Mad Max: Fury Road." He got far enough in the casting process to test-read with Zoë Kravitz, according to The New York Times, but Tom Hardy ultimately won the part. What made the loss even harder was that it would have been another opportunity for Renner to share the screen with his good friend and "North Country" co-star, Charlize Theron. "I was really, really bummed out," he confessed to the Daily Beast. "… That woulda been cool to work with Charlize for eight months in the desert."
The Hawkeye star's dating difficulties
Unfortunately for Jeremy Renner, Hawkeye doesn't carry any of Cupid's arrows in his quiver. Speaking to Details, he revealed that his romance woes started early in his acting career when he was simply too broke to take anyone out. "I didn't even have electricity. You try to put a positive spin on it, like, 'Hey, this is so sexy — look at all these candles!'" he quipped.
The actor wanted to make sure that he was financially secure before getting serious with anyone, but even when he was working, he struggled to find dates. It certainly didn't help matters that one of his jobs was trying to play a convincing serial killer. "Dahmer" director David Jacobson told The Guardian, "After the movie opened, [Renner] told me that Carmen Electra had run away from him after seeing it. He accused me of ruining his sex life!"
Renner did eventually settle down with "DC's Legends of Tomorrow" star Jes Macallan for four years, but the couple's relationship ended long before they could become star-crossed lovers on opposite sides of a comic book rivalry — in fact, Macallan hadn't even started acting when they split. In a 2012 interview with The Hollywood Reporter, Renner revealed that the beginning of Macallan's Hollywood career was the end of their romance. "That was part of the issue. I was going through the 'Hurt Locker' campaign and she's like, 'Where do I get headshots?'" he explained.
Jeremy Renner was willing to get fired over his daughter
Jeremy Renner was more than willing to put his career on the backburner when he became a dad, even if it meant hanging up his Hawkeye costume for good. In 2021, he told Men's Health that he wanted to ensure that he could spend as much time as he could with his daughter, Ava, so he demanded it when meeting with Marvel bosses about his future in the MCU. Renner was warned that their response might be simply to show him the door, but this didn't deter him. "I said, 'Fine, recast me. I'm going to be here with my daughter.' It was pretty gnarly," he recalled, saying that he's started turning down other parts if his demands for daddy-daughter time aren't met.
In a 2016 "Live with Kelly and Ryan" interview, Renner revealed that he was spending some of that precious time passing Hawkeye's archery skills onto his daughter. However, the then-3-year-old was still oblivious to her dad's superhero status at the time. "She knows that I look like the guy on her pajamas," Renner said. He made a valiant effort to convince her that it's also his face on her "Avengers" PJs, but according to Renner, she insisted, "No, it's Hawkeye!"
For Renner, no superhero role or acting accolade will ever top his accomplishments as a proud father. "Am I a good dad? Without a doubt," he told Esquire. "It is the thing that I'm best at in life."
His wild stories about fights and strange encounters
Jeremy Renner has experienced some surreal life moments that seem more like scenes from one of his action films. In 2012, TMZ reported that he witnessed a massive fight that occurred at a bar in Phuket, Thailand. Some of Renner's companions got stabbed multiple times, but Renner escaped unscathed. "I was in flip-flops. I don't do bar fights," he told The Hollywood Reporter. Then there was the time he got attacked by a bar patron the night before Christmas. According to Renner, it ended with the assailant taking a long winter's nap. "This guy chokes me with the scarf I was wearing. He called me a f** 'cause I was wearing a scarf!" he recalled. "Then he shoved my sister and I got behind him and I choked him out — put him to sleep." Another ill-mannered drunken man earned the same fate when he shoved Renner's "A Little Trip to Heaven" co-star, Julia Stiles. "I kindly choked him out and remedied the situation," Renner told Playboy.
But one of Renner's most bizarre encounters came after he kept running into the same man and refusing his repeated offers to grab a drink with him. One night, he saw the mysterious man outside his home. "He had my cat tucked like a football, under his arm," Renner recalled to Esquire. The man fled with the feline, never to return. "I hope he didn't end up as that guy's dinner," Renner mused.
Jeremy Renner survived a horrific snow plowing accident
On January 1, 2023, Jeremy Renner was critically injured near his sprawling ranch located in the mountains near Reno, Nevada. He'd been using his own PistenBully snow plow to clear the roads around his home, and Reno Mayor Hillary Schieve told Reno Gazette Journal that he exited the massive vehicle to come to the aid of a stranded motorist. When the PistenBully began rolling, Renner attempted to get back inside of it but got trapped underneath its chain wheels.
The actor lost a great deal of blood, per TMZ, and his chest was crushed, making it a struggle for him to breathe. Once first responders were able to make it to Renner, he was transported to a local hospital. "We can confirm Jeremy is in critical but stable condition with injuries suffered after experiencing a weather related accident while plowing snow earlier today," his family later said in a statement to Variety. A source told CNN that his extensive injuries required two surgeries while he was being treated in the ICU.
Two days after the accident, Renner took to Instagram to let his fans know how much he appreciated their outpouring of support. "Thank you all for your kind words," he wrote. "Im too messed up now to type. But I send love to you all." Hawkeye might not have superpowers, but Captain America himself, Chris Evans, put it best when he described his co-star as "tough as nails" in response to Renner's post.