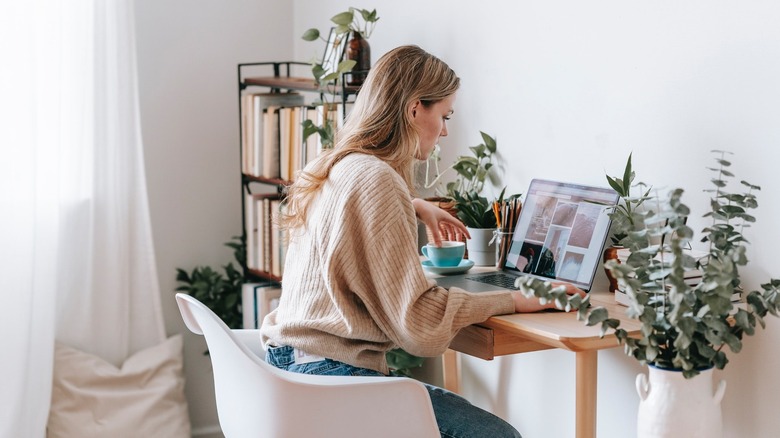 Your writing desk may be a place to sit down and get work done, but it should also be a spot where you love to sit. Functionality is always key, but so is the look and feel of your desk. In fact, decorating your workspace is actually proven to have a myriad of benefits. Prestige International explains that a well-decorated desk area increases energy and enhances productivity. Having pretty things around you gives your mind and body a break from the sometimes daunting, or at least mundane, task you need to get done. It combats that negativity by enhancing your space with things that make you happy — and are simply nice to look at.
With writing desks having less surface area, it's important that you don't go overboard with decor (you still need to be able to get work done, after all). Don't worry though, there are still a ton of ways you can style your desk area. Feel inspired and love where you sit with these tips on how to decorate your writing desk.
Hang plants above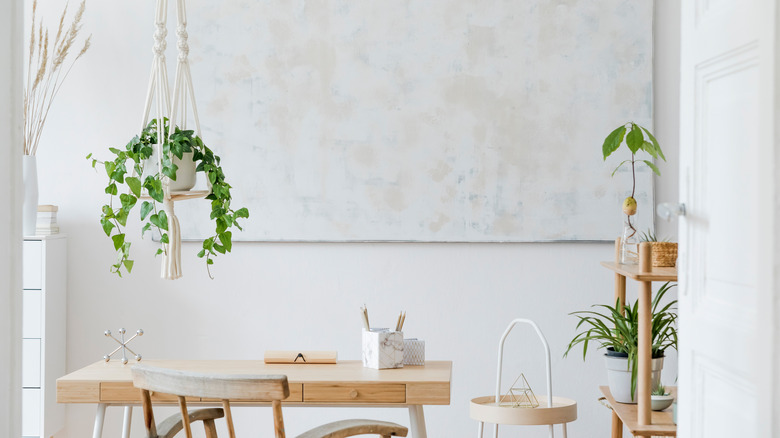 Houseplants may just be the premier home decor, so it would make sense that you'd want your desk space to be graced by some greenery. Though, since writing desks tend to be on the smaller size, having plants on your desk may run the risk of it starting to look like an overgrown garden. Enjoy all the foliage you want while still preserving your writing space by hanging plants above your desk instead.
When choosing the best hanging plant, Igor Josifovic, author of "Urban Jungle: Living and Styling with Plants," tells My Scandinavian Home that, "Any trailing plant is perfect for a hanging pot as they prefer space to grow freely." My Scandinavian Home suggests these five plants as the best for hanging: English ivy, heartleaf philodendron, spider plant, devil's ivy, and Boston fern. Just be sure you have a sturdy hook or rail you're hanging the plants from — the last thing you want is anything crashing down on your head!
DIY your organization
Organization is key to having a nice desk space. No amount of decorative pieces can mask clutter. Luckily, organizational accessories (like boxes and trays) can not only help you keep your space neat, but add some stylish elements too.
We love a good DIY because it allows you to get hands-on and customize what you're making so that it's perfectly suited for you (DIYs also are great ways to save money). We love this DIY for wood desk organizers from Homey Oh My. All you need are some wood boxes (easily found at stores like Michaels) and a screwdriver, plus paint, wallpaper, scrap paper, or whatever else you want to use to decorate your organizers. Just use your screwdriver to take the box apart and then go to town on creating your dream desk decor. Go as minimalist or maximalist as you want! Have some fun with how you want your writing desk to look.
Add floating wall shelves
Floating wall shelves are major space savers, and they're a great source of decor too. Even if you are using your shelves for practical matters and not just decorations, there are still ways you can style the shelves to really elevate your writing desk space.
The Beauty Revival says it's essential to have a game plan, and notes that there are some important steps you should follow when creating your wall shelves look. First, you should start with the top shelf, adding objects from one end of the shelf to the other. If you can, try to leave a little space on either end of the shelf. Also, aim for objects of varying heights. Up next is the shelf below, which should contain two sections of objects, with some empty space between them. If you have a third shelf, handle it as you did the second. To make sure that you're really into your setup, take a picture of the space from the other side of the room — that way you get some perspective and see the full picture.
Style according to feng shui
As MYVA360 informs, your desk is actually one of the most important areas to apply feng shui in your home because it relates to your career, and therefore your financial success and overall fulfillment. If you're looking for a way to start the process of creating your ideal writing desk space, then why not turn to the practice of feng shui?
The desk's color and material is a great place to start. Overall, you want to strive for your desk to be solid and stable — feng shui doesn't align with glass desks, for example, because they run the risk of shattering. Use the colors and materials of the five elements (earth, metal, water, wood, fire) to attract the corresponding energies you want in that space.
As for decor, plants invite growth — just be sure your plant can actually prosper with the light and space provided at your desk. Crystals are also great, as each one has its own set of properties, so you can choose what's best for you. And, believe it or not, a sturdy ceramic mug represents earth energies and a sense of stability.
Invest in stylish mugs and glassware
Not only can mugs help with the feng shui of your desk, but they also can act as a part of your desk's decor (in addition to holding a hot cup of coffee or tea, of course). Something to remember when styling your desk is that everything plays a role in the aesthetic, drinking vessels included.
Considering that mugs make for easy and kitschy gifts, we all tend to accumulate many that we don't necessarily find appealing. It's up to you if you want to get rid of those or not, but what we do suggest is you only use mugs you like on your writing desk. Check out this round-up from Apartment Therapy with some insanely stylish mugs. Whether you prefer your mugs tall or short, with a handle or without, there are a ton of excellent examples here.
And while we're at it, let's throw drinking glasses in the mix too. These curated by The Infatuation will make your desk a true work of art.
Use pops of color
Consider this as a decor idea: having an overall neutral color palette that's brought to life with pops of color. The neutral colors will keep the space looking calm, centered, and approachable, and the bright color will add some liveliness and spunk. That's what we call the perfect balance.
Pops of color go beyond just a fun decor idea — they're actually proven to help boost employees' levels of happiness and engagement in offices. Considering your writing desk is an office space of your own, this tidbit definitely still applies. According to Coalesse, pops of color can influence engagement, and you can use color psychology to pick the color that's right for you. For example, red encourages movement and energy, blue encourages calm and concentration, and yellow and orange are associated with creative energy. Pretty cool. According to Very Well Mind, color can affect everything from moods to behaviors, and can influence overall performance. What color are you going with?
Surround yourself with things that inspire
This may seem obvious, but when deciding on how to decorate your desk, think about things that inspire you. Your writing desk space is all about you, so don't try to force a decor look that doesn't actually resonate. What makes you feel happy, motivated, and creative? For some it may be photos of loved ones, places you've traveled, or places you hope to one day visit. Or, if you're an art lover, you might want to incorporate your favorite pieces into your workspace, whether you like dreamy watercolor paintings, or bold graphic designs. As long as it inspires you, that's all that matters.
If you're into photos, then consider making a DIY clothespin picture hanger, as seen here on It's Always Autumn. Since you'll use clothespins to attach the photos, you can swap them out whenever you get a new batch or just need to switch up the vibe.
Display fresh flowers in a bud vase
If you do want to have fresh flowers on your writing desk, opt for a bud vase. A bud vase is essentially a miniature vase that holds just a stem or two. Using this type of vase will keep your desk neat and still allow you to have plenty of space to work. It's also incredibly easy to style a bud vase — there's no pressure to put together a whole bouquet. YouTuber Sullivan in the Garden recommends playing with varying stem heights and removing excess leaves. She uses all grocery store-bought flowers too, proving that it's easy to find flowers, and doesn't have to break the budget.
Half the fun of a bud vase arrangement is the bud vase itself. Long gone are the days of boring vases — they now make them so incredibly cool, as demonstrated by Clever by Architectural Digest. From a pink glass cactus to a ceramic vase shaped like the female body, there are so many options when it comes to decorating your desk.
Employ aromatherapy with an essential oil diffuser
Using an essential oil diffuser to decorate your writing desk is a two-for-one kind of deal: not only can you use the diffuser as a decorative piece, but you will also get the benefits of aromatherapy. As Healthline explains, aromatherapy is the use of essential oils through inhalation (in this case, smelling) for the purpose of improving your wellbeing. It's a practice that's been around for thousands of years, and dates back to ancient China, India, and Egypt.
Different essential oils do different things. You may already be familiar with lavender, which is known to bring calm to your body and help you relax. According to BoomBoom Naturals certain essential oils can also aid in creativity and focus, such as peppermint or tangerine, which would be great to have fill the air at your writing desk.
And these aren't just practical, plain diffusers, either, as Vogue points out. You can find diffusers to fit any style and taste, from sleek, minimal diffusers to artsy, creatively-shaped ones.
Get a desk lamp you love
It's a smart move to have a lamp at your writing desk. The last thing you want is to be straining to be able to see. But, rather than plopping any old lamp on your desk, choose one that you actually love, and that will add to the decor. Of course you want your lamp to be functional, but you should also like the way it looks too.
According to Apartment Therapy, there is a wide range of styles, colors, and shapes available, so you can find one that fits your writing desk perfectly. Feel free to go with whatever vibe you want, whether it's a more traditional desk lamp with a dome shade and adjustable arm, or something with an Edison bulb and industrial edge. Whichever lamp you go with, our one piece of advice is to be aware of size. It should fit comfortably on your desk and still leave you plenty of room to work. Make sure it's proportionate to your desk's surface area.
Go acrylic
Acrylic is the go-to material for a clean, modern feel that's also laid-back and cool (no stuffiness here). It's super affordable, and a great compliment to pretty much any decor style. Luckily, so many desk accessories come in acrylic, so that you can bring the style even when staying organized.
Even within the material and look of acrylic there are ways to incorporate style touches, such as with this letter tray from Target. The gold adds a pop of color and shine, and dresses up the otherwise more basic piece. Or this tray from Society6, which features a monochromatic and modern design. Lastly, this acrylic storage caddy with a white leather strap from Anthropology is incredibly cool. It's actually quite impressive the level of versatility acrylic can have, and it's super easy to clean too. Whether for pens, paper clips, notebooks, or papers, when in doubt, go acrylic.
Replace your cell phone with a clock
These days, most of us just use our phones as a clock. Though convenient, our phones are a huge distraction, especially when you're trying to get work done. Marius Schober on Medium dove into this matter, referencing a study from the University of Texas that found that even just having your phone on your desk negatively affected your cognitive process and self-control. This was true even if the phone was off. Wow.
With that piece of knowledge in mind, why not use a clock on your desk instead? Especially when they can do so much to your desk's decor. Have fun with it, too! You can find one that perfectly fits your decor, such as a sleek, minimalist one for a more serene look, or a classic vintage one if that's more your vibe. You can even find interesting, still-functional ones at thrift stores and flea markets, if you enjoy the thrill of the hunt!
Pick a cool desk chair
If you have a more simple writing desk, then amp up the style and feel with a cool desk chair. First and foremost, your top priority should be comfort and support. Spine-health notes that there are some important things you should be looking for in your desk chair, including adjustable height, good lumbar support for your lower back, and a seat that's deep enough (it's ideal to have 2-4 inches between the back of your knees and the seat). Your writing desk is a place where you want to be productive and inspired, and it'll be hard to achieve that if you're uncomfortable.
Once you find a chair that checks those boxes, have some fun with how the chair looks. Whether you're into gold accents, velvet material, or animal print, you don't have to sacrifice style just because you're shopping for a desk chair.
Put a rug under it
Lastly, decorate your writing desk by placing a cool rug beneath it. Rugs have the ability to completely transform a room, and they're a great example of a decor item that's functional too. As Floorspace points out, office rugs absorb sound, help insulate the room, and add to your decor (but you already knew that). Rugs come in all shapes and sizes, but if you're getting a rug just for the purpose of your desk area (rather than for the entire room), then there's a good rule of thumb to follow. Make sure whichever rug you choose is large enough for the desk and chair to fit comfortably on it — even when pushed out. That means there should be about a minimum of 3 inches extra around your chair. The rug should also have a low pile so that your chair can move easily across it.
Choose a bright color or bold design if you're trying to bring more personality to your writing desk, or go more toned-down or neutral if you just want to add a little something that still blends in well.