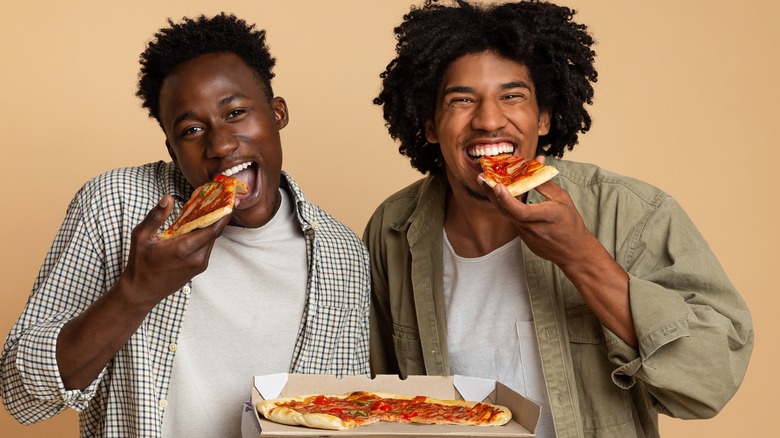 If you're like most Americans, you love a good slice of pizza — especially when it's fast, fresh, and you don't have to cook it. Little Caesars and Pizza Hut are two of the most well-known pizza chains in the country, coming in third and second in total sales among pizza restaurants as of 2021 (via Statista). But which one is the best option for you? Is one better than the other when it comes to food quality, value, delivery and pickup options, or menu variety?
Let's start by saying you can't go wrong with either pizza chain. Little Caesars and Pizza Hut both have a wide selection of menu items to choose from, different price points to match your budget, and convenient options for getting your order to your home when you need it. However, we're breaking down some of the top considerations to make when choosing your go-to pizza restaurant, because we know that there's no one-size-fits-all solution when it comes to the best pizza place. Continue reading to find out some of the key areas where Little Caesars and Pizza Hut differ to help you find your best option.
Menu variety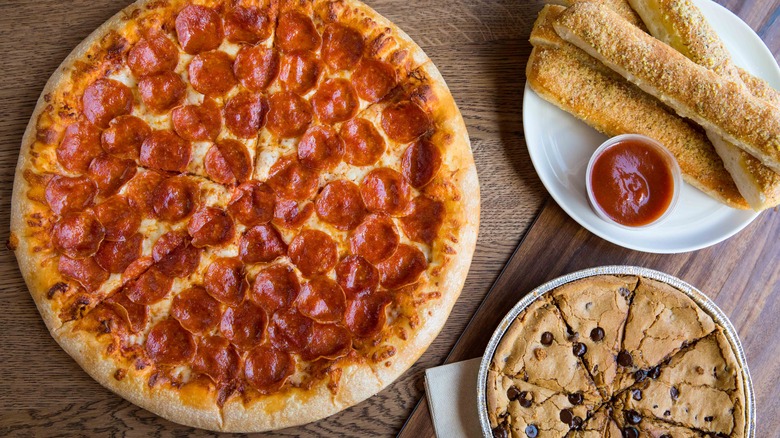 Obviously, the main staple on Pizza Hut and Little Caesars' menus is pizza. Both restaurants offer multiple types of pizza, including prebuilt recipes and customizable pies, each in different sizes, with different crusts, and more. But, which restaurant goes beyond pizza to cater to those who want something else once in a while?
The Little Caesars menu includes breadsticks, cheese bread, wings, and drinks to round out your pizza delivery. You can also add desserts like cookie dough brownies. The menu also includes a few preset pizza combinations like Veggie, Ultimate Supreme, and Hula Hawaiian if you don't feel like creating your own pizza.
Pizza Hut's menu is a bit more varied. It also offers wings, drinks, breadsticks, cheese sticks, and desserts, like brownies, cinnamon sticks, and a pizza-sized chocolate chip cookie. Customers can also add yummy pastas to their orders like the Oven-Baked Chicken Alfredo Pasta or the Oven-Baked Veggie Pasta. Fries are also a side option that you won't find at Little Caesars. And Pizza Hut has a few extra pizzas that Little Caesars doesn't offer, like Buffalo Chicken and Backyard BBQ Chicken. While you won't find a huge difference between the two menus, Pizza Hut might be the better option for frequent customers who want a little more variety to choose from.
Pizza topping options
Pizza toppings are the bread and butter of a good pizza restaurant. After all, the more pizza toppings offered, the easier it is to customize a pizza you love every single time you order. Fortunately, there is no shortage of toppings at either pizza restaurant, but Pizza Hut does have a few more options available than Little Caesars in terms of meats, vegetables, and sauces.
When you customize a pizza with Little Caesars, you'll get the standard topping options you'd expect from a pizza place, like pepperoni, bacon, mushrooms, green peppers, and black olives. You can even add pineapple on your pizza if you like a more offbeat pizza. However, its sauce selection is limited strictly to regular pizza sauce, and you can't get toppings like grilled chicken, pork, or banana peppers, which could be a complete turnoff for some pizza lovers who want the maximum number of topping choices (via Little Caesars).
However, Pizza Hut offers all of the above, plus additional sauces to really make your pizza one-of-a-kind. Aside from its regular marinara sauce, you can ask for garlic Parmesan, Buffalo, or barbecue sauce on your pizza. Or add all four to one pizza if you really want to experiment (via Pizza Hut).
Pizza crusts
Changing the type of crust that your pizza sauce, toppings, and cheese rest on can completely change how pizza tastes. Pizza Hut and Little Caesars each have different crust options to create a whole new pizza experience when you want something different than your usual pie.
Little Caesars' Detroit-Style Deep Dish Pizza gives customers eight slices of their favorite Little Caesars pizza on a deep, crispy crust, ideal for those who are more into the flavor of pizza crust than the pizza itself. According to a Little Caesars press release (via Yahoo!), the company was the first national pizza chain to offer this style of pizza in 2013. The chain also offers regular and thin-crust round pies to go with its rectangular Detroit-style options.
Meanwhile, Pizza Hut states that it no longer offers its version of a Detroit deep dish pizza, so if your mouth is watering specifically for that, you'll want to order from Little Caesars. However, its menu does include a few other crust options, like its Original Pan Pizza, Thin 'N Crispy, and its super-popular Original Stuffed Crust. In 2021, Pizza Hut celebrated the 25th anniversary of its cheese-stuffed crust (via a Pizza Hut press release), which shows just how much pizza lovers have clung to this tasty option.
Pizza taste
What pizza chain has the better flavor between Little Caesars and Pizza Hut? Taste is subjective, of course, so the best way for us to answer that question is to pull data from real customers who have shared their opinions on Reddit. Unsurprisingly, we found very mixed reviews when we did so, with several siding with either company.
Those for Little Caesars really seem to love it when it's right out of the oven. This Reddit thread features several commenters sharing their love for Little Caesars' pizza flavor, with the original poster saying that "Little Caesars is just the right amount of [juiciness]" and another commenter stating, "People really sleep on Little Caesar's. It's hard to beat the taste of one of their pizzas when [it's] straight out of the oven." Others lean on the side of Pizza Hut, like one Redditor claiming that they usually choose Pizza Hut over other pizza places, adding that it's also the "most consistent" with its flavors. Another commenter chooses Pizza Hut as their personal favorite.
For what it's worth, several Redditors in one thread have agreed that Little Caesars seems to have changed its pizza recipe in recent months, resulting in a taste that isn't quite as good as it used to be. But the only way to find out which pizza suits your taste buds more is to test them out for yourself.
Ingredient quality
Some people value the quality of their pizza's ingredients even more than the taste, which is precisely why we dug into the ingredients of each company's toppings, dough, and other ingredients. Pizza Hut is transparent about where it sources its ingredients from so that you can feel better prepared when you place an order. For instance, its tomatoes are California-grown and vine-ripened, and its wheat often comes from farms and mills it's partnered with for years and years (per Pizza Hut). According to current and former Pizza Hut workers who commented on a Reddit thread, however, the dough ships premade rather than being made fresh in-house.
On the other hand, Little Caesars claims on its Facebook page that its dough is made fresh daily in its restaurants using a mixer. Brand Eating also walks through the process of crafting a fresh deep-dish pizza during a visit to the Little Caesars headquarters, confirming that the dough is, indeed, made fresh. However, the brand doesn't release as much information about its ingredients and sourcing methods as Pizza Hut does on its website. We do know that Little Caesars now works with a food distributor named Blue Line Foodservice Distribution, which grew from a mushroom farm that the company purchased in (the 1960s (per Little Caesars). However, the company doesn't offer much more information about where its ingredients come from.
Value
Affordability is important when choosing a pizza place to order from, especially if you frequently order for multiple people, whether it be your family, business lunches, or large events. Both restaurants have lots of deals on new items and limited-time promotions to help you save.
But which restaurant wins in terms of regular menu prices? Little Caesars is, perhaps, most known for its $5 pizzas, but in January 2022, the company increased the price of a Hot-N-Ready pizza to $5.55 (via Fox 8). It's not a huge jump, fortunately, and Little Caesars still has some of the best prices around. For example, a large cheese pizza at Little Caesars is just $8.49 (prices may vary by location), but a large hand-tossed cheese pizza at Pizza Hut is $17.99. Similarly, most specialty pizzas cost between $10-$14 at Little Caesars, but Pizza Hut pizzas are mostly between $20-$24. You'll likely pay more for breadsticks at Pizza Hut, too. An order of five breadsticks at our local Pizza Hut is $7.59, but an eight-piece Crazy Bread at Little Caesars is just $3.99.
Delivery and pickup options
If you're like many people, you probably sometimes order pizza purely for convenience. Pizza Hut and Little Caesars make ordering and receiving your pizza as easy as possible, but each company offers services the other doesn't, which could influence your choice of the best option.
After ordering from Pizza Hut, you can visit your local store to pick up your order or opt for delivery during your store's delivery times. Pizza Hut restaurants with delivery services have their own pizza delivery drivers that bring your pizza right to your door. Many locations also use third-party delivery services like DoorDash and Grubhub to fill in gaps when delivery drivers may not be available (per Restaurant Business). You'll even earn Pizza Hut rewards when you place a delivery order (via Pizza Hut). In contrast, Little Caesars has no in-store delivery service and has no plans to offer it (via CNBC). However, according to The Spoon, it does partner with third-party delivery apps to get customers their food.
Little Caesars customers can also benefit from the company's convenient Pizza Portal pickup, an option that Pizza Hut has yet to offer. According to a Little Caesars press release, the company started offering the portals in select restaurants in 2018, allowing customers to preorder and prepay for their food, visit the restaurant, and quickly pick up their order from the portal using a unique code.
Promotions and rewards
Pizza Hut and Little Caesars each have limited-time deals to help you lower your pizza bill, some of which are available to any customer and some that are exclusive to mobile or online orders. For example, in select areas, Pizza Hut offers deals on meal combinations and new menu items. The restaurant also has special deals for carryout orders. Meanwhile, select Little Caesars restaurants have daily deals. Simply look for the Today's Deals link on its website to find every money-saving deal you can use on the day of your order. As far as money-saving promotions go, you can't go wrong with Little Caesars or Pizza Hut, as you can always find a coupon or current promotion to use when ordering from either chain.
Unfortunately, Little Caesars does not have its own loyalty program to help regular customers earn points or cash toward future orders. However, seeing that its regular menu items are priced so low, this may not matter much to you. But, if you're looking for a place that rewards you for your purchases, Pizza Hut is the better option. Its Hut Rewards program pays two points per dollar spent at Pizza Hut, whether you order in-store, online, or on the app. Stack your points to save for free breadsticks, boneless wings, and pizza.
Customer service and locations
According to ScrapeHero data for December 2022, there are more than 4,100 Little Caesars restaurants in the United States and more than 6,600 Pizza Hut restaurants as of January 2023. With so many Little Caesars and Pizza Hut restaurants across the country, customer service at each individual location can be hit or miss. This becomes evident when scrolling through Reddit threads, where customers have no desire to hide their true feelings about less-than-stellar customer service experiences at either restaurant. For instance, one Pizza Hut customer states, "I had to call back 20 times to finally get a refund. But now I'm calling them to complain about how much I had to complain to get the original issue solved." And an unhappy Little Caesars customer explains that getting a hold of the restaurant for a refund has been a nearly impossible task.
Of course, research has suggested that it's more common to share negative reviews than positive ones (via Forbes), so there's no way to say definitively which pizza chain edges on top with customer service. When it comes to the ability to contact the company to share your thoughts, both allow for online feedback submissions through a website form. But Pizza Hut offers a few more contact methods on its website, such as a dedicated phone line for issues related to Hut Rewards and a general customer service phone line. Customers can also contact Pizza Hut via its Twitter page.
Merchandise for fans
It's not uncommon for companies to release merchandise for fans to wear. After all, it becomes a form of free advertising for the company when you sport the latest t-shirt with the company's name on it. Pizza Hut and Little Caesars are no exception to the rule, each offering some exclusive gear for their biggest fans. So once you find the pizza place you love best, you can head to its website to buy merch.
Pizza Hut's shop is temporarily closed at the time of this writing for updates, but the company has been known to offer some interesting products in the past. For example, its 2021 Streetwear Collection included branded loungewear for fans to enjoy Pizza Hut in comfort. It's also released holiday collections with wine glasses, gift-wrapping items, toys, ornaments, and more (per Pizza Marketplace).
Little Caesars houses its modest collection of merch in its Hot-N-Ready Shop, which gets updated seasonally to match timely events, like summer vacations and tailgating season. Here, Little Caesars fans can find everything from pizza pillows and video game controller skins to Little Caesars earrings and skateboard decks.
Final verdict
Pizza Hut and Little Caesars have a lot of similarities in their flavors, menu items, and options for toppings and premade pizza recipes, which is precisely why it's common for people to want to compare the two restaurants. Still, based on the information we've outlined here, one or the other will probably fit your needs and preferences more for each criterion like crust options, delivery and pickup features, and rewards programs.
For affordability, we'd say Little Caesars wins, hands down. You may not earn points for your orders through a rewards program like Pizza Hut has, but you don't really need to because Little Caesars has relatively affordable prices, with pizzas as low as $5.55. That's tough to beat at any pizza restaurant! But if variety and options are your priority, then Pizza Hut takes the cake. It has more topping, crust, and sauce options for you to create the pizza of your dreams. There are also a few more pizza recipes to choose from on the menu in addition to pastas, which you can't find at Little Caesars.
Reddit is proof that pizza lovers have differing opinions and that there's no clear winner. For instance, this Redditor says that Little Caesars wins, noting "Pizza Hut is way too grassy and fatty." But, a commenter on another thread says Pizza Hut is their winner, adding, "It's my favorite delivery pizza." In the end, your choice will depend on what you value most in a pizza place.