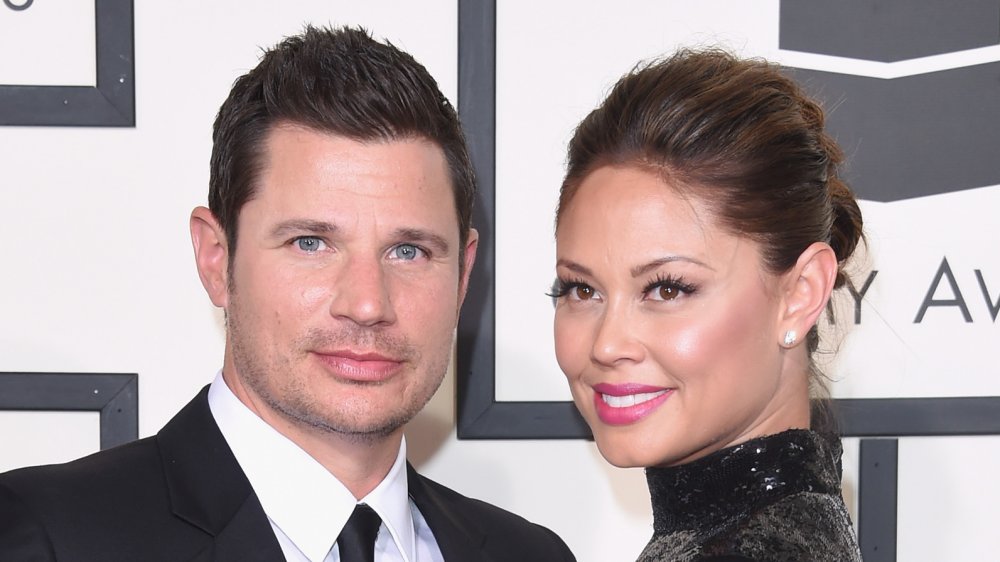 Nick and Vanessa Lachey (née Minnillo) have come a long way in the 14 years they've been in a relationship. The couple split up in 2009 for a hot minute, tied the knot in 2011, and now have three kids. Their professional lives have gone through changes, too. Vanessa left MTV's music video countdown show, TRL — where she worked as a veejay — in 2007; Nick's band, 98 Degrees, has not performed live since 2018.
Nowadays, the lovebirds have taken to hosting on TV together, like the Miss Teen USA Pageant and Netflix's hit reality dating show Love Is Blind (well, if 13 minutes on-screen counts). And it sounds like they enjoy being co-workers. "When we're working we're not with the kids," Vanessa told Strahan, Sara, & Keke in 2020. "So it's a different dynamic." Nick added, "It's almost like grown-up time, it's like a little vacation."
In addition to hosting with Nick, Vanessa has been starring in Lifetime Christmas movies 2018, such as the upcoming Once Upon a Main Street with Ryan McPartlin. She also loves to share family recipes with her Instagram followers via stories. And since 2019, Nick has hosted Nickelodeon competition show America's Most Musical Family. The Lacheys are downright wholesome these days. But every relationship has some weird in it deep down. We've reached pretty far back in history to uncover all of the strange things about Nick Lachey's marriage to Vanessa Lachey.
Vanessa and Nick Lachey met during the TRL era
Nick Lachey was a household name when he starred on the MTV reality show Newlyweds: Nick & Jessica opposite his then-wife, singer-turned-fashion designer Jessica Simpson. Around that same time, a young Vanessa Lachey (then Minnillo) began hosting TRL. That's also the era when Simpson's "With You" was a TRL hit, a song in which she confesses, "With nothin' but a T-shirt on/I've never felt so beautiful/Baby, as I do now/Now that I'm with you." Simpson was obviously singing about Nick. As she told MTV News in 2003, "Nick loves me with nothing but a T-shirt on so that's where the song idea came from." Yes, Vanessa regularly introduced the video for Simpson's single about the guy who she'd marry one day.
During a TRL Super Bowl special in February 2004, Vanessa and Nick stood right next to each other as Nick introduced Simpson as "the most beautiful woman in show business." At the time, there was nothing odd about the interaction. But in 2020, it's surreal to watch Nick call his soon-to-be ex-wife "the most beautiful woman in show business" while elbow-to-elbow with his future wife. Plus, there's no missing Vanessa's hand on Nick's shoulder. Hindsight can be really weird sometimes.
At the time, Vanessa was in an on-again, off-again relationship with Derek Jeter; Nick and Simpson announced their separation in 2005. Vanessa and Nick wouldn't get together until 2006.
Vanessa Lachey got 'what's left of' Nick Lachey
Nick Lachey's post-divorce album, What's Left Of Me dropped in 2006, and when casting the role of his love interest for the title song's video, one name came to mind: Vanessa Lachey (then Minnillo). But not entirely for the reasons you might think. "I had a brilliant idea that if I got [an] MTV veejay to be in my video, my chances of being played on TRL were pretty strong," Nick told People when he and his wife sat down for an interview together 2019. "He was using me," Vanessa added. (However, as Vanessa put it in a 2017 Billboard interview, "Little did he know I had no pull!")
Nick admitted in the aforementioned People interview that he "saw an opportunity," but that wasn't the only reason he reached out. "I always thought you were incredible," he said. Of catching feelings for each other, Vanessa said, "We were both single [on the video shoot] and we were both like 'wait a minute…' We'd never looked at each other through that lens." She described what happened to them on set as a "weird spark moment." The BH90210 actor also admitted she had "first date jitters" while filming. So, good weird feelings were brewing.
Is it strange that Nick asked the woman he had feelings for to be in a video for a song about his failed marriage? Eh, kind of. But hey, it all worked out for them in the end.
A fan helped Nick Lachey pay Vanessa Lachey back
The music video saga continued for Nick and Vanessa Lachey. On the day Vanessa was meant to interview Nick on TRL about the video they co-starred in, she no-showed. "We'd gone from friends to [me] starting to feel something for him. So, like a child, I ran from it and called in sick," she explained to Billboard in 2017. La La Anthony filled in for her friend, but at the time, she thought, "Come in for what? I'm not in the video!" Regardless, Anthony went along with it. "I'd do anything for her," she told Billboard. "I knew she liked him."
How did Nick feel about the situation? "Probably a little psyched to think I'd be interviewed by [Vanessa] — and instead it was La La [Anthony]," he said in the aforementioned Billboard story. Nick noted that he had nothing against Anthony, but when he realized Vanessa wasn't there, he was bummed. As revenge, he invited a fan into the studio who had a sign that said, "Move Over Vanessa, I'm here." He told Billboard that he "decided to have a little fun with [Vanessa], rub it in her nose a little bit" because, as Nick added, he "knew she'd be watching."
Anyway, it sounds like sparks flew on the music video set. For one thing, Vanessa said on a 2020 episode of The Kelly Clarkson Show that Nick greeted her on his own shoot with a cup of coffee. Why run from that?
A chain restaurant hosted the Lacheys' first date
Nick and Vanessa Lachey eventually got past the awkward hide-and-seek phase and began dating. But with Vanessa in New York working on TRL and Nick based in L.A., they were two celebrities trying to make a long-distance courtship work. Vanessa met Nick after work one night at one of his concerts in New Jersey. When the show was over, they were ready for their first date. However, their dining options were erm…limited. "Y'all will know why I remember [our first date]," Vanessa said to the audience of Strahan, Sarah, & Keke in 2020. "'Cause it was a special, special place."
Some celebrities go to a ritzy restaurant on their first date, others go dancing at the Playboy Club. Nick and Vanessa went to a chain restaurant. "I classed it up a little bit at Hooters for our first date," Nick shared.
While a sports bar might not be everyone's ideal first date spot, it did not hamper their romance. Rather, their relationship was full steam ahead: On a 2020 episode of The Kelly Clarkson Show, the couple revealed Nick said "I love you" about "three-and-a-half dates in." He admitted that "it was way early" but added, "When you know, you know." Saying those three words early in the relationship could send someone running in the other direction, but it didn't freak out Vanessa. "That's what I love about Nick is he's a man that wears his heart on his sleeve," she said.
Vanessa and Nick Lachey have a newlyweds special
Nick and Vanessa Lachey filmed a special called Nick And Vanessa's Dream Wedding for TLC in 2011. One might say he moved on from Newlyweds only to be in another televised event that was all about him becoming a newlywed.
Speaking of Newlyweds, the boy bander doesn't have any negative quotes on the record about shooting with his ex-wife Jessica Simpson. In fact, when he went on Watch What Happens Live with Andy Cohen in 2019, he told the host, "The show gave me a great platform to kind of say, 'Hey, this is who I am.' I got a lot of fans to this day because of the show…I vibe with it."
In the aforementioned wedding special, Nick shared that he was never closed off to marrying again after his divorce from Simpson, but it's fairly interesting that he chose to film such an intimate chapter in his life with Vanessa for all the world to see when so much of his first marriage was defined by a reality series. Of course, there hasn't been an entire TV show about his relationship with Vanessa, and that's a big difference. Yes, Vanessa did appear in the A&E docuseries about Nick and Drew Lachey's bar, but that was a show about the bar, not Nick and Vanessa's relationship. The Lacheys have not filmed another reality TV special since, so hey, maybe they just wanted a unique way to remember their wedding.
Nick and Vanessa Lachey kept wedding guests in the dark
Secret celebrity weddings are nothing new. But not letting the attendees know the location ahead of the big day? That's another ball game. Nick and Vanessa Lachey didn't share the destination — Sir Richard Branson's Necker Island— with their guests ahead of time because they didn't want paparazzi catching wind. "I don't think any of our guests are going to intentionally run their mouth and tell a tabloid magazine," Nick said on TLC's Nick And Vanessa's Dream Wedding. "I'm just afraid it's one of those things where you're sitting in a nail salon and I could see my mom or somebody bragging about [the wedding]."
Vanessa might've wanted to hide some details from family members. On the TLC special, she talked about not inviting her estranged mother, Helen Bondoc. Vanessa confessed, "[My mom] was my world and I'm convinced I was her world until I was eight. She said to my father, 'Can you watch her, just for a little bit until I get my feet on the ground?' And then…then I didn't hear from her." As difficult as it was to not have her mother around for the ceremony or the wedding prep, Vanessa decided against having her there. Bondoc told Star (via Radar Online), "I didn't have a clue that Vanessa was getting married. We last spoke about 12 years ago, on the phone. I just wanted to talk to her and tell her everything straight about my life."
No such thing as TMI for Nick and Vanessa Lachey
Some people — like Nick Lachey's ex-wife, Jessica Simpson — choose to wait until they're married to have sex. Nick and Vanessa Lachey didn't make that choice when they began dating, but there's an act of the…erm how do we say this?….oral variety that Vanessa did decide to wait until marriage to perform. And Nick let the whole world know all about it on TLC's Nick And Vanessa's Dream Wedding, telling her that the specific act would help her relieve stress. "It always amazes me that every man's— or at least my man's — suggestion to any problem, especially if it's my stress, is to please [him]." Vanessa, we're pretty sure it's just your man and we really didn't need to know.
In 2019, Vanessa revealed more intimate details about how the couple keeps things interesting with three young kids running around. "Shower sex," the actor laughed on The Bellas Podcast. "I'm in the shower and I'm like, 'Alright, I have a full day, you have a full day, it's either now or…" She called sex in the evening the bonus "cherry on top," but admitted that sometimes she's just too tired. Perhaps relatable, definitely TMI.
Nick and Vanessa Lachey share a birthday
Nick and Vanessa Lachey were both born on November 9, seven years apart. Sharing a birthday with a spouse wouldn't be the end of the world, but uh, it does not seem ideal. For one thing, what if you couldn't agree on what you want to do to celebrate? And who would get breakfast in bed? And if you blow out candles at the same time on the same cake, does that mean you have to split a wish?
Eh, we might be overthinking it. Vanessa said on Tamron Hall Show that the commonality brought her closer to Nick in the beginning. "[Our shared birthday] was actually the first thing that we realized that sparked [conversation]," she said. "I'm like, 'You're a Scorpio?'" From there, connecting was easy.
In 2019, the couple posted a video on their respective Instagram accounts singing "Happy Birthday" to each other, proving our point that it's a little bit strange. But in general, The Lacheys seem to love sharing a birthday with each other. In his 2019 post on Instagram Nick said, "14 birthdays in a row. Wouldn't want to do it any other way!" And in 2018 on Instagram, Vanessa said, "I Love sharing this day (and everyday) with you!" As long as they each get their own cake, we suppose it could be a fun day to share.
The legacy of Nick Lachey's first marriage looms
Celebrity divorces are about as American as apple pie. But not every celebrity couple does a reality TV show about their marriage only to divorce soon after the series ends. Even though Nick Lachey has been divorced from Jessica Simpson since 2006, and even though he has moved on and has three kids with Vanessa Lachey, he still gets asked about Simpson in interviews. And yes, it can get uncomfortable.
While on Today in 2020, Hoda Kotb mentioned she heard Nick and Vanessa sent over a present after Simpson gave birth to her daughter Birdie Mae Johnson. Apparently, this wasn't the case, and Kotb's casual remark made for some awkward and entertaining TV. "I feel bad, I'm sorry. You said somebody set her [a gift]," the actor began, prompting an uncomfortable back-and-forth. "It wasn't us," Vanessa insisted, before stating that they "don't know her address."
Vanessa caught some backlash for her response on social media. To one Twitter user who called her comments "10000% not necessary" Vanessa responded, "Should I have pretended to give it? Dang. Can we get a do over and I will tell them it was big beautiful basket. ." She also said Kotb should've done better research. Simpson confirmed on Radio Andy that there was no gift.
So, where'd the confusion come from? Kotb told Andy Cohen that when she interviewed Simpson, the singer apparently "mentioned something, I thought, about a gift." Mystery solved… sort of.