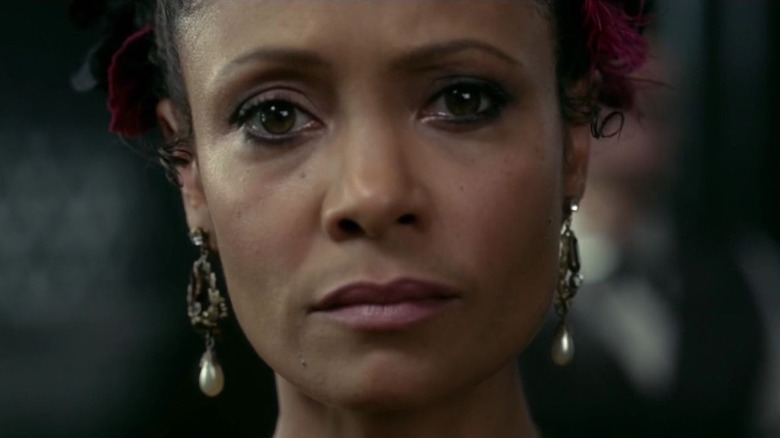 2022 has been a tough year for television. With streaming platforms like HBO Max and Netflix (per Techcrunch) losing money, TV shows are being canceled left and right. HBO Max has gone a step further, removing at least 81 shows and movies (per Indiewire) from the platform in order to cut costs. Network television hasn't fared too well either. The CW has taken a particularly liberal approach to cancellation, axing 13 of its shows (via FanSided) this year. There are still plenty of shows on air, but the future of these series remains more precarious than ever.
If you're a big television fan, you've surely noticed the huge amount of cancellations that have occurred in the last year. In May 2022, according to Yahoo!, a total of 17 shows were canceled over a period of just 48 hours. We live in an era dominated by social media, of course, so fans have not taken these cancellations lying down. Fan campaigns to save shows often emerge after such announcements, and they are occasionally successful. For example, "Magnum P.I." was canceled by CBS earlier this year, only to be picked up by NBC (via Variety) after sustained fan efforts to save the show.
Sadly, most of our favorite canceled shows haven't been renewed elsewhere, leading to a lot of devastated fans this television season. Need a refresher on all the shows that were taken out of the rotation this year? Check out our catalog of the saddest TV cancellations of 2022. May they rest in peace.
Warrior Nun
Netflix series "Warrior Nun," which first premiered in 2020, followed a young woman named Ava Silva (Alba Baptista), an orphan who wakes up in a morgue and realizes she has supernatural powers. She learns that she is the chosen one and is part of the Order of the Cruciform Sword, an ancient cabal of warrior nuns. Both the forces of good and evil want to use Ava's powers, and she must fight to define her own destiny.
Fans of the show were compelled by the life-and-death action and existential angst, as well as the burgeoning relationship between Ava and fellow nun Beatrice (Kristina Tonteri-Young), christened as "Avatrice." Sadly, fans' excitement about the show wasn't enough to save it from cancellation, as it was announced in December that the series would not return for Season 3.
As noted in Forbes, the decision to cancel the show is especially puzzling considering "Warrior Nun" has the highest audience rating on Rotten Tomatoes of any Netflix original. Women and LGBTQ fans of the show were especially devastated by the cancellation, as Netflix in particular seems to have a habit of canceling shows led by young women and queer people. Following the announcement, #RenewWarriorNun was trending on Twitter, with fans hoping that their favorite show might be resurrected by another network.
Gentleman Jack
The historical series "Gentleman Jack," a co-production between HBO and BBC, follows industrious landowner Anne Lister (Suranne Jones). Based on Lister's own prolific diaries, the show follows her life in 1830s Halifax. While involving herself in politics and industry, Lister also develops a relationship with Ann Walker (Sophie Rundle), a landed woman who becomes her wife and life partner. The series was especially popular with LGBTQ+ women, and BBC even created a documentary called "Gentleman Jack Changed My Life."
Sadly, these fan engagements weren't enough to save the show, as HBO announced its cancellation in July. Series creator Sally Wainwright has left the door open (via Radio Times) for the possibility of the series being picked up by another network, but nothing has come of this as of yet.
Following the cancellation, fans of the show took to Twitter using the #SaveGentlemanJack hashtag, and some even traveled to Anne Lister's ancestral Shibden Hall to participate in a flash mob, according to the Yorkshire Post. The series only ran for two short seasons, and considering the length of Lister's diaries – over four million words – there is certainly more story to be told.