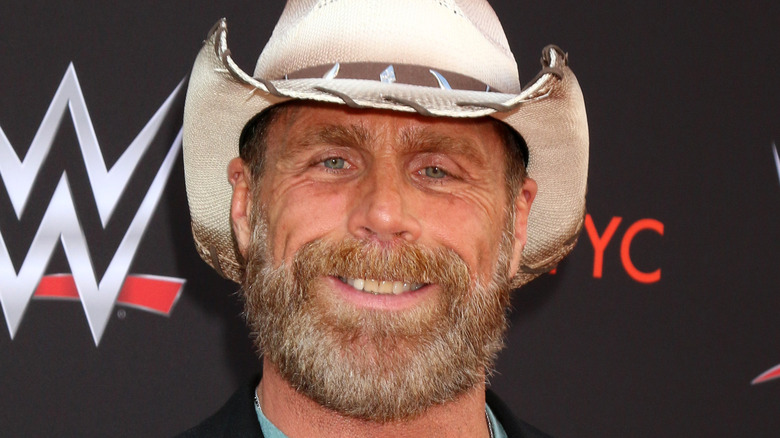 From the time he was a young boy, Michael Shawn Hickenbottom wanted to be a professional wrestler. And he fulfilled that boyhood dream and then some, growing up to become WWE Superstar Shawn Michaels and winning multiple championships with the company, en route to a Hall of Fame induction in 2011 (via Biography). However, it wasn't always easy for the San Antonio, Texas, native, as he dealt with substance abuse for much of his career, suffered a serious back injury that kept him retired for four years, and had a bitter real-life feud with fellow Hall of Famer Bret Hart that culminated with the "Montreal Screwjob" at the 1997 edition of Survivor Series.
On the other hand, Michaels is fondly remembered by wrestling fans for the cocky, villainous persona he adopted when he became the Heartbreak Kid. Even when he returned to fan-favorite status, he continued pushing the envelope as the leader of D-Generation X, emerging as one of the top stars of WWE's edgier, more mature Attitude Era of the late 1990s. And when he retired for the second time in 2010, he was several years sober, a born-again Christian who was far removed from his days as a locker room troublemaker.
Longtime fans are probably familiar with all of the aforementioned aspects of Michaels' career, but there are certain details about his professional and personal life that might not be common knowledge to everyone. Let's take a look at some of them.
Shawn Michaels was fired just weeks after first signing with WWE
It may sound hard to believe, considering his legendary status and his many accomplishments, but Shawn Michaels' first WWE stint in 1987 lasted only a few weeks before he was fired. Shortly before he signed with the company, he and Marty Jannetty were the reigning American Wrestling Association (AWA) World Tag Team Champions as the Midnight Rockers, but once WWE chairman Vince McMahon came calling, the duo dropped their titles and headed off to greener pastures.
According to Uproxx, there was one little problem with WWE's newest tag team, and that was their penchant for partying, which apparently turned off a lot of their new colleagues — when the decadent WWE locker room of the late '80s feels you're partying too hard for your own good, you know things are really, really bad. Allegedly, Michaels was so wasted one night that he broke a bottle over his head, and when McMahon heard about his and Jannetty's drunken escapades, he fired the Midnight Rockers before they even had a chance to prove themselves in the ring. Fortunately for Michaels and Jannetty, they were rehired one year later, albeit without the "Midnight" part of their team name.
The Rockers never won a tag team title in WWE
Michaels and Jannetty wasted no time making an impact in WWE after they were rehired in 1988. The Rockers were younger, smaller, and faster than most of the duos they faced in the ring, and their hair metal-inspired ring gear, excellent chemistry, and perfectly synchronized tag team moves further established them as fan favorites. But despite their in-ring success, Michaels and Jannetty never actually won the tag team titles during their time teaming together in WWE. Or did they?
Per Pro Wrestling Stories, the Rockers defeated the Hart Foundation (Bret Hart and Jim Neidhart) on the October 30, 1990, episode of "Saturday Night's Main Event" to win the WWE Tag Team Championships. However, the match was marred by the fact that one of the ring ropes broke early on, thus forcing Vince McMahon to nullify the title change and erase it from the company's record books, as Hart and Michaels both claimed.
Originally, the plan was to give the Rockers the titles at a later date. However, that never came to pass, and as Uproxx explained, it has also been rumored that McMahon withdrew his support for a Rockers title reign because he changed his mind on his plans to break up the Hart Foundation. In any event, Michaels was due for much bigger things anyway, as little more than a year later, he attacked Jannetty on Brutus Beefcake's "The Barbershop" talk show segment (via YouTube), effectively ending the Rockers and kicking off his iconic singles run.
The origin of Shawn Michaels' 'Heartbreak Kid' moniker
Oftentimes, having a great ring name or moniker is just what an up-and-coming wrestler needs to herald the start of a bigger and better push. "Stone Cold" Steve Austin, for one, might not have become the legend he currently is if he stuck it out as The Ringmaster … or worse, accepted WWE's suggestion that he call himself Baron Von Ruthless. As for Shawn Michaels, simply reversing his real first and middle name (and adding an "s" to his first name) already worked well enough for him. But early on in his singles run, people started calling him the Heartbreak Kid, and that moniker has been associated with him ever since — he may now be in his mid-50s, but it still doesn't feel awkward to call Michaels as such.
The new sobriquet, however, didn't come from Michaels himself or from WWE's creative team. According to Ring the Damn Bell, fellow '90s legend Curt Hennig, aka "Mr. Perfect," was the man behind the nickname, as he would often refer to Michaels as "The Heartbreak Kid" when they were in the locker room. Eventually, the name stuck, and it perfectly suited Michaels as he went from strength to strength and added more titles to his resume.
The real reason why Shawn Michaels went sober
From his early days with the Rockers to his peak years as one of WWE's top stars of the 1990s, Shawn Michaels struggled with alcohol and drug abuse. One can say it was a miracle he was still able to wrestle in high-caliber matches despite often being plastered while in the ring; according to Biography, Michaels would "[pass] out nightly" and would sometimes have to be carted to his hotel room by his longtime friend and fellow D-Generation X member Triple H.
By 1999, Michaels had just gotten married, but that did little to keep him away from drugs. At that time, he had just retired from wrestling due to a back injury, and having to step away from the ring at such a young age made him a particularly "angry" drug addict, as he recalled. Things changed, however, when his son Cameron, then around 2 years old, saw Michaels passed out on the couch, seemingly able to recognize that his dad needed to get his act together. "I think that was the last straw for him," said Michaels' wife, Rebecca Curci Hickenbottom. "He woke up the next morning and told me he was never taking pills or drinking again, and from that point, he didn't."
After kicking drugs and alcohol, Michaels became a born-again Christian, and in 2002, he came out of retirement and returned to the WWE, now fully recovered from his back injury and, as some suggested, in the best shape of his life.
Michaels wasn't too happy with his one-off comeback in 2018
When Shawn Michaels lost to The Undertaker at WrestleMania XXVI in 2010, that marked the end of an illustrious wrestling career. And he was adamant about staying true to his word and remaining retired, even turning down a potential dream match against AJ Styles at WrestleMania 33 in 2017, according to Bleacher Report. That's why it was shocking to see him end his retirement, albeit for one night only, in November 2018, as he and Triple H fought The Undertaker and Kane at the Crown Jewel pay-per-view in Saudi Arabia. It went as well as you'd expect from a match where almost everyone, per Forbes, was in their early 50s. (Triple H, at 49, wasn't too far off.)
Appearing on the "Challenge Mania" podcast in 2019 (via Fightful), Michaels admitted that he was rather nonplussed by the match; he didn't regret momentarily coming out of retiremen,t but at the end of the day, Crown Jewel was a "glorified house show live event" and he was only back in the ring as a favor to WWE. "I can't say that it turned out to be all that fun," he continued. "It was okay and it was great being out there with those guys but again, it was just one of those things that you sorta do [because] you're a company dude and you go, 'Oh all right, I'll do this' and it's separate and all that."
Michaels will be the subject of the Sunday, May 16 edition of "WWE Legends," part of A&E's "Biography" series.