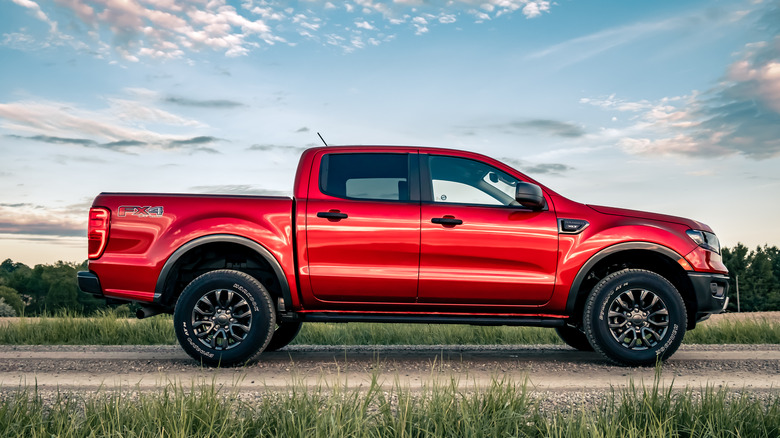 The love for pickup trucks is undeniably rising worldwide. Each year, global automobile brands keep unveiling new models with high-end features that keep the international market bubbling. While it's a common trend for most trucks (EV trucks especially) to hike prices a few years after their first debut, there is still a huge demand for pickup trucks that create a unique driving adventure, without a steep hike in prices. In 2021, about 3.3 million automobiles, 11.6 million pickup trucks, and 451,400 heavy-duty trucks were sold in the United States alone. It's important to point out that the majority of these pickup trucks purchased in 2021 were cheap trucks! More specifically, the Ford F series, Ram Pickup, Chevrolet Silverado, Toyota Tacoma, GMC Sierra, etc. took the lead in truck sales in 2021 (via Statista).
Interestingly, these are some of the top cheap pickup trucks we will recommend for you to buy in this article. However, unlike most cheap products, these are in no way of inferior quality. Some of them are also listed among the best trucks to get in 2022. Talk about enjoying the best of both worlds. Whether you are thinking of getting a new cheap truck that would not break the bank, or you are seeking to learn about the next best things in the light truck market, this article is just what you need. Here, we will review some of the best cheap trucks rated for their rising usefulness and sheer driving pleasure.
2023 Ford Maverick (starting at $23,690)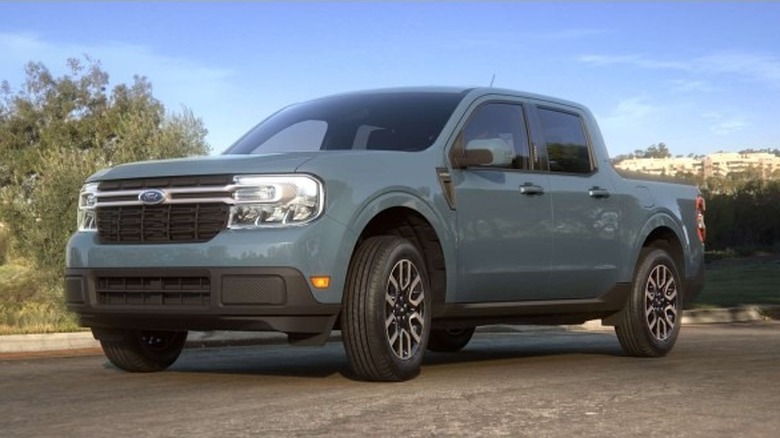 The 2023 Ford Maverick is a reliable and practical pickup truck that can hold its own feat against the Ranger and F-150. With a hybrid powertrain as standard and options for a turbocharged 2.0-liter four-cylinder engine and all-wheel drive, the Maverick is fuel efficient and capable. It has a generous payload capacity, perfect for a weekend of home improvement projects, and can tow up to 4000 pounds. Sharing its platform with the Bronco Sport SUV, the Maverick also has four doors and a spacious interior with plenty of storage solutions. To date, its only rival in the compact pickup truck market is the Hyundai Santa Cruz, which may have more luxurious features, but it comes at a higher price.
More specifically, the Maverick comes standard with a hybrid powertrain featuring a 2.5-liter four-cylinder engine and an electric motor, producing 191 hp, and is only available with front-wheel drive and a continuously variable automatic transmission. A non-hybrid option includes a 250-hp turbocharged 2.0-liter four-cylinder and eight-speed automatic transmission, with all-wheel drive as an option. Ford has also introduced a new off-road version of the Maverick for 2023 called the Tremor. It features a more rugged exterior design and is based on the XLT or Lariat trim levels. The Tremor is only available with the non-hybrid all-wheel-drive powertrain.
2023 Hyundai Santa Cruz (starting at $26,745)
There aren't many significant differences between the 2023 and 2022 Hyundai Santa Cruz models. The only notable variation may be the Santa Cruz Night edition, which features various blacked-out accents such as 20-inch black rims, a darker grille, and black door handles. Also, the 2023 base SE trim's starting price has increased by $1010 to $26,745. It now comes standard with a blind-spot monitor and rear cross-traffic alert, which were not previously available on the SE. The SEL Premium trim now has a 10.3-inch touchscreen infotainment system, which was previously only available on the Limited trim. It also has additional features such as adaptive cruise control with GPS-based curve control, advanced voice recognition software, and the ability to automatically match the posted speed limit.
The Hyundai Santa Cruz offers two engine options: a standard 2.5-liter four-cylinder that produces 191 horsepower and 181 pound-feet of torque, and an upgraded turbocharged 2.5-liter four-cylinder with 281 horsepower and 311 pound-feet of torque. The latter engine is preferred due to its added power and more responsive performance. Both engines are paired with eight-speed automatic transmissions, with the turbo option featuring a dual-clutch variety. All-wheel drive is available with both four cylinders. It's important to note that Santa Cruz is shorter and lower than other vehicles in its class, making it easier to handle in urban areas. The top-of-the-line Limited model showcases Santa Cruz's smooth ride and agile handling.
2022 Chevrolet Colorado WT (starting at $28,105)
The 2022 Chevrolet Colorado is a versatile pickup truck that caters to diverse customers. Regarding availability, you can find it in two-bed lengths (5-foot-2-inch and 6-foot-2-inch), two cabs (Extended and Crew), and with the option of either two-wheel drive or four-wheel drive. It comes in several trims: The WT (Work Truck), LT, Z71, and the top-of-the-line ZR2, which is specifically designed for rugged off-road conditions. For the 2022 model year, the only update to the Chevrolet Colorado range is the new Trail Boss package, which can be installed at dealerships. This package enhances the off-road capabilities of the LT and Z71 models. Plus it includes a leveling kit that raises the suspension by one inch, skid plates for the front and middle of the underbody, black exterior badges, red tow hooks, the removal of the front air dam, and a set of black 17-inch rims inspired by the ZR2.
Additionally, the most popular trim level is the Z71 Crew Cab Short Box 4WD, which starts at $40,495. It is equipped with a 3.6L V6 engine and four-wheel drive. This Colorado gets 17 MPG in the city and 24 MPG on the highway. It also comes with amazing tech gadgets and facilities to improve both the driver's and passengers' experience while in the car.
2023 Toyota Tacoma SR (starting at $29,085)
Toyota Tacoma has claimed the title of the top-selling mid-size pickup for the past 17 years, according to Toyota. It may not be the most refined or modern pickup truck, but it is sturdy and capable of getting the job done. The Tacoma is available in a wide variety of trims, ranging from the Sport and Limited models that prioritize on-road handling and comfort, to the Off-Road and TRD Pro models that can tackle rough terrain. Toyota Safety Sense P, which includes a pre-collision system with pedestrian detection, high-speed dynamic radar cruise control, lane departure alert, and automatic high beams, comes standard on all Tacoma models.
Most models come with a four-cylinder engine, but a V6 option is also available. The majority of Tacoma models come with an automatic transmission, but a few models still offer a manual option. This Toyota truck brand has received annual updates that have kept it current with the latest safety and convenience features, such as automatic emergency braking and Apple CarPlay compatibility (via Truecar). The TRD Sport Double Cab 5′ Bed V6 4WD Automatic is the most popular style, which starts at $40,215 and comes with a 3.5L V6 engine and Four-Wheel Drive. Toyota Tacoma also comes in 7 trim levels and is estimated to deliver 18 MPG in the city and 22 MPG on the highway.
2023 Ford Ranger XL (starting at $28,895).
The 2023 Ford Ranger is a great choice for those who need a strong and durable truck but don't want something too large or cumbersome. It comes in three trim levels and can seat up to four people. With a well-rounded set of features and available driver safety systems that make it comfortable for daily driving, the Ford Ranger's engine is efficient and refined. The most popular style is the XLT SuperCrew 5′ Box 4WD, which has a starting price of $38,400 and is equipped with a 2.3L I4 Turbo engine and four-wheel drive. This model is estimated to get 20 MPG in the city and 24 MPG on the highway.
If you're in the market for a reliable and capable small pickup truck, the Ford Ranger is definitely worth considering. It's known for its toughness and can tow and haul more than most trucks with a similar price tag. The SuperCrew model also has the added bonus of being able to function as a decent family vehicle. However, if you want a more refined and upscale small truck, the Honda Ridgeline and Hyundai Santa Cruz might be better choices for you.
2022 GMC Canyon (starting at $28,995)
The GMC Canyon is a midsize pickup truck that comes in four trim levels, including the off-road AT4 and the luxurious Denali. The extended cab model has seating for four and a 6-foot bed, while the crew cab comes with a 5- or 6-foot bed and seating for five. If you need more space for occupants, you'll have to upgrade to the four-door crew cab, which seats five and starts at $30,895 (via Cars.com). However, the Canyon falls short in crash tests and standard safety features compared to other pickups like the Toyota Tacoma, which received higher marks from the National Highway Traffic Safety Administration.
The GMC Canyon's most budget-friendly Elevation Standard trim costs just under $29,000 and comes with a two-door extended cab that seats four people. Plus the GMC Canyon Elevation Standard has powertrain options that match the Chevrolet Colorado and also offers a turbo-diesel engine. It also comes with a 200-horsepower, 2.5-liter four-cylinder engine and six-speed automatic transmission that delivers 191 pounds-feet of torque.
There's also an available 3.6-liter V-6 that's paired with an eight-speed automatic transmission and offers 308 horsepower and 275 pounds-feet of torque. The base four-cylinder engine with standard rear-wheel drive gets an EPA-rated 22 mpg combined, and four-wheel drive is available. The base engine has a towing capacity of 3,500 pounds, while the 3.6-liter V-6 can tow up to 7,000 pounds (via USNEWS).
2023 Nissan Frontier (starting at $30, 485)
The 2022 Nissan Frontier has been redesigned and is now one of the most modern trucks in the midsize category. It offers a standard V6 engine, a user-friendly infotainment system, and the best seats among other trucks within its price range. While some trucks may have a higher towing capacity, the Frontier excels in off-road capabilities and overall comfort, making it a top choice. This 4-seater vehicle comes in four trim levels, with the most popular being the SV Crew Cab Short Bed 4WD. This model starts at $37,585 and features a 3.8L V6 engine and four-wheel drive. It is projected to get 17 MPG in the city and 22 MPG on the highway.
All trims of the Nissan Frontier are powered by a 3.8-liter V-6 engine, which was first introduced in the 2020 model. With an engine producing over 310 horsepower and 281 pounds-feet of torque and paired with a nine-speed automatic transmission, Nissan Frontier is also available with either rear-wheel drive (RWD) or four-wheel drive (4WD). The base S model with RWD has an EPA-estimated fuel economy of 20 mpg combined and can tow up to 6,720 pounds with a maximum payload of 1,600 pounds.
2022 Chevrolet Silverado 1500 LTD (starting at $32,195)
The Chevrolet Silverado 1500 TD is a version of the popular Chevrolet Silverado 1500 pickup truck that has been carried over from the previous year and will be available alongside the newly redesigned Chevrolet Silverado 1500. The 2022 Chevrolet Silverado 1500 features a redesigned dashboard, new technology, and GM's Super Cruise autonomous driving system. It is intended for budget-conscious buyers who are looking for a comfortable and capable full-size pickup but do not need the latest technology. Similarly, the Silverado 1500 LTD features the same five engine options as the previous year, including two V8s and a turbodiesel, and offers a range of bed sizes, cab styles, and trim levels to choose from, including two off-road-ready Trail Boss models.
It offers plenty of interior space, user-friendly trailering technology, and good fuel efficiency for its class, and is a good value compared to its competition, including the Ford F-150, Ram 1500, and the redesigned Chevrolet Silverado 1500.
2023 RAM 1500 Classic (starting at $32,590)
The Ram 1500 Classic is a full-size pickup truck that is designed to be more affordable than the newly redesigned Ram 1500. It is available in multiple cab and bed sizes, including a two-door regular cab and a four-door quad- and crew cab. The Tradesman trim level of the Ram 1500 Classic is equipped with a 3.6-liter V-6 engine that is paired with an eight-speed automatic transmission and produces 305 horsepower and 269 pounds-feet of torque. A 5.7-liter V-8 engine is also available, which boosts horsepower to 395 and torque to 410 pounds feet.
Specifically, the Ram 1500 Classic Tradesman comes with rear-wheel drive (RWD) as standard and offers the option of all-wheel drive (4WD). The V-6 engine with RWD is the most fuel-efficient combination, with an EPA-estimated fuel economy of 20 miles per gallon in combined city and highway driving. It has a towing capacity of up to 10,620 pounds and a payload capacity of up to 1,810 pounds when equipped with the 5.7-litre V-8 engine.
The 2023 Ram 1500 has a collection of new standard tech, a new Limited Edition Elite trim variant, and an innovative glove box with UV light to kill and disinfect viruses and harmful bacteria. The latter features a three-minute disinfection cycle operated via a button on the center console. It rids your gadgets, gear, and other small items of possibly infectious pathogens, a handy feature in this world where COVID and any number of other bugs remain prevalent.
2022 GMC Sierra 1500 Limited (starting $32,995)
The release of the updated 2022 Sierra 1500 model has been delayed, leading General Motors to introduce the GMC Sierra 1500 Limited as a temporary alternative. While the 2021 GMC Sierra 1500 and 2022 GMC Sierra Limited share many similarities, there are a few key differences to note. For instance, the base Sierra 1500 trim is now referred to as the Pro model. It is predicted that the 2022 Sierra will undergo a major makeover, with a new grille, headlamps, and interior redesign. In addition, new trim levels will be introduced, such as the AT4X with its rugged Multimatic spool-valve dampers and front/rear locking differentials, and the luxurious Denali and Denali Ultimate trims equipped with the Super Cruise hands-free driver assistance system.
However, Sierra's position as a more upscale option compared to the closely related Chevrolet Silverado 1500 remains unchanged. One notable feature that sets the Sierra apart is its Denali trim, which offers luxurious amenities and transforms the pickup into a high-end vehicle. Conclusively, the Sierra 1500 Limited is available in multiple cab styles and bed lengths and competes with other top models such as the Ford F-150, Ram 1500, Toyota Tundra, and Nissan Titan in the competitive pickup truck market.
2023 Ford F-150 (starting at $35,730)
The Ford F-150 is a full-size truck that offers a range of engine options to suit your needs. The base model features a 290-hp 3.3-liter V-6 engine, but you can opt for a more powerful supercharged V-6 or the top-of-the-line 400-hp 5.0-litre V-8 engine if you want even more muscle. However, the base XL version needs some of the finer materials and features found in the higher trims. If you're willing to spend more than the base MSRP of $31,335, you can upgrade to the Limited trim and get access to Ford's Sync 4 infotainment system via a 12.0-inch touchscreen.
One of the most unique features of the Ford F-150 is the hybrid powertrain available for the 2022 model. It's important to point out that this truck is all about power, with a maximum towing capacity of 8,200 pounds on the base model and 13,000 pounds on the V-8 model. For those who need even more power, the F-150 has an optional onboard 7.2 kW generator for attaching electrical and mechanical equipment. While some of the F-150's most useful amenities, such as an extended bed, are only available on the top trims that start above $50,000, the base model still offers plenty of cabin space and agile handling.
2023 Toyota Tundra (starting at $39,660)
Last year, the Toyota Tundra underwent a major overhaul, introducing a plethora of enhancements such as a hybrid engine, an advanced infotainment system, and a modified suspension that greatly improves the ride. The interior also received upgrades to rival those of its competitors. Its top-of-the-line Capstone trim offers a luxurious experience for those seeking a touch of refinement in their rugged truck. You can explore the Tundra in seven different trims, with the option of Double or CrewMax cabs, three-bed lengths, and either rear-wheel or four-wheel drive.
While the Tundra's numerous configurations can handle a range of activities from work to family fun, other trucks in its class also offer a wide array of options. For instance, the Ram 1500 boasts the most refined ride in the segment, with a variety of trims and engine options; Ford F-150 has the highest towing and payload ratings on the market, while the Chevrolet Silverado 1500 offers a range of engines and trims, but its interior may not be as appealing as some of its competitors.
The Toyota Tundra's towing capacity ranges from 8,300 to 12,000 pounds depending on the trim and equipment level. Its payload capacity ranges from 1,745 to 2,290 pounds, which are respectable figures that may be sufficient for most owners' needs, although they do not reach the top of their class.