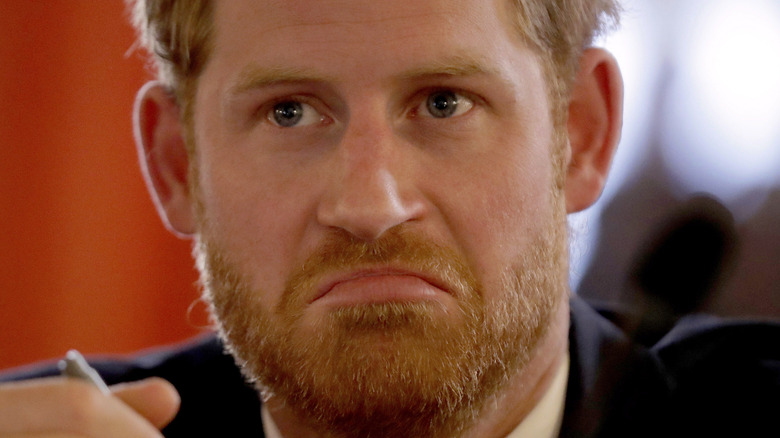 This article includes mentions of suicide, sexual assault, and an eating disorder.
Prince Harry revealed intimate details of his life as a rebel royal during his press tour for his 2023 memoir, "Spare." The memoir itself is quite the tell-all. One of the book's most shocking takeaways is an alleged fight between Harry and Prince William. The Duke of Sussex wrote (as excerpted by The Guardian) that his brother insulted Meghan Markle and then physically attacked him. "It all happened so fast," Harry wrote in "Spare." "So very fast. He grabbed me by the collar, ripping my necklace, and he knocked me to the floor. I landed on the dog's bowl, which cracked under my back, the pieces cutting into me. I lay there for a moment, dazed, then got to my feet and told him to get out."
As you can imagine, certain royal family members allegedly aren't fans of the memoir. An unnamed source even claimed that the book strained Harry's relationship with his family back in the U.K., per Us Weekly. Although the Duke of Sussex has been at the center of a media frenzy for claims he's made in interviews in recent years, he certainly isn't the first royal to spill secrets. Royals have been opening up about the unthinkable for decades.
These are the biggest bombshells dropped by the royal family during interviews.
If you or someone you know is dealing with domestic abuse, you can call the National Domestic Violence Hotline at 1−800−799−7233. You can also find more information, resources, and support at their website.
King Charles and Princess Diana's strange engagement announcement
King Charles III and Princess Diana announced their engagement to the world in 1981. The couple shared the news while speaking to the press and later answered a series of questions. Charles perhaps foreshadowed the timeline of the couple's tumultuous marriage after he and Diana were asked if they were in love. He responded, "Whatever love means." Umm … wow. Diana's response to the question was a bit less shocking. "Of course," she stated simply.
Diana later reflected on the moment, and it turns out she wasn't fond of Charles' statement. "We had this ghastly interview the day we announced our engagement," she remarked in the docuseries "Diana: In Her Own Words" (via Marie Claire). "And this ridiculous [reporter] said, 'Are you in love?' I thought, what a thick question. So I said, 'Yes, of course, we are,' and Charles turned round and said, 'Whatever love means.' And that threw me completely. I thought, what a strange answer. It traumatized me."
King Charles admitted he cheated on Princess Diana
Some might say that King Charles III and Princess Diana's marriage troubles were obvious by the time they embarked on their trip to South Korea in 1992. Tabloids were cluttered with rumors of an affair involving Charles and Camilla Parker Bowles, so many already suspected that his marriage was on the rocks. Charles addressed the speculation head-on during the 1994 ITV documentary, "Charles: The Private Man, the Public Role."
When interviewer Jonathan Dimbleby asked the then-prince if he had been loyal to his wife, he responded, "Yes. Until it became irretrievably broken down, us both having tried." The secret was more or less already out at that point, so it is perhaps no surprise that Charles was so quick to confess. Still, hearing a royal admit infidelity is likely jarring for anyone, no matter the circumstances.
Diana later confirmed in an interview that she had also had an affair, with James Hewitt, who was a British Army officer at the time. The late princess shared the shocking detail in her infamous 1995 BBC interview with journalist Martin Bashir. When asked about Hewitt, Diana stated, "Yes, I adored him. Yes, I was in love with him."
A royal was allegedly 'concerned' about Archie's skin color
One of the most jaw-dropping revelations from Prince Harry and Meghan Markle's 2021 CBS interview is the racism they said Meghan and their son faced. When Oprah Winfrey asked Harry if racism contributed to his and his wife's decision to relocate, he responded, "It was a large part of it." The prince went on to share that they struggled with bigotry from British tabloids.
The couple stunned audiences in saying there were concerns within the royal family about what color baby Archie Mountbatten-Windsor's skin would be when he was born. Meghan remembered in the same interview, in a clip shared by ET, "In those months when I was pregnant, all around the same time, so we have in tandem the conversation of, he won't be given security, he's not gonna be given a title, and also concerns and conversations about how dark his skin might be when he's born."
The mom didn't share which family member discussed her son's skin color, but King Charles III was under fire after the book "Brothers And Wives: Inside The Private Lives of William, Kate, Harry and Meghan" (by Christopher Andersen) alleged that he made such comments in the past, per Page Six. King Charles denied these claims.
Sarah Ferguson opened up to Oprah about her scandal
Sarah Ferguson, Duchess of York, made headlines in 2010 after she was the target of a sting operation conducted by the tabloid newspaper News of the World. To recap, Ferguson was led to believe that a businessman wanted access to her then-husband, Prince Andrew, so she offered that access in exchange for over $600,000, per The Guardian. The "businessman" was actually the undercover News of the World reporter Mazher Mahmood. Ferguson fell for the scheme and even seemed interested in the opportunity.
News of the World reported (via The Guardian) that the Duchess of York gladly accepted the money. "That opens up everything you would ever wish for," she allegedly told Mahmood. "I can open any door you want, and I will for you. Look after me and he'll look after you … you'll get it back tenfold."
Ferguson reflected on the scandal in a shocking interview on "The Oprah Winfrey Show" in 2010, explaining that she had not yet seen the entire video recording. "I haven't faced the devil in the face because I was in the gutter at that moment," Ferguson said of her hesitation to view the footage. Winfrey played the clip just moments later. Ferguson believed she had been drinking prior to the incident, and she expressed sympathy for herself as pictured in the video.
Princess Diana acknowledged King Charles' infidelity
Princess Diana dropped several bombshells in her 1995 interview for BBC's "Panorama." The segment, titled "An Interview With HRH the Princess of Wales," allowed Diana to share her side of the story surrounding her marriage and life as a royal. Journalist Martin Bashir has since been scrutinized for allegedly manipulating Diana (including producing fake documents) so she'd agree to such a revealing interview. The late princess seemingly left no topic untouched in the jaw-dropping TV special, and even spoke about King Charles III's affair with Camilla Parker Bowles. When asked by Bashir if the affair led to her marriage ending, Diana famously responded, "Well, there were three of us in this marriage, so it was a bit crowded."
Diana's sons have mixed feelings about the interview. Harry spoke out about the segment in an episode of the Netflix docuseries "Harry and Meghan" (via Us Weekly). "I think we all now know that she was deceived into giving the interview, but at the same time she spoke the truth of her experience," the prince shared. Prince William, on the other hand, doesn't seem to be a fan of how his mother was allegedly manipulated into having the public conversation. He shared his opinion with Us Weekly on the claims against Bashir and the BBC. "The independent investigation is a step in the right direction," William said, eager that it would "help establish the truth."
Princess Diana said she had an eating disorder
The aforementioned BBC interview with Princess Diana also covered the royal's physical reaction to her husband's affair. She shared that she developed bulimia amid the troubles. "It was a symptom of what was going on in my marriage," the princess explained (via Frontline). "I was crying out for help, but giving the wrong signals, and people were using my bulimia as a coat on a hanger. They decided that was the problem. Diana was unstable." Interviewer Martin Bashir then asked Diana what caused her eating disorder, to which she responded: "The cause was the situation where my husband and I had to keep everything together because we didn't want to disappoint the public, and yet obviously there was a lot of anxiety going on within our four walls."
Media outlets speculated that Diana had developed bulimia even before she made the announcement in her BBC interview, but the royal's candor was still shocking nonetheless. Diana shared more about living with the eating disorder in audio recordings shared in NBC's special "Princess Diana: The Secret Tapes." She revealed that King Charles III would comment on her weight, which made her recovery all the more difficult. "My husband made me feel so inadequate in every way possible that each time I came up for air he pushed me down again," Diana said.
If you need help with an eating disorder, or know someone who is, help is available. Visit the National Eating Disorders Association website or contact NEDA's Live Helpline at 1-800-931-2237. You can also receive 24/7 Crisis Support via text (send NEDA to 741-741).
Prince Harry thought his mother was still alive for years
Prince Harry sat down for an interview on "60 Minutes" ahead of the release of his memoir, "Spare," and it seems that not much was off limits during the tell-all. The prince likely shocked audiences after he went into detail about his reaction to the death of his mother, Princess Diana. He noted that bystanders were more emotional than he was. "I just refused to accept that she was gone," Harry said. "Part of, you know, she would never do this to us. But also, part of, maybe this is all part of a plan."
The Prince had clung to the idea that his mother was still alive and was simply hiding away from the pressures of living life as a public figure. He noted that Prince William shared "similar thoughts" about the situation. As for the car accident that took his mother's life, 20-year-old Harry requested to see the police report. Anderson Cooper, who conducted the interview, asked the prince why he made this decision. "Mainly proof," Harry admitted. "Proof that she was in the car. Proof that she was injured. And proof that the very paparazzi that chased her into the tunnel were the ones that were taking photographs of her lying half dead on the backseat of the car."
Harry also questioned his mother's death during a 2023 ITV interview (via the Mirror). "There's a lot of things that are unexplained," he said of her passing.
Meghan Markle clarified that Kate Middleton made her cry
Prince Harry and Meghan Markle dropped a number of bombshells in their 2021 CBS interview with Oprah Winfrey. Meghan memorably addressed claims that she made Kate Middleton cry prior to her wedding to Harry. The Duchess of Sussex claimed that it was actually Middleton who brought her to tears. "And I don't say that to be disparaging to anyone, because it was a really hard week of the wedding, and she was upset about something," she told Winfrey. "But she owned it, and she apologized and she brought me flowers and a note apologizing."
Meghan added that she was shocked to see reports come out months later alleging she had made Kate cry. The mother of two had little to say about what the Duchess of Cambridge actually did to make her emotional, only acknowledging that it had to do with dresses for the flower girls. "I don't think it's fair to her to get into the details of that, because she apologized," she told Winfrey. "And I've forgiven her."
The tearful conflict was brought up once again in Prince Harry's 2023 memoir, "Spare" (via Page Six), as Harry claimed that Kate admitted fault. He wrote that the Duchess of Cambridge privately said, "I know, Meghan, that I was the one who made you cry." According to Harry, William allegedly told King Charles III about Meghan and Kate's disagreement, which may have led to tabloids reporting on the false claims.
Prince Andrew tarnished his reputation
Revelations from Prince Andrew's 2019 "BBC Newsnight" interview were so damaging that the royal later stepped down from his public responsibilites. In the infamous TV segment, Andrew shared details of his controversial friendship with financier and convicted sex offender Jeffrey Epstein, who died by suicide in a New York jail in 2019. "It would be a considerable stretch to say that he was a very, very close friend," the prince said of his relationship with Epstein. "But he had the most extraordinary ability to bring extraordinary people together. And that's the bit that I remember, is going to the dinner parties where you would meet academics, politicians, people from the United Nations." As you can see, Andrew was upfront about spending time around Epstein and even attending his parties.
The prince went on to deny meeting Virginia Roberts Giuffre, one of Epstein's many alleged sex trafficking victims who filed a lawsuit alleging that she was sexually abused by Andrew at age 17. "I have no recollection of ever meeting this lady, none whatsoever," Andrew claimed when questioned about Giuffre's allegations. "It never happened," he insisted. Despite the prince's claim, he was photographed alongside his alleged victim and Epstein's girlfriend, Ghislaine Maxwell, in 2001.
If you or anyone you know has been a victim of sexual assault, help is available. Visit the Rape, Abuse & Incest National Network website or contact RAINN's National Helpline at 1-800-656-HOPE (4673).
If you or anyone you know is having suicidal thoughts, please call the National Suicide Prevention Lifeline​ by dialing 988 or by calling 1-800-273-TALK (8255)​.

Meghan Markle discussed her past suicidal thoughts
In the aforementioned CBS interview with Oprah, Meghan Markle outlined how difficult things really got during her time as a working member of the royal family. She shared that at one point, she confessed to Prince Harry that she was dealing with suicidal thoughts. "Look, I was really ashamed to say it at the time and ashamed to have to admit it to Harry, especially, because I know how much loss he's suffered," Meghan said (via ET). "But I knew that if I didn't say it, that I would do it. And I, I just didn't — I just didn't want to be alive anymore."
Prince Harry and Meghan spoke about the hardship once again in their Netflix docuseries, "Harry and Meghan" (via Insider). Recalling his wife's mental health struggles, the prince began, "I was devastated." He continued, "I knew she was struggling. We were both struggling, but I never thought it would get to that stage — and the fact that it got to that stage, I felt angry and ashamed." In a separate episode of the series, the couple opened up about a miscarriage Meghan had in July 2020 (via People). "I believe my wife suffered a miscarriage because of what the Mail did," Harry said, referring to a lawsuit involving the couple and MailOnline's parent company, Associated Newspapers.
If you or anyone you know is having suicidal thoughts, please call the National Suicide Prevention Lifeline​ by dialing 988 or by calling 1-800-273-TALK (8255)​.