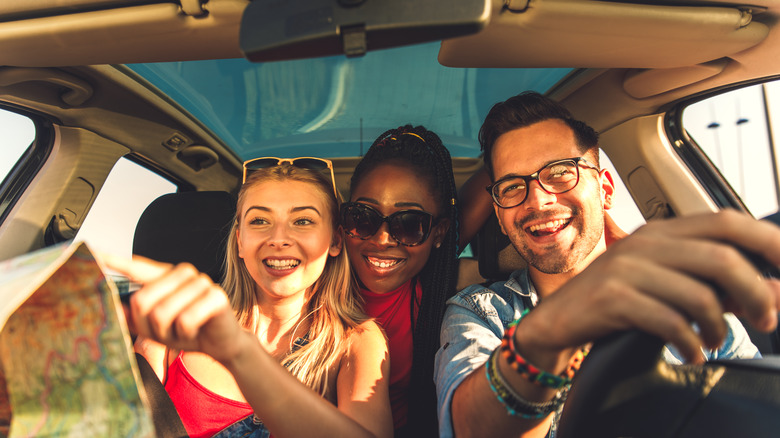 Ahh, the freedom of the open road! Whether you're packing up your family, planning a girls' weekend, or a romantic getaway, there's just something about a road trip that's so darn special. Sure, the destination is always great, but taking in the many sights along the way is a big part of the allure of a road trip. Those spur-of-the-moment decisions to check out that funky thrift shop or local diner are the memory-making moments you talk about for years to come.
Not to mention, road trips are infused with those spontaneous karaoke moments and the idea that adventure looms around every corner. But with that adventure comes the reality that you might experience challenges along the way. It's easy — and perfectly appropriate — to romanticize road trips, but it's equally important to be prepared for snafus along the way. It's not uncommon, for example, for AAA (American Automobile Association) to respond to over three million roadside assistance calls each year, according to Consumer Reports.
So if you've been inspired by road trip movies, go ahead — hop in the car. But it's best to be prepared by adding road trip safety essentials to your packing list.
Road trip issues? You might need to boost the juice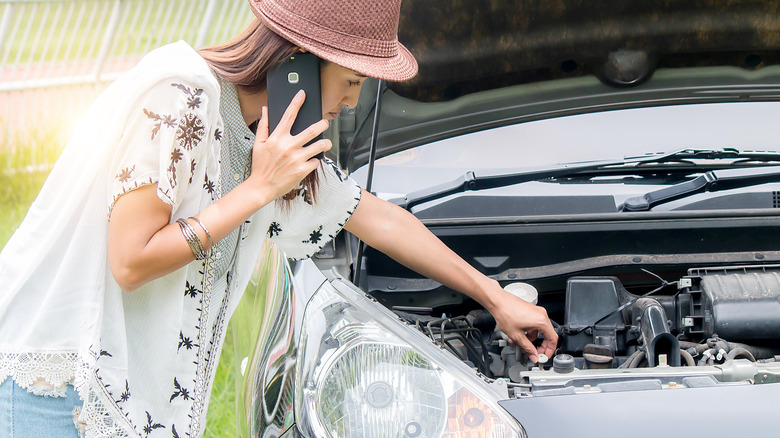 First, there are a few basic car safety essentials you should always have in your car, starting with jumper cables. Let's say you're driving down a back road and see an adorable roadside shop brimming with local art. Obviously, you stop to check it out. But when you get back to the car, it won't start. You'll need to boost the car battery to start it, so having a pair of jumper cables in the car is essential, according to YouTuber ChrisFix, whose jumper cable YouTube video has over 11 million views.
Unfortunately, sometimes there's an issue beyond just the battery. If you're on the road often, membership in AAA, might be a worthwhile investment, according to Wallet Hub. The privately-held nonprofit has been around since 1902 and has expanded its emergency roadside service over the years. In addition to fixing flat tires and towing your car if needed, you can also take advantage of the membership discounts, including travel deals and even special insurance rates. But all those perks aside, the road trip safety assurance is priceless.
Don't rely on your car's power to charge your phone
So, you tried to jump the car battery, but it didn't work. You need to call for a tow truck, but your cell phone is dying. Well, without a working battery your car can't charge your phone, so it's always best to have a backup plan.
Or, let's say you find yourself a bit lost, you'll want to be sure your phone has enough juice to make calls and run the navigation app. Sure, you usually plug it into the car's charging port, but maybe your friend spilled a latte earlier, and the darn thing's not working. The point is, the most unexpected things can happen on the road, so it's best to be prepared.
Follow the advice of U.S. News and World Report and pack a portable battery bank to charge your phone. We use our phone for everything from navigation to finding gas stations, urgent care clinics, and tasty roadside grub, so it a charging bank should be a top priority. And in the spirit of road trip etiquette, don't forget to have accessories for both iPhone and Android tucked away in your glove box.
This road trip checklist item could be a life-saver
Hopefully, it's just a scratch or a wee-bitty splinter, but if you spend enough time cruising the highways and byways of America, chances are you'll need a first-aid kit at some point in your travels. It's one of the top inclusions in road trip safety checklists published by the serious folks at the National Highway Traffic Safety Administration and even the travel experts at Trip Savvy. And the good news is, it's easy — buy one online or put it together yourself.
The American Red Cross knows a thing or two about first aid, so if you cobble together your own first aid kit, be sure to include everything on the checklist. It's more than just adhesive bandages for minor boo-boos; you'll need to stock it with gauze pads, roller bandages, an emergency blanket, and supplies for more serious situations. By the same token, don't leave out the all-important first aid guide because unless you're well-trained in first aid, you'll be grateful for written instructions should the need arise!
Life on the road might require you to kick it old school
Technology offers endless problem-solving solutions, but sometimes it glitches or straight-up fails. So, at the end of the day, road trippers need to know how to kick it old school. Here's the thing — nothing will turn an adventure into a nerve-wracking scenario quicker than truly getting lost, so Smarter Travel suggests that you don't start your road trip without a paper map.
Long before the days of the internet and satellite-based navigation, Rand McNally was mapping the planet. Their detailed printed maps and road atlas collections are the gold standard for mapping your way to road trip glory, plus it gives you an idea of what the American road trip was like 50 years ago. So, be sure to have one of the brand's state-specific folding maps or larger, spiral-bound map collection that includes roads across the entire country.
Cash is still king
Along with the time-tested peace of mind that comes with paper maps, AAA advises that a handful of classic road trip safety essentials are as important today as they were decades ago, including water and a small fire extinguisher. But there's one set of experts whose advice never fails — moms and grandmothers. So, tuck some rainy day cash into your glove box. There are still places that only accept cash, especially the further away from the city you may be. For example, you might find an idyllic roadside farm stand with a honor box payment system. If you want that fresh-churned butter, you'll need to pony up some old-school cheddar — cash.
Plus, you never know when you might need it, because Thrillist suggests that tipping tow truck drivers is always good road trip etiquette.
So, pack up your road trip safety supplies and be sure to add Willie Nelson's "On the Road Again" to your karaoke playlist. It's time for an adventure, baby!