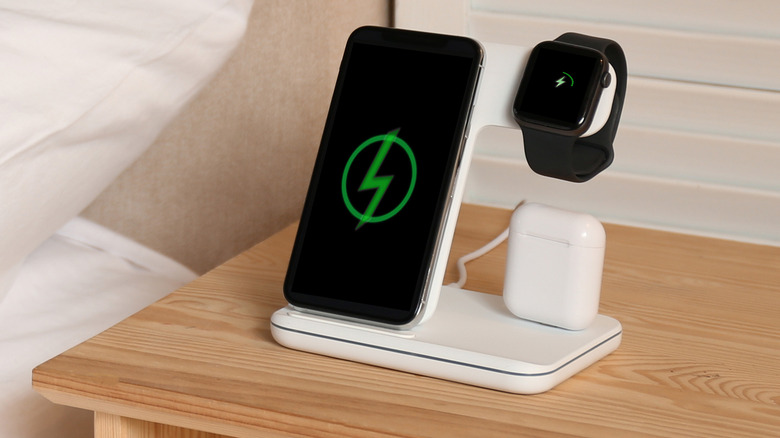 Chances are you own a variety of electronic devices, including a smartphone, tablet, Bluetooth earbuds, or a smartwatch. If this is the case, you probably have a number of tangled charging cords lying on your nightstand or office desk. Ready for an upgrade?
Charging stations are typically more durable than flimsy USB charging cables, can often charge multiple devices simultaneously, are easy to use, and may even elevate a room's decor with an appealing design. Best of all, you can eliminate the charging cables littering your space.
There are many stylish charging stations on the market; While some have a subtle look, others make a statement. Additionally, there are three main types: flat versions, stands, and ones that double as lamps. You'll find multiple options for each style below. Furthermore, keep in mind that some products are lumped together with wireless charging stations but still require a charging cable to operate. However, these "charging stands" tend to hide the cable and sport a design that blends in with your existing decor.
1. Floral pattern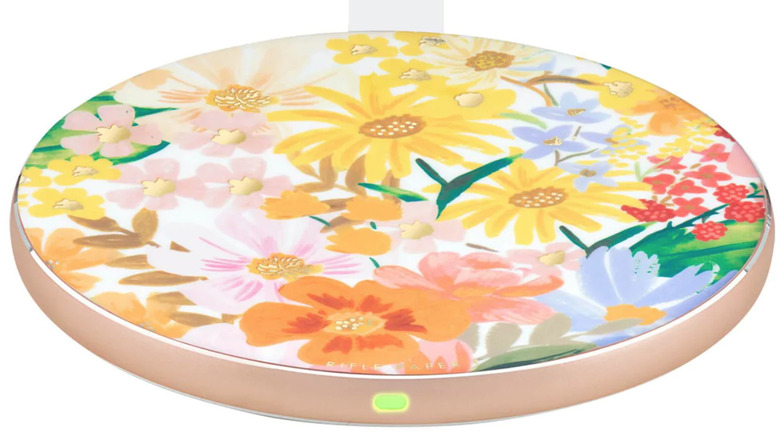 Beginning with some flat versions, this charging station has two gorgeous floral pattern options, each sold for $60 on Case-Mate.
2. Natural stone
For $69.99, you can purchase this natural stone charger from Target, which comes in seven options: black, cream, wood, and white marble, along with dark lava stone, travertine, and sandstone.
3. With a tray
Those with many small items lying around may benefit from a linen phone charging dock with an integrated tray. The above model comes in tan, off-white, black, or forest green and is currently on sale for $75 on Courant.
4. Golden crystal
Crystal lovers may adore this faux agate trimmed in gold foil, which comes in blue, green, pink, purple, and white. Each one is sold at Bed Bath and Beyond for $79.99.
5. Faux wood
Moving onto stands, those who want to charge more than one device at a time may prefer this faux wood model, sold at Walmart for $24.99.
6. Surrounded in brass
This $39.99 Target stand can charge two devices at the same time. It's made out of gray textured felt and surrounded by brass for an elegant effect.
7. Granite and stone
Disclaimer: This charging station requires a cable, though it's hidden inside the stand. Sold on Uncommon Goods, this one-of-a-kind, handmade piece that retails for $40 is made out of granite and a stone from a New Hampshire beach.
8. Minimalist look
On sale from $100, this minimalist multi-device stand is on Courant's website for $75. It comes in three neutral colors: off-white, tan, and black.
9. Sleek design
This three-device charger, which comes in either white or black, is currently on sale for $79 from $129 at LGear. It's perfect for keeping your nightstand organized when charging devices at night.
10. Covered in fabric
This fabric charging dock comes in gray or light pink from Pottery Barn and costs $99. It's a fashionable piece that can serve as a phone stand so that you can watch videos in bed. However, it requires a charging cable to function.
11. Multicolored geometric
For a similar look that adds an artistic touch to your space, you can purchase this genuine leather geometric stand from Walmart for $119.99, which also comes in a black and gray version. Unlike many stand chargers, this one works while your phone's in landscape orientation.
12. Antique brass
To kick off lamp charging stations, Target sells this rustic brass version with an LED bulb for $110. It also comes with an extra USB port, making it a great addition to the desk in your home office.
13. Birds on branches
For a unique and artsy look, check out this bird light charging station on Ozarke for $110, which is on sale from $249.99. It's perfect for bird lovers who desire a unique charger that can top off two devices at once.
14. Golden clock
Ozarke also sells this chic golden lamp with LED lighting and a phone charging port. It currently costs $179.99 and can serve as staple decor in your home's most elegant room.
15. Black steel
Those who love the industrial style may enjoy this black steel lamp at Crate and Barrel. It sells for $199.20 (on sale from $249). Place it near your drafting table or writing desk and enjoy its convenience and style.