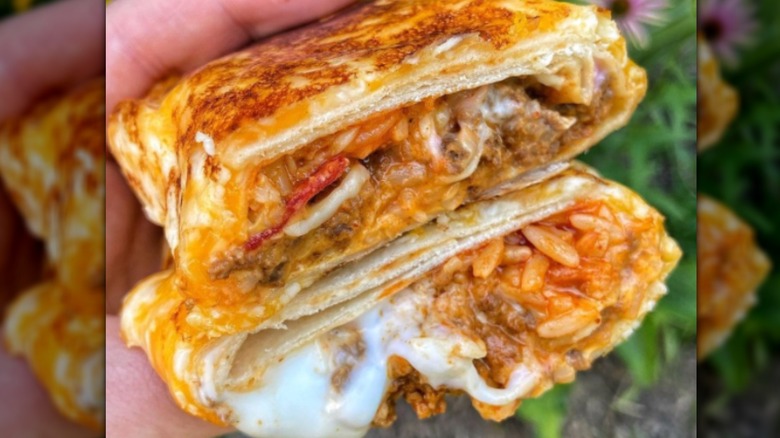 Ever since its founding in 1962, Taco Bell has long been associated with burritos, nachos, and of course, tacos. Much of its popularity may stem from the chain's innovations with both its food and its technology. If creating a taco shell out of Doritos isn't enough to convince you, Taco Bell has earned an award recognizing their innovation in self-service technology (via ēlo).
Some of the American fast food chain's more creative menu items include the breakfast burrito, nacho fries, and cheesy gordita crunch. Taco Bell is always pushing the limits when creating and went as far as combining a grilled cheese with a burrito.
The Taco Bell Grilled Cheese Burrito isn't actually the ingredients of a burrito sandwiched between American cheese and buttery toast, we're sorry to report. Instead, the concoction is a burrito with three types of cheeses melted onto the outside until it becomes golden brown. Extra gooey, melted cheese topped onto a burrito that's already stuffed with meat, rice, and cheese sounds about right for a Taco Bell creation.
If you have questions about the Grilled Cheese Burrito before you head to Taco Bell, including how much it costs, its nutritional value, and if it's worth it, we have the scoop.
What's in a Grilled Cheese Burrito?
When it comes to grilled cheese sandwiches, there are two essential components: melty cheese and a toasty grilled outside. The same essentials form the basis for any Grilled Cheese Burrito at Taco Bell. Yes, the Grilled Cheese Burrito is toasty and cheesy, but that's where the similarities end. Otherwise, you'd just have a quesadilla.
The Grilled Cheese Burrito is a completely different beast from any grilled cheese you've ever made in a pan on the stove. First of all, you should know that, unless you order it vegetarian, every Grilled Cheese Burrito from Taco Bell contains meat. Then, there are a whole host of other ingredients that turn it into a crave-able menu item.
The original Grilled Cheese Burrito starts out with one of Taco Bell's signature, Mission-brand flour tortillas. The next ingredient is a three-cheese blend, which Taco Bell says contains mozzarella cheese, cheddar cheese, Monterey Jack, and American cheese, along with jalapeño pepper. That's technically four kinds of cheese, if you're willing to count American cheese as real cheese. This is the point where the burrito strays from its sandwich namesake by adding more creamy ingredients like nacho cheese sauce, reduced-fat sour cream, and creamy chipotle sauce. Then, it's stuffed with seasoned rice, Taco Bell's seasoned beef, and red fiesta strips to turn it into a heartier and more calorie-laden meal. Finally, it's grilled with a bit of the three-cheese blend melted on top.
How much does a Grilled Cheese Burrito cost?
As of December 2022, the basic Grilled Cheese Burrito is marked as "not available" on Taco Bell's website. But in case you're curious, Taco Bell's listing for the Grilled Cheese Burrito indicates that it used to cost $4.79, which you might find you have on hand after counting the change in your car. However, you can still order the Double Steak Grilled Cheese Burrito and its spicy counterpart, both priced at $7.29. Add-ons, such as potatoes, beans, or chicken, will cost about $0.40 to $1.50 per option, meaning the most you'd pay for your Double Steak Grilled Cheese Burrito with all the fixings is a little over $13.
Taco Bell also used to offer a Grilled Cheese Burrito Deluxe Box, for times when you had some friends with you or were feeling particularly famished (and aware that one burrito just wouldn't cut it). For $7.49, you'd get the burrito, a Chalupa Supreme, a Nacho Cheese Doritos Locos Taco, nacho chips with cheese, and a medium fountain drink. An impressive amount of food, for sure — but you'd probably be better off sharing this meal, as the Taco Bell menu reportedly gave it a high sodium warning.
What is the nutritional value of a Grilled Cheese Burrito?
While the fast food spot is perfect for satisfying a tasty taco or late-night nacho craving, it's not an established health food spot. If you're wondering about the nutrition facts of the Grilled Cheese Burrito, it's along the lines of what you'd expect from Taco Bell.
According to fatsecret, one Grilled Cheese Burrito hovers around 710 calories, 39 grams of total fat, 75 milligrams of cholesterol, and a whopping 1,490 milligrams of sodium. In the Deluxe Box you'll also find the Chalupa Supreme, which clocks in at 350 calories, 25 milligrams of cholesterol, 18 grams of total fat, and 560 milligrams of sodium (via CalorieKing). Additionally, the Doritos Locos Taco contains 170 calories, 9 grams of fat, 25 milligrams of cholesterol, and 350 milligrams of sodium (via Nutritionix). This totals to 1,230 calories, 66 grams of fat, 125 milligrams of cholesterol, and an astounding 2,400 milligrams of sodium, and that's not including the side of nachos and cheese that also come with this meal.
The amount of sodium in the Grilled Cheese Burrito Delux Box is so over-the-top, that, as mentioned before, there is a posted sodium warning. It would seem that the Grilled Cheese Burrito is enough on its own, but if you get the Deluxe Box, it may be best to share it with friends.
Is the Grilled Cheese Burrito good?
There's something deliciously tempting when the words "grilled cheese" and "burrito" are strung together. But is the Grilled Cheese Burrito as good as it sounds?
According to an Insider review, the burrito is "Taco Bell's best dish in years," and notes that there is "no shortage" of cheese. The review points out that the burrito is stuffed with nacho cheese sauce, has melted grilled cheese on the outside, and that each bite is warm and fresh. Others agree that the Taco Bell treat is "buttery" with a nice kick from the chipotle sauce.
Another reviewer, per Thrillist, went on a mission to see if the burrito is as cheesy as Taco Bell promises. Although it was expected to have a bit more cheese on the outside, the burrito is described as having a "buttery, burnt cheese flavor" to every bite, without being too overwhelming or too underwhelming.
As far as Taco Bell creations are concerned, this one seems worth trying.
Fans of the Grilled Cheese Burrito think it's one of Taco Bell's best creations
When Taco Bell's Grilled Cheese Burrito first came out, it had everyone talking. Then, when the Double Steak Grilled Cheese Burrito arrived on the scene, it started turning heads as well.
A reviewer from Insider declared the Grilled Cheese Burrito to be "Taco Bell's best dish in years." It only took a single bite to win her over. Despite the premium versions being among the most expensive items on the Taco Bell menu, people are saying that they're "the best thing they got going for them right now" (via Reddit).
However, some people on Reddit have complained about the Grilled Cheese Burrito sometimes being greasy, especially if they pick it up in the drive-through window and then wait until they get home to eat it. However, fresh off the grill, it seems to be just fine. Also, ordering it vegetarian with refried beans can result in an extremely dense burrito that is "like eating a brick" if they add too many refried beans (via Reddit). So, the experience may depend on how quickly you eat it and what changes you make to the original menu item.
There's a beefier version of the Grilled Cheese Burrito
If you've ever bitten into the Grilled Cheese Burrito and thought, "This needs a little something extra," Taco Bell has the answer for you. They beefed up the Grilled Cheese Burrito (literally) with strips of grilled steak — and as you can see from the photo above, it's a more filling option.
According to Taco Bell, the Double Steak Grilled Cheese Burrito has twice the amount of steak compared to the regular Steak Quesadilla, ensuring every bite you get will be filled with meaty, cheesy flavor. But, we have to ask, at a higher price of $7.29 and a heftier calorie count of 920, is it really worth it? Per BRAND eating, the Double Steak Grilled Cheese Burrito seems to suffer from being "overly familiar." The review noted that it didn't seem to have the same allure as any other of Taco Bell's limited-time value items. The review also shared that for $3.89, you could upgrade the original Grilled Cheese Burrito with extra beef, which is more satisfying.
If you would prefer to have your Grilled Cheese Burrito with a bit more meat to it, then go for the double steak option, but if more meat isn't a deal-breaker, it's best to stick with the classic (if you can get it, that is).
Taco Bell credits some of its growing profitability to the popularity of premium Grilled Cheese Burritos
If you visited the first Taco Bell in 1962, you could buy tacos for a mere $0.19 (via Funding Universe). While menu items are nowhere near that cheap in the 2020s, you can still find plenty of $1 and $2 items on the Cravings Value Menu to keep you satisfied. In fact, the majority of the Taco Bell burrito menu ranges from $1 to $4.49, which is extremely cheap as restaurant menus go. With a price point of around $7.29, the premium double-meat Grilled Cheese Burritos are around twice the cost of a typical Taco Bell menu item. Yet, people keep buying them because they're filling and tasty.
Taco Bell considers the Grilled Cheese Burrito and its premium version to be an innovation for the company. Taco Bell told The Motley Fool that "[t]he demand is more for premium value. That's why you're seeing us do things like the Double Steak Grilled Cheese Burrito at Taco Bell, which is at a higher price point than normal, but still a great value and a big part of our success in Taco Bell." Various innovations like bringing back the Mexican Pizza and adding premium menu items like double-meat Grilled Cheese Burritos allowed individual stores to make 5% more by the end of the third quarter of 2022.
The Grilled Cheese Burrito keeps appearing on and disappearing from the menu
If you have a favorite menu item at Taco Bell, you can almost guarantee it's not going to stick around unless it's a classic, like a crunchy taco or a soft taco. It's gotten to the point that you're already anticipating the comeback of a favorite food item before it inevitably disappears from the menu. Taco Bell first unveiled the $2.99 Grilled Cheese Burrito on July 2, 2020, promising that it would only be around "for a limited time and while supplies last." Before 2020 was over, the Grilled Cheese Burrito was gone, and there was already a petition up at Change.org to get it back on the menu.
In August of 2022, the Grilled Cheese Burrito finally showed back up on the menu in three different flavors ranging from $4.29 to $7.29. Unfortunately, once again, it threatened to only be around for a limited time (via Chew Boom). For a while, you could get the original Grilled Cheese Burrito, a Double Steak version, and a Spicy Double Steak version with jalapeños grilled on top. Eventually, the original version disappeared and was replaced with a Double Chicken version in some locations.
No Grilled Cheese Burrito available? Here's how to hack the menu to order it (or something close)
Unfortunately, there's no guarantee that the Grilled Cheese Burrito will be on the menu when you next crave one. However, you can always hack the menu to order one, anyway. Taco Bell's original Grilled Cheese Burrito contains seasoned ground beef, a three-cheese blend, reduced-fat sour cream, nacho cheese sauce, chipotle sauce, fiesta tortilla strips, and seasoned rice. So, all you have to do is to find a similar burrito on the menu and start tinkering.
If you're lucky enough to find another variety of Grilled Cheese Burrito on the menu, like the Double Steak Grilled Cheese Burrito, getting an original Grilled Cheese Burrito is as easy as swapping out the steak for seasoned beef. If there aren't any Grilled Cheese Burritos on the menu, you'll need to find a burrito with similar ingredients to be able to make what you want as cheaply as possible. For example, the $2.00 Beefy Melt Burrito already comes with most of the same ingredients. All you have to do to turn it into a Grilled Cheese Burrito is to add chipotle sauce (for an additional $0.65) and choose the "make it grilled" option. If you're ordering in person or at the drive-through window, you can even ask for them to throw some of the three-cheese blend on top during grilling to make it more authentic (although they may charge you another $0.65).
You can create your own Grilled Cheese Burrito via add-ons
Every Grilled Cheese Burrito at Taco Bell has six ingredients in common: three-cheese blend, reduced-fat sour cream, nacho cheese sauce, chipotle sauce, fiesta strips, and seasoned rice. It's just the meat that's different. So, you can use a self-serve kiosk, the website, or the Taco Bell app to easily subtract and add the meat or spicy addition you want. Just keep in mind that most add-ons also add to the price.
If you can't find the original version of the Grilled Cheese Burrito, find another version, subtract the meat that you don't want, and choose seasoned beef as an add-on. The same goes for any other type of Grilled Cheese Burrito you want. Just subtract the meat you don't want and choose the one you do want as an add-on.
If you want a spicy variety of Grilled Cheese Burrito, and there's no spicy version on the menu, simply add jalapeños to your order. Then, request that they grill the jalapeños in with the cheese on top. Unfortunately, this option is easiest to accomplish if you're able to order with a real cashier indoors or at the drive-through.
You can make your own Grilled Cheese Burrito at home
All this talk of grilled cheese, burritos, and other Taco Bell items has probably made you hungry. Lucky for you, if you have some key ingredients at home, there are some recipes that can help satisfy that Taco Bell craving.
The cookful offers its own recipe on how to make the Grilled Cheese Burrito, right down to the chipotle sauce. If you don't have any leftover hot sauce packets from previous Taco Bell runs, the recipe calls to mix mayonnaise, sour cream, chili powder, cumin, onion powder, and garlic powder for a homemade version of the famous smoky sauce. The outlet claims that melting the cheese and re-creating the crispy golden brown outside is as easy as placing your favorite kind of shredded cheese on the exterior of your burrito, and then letting it sit under the broiler for one to two minutes.
While it may not be from the drive-thru window at Taco Bell, it will help crush that craving for cheesy goodness, and could possibly be delicious enough that you'll be making your own Grilled Cheese Burritos more often than you would think.
There are several options for making any Grilled Cheese Taco vegetarian
If you're a vegetarian, you were probably a little disappointed to find out that the Grilled Cheese Burrito wasn't a vegetarian menu item. Luckily, it's easy to order the Grilled Cheese Burrito vegetarian at Taco Bell.
It's easy to eat vegetarian at Taco Bell, and anything on the veggie menu is fair game to upgrade your burrito to veggie. While you won't find a vegetarian version on the Veggie Cravings menu or at the Taco Bell kiosk when ordering in Veggie Mode, there are still easy vegetarian Grilled Cheese Burrito hacks you can try.
You can make your Grilled Cheese Burrito vegetarian in several different ways. The first way is to order it simply sans meat for a Grilled Cheese Burrito that finally lives up to its name. Other options include subtracting the meat and adding any combination of refried beans, black beans, and/or potatoes. Tomatoes are also a nice addition to make it even more flavorful.
India's Grilled Cheese Burrito is very different from the U.S. version
Eating at Taco Bell in India is an entirely different experience. As a Mexican, American, and Indian fusion restaurant, every menu item may look somewhat familiar, but it's been transformed into something entirely new. For one thing, there's no beef at the Taco Bell in India, so the Grilled Cheese Burrito in India comes completely vegetarian (via Daily Meal). Once you start looking at the ingredient list, you'll realize that nothing but the tortilla and cheese melted on top is the same.
Instead of orange-colored seasoned rice, the Indian version contains green-colored jalapeño rice. It replaces creamy chipotle sauce with reaper ranch sauce. There are no fiesta strips, but there are mystery "spices" on the ingredient list. Probably one of the most interesting differences between the version you can find in the USA and in India is the type of cheese you will find inside. Instead of a three-cheese blend and nacho cheese, it contains cheddar cheese, mozzarella cheese, and "Mexican paneer." If we can trick ourselves into believing that Taco Bell is anything like real Mexican food, we can also extend our imaginations to believing in the authenticity of Mexican paneer.
Taco Bell tested out a sibling to the Grilled Cheese Burrito
After the initial success of the Grilled Cheese Burrito, Taco Bell tested out a closely-related menu item called the Grilled Cheese Stacker in Houston, Texas in 2021. The Stacker looked more like a quesadilla. It simply contained meat, a three-cheese blend, and nacho cheese. It also had a grilled cheese blend melted on top, like the Grilled Cheese Burrito (via Thrillist). However, there was no rice, no crispy fiesta strips, no sour cream, and no smokey flavor from chipotle sauce. So, while it had "Grilled Cheese" in the name, it wasn't as chock-full of ingredients as the burrito version.
Thrillist also says that the folding method for the Grilled Cheese Stacker was different from a burrito or quesadilla, with the Grilled Cheese Stacker getting three folds. However, it really just looked like a tri-folded cheese quesadilla, with added nacho sauce and seasoned meat but with no creamy jalapeño sauce.
Scorpion Heatseeker found the seasoned beef version in Houston for $2.49, the chicken version for $2.99, and the steak version for $3.49. When he tried them out on YouTube, he thought they were pretty good and was impressed by the cheese oozing everywhere and how well they were toasted. He thought they deserved to go nationwide, but everyone else in Houston must have been underwhelmed, since they don't seem to have shown up on our menus (at least not yet).