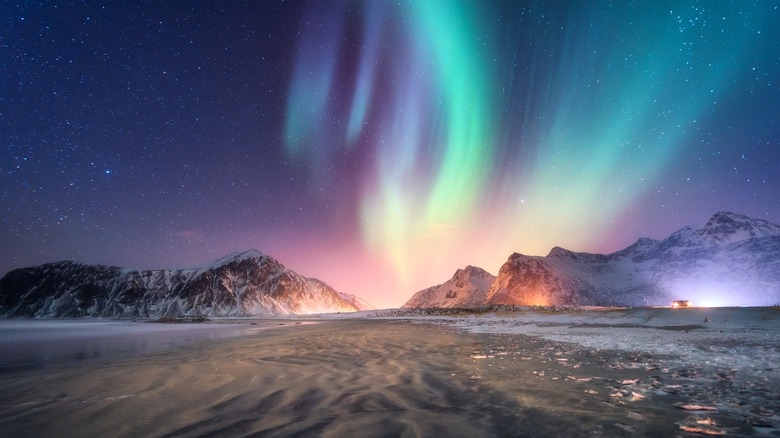 The Northern Lights are a bucket list item for many. An otherworldly sight and astrological phenomenon, the Northern Lights appear in the nighttime sky as dancing, multi-colored waves ranging from yellow and green to pink and red. They were scientifically named aurora borealis by astronomer Galileo Galilei to honor Aurora, the Roman goddess of dawn, and Boreas, the Greek god of the north wind (via Space). Since ancient times, the Northern Lights have enchanted humans — cave paintings of the lights were found in France that were almost 30,000 years old. Technically, they can be seen anywhere, but your chances of catching a glimpse increase the closer you are to the North Pole. More northern locations in North America, like Alaska, Canada, and Antarctica, get frequent sightings (per the Library of Congress). But many people don't know that you can see the Northern Lights in other U.S. states, too.
The aurora borealis is created when solar wind emitted from the sun collides with Earth's atmosphere and gravitates toward the poles due to their magnetic field. The different colors of the lights are determined by the altitude and chemical makeup of the atmosphere at the time. The lights have appeared in many different patterns, shapes, and sizes; each one uniquely beautiful in its own right.
The best time of year to see the Northern Lights
In some places in the world, you can see the Northern Lights any time of year — as long as it's dark, since the lights are not visible when the sun is out (via Library of Congress). But technically speaking, the best time to see the lights is during the darkest time of year: winter. In the U.S., you have a good chance of seeing the Northern Lights from November to February; however, at that time of year, the weather can be unpredictable and a sky thick with clouds or a winter storm may ruin visibility. You may also find some great views in late spring and early autumn, and some believe that the equinoxes get high amounts of aurora borealis activity (via Discover the World).
Each night, your best chance of catching a glimpse is between 9 p.m. and 2 a.m., and some of the brightest sightings have been reported between 11 p.m. and midnight (per Discover the World). Also, remember that your chances of seeing the Northern Lights are higher the more north you are. There are only a small amount of U.S. states that fit this bill, and it's usually only visible in these states when the solar activity is considerably strong. Your best chance of catching the aurora borealis in one of the following U.S. states is by gazing towards the northern horizon with an unobstructed view (per Space Tourism Guide).
Alaska
Out of all the U.S. states, Alaska tops the list as the most probable place to catch sight of the Northern Lights (via Trips to Discover). Alaska is an arctic wonderland encircled by the Aurora oval, which is the zone that gets the most frequent sightings, according to Forbes. And since it's the largest state in the U.S., there is no shortage of viewing options, but there are a few go-to places that shouldn't be missed. Fairbanks is the most popular Alaskan city to spot the Northern Lights — they even provide an aurora tracker website complete with maps, live videos, and recommendations of nearby locations to visit for optimum viewing. You might also consider booking a local tour or cruise to see the lights.
Another popular viewing destination is Denali National Park and Preserve, deep in the wilderness north of Anchorage (per Visit the USA). The park offers endless opportunities to camp and hike, with vast, dark skies far away from any city lights — perfect for Northern Lights viewing.
Minnesota
There are a couple of places in Minnesota that are considered the best spots for hunting the Northern Lights. Voyageurs National Park is a remote backcountry destination with almost zero light pollution, providing ideal viewpoints. The park is full of beautiful lakes and islands with isolated campgrounds, some of which can only be reached by boat or an extremely lengthy hike. If you prefer not to camp, there's the nearby Cantilever Hotel where you can relax in a rooftop hot tub while you search for the Northern Lights. The hotel also offers free yoga, whiskey tasting, and a sauna (via Outside).
Then there's Minnesota's Cook County, located in the northeastern tip of the state, right along the border with Canada. This area is nearly littered with lakes and scenic viewpoints, with countless lodges and campgrounds to choose from. Some of the most popular lakes here for night-time sky views include Birch Lake, Oberg Lake, and Lake Superior (per Trips to Discover).
Montana
With its nickname — Big Sky Country — the U.S. state of Montana is an obvious choice to see the Northern Lights. Again, keep in mind that your chances of sighting the lights are higher in northern locations where the skies are clear and free of light pollution. Given this, the best spot to see the aurora borealis in Montana is Glacier National Park. Anywhere in the park will give you stunning landscapes and awe-inspiring sights, with some of the most quintessential places to see the Northern Lights being the lake shores of Lake McDonald, Kintla Lake, or Bowman Lake (via Trips to Discover).
Other remote places that would also give you a chance to see the lights include Cascade County, Seeley-Swan Valley, Whitefish Lake State Park, Makoshika State Park, Missouri Headwaters State Park, and Big Sky. And while not common, there have been a few instances where it's been spotted at Yellowstone National Park. There have even been reports of aurora borealis sightings in the cities of Missoula, Boseman, and Kalispell (via Discovering Montana).
Michigan
Your best chance at seeing the Northern Lights in Michigan is to head for one of the undeveloped northern lake shores of the Great Lakes, away from the big city lights of Detroit. Michigan's Upper Peninsula may be the best viewpoint in the state, since it's one of the most northern points in the whole continental U.S. and the area receives regular aurora borealis sighting reports. In this region, Visit the USA recommends visiting Marquette along Lake Superior or the Keweenaw Peninsula to see the lights. But realistically, anywhere along the lake shores will give you a chance at a sighting.
If you find yourself in the Lower Peninsula of Michigan, head to Headlands International Dark Sky Park near Mackinaw City. It was essentially created for star gazing and is an ideal aurora borealis lookout (per Pure Michigan). In actuality, Michigan has nine dark sky preserves, which are designated areas with great sky views and little light pollution. Michigan's other dark sky parks can be found in Lake Hudson, Negwegon State Park, Port Crescent State Park, Rockport State Park, Thompson's Harbor State Park, Wilderness State Park, Keweenaw, and Dr. T. K. Lawless (via My Michigan Beach).
Maine
It can be a challenge to spot the Northern Lights in Maine due to light pollution, but it is feasible. Your best bet for minimal city lights is to travel to Acadia National Park, a protected area nestled on an island off the southern side of Maine — although you may still see some luminescence coming from the nearby town of Bar Harbor (via Space Tourism Guide). If you'd like to scout out a more northern location, your best option is Aroostook National Wildlife Refuge. This remote wilderness nears the border of Canada and spans across almost 5,200 acres of wetlands, forest, and grassland; boasting very little light pollution and gorgeous landscapes (via Visit the USA).
Other breathtaking backcountry spots to catch a glimpse of the Northern Lights in Maine include Schoodic Lake, Moosehead Lake, Sebago Lake, and Sugarloaf Mountain. Then there's the New England Outdoor Center at Baxter State Park, or you can climb up the highest peak in Maine, Mount Katahdin (via Van Life Wanderer).
Wisconsin
For prime Northern Lights viewing, head to the north of Wisconsin where the state lines Lake Superior. Apostle Islands National Lakeshore contains several scenic islands with lighthouses, sea caves, hiking trails, wildlife, and Big Bay State Park. The cruises don't operate in the winter months, but there's still plenty to see along the shoreline of Wisconsin, with beautiful viewpoints for the night sky. In the winter months, the caves freeze over, turning into ice caves with frozen waterfalls and spectacular icicles. Accessing these frigid caves can be a challenge in the winter, when Lake Superior typically freezes over, but it's doable. And if you've never tried ice fishing, this is the place to do it (via Fodor's Travel).
You can camp in the Apostle Islands, but the cold winter temps may have you opting for a cabin rental instead. Space Tourism Guide recommends staying in the neighboring town of Ashland to explore this area.
North Dakota
Your chances of seeing the Northern Lights are high anywhere within the U.S. state of North Dakota since the low population and vast undeveloped regions offer little to no light pollution. If you're looking for a backcountry viewpoint, consider visiting Theodore Roosevelt National Park, which boasts glistening golden grasslands and lots of wildlife, including bison. The park and its two campgrounds are open throughout the winter, however, services are limited, so be prepared with your own water and gear (via Space Tourism Guide). In the winter, you can expect snow and below-freezing temperatures at night.
Be sure to check the park's sky tracker to confirm when there will be clear skies to maximize your chances of catching the lights. And if camping in the snow doesn't sound appealing to you, you can stay in the nearby town of Medora which has lodging, restaurants, shops, and whatever else you might need (per Fodor's Travel).
Vermont
While it's not common to see the Northern Lights in Vermont, it is possible. The best time to catch them is from September to February, with clear skies and weather permitting (via Trips to Discover). The good news is an aurora borealis adventure in Vermont doesn't require a big trip to the backcountry. In fact, there have been breathtaking sightings right in Burlington along Lake Champlain. Your best bet at seeing them is to head to Malletts Bay in Colchester right along the lake (via Only In Your State) or check out Causeway Park and the Causeway Trail. These areas tend to offer darker night skies, plus the beautiful lake views can't be beaten.
Other honorable mentions for Northern Lights viewing in Vermont include Delta Park and Ricker Pond State Park. The Only In Your State site recommends keeping an eye on the National Oceanic and Atmospheric Administration website for the current aurora borealis forecast.
New Hampshire
Similar to Vermont, the state of New Hampshire doesn't top the list of most likely places to see the Northern Lights. It's not as far north as other states in the U.S. and there is a lot of light pollution that gets in the way. However, it is possible to see them if the solar activity is considerably high and you find yourself in Mount Washington Valley nestled in the White Mountain National Forest (via Space Tourism Guide).
Mount Washington is the highest peak in the region, so climbing it will most likely get you far enough away from the city lights to be able to catch a glimpse of the Northern Lights — if it's happening. In this area, the conditions have to be just right to see them: clear skies, strong solar winds, and it must be between the months of September to early January (per The Nature Seeker).
Washington
Your chances of seeing the Northern Lights in Washington are not particularly high — this state is infamous for its gloomy, cloudy skies and lots of rain. While rare, clear skies do happen and there have been many reports of aurora borealis sightings across the state (via Van Life Wanderer). One of the most iconic places to catch a glimpse of the lights may be in Olympic National Park atop Hurricane Ridge. However, roads can become icy and snow-covered in winter, so be sure to check the weather before your departure, as there may be road closures.
There are several other Washington state destinations just off the beaten path that offer great nighttime sky views and not as much of a commitment as Olympic National Park, like Steamboat Rock State Park, Rattlesnake Ledge, Okanogan National Forest, Mowich Lake, Illahee State Park, and Samish Overlook. Some of these spots are only open for daytime visitors, so if you're wanting to search for the Northern Lights, do your research and plan to bring overnight camping gear.
Idaho
While Idaho isn't an obvious destination to see the Northern Lights, it is possible to catch a glimpse of them here. For locations that don't get extremely frequent activity, like Idaho, experts recommend checking on the Kp-index for the area, which reports the geomagnetic activity and likelihood of seeing the aurora borealis. In general, a rating of four or higher is a good place to start, with higher numbers indicating a higher rate of visibility. In addition, while you can see the Northern Lights with the moon in the sky — which is quite beautiful — going when there is no moon, or at least the week before or after the new moon, will boost your chances as well (via Visit Idaho).
Some of the top Idaho destinations for seeing the Northern Lights include Chatcolet Lake in Heyburn State Park and Schweitzer mountain resort. Priest Lake may boast the highest probability of catching a glimpse since it's located in northern Idaho close to the U.S.-Canada border. The lake is dotted with campgrounds and resorts you can stay at while you wait for the lights to make an appearance.