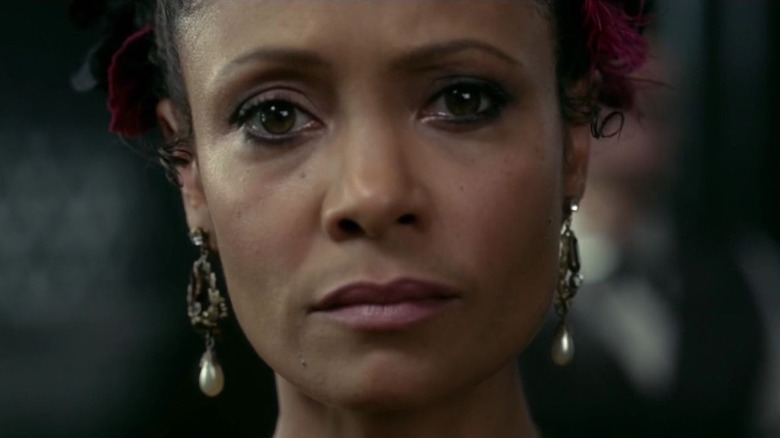 2022 has been a tough year for television. With streaming platforms like HBO Max and Netflix (per Techcrunch) losing money, TV shows are being canceled left and right. HBO Max has gone a step further, removing at least 81 shows and movies (per Indiewire) from the platform in order to cut costs. Network television hasn't fared too well either. The CW has taken a particularly liberal approach to cancellation, axing 13 of its shows (via FanSided) this year. There are still plenty of shows on air, but the future of these series remains more precarious than ever.
If you're a big television fan, you've surely noticed the huge amount of cancellations that have occurred in the last year. In May 2022, according to Yahoo!, a total of 17 shows were canceled over a period of just 48 hours. We live in an era dominated by social media, of course, so fans have not taken these cancellations lying down. Fan campaigns to save shows often emerge after such announcements, and they are occasionally successful. For example, "Magnum P.I." was canceled by CBS earlier this year, only to be picked up by NBC (via Variety) after sustained fan efforts to save the show.
Sadly, most of our favorite canceled shows haven't been renewed elsewhere, leading to a lot of devastated fans this television season. Need a refresher on all the shows that were taken out of the rotation this year? Check out our catalog of the saddest TV cancellations of 2022. May they rest in peace.
Warrior Nun
Netflix series "Warrior Nun," which first premiered in 2020, followed a young woman named Ava Silva (Alba Baptista), an orphan who wakes up in a morgue and realizes she has supernatural powers. She learns that she is the chosen one and is part of the Order of the Cruciform Sword, an ancient cabal of warrior nuns. Both the forces of good and evil want to use Ava's powers, and she must fight to define her own destiny.
Fans of the show were compelled by the life-and-death action and existential angst, as well as the burgeoning relationship between Ava and fellow nun Beatrice (Kristina Tonteri-Young), christened as "Avatrice." Sadly, fans' excitement about the show wasn't enough to save it from cancellation, as it was announced in December that the series would not return for Season 3.
As noted in Forbes, the decision to cancel the show is especially puzzling considering "Warrior Nun" has the highest audience rating on Rotten Tomatoes of any Netflix original. Women and LGBTQ fans of the show were especially devastated by the cancellation, as Netflix in particular seems to have a habit of canceling shows led by young women and queer people. Following the announcement, #RenewWarriorNun was trending on Twitter, with fans hoping that their favorite show might be resurrected by another network.
Gentleman Jack
The historical series "Gentleman Jack," a co-production between HBO and BBC, follows industrious landowner Anne Lister (Suranne Jones). Based on Lister's own prolific diaries, the show follows her life in 1830s Halifax. While involving herself in politics and industry, Lister also develops a relationship with Ann Walker (Sophie Rundle), a landed woman who becomes her wife and life partner. The series was especially popular with LGBTQ+ women, and BBC even created a documentary called "Gentleman Jack Changed My Life."
Sadly, these fan engagements weren't enough to save the show, as HBO announced its cancellation in July. Series creator Sally Wainwright has left the door open (via Radio Times) for the possibility of the series being picked up by another network, but nothing has come of this as of yet.
Following the cancellation, fans of the show took to Twitter using the #SaveGentlemanJack hashtag, and some even traveled to Anne Lister's ancestral Shibden Hall to participate in a flash mob, according to the Yorkshire Post. The series only ran for two short seasons, and considering the length of Lister's diaries – over four million words – there is certainly more story to be told.
Los Espookys
There is nothing quite like the HBO series "Los Espookys." Set in an unnamed country in Latin America, the Spanish-language series follows a group of friends who start a horror-themed business where their job is to create terrifying scenes for their clients. The business is run by the horror-loving Renaldo (Bernardo Velasco), who is joined by his best friend, Andrés (co-creator Julio Torres) — the disillusioned heir to a chocolate empire — and sisters Úrsula (Cassandra Ciangherotti) and Tati (Ana Fabrega). Co-created by Torres, Fabrega, and Fred Armisen, the series is a hilarious, strange, surrealist comedy like no other.
Unfortunately, HBO canceled the series after only two seasons, much to the disappointment of fans. TV critic Emily Nussbaum took to Twitter to voice her frustrations. "I'm so pissed off about 'Los Espookys' getting cancelled," she wrote. "it was a silly, confident, stylized comedy with fantastic characters (in both senses), set in a *highly* specific (camp, queer, satirical) universe." Other fans (via the Los Angeles Times) mourned the loss of a truly unique Latino show that did not revolve around U.S. interests. Luckily, Deadline reported that Julio Torres still has a first-look deal with HBO and HBO Max, and will be producing two new comedies for the company.
Batwoman
The CW canceled an astounding number of shows in 2022, and one of them was the DC series "Batwoman." While it was on-air, "Batwoman" had something of a tumultuous run. When the series first premiered, the title character was played by Australian actor Ruby Rose. Rose then left the show prior to its second season, later claiming (via THR) that she was fired. The second and third seasons followed Ryan Wilder (Javicia Leslie), a character who took on the mantle of Batwoman following the departure of Rose's Kate Kane.
Though a main-character replacement is a lot for a show to survive, many fans were pleased with how the series handled the change and how well Leslie took on this new role. The series was especially important to LGBTQ+ fans, who were thrilled to see a Black lesbian superhero on network television. Sadly, Javicia Leslie's time as the iconic DC character only lasted two seasons, as the series was canceled back in April.
Autostraddle writer Carmen Phillips called the news "a devastating blow to anyone cheering for a Black lesbian superhero," and many fans mourned the loss of a show that felt unique within the superhero genre. This won't be the last time fans see Leslie, however, as she will return (via EW) to the Arrowverse for the ninth season of "The Flash." The details of her appearance haven't been revealed yet, but fans are hoping it will be a proper sendoff for the character.
New Amsterdam
There are always quite a few medical dramas on air at any given time, so it's not surprising that they all don't stand the test of time. None of these shows have come anywhere close to the success of "Greys' Anatomy," which is currently in its 19th season. "New Amsterdam" is one show that has struggled to achieve anything close to that kind of longevity. Based on the book "Twelve Patients: Life and Death at Bellevue Hospital," the series follows Dr. Max Goodwin (Ryan Eggold), a talented doctor who becomes the medical director of New Amsterdam, the oldest public hospital in America. Dr. Goodwin sets out to reform the system, shaking up the outdated bureaucracy that inhibits good medical care.
The series was celebrated for its unique take on the medical drama, focusing more on the failures of the institution itself rather than salacious drama between doctors and their patients, though it was also criticized for its lack of subtlety. The ratings for the show were initially fairly strong, but they began to decline (via TV Series Finale) in the last two seasons, leading to the show's cancellation this spring. Season 5, the final season, has only 13 episodes and will conclude in early 2023.
Creator David Schulner told Deadline that while the show may be coming to an end, what he's most proud of is its recognition by the World Health Organization. Schulner shared that he received a letter from Christopher Bailey at WHO, in which Bailey revealed "how much many of us at WHO appreciate your work and your show."
Legends of Tomorrow
CW's "Legends of Tomorrow" was one of the most popular and long-lasting superhero shows on television, but it sadly came to an end earlier this year. Following the success of "Arrow" and "The Flash," "Legends of Tomorrow" expanded the DC TV universe — in more ways than one — and featured characters from the other "Arrowverse" shows. The series opened with Rip Hunter (Arthur Darvill), who went rogue following the death of his wife and daughter, recruiting a group of ragtag heroes and villains to assist him on his quest to stop an evil dictator from destroying the world.
The Season 7 finale aired in March, but it wasn't until April that fans and creators alike learned that it also marked the conclusion of the series as a whole. Co-showrunner Keto Shimizu took to Twitter to share the news, writing, "We are heartbroken, but also immensely grateful for the amazing work our cast, crew and writers have contributed to the little show that could." The fact that the show didn't end on its own terms was upsetting to some fans, with Twitter user @LgndsOfAvalance lamenting, "We've really lost our comfort show without a proper farewell season."
Like many of the shows canceled in 2022, "Legends of Tomorrow" prominently featured queer characters, with fans latching on to the relationship between Sara Lance (Caity Lotz) and Ava Sharpe (Jes Macallan), also known as AvaLance. Seven seasons is certainly an impressive run, but an eighth season would have given fans the closure they so desired.
Legacies
The CW has long been known as the premiere home for teen television, but its shows haven't been quite as successful recently. One of its most popular shows of the 2010s was "The Vampire Diaries," a dark, brooding series that capitalized on the bloodsucker craze of the era. The series spawned two spin-offs, "The Originals" and "Legacies." As the title suggests, "Legacies" follows the second generation of the characters we first meet in "The Originals." Klaus's (Joseph Morgan) daughter Hope (Danielle Rose Russell) and Alaric's (Matthew Davis) twins, Lizzie (Jenny Boyd) and Josie (Kaylee Bryant), are students at The Salvatore School for the Young and Gifted, an academy for young witches, vampires, and werewolves.
Along with the supernatural elements, fans of the show were especially enamored with some of its young couples, including Penelope (Lulu Antariksa) and Josie, as well as Ben (Zane Phillips), and Jed (Ben Levin). As Samantha Highfill wrote in EW, the cancellation of "Legacies" marks more than just the conclusion of a single show, but of a larger era. This year marks the first time in 13 years that there won't be a "Vampire Diaries" show on-air. Nonetheless, the vampire craze isn't entirely over, as Variety noted that creator Julie Plec is now working on a "Vampire Academy" series for Peacock.
First Kill
Netflix famously produces a ton of content, and not all of it becomes a smash hit. This summer, it seemed like Netflix had another winner on its hands, but a renewal was just not in the cards. "First Kill" is a "Romeo and Juliet"-esque take on the vampire love story — with a twist. The series follows Juliette (Sarah Catherine Hook), a young woman who develops feelings for classmate Calliope (Imani Lewis). The only problem is that Juliette is a vampire and Calliope is a monster hunter, and their warring families want each other dead. Fans were enamored with the show's queer take on the vampire love story, and a bloodthirsty fanbase developed right away.
Despite the rabid attention of fans, "First Kill" was canceled (via Deadline) less than two months after the premiere of its first season. Time magazine reported that its cancellation was puzzling given the fact that the series was "in [Netflix's] global Top 10 TV list for three weeks, racking up 97.66 million hours watched in that time alone." Disappointed fans were quick to bring up the fact that queer-centric shows are often first on the chopping block, with "First Kill" being yet another example of this troubling pattern.
Fans also pointed out that the show was poorly marketed to begin with, something showrunner Felicia D. Henderson concurred with. She told The Daily Beast that she was disappointed in the lack of effort Netflix put into the marketing, something that may have led to the show's eventual demise.
The Baby-Sitters Club
Throwback shows and movies are all the rage these days, and some examples of this are more successful than others. One nostalgic project that seemed to really hit the sweet spot for a lot of viewers was the Netflix series "The Baby-Sitters Club," an adaptation of the book series of the same name from the '80s and '90s. Set in Stoneybrook, Connecticut, the show followed five middle-school girls who decide to start a babysitting business.
The series received rave reviews, with the New York Times concluding that it "defies and exceeds expectations," and IndieWire writing that Season 2 of the series "keeps its charm while expanding for even more meaningful stories." Time's review of the series was even more effusive in its praise, calling the series "the only pure thing left in this world." Despite how positively the show was received, it was canceled back in March.
Creator and showrunner Rachel Shukert spoke to Vulture about why she believed the show was canceled. She revealed that the unprecedented success of "Squid Game" — which premiered a month before Season 2 of "The Baby-Sitters Club" — threw things out of proportion, changing the metrics by which Netflix defined a successful show. Shukert also suggested that media aimed at women and girls often isn't taken as seriously as media aimed at men and boys, something which may also account for the premature cancellation of the beloved series.
Minx
The cancellation of the HBO Max series "Minx" is probably the strangest one of the year. The series is set in the 1970s and follows Joyce Prigger (Ophelia Lovibond), a young feminist living in Los Angeles. Joyce begins an unlikely partnership with Doug (Jake Johnson), a sleazy publisher, in order to create the first erotic magazine for women. The series was positively reviewed by critics, with many noting that it didn't sacrifice smarts for laughs.
What makes its cancellation so odd is that it was already renewed for a second season when it got canceled. Odder still is the fact that Season 2 was almost completed when news of the cancellation surfaced. Star Jake Johnson wrote on Instagram that they were "about a week away from being finished shooting" at the time of the announcement. Johnson also wrote that he hopes the first and second seasons of the show will find a new home soon.
The cancellation of "Minx" is almost certainly another cost-cutting measure on the part of HBO Max, which has been axing shows left and right since its merger with Discovery was announced. Previously released shows and films have also been removed from the platform to save money, a fate that will also sadly befall Season 1 of "Minx."
Westworld
Based on the Michael Crichton movie of the same name, HBO's "Westworld" was once one of the biggest shows the platform had to offer. The series racked up an astounding 54 Emmy nominations over four seasons and, according to Deadline, Season 1 of the show was the most-watched first season of any HBO original, with an average of 12 million viewers.
The dystopian series takes place at a futuristic Western theme park run by "hosts" — a group of android robots — who are programmed to allow visitors to live out their wildest fantasies. Hosts' memories are wiped after each session, and they are unable to fight back until a software update causes two hosts, Dolores (Evan Rachel Wood) and Maeve (Thandie Newton), to regain their memories and become sentient.
Despite its status as one of HBO's most successful shows, "Westworld" was canceled in November following the conclusion of its fourth season. Per The Hollywood Reporter, viewership for the show declined significantly in Season 3 and Season 4, and viewers found it more and more difficult to follow the complicated storylines. Though the finale of Season 4 was not a total cliffhanger, co-creator Jonathan Nolan shared in an interview with Deadline that he had "always planned for a fifth and final season" in order to conclude the story. There's always a chance the series could continue on in another form, but for now, the androids have finally been powered down.
Desus and Mero
There is no talk show quite like "Desus and Mero," which is why its sudden departure from our screens is so disappointing. Hosted by Desus Nice and The Kid Mero, the series is an outgrowth of their successful podcast, "Bodega Boys." The Bronx natives have a unique talk show style, tackling topics like sports, pop culture, and politics with an irreverent wit and off-the-cuff commentary. Their show originally aired on the now-defunct Viceland before moving to Showtime in 2019, where they were able to interview a wide variety of guests including Lil Nas X, Pete Buttigieg, Lin-Manuel Miranda, the Wu-Tang Clan, and Spike Lee.
Then it was announced that the series would not be continuing this summer, much to the shock of dedicated fans. The end of the series came as a surprise to many, though Mero shared on the podcast "Basic!" (via Variety) that he and Desus "had discussed pursuing separate interests over a year prior to the show coming to an end."
According to a report from Puck, the dissolution of their partnership may have stemmed from a disagreement about their manager, Victor Lopez. Lopez had been a supporter of their career from the very start, but he was supposedly asked to leave Showtime due to reports of workplace harassment. As the story goes, Desus supported Showtime's decision to fire Lopez, while Mero felt they should not abandon Lopez so easily.
Saved by the Bell
Reboots are not always successful, but it seemed like Peacock's new vision for "Saved By The Bell" might be one of the lucky ones. The series, which premiered in 2020, focused on a new generation of students at Bayside High following the governor's order to transfer low-income students to the prestigious school. The show also brought back several characters from the original, including A.C. Slater (Mario Lopez), Jessie Spano (Elizabeth Berkley Lauren), and Zack Morris (Mark-Paul Gosselaar). The show was reviewed positively by critics, with The Guardian writing that "the reboot depicts social issues in a way that feels authentic and in line with the show's tone."
But "Saved By The Bell" was canceled (via Deadline) in May 2022, much to the chagrin of fans frustrated by the abrupt ending and the storylines left unexplored. Jessie and Slater seemed like they were just about to enter into a relationship at the end of Season 2, while showrunner Tracey Wigfield also revealed on Twitter that Daisy (Haskiri Velazquez) and Mac (Mitchell Hoog) would have gotten together had the series been renewed. Wigfield also told TV Line last year that she wanted to bring back Leah Remini as Stacey Carosi for Season 3, something we will sadly never get to see.
Legendary
Reality competitions are one of the most popular genres of TV in America, but it's not easy to create an entirely original take on the format. For fans of the HBO Max series "Legendary," what was exciting about the series was precisely how unique it was. "Legendary" focused on the queer and trans-centric ballroom community — first introduced to the American public in the 1990 documentary "Paris Is Burning" — and followed the format of reality shows like "Project Runway" and "America's Next Top Model." Each season saw several teams — known as "Houses" — show off their voguing skills and fashion designs for the chance to win a cash prize.
As it was one of the few shows on the air that centered on the talents of queer Black folks, fans were properly upset when it was announced in December that the series was scrapped. One of the show's regular judges, Leiomy Maldonado, posted on Twitter, "Anyone who knows me knows how passionate I am about ballroom and it's existence … I feel broken." Maldonado was joined on the show by judges Law Roach and Jameela Jamil, as well as a rotating selection of guest judges, including Megan Thee Stallion and Dominique Jackson.
"Legendary" — yet another queer-centric show canceled in 2022 — was a joyful (and important) experience for viewers and participants alike. "During a time of anti-LGBTQ+ backlash, the talent behind the show said they felt a particular urgency with the third season to represent and support young queer people by showcasing their talents," Samantha Riedel wrote at Them.