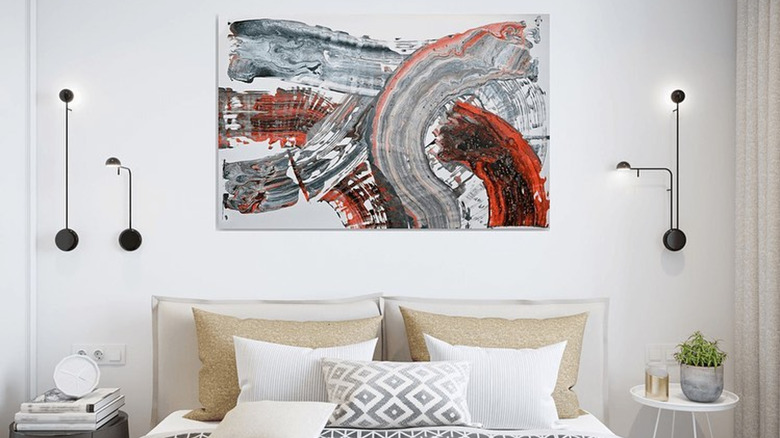 Finding the perfect artwork for your home might involve tracking down pieces that match and complement your existing décor. You might also want creative items that capture a certain vibe or enhance a particular style, not to mention art that's deep, meaningful, and potentially a conversation starter. On the other hand, you may simply want to find art that both looks good in your living space and makes you feel good. In that case, you should consider opting for abstract art.
"My works are not conceptual, political, or anything like that. I'm not making a statement. My biggest wish would be that my paintings create an emotional reaction, or trigger their imagination which sets them off on a journey," abstract painter and dancer Bianca Dakli told Smart Artist Hub when asked about the effect she hopes her art has on those who see it. "To create harmony and peace of mind in a sort of sublime way so that even if the painting is 'dark' or mysterious, it's not necessarily making the observer uneasy or uncomfortable but curious and wondering."
If that's left you intrigued and you find yourself inspired by the idea of creative décor that will both captivate and delight you, then you'll definitely want to check out these contemporary abstract artists who are creating eye-catching work that you'll surely want in your home.
1. Bianca Dakli
Originally from Rome, Bianca Dakli (who was mentioned above) can now be found living and working in Berlin. Focusing on both nature and dance as the inspiration for her artistic creations, she ends up producing abstract pieces that are colorful, lively, and whimsical. By using acrylic paint on canvas, Dakli also produces artwork that boasts stunning textures that become more mesmerizing the closer you get to the piece. Thanks to their vibrant and versatile style, Dakli's work would suit anything from a trendy and chic living room to a bedroom that features a creatively compelling style.
2. Alteronce Gumby
A graduate of the Yale School of Art, Alteronce Gumby used his educational journey to go after a Master of Fine Arts in Painting and Printmaking. Along with taking on various residencies as well as winning multiple awards and taking part in both solo shows and group exhibitions, Gumby now lives in New York City, which is where he creates work that ranges from painting and ceramics to installation pieces and performance art. When it comes to his visual art, Gumby creates pieces that use rich shades and are inspired by space and our place in it.
3. Naomi Yuki
Naomi Yuki is an artist who is based in Osaka, Japan, and while her work is abstract, it's also far from random or repetitive. Instead, she creates pieces that are intentional and are meant to convey the base layers of ourselves. Whether you would call that our spirit, our souls, or our inner identities, Yuki allows the shapes and colors in her work to exhibit various natures and expressions. Meant to spark an emotional response, you may find yourself attracted to particular pieces that explore different aspects of both life and those who are living it.
4. Sumit Mehndiratta
Although Delhi-based Sumit Mehndiratta went to the UK's Manchester Metropolitan University to earn a Master of Science in international fashion marketing, he now works as a self-taught artist who has shown his work in a number of countries around the world. Letting his creative pursuits wander into different techniques, mediums, and realms — including canvas, paper, wall sculptures, and digital art, among others — he leans toward abstract pieces. There's no doubt one of his creations would make an intriguing piece of décor.
5. Bea Garding Schubert
Along with focusing on fine art while at the Braunschweig University of Art in Germany, Bea Garding Schubert then spent time visiting various locations around the world and now lives in Mallorca, Spain, and the La Palma/Canary Islands. This is where she now spends her time producing art in her signature style, which is motivated by an urge to capture feelings of happiness as well as hope. She does that with the help of bright colors, splashes of paint, scribbles, smudges, and playful details that may very well put a smile on your face.
6. Kathryn MacNaughton
To create her work, Toronto-born Kathryn MacNaughton takes inspiration from vintage colors and modern digital art as well as collage and cut-out pieces. Now calling Lisbon home, MacNaughton's abstract paintings use dynamic color palettes and engaging compositions to bring her art to life. Combining curving lines and layered shapes to achieve stunning designs, these pieces are almost like digital sculptures that have been created with acrylic paint on a canvas. Whether your residence features pretty pastels or trendy neons, a piece by MacNaughton could likely be the focal point that a room in your home needs.
7. Osamu Kobayashi
Whether putting together pieces that use enough colors to fill a rainbow, a pair of striking shades, or simply a peek of vibrance against an otherwise dark background, Osamu Kobayashi is responsible for art that swerves, curves, and merges in delightfully distinctive ways. Clearly unafraid to use bold touches in all aspects of whatever he may be working on, Kobayashi — who comes from Columbia, South Carolina, studied in Baltimore, Maryland, and can be found these days in Brooklyn, New York — produces work that boasts strong lines and blended hues that are equally beautiful, especially when used together.
8. Lisa Carney
By dripping, pouring, and splattering paint on intended surfaces, Montreal's Lisa Carney ends up with abstract pieces that are collected by art lovers far and wide. Fueled by her desire to share the beauty she sees around us and, in turn, reflect that in her work, Carney tends to work on more than one piece at a time in order to produce a series that is connected by common ideas and methods. Although her process is instinctual, the results offer traces of nature, hints of earthy substances, and even floral touches.
9. Tarini Ahuja
Although Tarini Ahuja was born and still lives in India, her work is inspired by the Japanese concept of "Wabi-Sabi," which aims to capture the beauty in things that might normally be missed or discarded. While embracing imperfection as something to be treasured, you may still find Ahuja's abstract work to be perfectly harmonious. Thanks to the calming colors and soothing painted layers, each piece is both calming and dreamy. That means they may be just what you're looking for when it comes to art for your serene living space.
10. Leah Guadagnoli
When you see the art made by Leah Guadagnoli, you'll notice that she doesn't seem to allow herself to be limited when it comes to colors, shapes, designs, or mediums. Just take a look at an example of her wall art, which may look like a painting, but is actually a three-dimensional creation. Inspired by her upbringing that included pop-culture influences, Guadagnoli uses kitschy and campy elements to put together modern pieces that might hit you with an unexpected sense of nostalgia. That familiar feeling may make this art a comforting addition to your stylish home.