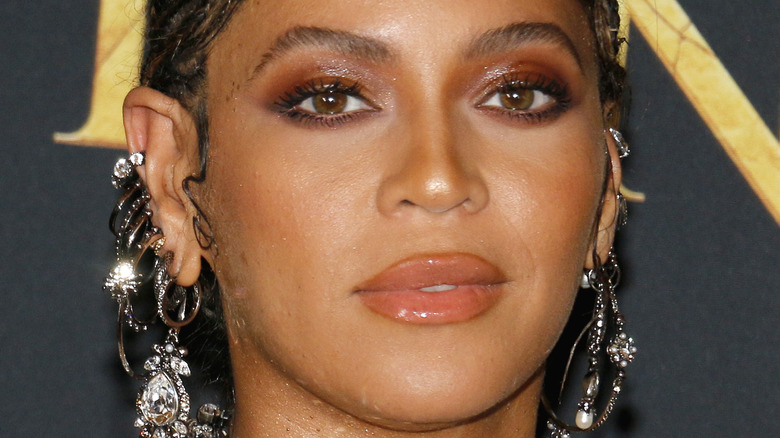 In America, we may have fought a revolution to reject actual royalty, but nowadays our pop stars and movie stars are easily the equivalent. Nepo babies aside, many celebrities weren't necessarily born into wealth and have often worked hard to achieve their "royal" status. Meanwhile, others find themselves becoming heirs to a pop cultural crown — as well as a lavish lifestyle. At the top tier of such celebrities are undoubtedly Beyoncé Knowles and Shawn "Jay-Z" Carter. The couple certainly lives like a King and Queen and their three children accordingly get treated like a prince and princesses, too. Blue Ivy Carter was born in 2012. She then became an older sibling to a brother and a sister in 2017 when Beyoncé delivered twins.
Having children has had a profound effect on the superstar. In a 2020 interview with British Vogue, she explained, "Motherhood has been my biggest inspiration. It became my mission to make sure [Blue Ivy] lived in a world where she feels truly seen and valued." Clearly, the parents shower their children with love and support but they have also hinted at potentially spoiling them. On "Oprah's Master Class" (via Daily Mail), Jay-Z explained about the recently born Blue Ivy, "At the end of the day, I just know I'll probably have the worst, spoiled little kid ever." The rumored lavish lifestyles of Beyoncé and Jay-Z's children certainly suggest as much.
Blue Ivy has been showered in diamonds and gold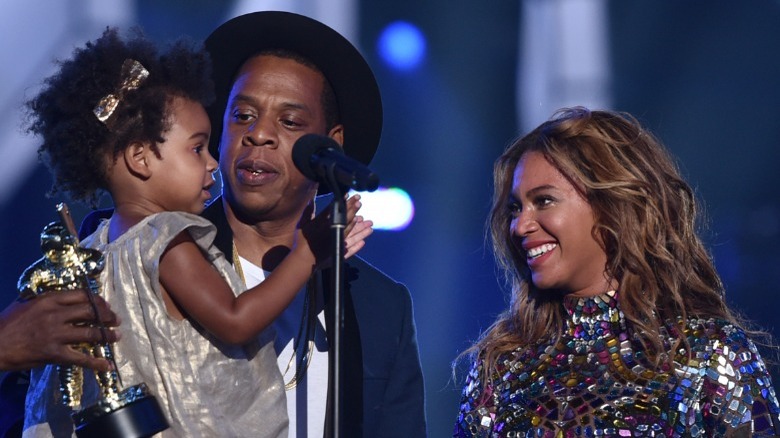 Beyoncé and Jay-Z's first child, Blue Ivy Carter, was born into the lap of luxury. As a baby, she was reportedly being pushed around in a $50,000 stroller decked out with diamonds, per Hello! Magazine. According to Insider, shortly after being born, the couple's firstborn already had $1.5 million worth of possessions. One of those possessions was a $600,000 gold rocking horse by Japanese jeweler, Ginza Tanaka.
Blue Ivy also apparently enjoyed her meals of baby food in a Swarovski crystal high chair worth over $10,000. An insider told the Evening Standard that Beyoncé and Jay-Z had also sent one to Kim Kardashian and Kanye West when the "Renaissance" hitmaker couldn't attend the reality star's baby shower. Blue Ivy undoubtedly received a host of gifts from the rich and famous for her first birthday but none was more extravagant than the gift from her parents — an $80,000 diamond-encrusted Barbie doll, according to HuffPost.
As she's gotten older, her inclination for expensive possessions has only grown stronger. In 2022, at the age of 10, Blue Ivy bid over $80,0000 on a pair of Lorraine Schwartz diamond earrings at an art auction, per Page Six. According to the outlet, her grandmother, Tina Knowles, was modeling the earrings on stage for the auction, and her granddaughter was encouraged to make a bid by her parents. Sadly, she didn't ultimately win the earrings — the final bid was $105,000. However, the incident proves the tot has developed expensive tastes.
Beyoncé and Jay-Z's twins used bejeweled pacifiers
Beyoncé gave birth to twins Rumi and Sir in June 2017. Not to be outdone by their older sister, these babies were pampered and showered with expensive gifts immediately upon making their appearance on Earth. Naturally, a common plastic pacifier wasn't going to make the cut. Instead, Beyoncé and Jay-Z purportedly splurged on some that would fit their lifestyle. "Jay fell in love with $2.5 million bejeweled pacifiers by Suommo and a 3-carat diamond pacifier set in 18K white gold for $17,000," an alleged insider told Life & Style. The parents also reportedly purchased a pair of $3,600 Versace strollers and $1,200 Burberry diaper bags in preparation for the birth of the twins. According to the insider, Rumi and Sir were living the most lavish lives possible as babies, with a nursery set-up alleged to be worth around $10 million.
Still, as any new parent will likely agree, it can be hard to hold back on cute goodies when you're blissed out on the joy of a newborn. Sure, most parents don't drop a few million in doing so, but still, the couple seemed eager to enjoy the formative years of their twins. During a 2018 appearance on "The Van Jones Show" (via Essence), Jay-Z sounded like the happiest man in the world as he joked, "We are in a beautiful time now because they are seven months and they can't move … We are going to enjoy these couple of months until they start running, and then it's over."