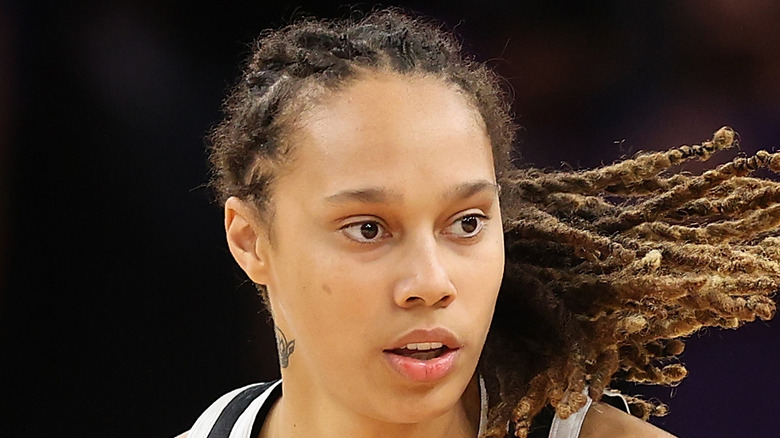 Brittney Griner is at the center of mainstream attention, but unfortunately it has nothing to do with her basketball prowess. She was sentenced to nine years in prison by a Russian court on August 4, 2022, escalating a several months-long legal nightmare that has kept her detained in Russia, according to the New York Times. Griner was first arrested on February 17, 2022, after Russian authorities accused her of smuggling hashish oil into the country, but the news didn't become public until March 5, per the New York Times. She was only freed when the Biden administration traded a convicted Russian arms dealer, 10 times the criminal Griner could ever be, in order to set her free, per CNN.
In a perfect world, the conversation on Griner would be centered on the subject she'd prefer to be remembered for: being a WNBA living legend. She's a seven-time All-Star who led her team, the Phoenix Mercury, to a championship only a year after getting drafted. This is after her historical college run, in which she scored a record-setting 2,000 points with 500 shots blocked, both of which had never before happened in NCAA history by a male or female player, per the New York Times. Her impact on the sport and her team was so tangible that her Mercury teammates held a 42-second moment of silence in honor of Griner and her jersey number, according to the New York Times.
Brittney Griner was a national high school star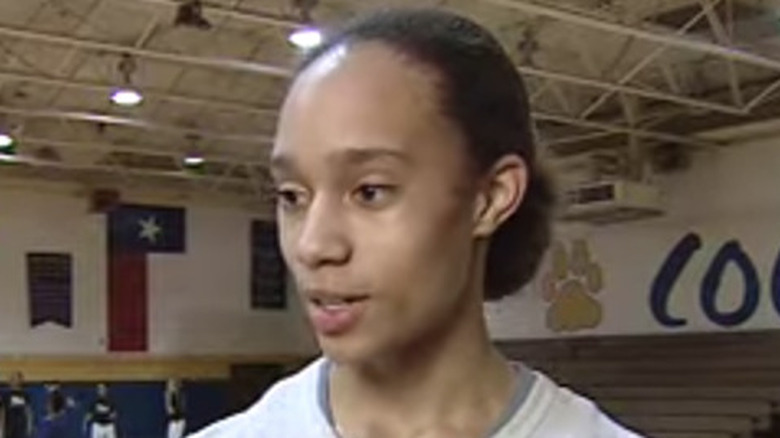 When she was only in high school in her hometown of Houston, Texas, Brittney Griner made national headlines as a basketball prodigy. As ESPN details, she began practicing with the boys' basketball team at her high school when she was a sophomore, the same year she averaged 23 points, 11 rebounds, and six blocks. It was around this time that she began training in order to dunk and received special coaching from her high school's football coaches to build up leg strength. News of her dunking made ripples throughout her school and soon grabbed media attention. A story by Houston's NBC affiliate, KPRC, included footage of her dunking, and the clip went viral on YouTube. It caught the attention of NBA star Shaquille O'Neal, which led to a meeting between the two.
A dunk she made during a high school playoff game made the No. 3 highlight on SportsCenter. And when she played for the youth basketball club, DFW Elite, her fans crowded games and clamored for her autograph. She even received fan mail from the state penitentiary. Griner was compared by coaches to another female basketball prodigy, Candace Parker, but many agreed that Griner's special talent was unprecedented among girls her age and put her in a class above the rest.
She dealt with bullies as a gay teenager
Although blessed with prodigious talent, Brittney Griner didn't have an easy childhood. She was bullied not only for her towering stature but for being gay, as well. In an interview with the Associated Press (via Sports Illustrated) in which Griner and the other top two picks in her draft year confessed to being bullied as children, Griner said she eventually overcame the experience and wanted to devote her time to helping children and the LGBTQ+ community. Fellow draft star Skylar Diggins said Griner was the perfect example on how to handle criticism.
However, Griner didn't find respite even at home. She was a senior in high school when she told her father she was a lesbian. He got angry and forced her to leave home, per Griner's memoir, "In My Skin" (via the New York Times). And as a public figure who is openly gay, Griner's rise to stardom in socially conservative spaces often became personal. While at Baylor University, a college with Christian values, the student handbook forbade homosexuality and LGBTQ+ advocacy, per People. Although Griner first felt at ease after her teammates welcomed her, her coach began urging her to stay quiet about her personal life, according to Griner's memoir (via the New York Times). When Griner posted something romantic in light of Valentine's Day for her girlfriend on Twitter, she was forced to take it down after a sit-down with the coach.
Two Houston mayors have named days after her
According to CNN, Brittney Griner was so accomplished as a high school basketball player — like setting a block record at her school with 25 in a single game — that her jersey is honored with 24 others at the Women's Basketball Hall of Fame's Ring of Honor. Naturally, this led the mayor of Houston, Bill White, to declare May 7, 2009, as "Brittney Griner Day."
But that wasn't the last time Houston named a day after her. As Houston Public Media details, in the aftermath of Griner's arrest, her hometown led a rally in her support outside the Toyota Center, which hosts the Houston Rockets NBA team home games. In attendance was current Houston Mayor Sylvestor Turner, who said he was proud to count Griner among Houston's citizens. He then declared the day of the rally, June 6, as "Brittney Griner Day."
She was the only player on the U.S. national Olympics finalist still in college
While only in college, Brittney Griner was among the 21 finalists for the 2012 U.S. Women's Olympic Basketball team, per USA Basketball. To put it in perspective, a college athlete hadn't been chosen for the women's team since 1988. The honor was all the more impressive considering the company she was in; the other finalists were Olympic gold medalists, WNBA champions, and winners of international championships from the European league. They all had a massive load of experience, definitely more than young Griner.
But she never made it to the 2012 Olympics. She released a statement and declined the offer to go to London, citing school obligations and an illness in the family. She said she was disappointed about the lost opportunity but hoped to make the team in the future, per the AP (via Bleacher Report). As it was, many believed that a spot on the team would've been given to her if she agreed. Coach Geno Auriemma initially announced only 11 of the 12 spots, and analysts assumed he was holding out hope that Griner would consent to join. He went on the record saying that he was a big fan of Griner's and believed she would increase their chances of winning, per AP (via ESPN).
Brittney Griner owns the WNBA dunking record
Brittney Griner doesn't just hold the records for dunks in the WNBA. She set a record in just her debut for the league. In her first game for the Phoenix Mercury against the Chicago Sky in 2013, her two dunks in a single game made her the first player in WNBA history to do so, reports the Huffington Post. At the time, there were only three dunks made in regular season history, and Griner immediately added two for the books.
And the dunks kept on coming. By the 2021 playoffs, Griner had 23 career dunks — 17 occurred in the regular season, per ESPN. To put it in perspective, the league had only seven players dunk in its entire history, per ​​Insider. To account for most of the WNBA's dunking record is pretty monumental, and Griner thought so too, calling it a pretty monumental feat to be the leader (via ESPN). Interestingly, however, the most dunks she's ever made came during the 2021 season, the most recent season she's played for the league. Why? She's afraid of getting too old. Once she turned 30, Griner was afraid that her physical abilities would start to slow down. So since "you only live once," Griner has made it her mission to pump up her tally. Of course, it doesn't hurt to show the world that women can dunk, which Griner believes is very important.
She was suspended for a domestic violence incident
In May 2015, Brittney Griner and her then-wife, Glory Johnson, were suspended from the WNBA as a result of a domestic violence issue, per the New York Times. A month before, Griner and Johnson were arrested in their home in Phoenix, Arizona, and were charged with disorderly conduct. Johnson's sister called the police after the couple's verbal fight became physical, and the two were unable to be seperated, per the New York Times. Although they didn't need any immediate medical treatment, Griner received a bite wound on her finger, and Johnson was later found to have a concussion.
Griner said the altercation came as a result of all the pressure bearing down on her and Johnson. They were beginning a new life together, having just bought a house, and were only a month away from their wedding. Griner eventually pleaded guilty and was ordered to complete 26 weeks of domestic violence counseling. They were both suspended 17 games, the longest suspension of WNBA history.
She protested the national anthem in 2020
Many athletes voiced concerns about the national anthem amid the Black Lives Matter protests in 2020, and Brittney Griner was among them. As AzCentral details, during the season opener, Griner's team was absent from the floor while the national anthem played in honor of the late Breonna Taylor, and Griner said she would keep the pattern going for all games. During a teleconference, she went even further and said that the National Anthem shouldn't be played at all for WNBA games in order to bring attention to police brutality. She tempered her comments noting that she takes pride in her country and respects the men and women who protect it — even going so far as to note her father was a Vietnam veteran and an officer for 30 years, and Griner herself wanted to be a policewoman as a child.
Griner explored other ways to remember Taylor, who was killed by police during a raid of her home in 2020. During that season, Griner wore Taylor's name on the back of her jersey, according to AzCentral. This was in addition to her established reputation for political and social activism, having raised money for COVID-19 relief funds and Arizona animal shelters. Mercury guard Diana Tuarasi called Griner a leading voice in social justice. Griner has even used her position to urge fans to vote.
She made more money in Russia than in the U.S.
There's one sad detail underneath all the drama of Brittney Griner's arrest in Russia that sometimes gets forgotten: the reason why she was there in the first place. She wasn't a tourist visiting Lenin's mausoleum or snowboarding the Red Valley. Instead, Griner was in Russia because she received a better salary there then in the WNBA. As a player for the UMMC Ekaterinburg, Griner received more than $1 million a season. In comparison, Griner earned $221,450 for the 2021-2022 WNBA season, according to Fox Business.
Griner isn't the only WNBA player to play overseas; approximately 70 players took advantage of the international pay for the 2022 off-season, per the New York Times. In fact, Connecticut Sun forward Jonquel Jones played for the same Russian team as Griner but managed to escape shortly after Russia invaded Ukraine. And it seems the international deal is a hard one to refuse; WNBA legend Sue Bird once said that the pay essentially made her a millionaire, according to an interview with 60 Minutes.
She's made several allies in Russia
Brittney Griner's detainment in Russia has been framed as a political move by many analysts, so it's easy to forget that Griner has many friends in Russia. During court proceedings, Griner's attorney, Alexander Boykov, told the court about the friendships and mutual respect she developed with her UMMC Ekaterinburg teammates, having led them to multiple championships. He also said Griner's imprisonment contradicted Russia's previous efforts to depoliticize sports, according to Jezebel. At her sentencing hearing, Griner held up a photo of her Russian team, who she had intended on joining for their playoff season before being arrested at Moscow's Sheremetyevo airport, per Reuters. She said the young female fans who gathered in the stands to watch her play encouraged her to return season after season, per Jezebel.
Griner's Ekaterinburg teammate and captain, Evgeniya Belyakova, and the team's general manager, Maxim Ryabkov, were presented as character witnesses, per ESPN. They fended for Griner and testified to her good behavior throughout her six seasons with the team. Belyakova said the team missed Griner's energy and hoped the verdict would go her way. Ryabkov said Griner was responsible for much of the team's success and the success of women's basketball in Russia. And not just in basketball — Griner made friends in prison, too. In court, Boykov described the sympathy Griner earned from guards and other prison inmates, who often shouted to her as she walked by, "Brittney, everything will be okay!" per Jezebel.
She maintains her crime in Russia was an accident
Although Brittney Griner pled guilty to the charges brought by the Russian court, she still doesn't know how cannabis oil landed in her luggages, according to AP. Griner said she packed in haste while recovering from COVID-19. She assured the court she never intended on bringing the vape cartridges containing hashish oil to Russia and was aware of Russia's laws toward cannabis. She said she used the oil as treatment for sports injuries and had a doctor's recommendations for its usage. A costly accident, but an accident nevertheless.
Immediately upon news of Griner's detainment, people speculated that the charges were politically motivated. As the New York Times notes, in the past, U.S. officials accused Russia of convicting American citizens on phony charges, and if that's the case now, then Griner's arrest was merely a means for Russia to gain political leverage. Congressman Joaquin Castro added to this narrative when he accused Russia of using Griner as a political pawn and compared the situation to the arrest of Trevor Reed, whose family and supporters maintain that his charges of assaulting Russian police officers were baseless.
Brittney Griner supported her wife behind bars
Long-distance relationships are hard enough without knowing your loved one is imprisoned in an enemy state. But so it is with Brittney and Cherelle Griner. The two have managed to keep in contact, in varying forms, throughout Brittney's legal process. During a break from court proceedings, Brittney took advantage of a brief interview with ABC News to convey a message for her overseas spouse: "Good luck on the bar exam." The couple mainly communicated through letters, although the letters weren't consistent. Sadly, their fourth anniversary came and went as Brittney sat in prison, but U.S. officials nearly allowed them an opportunity to speak on the phone, which they hadn't done since Brittney was first arrested. However, a "logistical error" forced them to reschedule.
The experience was incredibly tough for Cherelle, who refused to watch the broadcasting of Brittney's trial in Russia for the sake of her mental health, according to an interview with The Grio. Cherelle was sometimes heartbroken reading Brittney's letters, since Brittney kept asking for an update on President Joe Biden's response, which hadn't come, per CBS News. Brittney then took it upon herself to write to Biden, and Cherelle eventually received a call from the president. As for Brittney's health, Cherelle personally addressed the issue in letters, fearing that photos and updates from Russian authorities were fraudulent and attempts at spreading disinformation.
She could have coached basketball at her penal colony
A "penal colony" might sound like something out of another, long-gone century, but that's exactly where Brittany Griner is headed — and the experience will be as alien to her as you'd expect. For the next nine-and-a-half years, if she doesn't get swapped with a Russian prisoner or she loses her appeal, Griner will have to work as a seamstress or woodworker, depending on the specific colony, according to The Washington Post. There's also cleaning and work related to feeding prisoners to be done, reports People. But according to Ivan Melnikov, the vice president of the Russian Department of the International Human Rights Defense Committee, Griner can probably find work closer to comfort: coaching basketball.
Griner wouldn't be the first; two Russian soccer players were able to coach other inmates when they were imprisoned. But it all depends on how lenient the prison governor is. Otherwise, the outlook is grim, with political prisoner Alexei Navalny calling Penal Colony No.2 where he is imprisoned "our friendly concentration camp," via The Washington Post.
She was released through a prisoner swap
Brittney Griner's spell in Russian prison came to an end in December 2022. That month, Secretary of State Anthony J. Blinken announced (via a State Department statement) that her release had been successfully negotiated and was en route back to the United States in the company of Roger Carstens, special presidential envoy of hostage affairs.
Brittney was freed in a prisoner exchange with Russia, who took back influential arms dealer Viktor Bout. According to The New York Times, the negotiations behind the swap played out over months and were complicated by a second U.S. prisoner held in Russia, former Marine Paul Whelan. The Biden administration wanted to secure his and Griner's release, but Russia refused unless assassin Vadim Krasikov was also exchanged. There were also doubts within the U.S. diplomatic corps that Russian president Vladimir Putin was serious about any potential deal that might bring the Biden administration positive headlines before the 2022 midterm elections.
It was only after the elections that the impasse was broken, with the Russians willing to exchange Griner for Bout if the other prisoners were left off the table. Despite concerns for Whelan's fate and the advice of the Justice Department, the administration ultimately decided to take the deal, the first serious offer they'd received from the Russians.