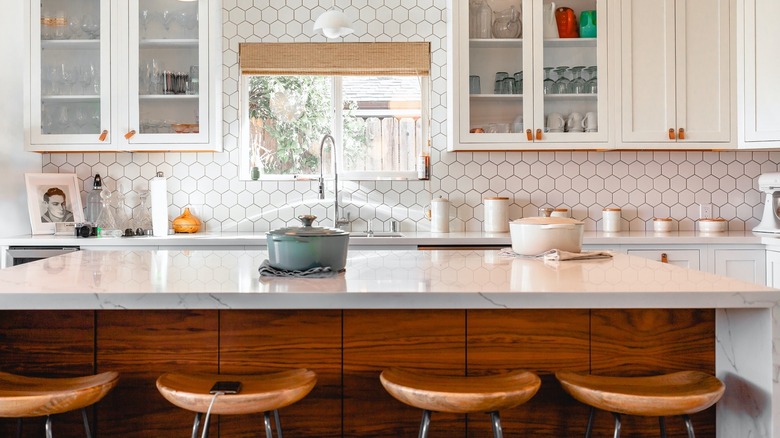 When designing our space, we naturally gravitate our focus to grand details like flooring, backsplash, or furniture. Because of this, we often overlook a key element of every home: grout. While grout may not sound glamorous, it's one of the most customizable aspects of a renovation. Grout comes in various materials, colors, and sizes, and serves different purposes, from functional to decorative.
According to Aarsleff Ground Engineering, the first use of grout can be traced back to 1802 in France, when Charles Berigny repaired a slide gate with liquid grout. Later grout was used in France to repair sea port locks and masonry. Since then, we have come a long way with grout, and today we typically find it wedged between our bathroom, kitchen, and patio tiles. While grout is practical in nature, it can still add a high dose of style to a room if chosen correctly. It can help tiles pop or help them blend seamlessly into the background, depending on your vision. Because of that, here are tips on choosing the best grout for your project.
What is grout?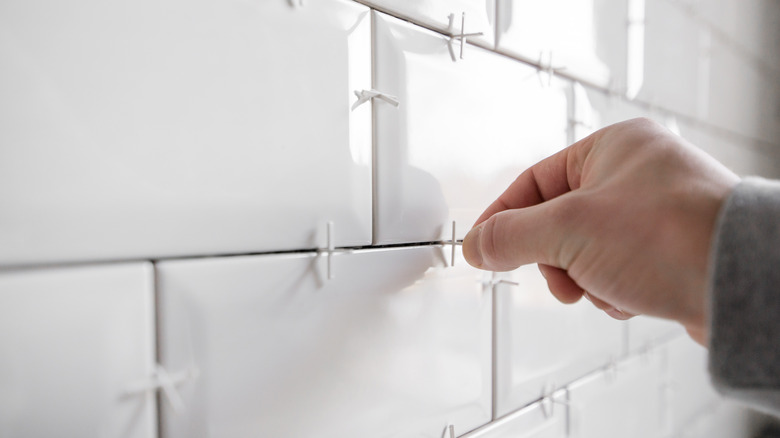 According to Civiljungle, grout is a mixture of cement, sand, and water used to fill in gaps. The most common use of grout that homeowners and renters would be familiar with is grout's use in tiling projects. In tiling, grout is used as a filler once the tiles have been set, and it helps keep dirt out of the cracks and increases the longevity of the installation. Grout is available in a mix of powdered cement, lime, sand, and different colored pigment that is mixed with water (via Tile Outlets of America).
While it can be tempting to skip grouting tiles, 50 Floor suggests otherwise. Grouting helps keep the tiles in place over time and prevents tile from popping out of the wall if humidity or moisture starts impacting their structure. Just think of old hexagonal tiles in unrenovated apartment bathrooms — the ones that lost their grout usually fall out. Grout also minimizes the bacteria buildup between the wall and tile.
Types of grout
There are many different types of grout that can be used in tiling jobs. According to BuildDirect, the most common types of grout used in tiling are unsanded, fine sanded, quarry type, and epoxy. Which kind of grout you use depends on the job specifics and the joint of the grout. Unsanded grout is recommended for wall tiles where the grout joint is less than 1/8 of an inch wide, while finely sanded grout is recommended for floor tiles where the joint is between 1/8 to 3/8 inches wide.
Quarry-type grout has a coarser texture and is used for 3/8 to 1/2 inch joints. Epoxy grout is often recommended for kitchens or high-traffic areas like countertops because it consists of an epoxy resin and hardener, making it virtually stain resistant. One of the biggest mistakes homeowners make when renovating is picking their grout based on price or familiarity versus the intended material.
Deciding if you should use Cliks instead
Grout has many purposes, from foundation repair to decoration. In the design space, grout is commonly used in tiling to help adhere and protect tiles. However, if you want tiles that skip the grout, you need to check out Cliks. According to Good Housekeeping, these tiles have interlocking joints that allow them to "click" together, negating the need for grout.
Instead, Cliks use a stainless steel mesh that covers the back surface of the tile (via Nimvo). When installing, the tiles are simply clicked together. This option doesn't use porous material, leaving less chance for mold or mildew to penetrate them. However, they are harder to clean than traditional tiles because of their different surface texture. They are also difficult to customize and cut to size, and even more difficult to remove when one is damaged. While traditional tile allows for a damaged tile to be removed without impacting the floor or wall structure, Clik tiling is installed in units, and each one is dependent on those around them. For this reason, it's recommended that Clik tiling is installed in areas that do not get regular daily use or dirt exposure.
Pick a complimenting grout color that matches your goals
To many people's surprise, grout is incredibly customizable and allows them to further design their space with little additional cost. According to Asian Granito India, grout comes in different colors, the most popular being white, black, and other neutral tones. But colors like pink and blue are becoming more popular. Grout surprisingly allows a room to look larger when the color complements the tile. For example, adding a matching grout to floors can create the impression of a bigger floor plan. Additionally, if you're using decorative tile or old ceramic Turkish or Roman style tiles in a space, using a natural colored grout will bring out the details on the ceramic and achieve a vintage look.
When choosing grout colors, it's important to consider the maintenance and installation of the tiles. If you're hiring a professional contractor, this will be less of a hassle. However, if you install it yourself, it's important to be mindful that lighter grout can stain and be harder to clean up after installation. For that reason, it's recommended that high traffic entryways and hallways have a darker color grout.
How to maintain grout
Because grout is a porous material, like marble or granite, it quickly stains. While solutions can be applied to help reduce stain build-up, it's still the biggest consideration for homeowners and renovators planning to replace or install grout. According to The Spruce, when the grout is not maintained daily, it can crack, get mildew buildup, and get stained.
To ensure that your grout has a long life, it's important to wipe down tiles after they're exposed to water, dirt, or oils. You don't need to use a strong chemical cleaner, but something gentle like a water and vinegar mixture. Additionally, it's important to do a deep clean of grouted tiles at least biweekly since oil and dirt will stick to their surface. This can be done with a simple baking soda paste or gentle cleaner. In order to clean stained grout, Bob Vila recommends using a commercial grout stain remover or applying oxygen bleach to the surface and allowing it to stand for 15 minutes before rinsing it off.
You should make sure your grout is sealed
While cleaning grout regularly is the best way to prevent stains, you also need to ensure you seal your grout. Because it is porous, liquids on unsealed grout will almost immediately stain or cause damage. For this reason, all professionally installed grout is sealed. However, many DIY-ers often skip this step, simply because it isn't a well-known fact. According to Grout Magnificent, unsealed grout can crack, get mildew buildup, and cause tiles to break.
Epoxy-based grout does not have to be sealed, but it is more difficult to apply than traditional grouts. There are many different types of grout sealer that consumers can purchase, but according to The Spruce, no matter which one is bought, tiles need to be resealed on a regular basis. For example, wall tiles should be resealed every six months to a year, and kitchen tiles will need to be regrouted more frequently. To test if your grout needs a reseal, place a few drops of water on the surface. If the grout absorbs the water, the area needs to be resealed.
Replacing your grout
Whether you're trying to get rid of discolored grout, fix cracks, or change your room's vibe, at some point you'll want to change the grout you have. Luckily, changing it isn't as invasive as some people may think. Unlike non-grout options, updating does not take much time or money. For most DIYers and professionals, replacing grout is barely a weekend-long project.
According to Tile Doctor, if you replace existing grout with epoxy, you do not need to remove your old grout entirely. This is because epoxy penetrates the porous material of your existing grout and hardens like glass. To use epoxy grout over existing grout, simply use a tool to remove a minimum of two millimeters of the old grout and follow the instructions of your chosen product.
If you're not using epoxy, it's important to replace the grout using the same material that was initially used so it can adhere correctly (via The Grout Experts). This may not be an option for many homeowners and renovators if the grout is old or they were not the ones to install it. If you are going to put new grout over old grout, it's important to remove the minimum amount recommended by the grout manufacturer on the package before adding a new layer.
Can you use caulk or mortar instead?
While grout is the industry standard, it isn't always used in tiling projects. For some renovators and homeowners, caulk or mortar is their choice for tile projects. Caulk is commonly used in bathrooms because it's a flexible composite that can be used on glass, as per P.J. Fitzpatrick. It's also a lot less messy and requires less DIY skills. Caulk is also waterproof, while grout is porous and absorbs water, with the exception of epoxy grout. Caulk does shrink over time and shouldn't be used on large scale projects to prevent cracking and damage to the surface. But according to Apartment Therapy, caulk isn't a grout replacement. Instead, it should be used to aid grout in places where water can cause damage or where movement is likely. For example, places you would bump into frequently or near wood surfaces that can shrink or expand.
Mortar on the other hand is used instead of grout by many first time homeowners and renovators. However mortar is part of the tiling process and should be used with grout. According to Lowes, mortar is the adhesive that holds tiles to the surface, while grout is used after mortar installation to fill in the cracks between the tiles. There are very few actual substitutes for grout when tiling. Most substitutes are latex additives, urethane grout, or epoxy grout (via Home Decor Bliss).
Allow grout to complement your space like decor
Grout is a commonly overlooked detail in many interiors and exteriors, but it can easily take a space to the next level. According to Architectural Digest, grout can add to your tile's overall color scheme. "I typically prefer a grout color that represents a shade of color found within the tile or stone, and that provides a subtle contrast for definition," interior designer Ashli Mizell told the publication. "I generally avoid pure white and absolute black, as these are often too harsh and can overshadow the natural material." Another rule to follow is to pick your grout color in the space itself, not a showroom. The lighting in a showroom or store will always differ from a bathroom or kitchen. For example, a white grout on natural stone may be nice under store fluorescent lights, but next to a window, it may look too bright or off-colored (via Griffin Design Source).
According to Audrey Lane, dark grout can complement a lighter tile, making it pop in the space. In that same vein, lighter grout can create a focal point by adding contrast to darker tiles. To decide on a color for your room, it's recommended to look at the functionality of your interior design and where the tile will be located.
Pick the best size grout for your tile
While many people prefer as tight of a joint as possible to achieve a clean look, the size of your joint can complement your tiles and space. According to Fireclay Tile, there are many factors to consider when choosing grout joint size. The amount of variation in size between tiles should impact the size of the joint. For example, handmade tiles are rarely uniform in size and shape. To make the tiles look seamless, it is recommended that larger joints are used. The tighter the tiles are to each other, the more obvious irregularities will be.
Additionally, the location of the tile is an important factor to consider. It's recommended that floor tiles have a larger grout to help create traction and distract from uneven or unlevel surfaces. According to Conestoga Tile, the more even a surface, the tighter your joint can be. Additionally, if you are looking for a rustic or handcrafted appearance, like what is common with boho or contemporary farmhouse aesthetics, using larger joints will lend to those elements.
How to find a contractor
Depending on the type of tile, type of grout, or job complexity, many people choose to hire a professional tiler to install or repair their grout. Going about choosing a professional contractor is a decision that requires much research. According to This Old House, it's important to find trusted contractors in your area. A local tile or stone supplier should be able to recommend contractors that they've worked with in the past. Additionally, suppose you haven't previously worked with a certain contractor. In that case, it's recommended to get at least two bids on your project to compare costs, and make sure everything is in writing.
According to contractor Mike Holmes, it's important to write the payment schedule into the contract, and that payments are tied to milestones in the project. Architectural Digest states that some common red flags are finding a contractor with bad or zero reviews. "If you don't see any reviews at all about a company, chances are they have dissolved previous companies and reestablished under a new name," real estate broker Egypt Sherrod told the publication. Additionally, a contractor should provide proof of insurance.
Know the costs involved
The cost of professional floor installation can vary based on the material, location, type of tile, and complexity of the install. On average, tiles can range from $1 to $20 per square foot, while professional installation can add $5 to $10 a square foot to the cost, as per HGTV. However, the cost to regrout tile professionally varies greatly on the project, type of grout, and job complexity. On average, homeowners pay between $250 to $1,000 to regrout 100 square feet of tile (via HomeAdvisor).
While that may sound expensive, professionally installed grout that has been properly maintained can have an expected lifespan of eight to 16 years in a bathroom (via Shower Sealed). In addition to that, properly maintained flooring should only have to be regrouted every 15 years (via Home Experience). According to DIY or Not, the cost for a homeowner to redo traditional grout is about $75, however it may not be as durable as professionally installed grout and could require replacement more frequently.
Know what tiles you can use grout on
Grout can be applied to virtually any tile, giving it extra protection and a polished look. Even as more homeowners and renters shift to peel and stick tile, grout is still an option to make the job look more finished and realistic. For peel and stick flooring, vinyl tile grout can be applied using a grout float held at a 45-degree angle, as per The Farmhouse Life. As long as the grout is sealed, it offers the same durability and bacterial protection as grout on ceramic tiles.
Although it's not common in actual hardwood flooring, grout can also be applied to wood-looking floor tile. Wood-looking tile is usually a ceramic, porcelain, or laminate flooring that mimics the look of actual hardwood for a fraction of the cost (via Floor Coverings International). Most wood-looking tile requires a small joint of 1/8 inch or 3/16 inch, although different manufacturers recommend different joints for their specific tile layout (via Daltile). Additionally, tiles over 15 inches, including actual hardwood flooring, are recommended to be grouted. This helps prevent variation in the height of tiles, making sure they don't lift tiles around it, otherwise known as lippage.
Grouting non-floor surfaces
Grout can also be applied to non-floor or wall surfaces, making it a key part of decorating a space. For example, many people may choose to grout a DIY table or countertop that has tiles on it, as per Ask The Builder. This allows protection of the tiles and the surface they're under. It also allows the surface to stay free of bacteria build-up, as long as it's properly sealed and maintained. Grout can also be used in tile-based restorations, like adding mosaic art to a chair or tabletop (via The Mosaic Store).
Grout can also be used around a mirror with tiling or stone work for extra protection and to add customizability to a mass-produced piece (via Yoduvh Essentials). According to CraftsBliss, the best type of grout to use in DIY projects is sanded epoxy grout. You can also use powder grout, a cement-based mixture that needs to be sealed regularly, unlike epoxy.