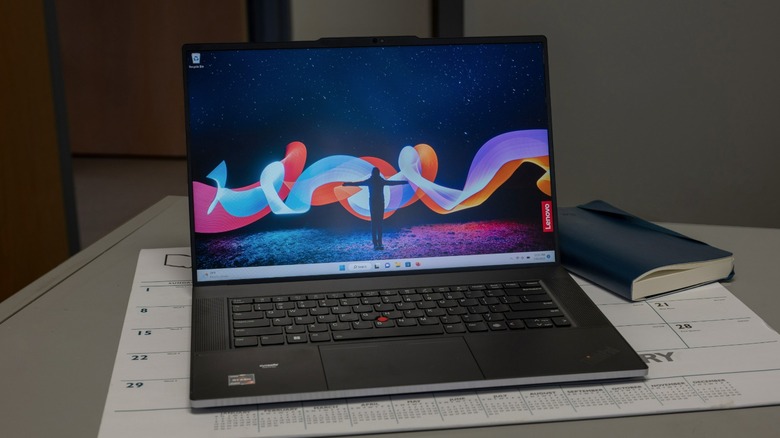 As consumers in a well-developed capitalist society, we are generally blessed with choices. We wake up and can select from any number of coffee shops to start us through the day. We open our closet to find a variety of clothing from scores of stores and online vendors. We have hundreds of entertainment choices at our fingertips.
But when we sit down and get to work, most of us have but one significant choice in computing — Windows or Mac. While the processors, memory, storage, and displays beneath the metaphorical hood of our devices may vary, our selection of operating system is often dictated by our chosen industry and the device itself has a minimal impact on how we get our work done.
That doesn't mean, however, that our choice doesn't matter. We choose a machine for any number of reasons — style, performance, and price are but three. Lenovo, with their latest ThinkPad Z16, gives users another thing to consider: environmental responsibility. Lenovo provided us with this laptop for the purpose of this review.
Responsibility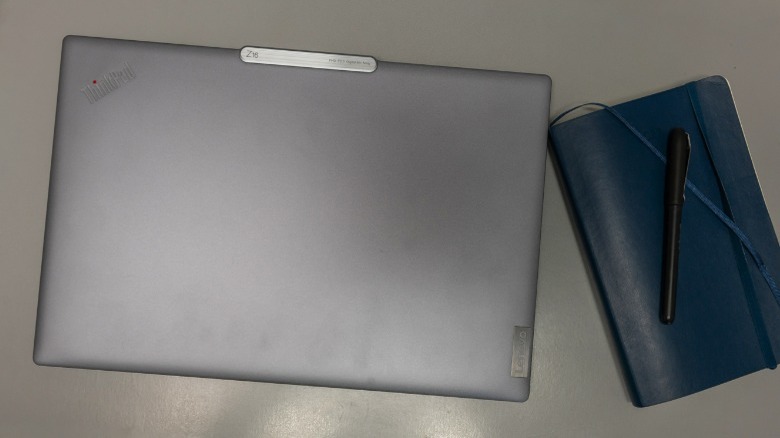 No, it's neither wind nor solar powered, nor is it a hybrid gas-electric notebook PC — wouldn't that be a thing! Rather, Lenovo has put forth a significant effort in using post-consumer recycled materials in the ThinkPad Z16. The primary chassis material is 75% recycled aluminum, and 97% post-consumer recycled plastics are used in the speaker enclosure and in the 70 Watt-hour battery.
The 135W AC USB-C power brick is 90% recycled — this is a miracle, as I have literally dozens of power adapters from any number of long-dead devices haphazardly strewn in a cabinet in my home office. You never know, of course, when you'll need to power a Betamax camcorder that dates to 1987. Maybe I should box that one up and send it to Lenovo for recycling.
Even the shipping materials are sustainable. The packaging is made from 100% compostable bamboo and sugarcane. I thought of scraping some of the material off into a cup of coffee, but restrained myself.
Again, I'm an electronics hoarder — I've kept the shipping boxes for every laptop and desktop I've owned dating back to before the turn of the century, including one that reminds me to turn off the PC before Y2K lest the entire world implode. We might have been a bit early on that prediction, to be perfectly honest, but it was a warning well heeded. I'm thankful that at least some of my stash, thanks to Lenovo, might in the future allow for composting in my basement crawl space.
Performance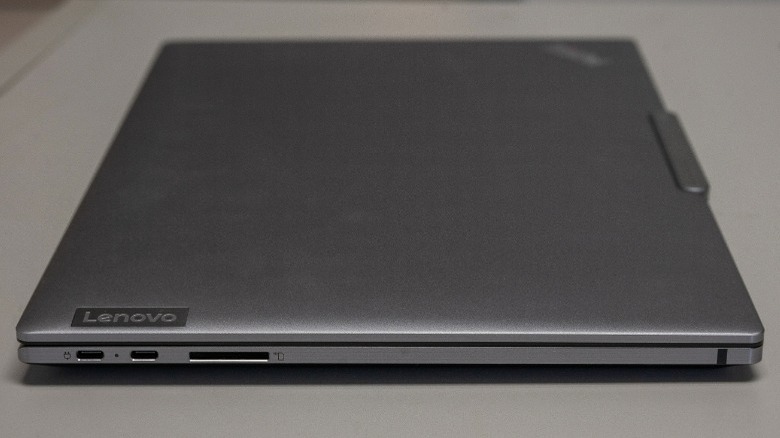 All the green cred in the world means nothing if the device is merely a paperweight. Fortunately, the ThinkPad Z16 is a formidable Windows 11 machine. The unit I tested is somewhat in the middle of the ThinkPad Z16 range, as it's outfitted with an AMD Ryzen 7 PRO 6850H processor at 3.2 GHz. 16GB of RAM and an integrated AMD Radeon 680M graphics card work with the 1920×1080 WUXGA display at 400 nits to give impressive performance. The 512GB SSD is a good midrange size for most users, too.
If ordering for my own purposes, I might have specified the optional AMD Radeon RX 6500M discrete graphics card, but otherwise, this is basically ideal for my needs. The bezel is tiny — a 92.3% screen-to-body ratio is quoted – giving me plenty of workspace.
The 16-inch display is bright, clear, and comfortable to work on — I've tired of touchscreens for my daily workstation, and as my eyes age and my fingers grow fat I've similarly grown weary of smaller devices. The 13-inch notebooks I carried a couple of years ago might be easier to fit on an airline tray table, but outside of those few hours wedged into coach I genuinely prefer a more substantial machine.
The Legendary TrackPoint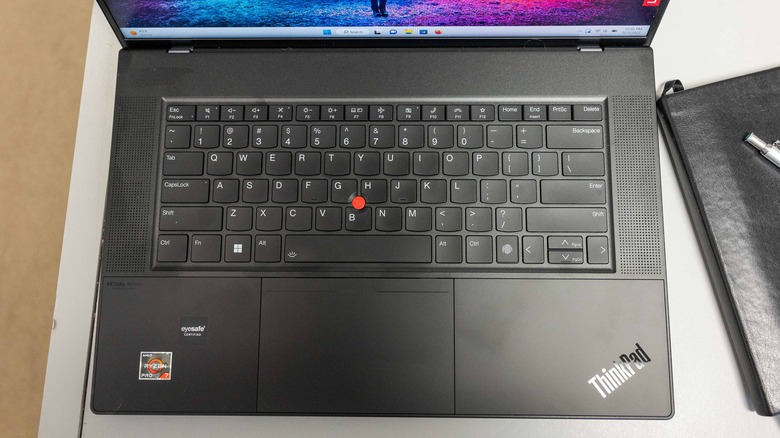 It's been at least a decade since I'd used any sort of ThinkPad. In that time, my computing needs have evolved from strictly writing and media consumption to a great deal of photo editing — especially whilst mobile. I spend nearly as much time in Lightroom as I do in Word and Google Docs. And I never remember to bring a mouse.
I never understood the point of the TrackPoint — the red nubbin amidst the QWERTY keyboard. It always seemed superfluous when there was a perfectly good trackpad aft of the spacebar. And then I installed Lightroom on this latest ThinkPad Z16 and it all became wonderfully clear.
The trackpad here is still quite responsive, and my instinct remains to swipe at it. Indeed, the trackpad on the ThinkPad Z16 is Lenovo's next-generation Haptic ForcePad — an all-glass touchpad without dead zones often found on mechanical touchpads. The top of the pad can further be configured to work just like a traditional three-button pad.
But as I get deeper into editing photos, I find that I need a bit more precision than my ten phalanges might choose to provide. Tapping away at a photo editing brush with the trackpad, I might end up using the multitouch a bit too aggressively and minimize my window. The TrackPoint, however, gives me a dexterity a trackpad can only dream of.
Connections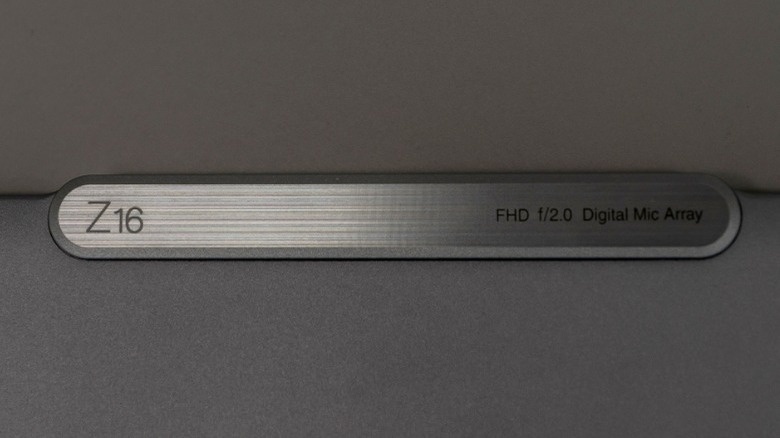 Of course, I do spend a ton of time writing, and the ThinkPad keyboard is as brilliant as ever. Each key press is responsive and satisfying, letting me glide through my prose and giving few excuses for writer's block. Of course, I'll find other excuses for blowing deadlines, but the physical act of typing will not be the chore it might be on a lesser keyboard.
I'm grateful for the presence of a single USB-C 3.2 port on the right side of the ThinkPad Z16, as well as a pair of USB4 ports on the left side. My home workstation setup with a docking station and multiple monitors might need tweaking as I'm used to connecting on the right side of a laptop, and the Lenovo seems to prefer charging on the left. This photographer is similarly thankful for the integrated SD card slot — like I said, I'm quite absentminded and often forget both a mouse and a card reader while traveling. If I did more video editing, I'd further appreciate the 3.5mm combination headphone/microphone jack that is disappearing from so many slimline devices.
Security and Convenience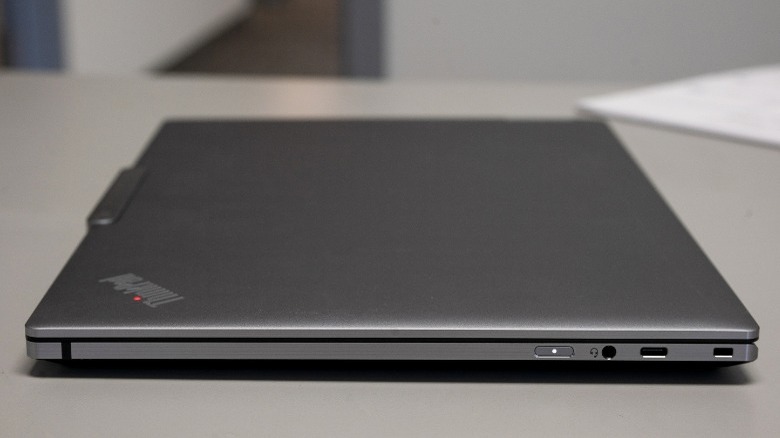 Atop the slim bezels of the 16-inch display sits a pair of dual-array microphones, as well as an IR-enabled FHD sensor. I'll admit that quoting an f/2.0 f-stop figure seems a bit absurd when talking about a tiny webcam lens, but the picture generated for ceaseless Zoom calls is excellent here. And with a touch of the F9 function key, an electronic shutter kills the camera. I'd prefer a physical hood over the lens, but integrating the shutter electronically ensures there's one less mechanical device to break and one less post-it note to carry around to cover the lens.
Beyond the camera shutter, an additional layer of security is provided by the integrated fingerprint reader. It's easy to miss if you aren't looking for it — it's on the lower right of the keyboard, between the right control key and arrow keys. I normally avoid using a fingerprint reader — those that are physically separated from the keyboard a bit look clunky, and I've seen a number of them become gunked up with crumbs. Here, it's innocuous and performs flawlessly.
The Dolby Atmos software here greatly improves sound quality from the speakers, whether on a conference call or taking a mid-day Netflix break. The Dolby Access app lets you choose from a number of sound and microphone profiles — including a privacy mode for the mic that will help to filter background noises. I can see this being especially useful for remote workers who don't want their co-workers to know they've logged in from a coffee shop. Or the beach.
Final Thoughts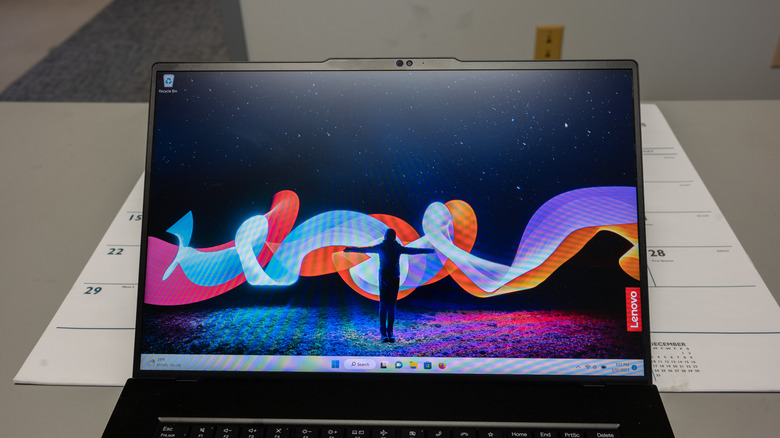 My tests involved my typical daily tasks, from writing and editing scores of text documents to compiling a multi-layered Excel spreadsheet to the aforementioned photo editing to everyday media consumption.
My only performance complaint — the ThinkPad Z16 seemed to be a bit slow to start up from sleep. Of course, I am too — maybe if I'd scraped a bit more of the packaging into my coffee I'd wake faster.
Otherwise, the ThinkPad Z16 never faltered. I never found myself grasping for additional performance from the processor, the 16GB of RAM, or the SSD. My usual machine is powered by a current-generation Intel I9 processor — the AMD Ryzen 7 Pro found here is nominally a downgrade, but I'm wondering if I could have managed to spend a bit less and would have been just as happy. I'm sure those looking for a desktop replacement to do heavy video editing will be shopping the available AMD Ryzen 9 Pro at 4.9GHz, but for most users, this will be more than enough machine.
As tested, this Lenovo ThinkPad Z16 is available through CDW for $2249 — but a wide variety of configurations can move that price around a bit. I'm genuinely impressed with the value here — this can be the only device needed for a number of users, as it has the specs and performance to do nearly any task you throw at it. That it is built responsibly and sustainability doesn't affect how it performs, either — perhaps it needs to be painted green, however, to properly shout to others that you're doing your part to save the planet while you work.