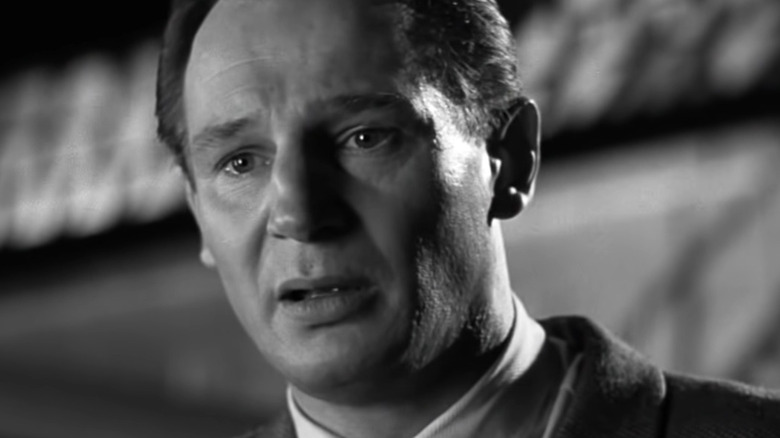 The Great Depression saw a global rise in nationalist and fascist movements like no other time in history, all of which would come to a head with World War II. What began as a regionalized continuation of World War I would eventually come to span the globe with fighting on the Eastern front in Russia, in the Mediterranean and North Africa, on the Western Front in Europe, and in the Pacific. By the end of the six-year war, millions of soldiers from around the world would join in the fight.
With conflicts on land, on the sea, and in the air and more than 50 nations involved in the fighting, there are countless stories to be told, all of them as relevant today as they were in the 1940s. From gripping tales of the evacuation at Dunkirk to the perseverance of the Tuskegee Airmen, here are the 55 best World War II movies, ranked.
55. Cross of Iron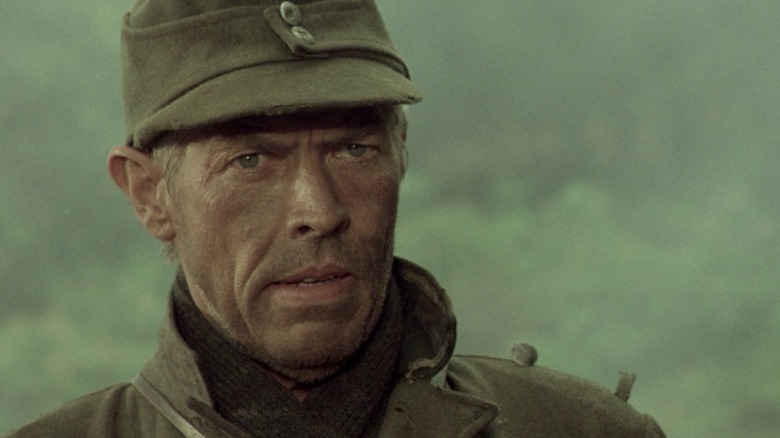 An anti-war film told from the perspective of German Wehrmacht soldiers, "Cross of Iron" takes place on the Eastern Front of World War II and details the conflict between an ambitious offer and an experienced NCO amid the Soviet-German battle on the Taman Peninsula in 1943. Known for its stylistic approach to extreme violence, the film's influence can be seen in the work of Quentin Tarantino, particularly in the latter's World War II film "Inglorious Basterds."
Starring: James Coburn, Maximilian Schell, James Mason
Director: Sam Peckinpah
Year: 1977
Runtime: 133 minutes
Rating: R
54. Allied
A romantic thriller that doles out equal part espionage and melodrama, "Allied" is a look at two World War II spies who fall for each other after posing as a married couple. Things get hairy when Max (played by Brad Pitt) learns that his wife Marianne (Marion Cotillard) is suspected of being a double agent. To prevent his own conviction for treason, Max is tasked with executing the woman he loves. While sexier and far less subtle, "Allied" offers the tragic echo of "Casablanca" and even begins in the same city.
Starring: Brad Pitt, Marion Cotillard, Jared Harris
Director: Robert Zemeckis
Year: 2016
Runtime: 124 minutes
Rating: R
53. Black Book
Viewers interested in the espionage side of World War II will appreciate this occasionally melodramatic Dutch film. Loosely based on the real World War II experiences of Dutch resistant fighter Esmée van Eeghen, "Black Book" finds Dutch-Jewish singer Rachel Rosenthal joining the Jewish resistance in the 1944 German-occupied Netherlands under the assumed name Ellis de Vries. In the resistance, she is tasked with the dangerous mission of seducing a Gestapo officer named Ludwig. When her feelings get in the way of her work, things become complicated, and the stakes become even more deadly for our heroine in this tense thriller.
Starring: Carice van Houten, Sebastian Koch, Thom Hoffman
Director: Paul Verhoeven
Year: 2006
Runtime: 145 minutes
Rating: R
52. Greyhound
Adapted from C.S. Forester's 1955 novel "The Good Shepherd" for Apple TV+, "Greyhound" takes place amid the Battle of the Atlantic and follows the journey of a Liverpool-bound U.S. military convoy under pursuit by German U-boats and into the mid-Atlantic "Black Pit," a zone where ships are completely without air cover. For the convoy's commanding officer Ernest Krause (Tom Hanks), this terrifying battle would be his first wartime experience and will put him to the ultimate test. With a tight runtime and extraordinary special effects, "Greyhound" is an immersive and satisfying watch.
Starring: Tom Hanks, Stephen Graham, Rob Morgan
Director: Aaron Schneider
Year: 2020
Runtime: 91 minutes
Rating: PG-13
51. The Boy in the Striped Pajamas
Based on Irish author John Boyne's 2006 novel of the same name, "The Boy in the Striped Pajamas" tells the story of life in a World War II Nazi extermination camp through the eyes of children witnessing its horrors from very different worlds when the worlds of two 8-year-old boys collide. The film finds young Jewish captive Shmuel (Jack Scanlon) and a Nazi commandant's son Bruno (Asa Butterfield) forming an unlikely and dangerous friendship through the barbed-wire fence of the camp where the former is being held. The result is a heartbreaking tale of friendship and the loss of innocence in the darkest of times.
Starring: Asa Butterfield, Jack Scanlon, Vera Farmiga
Director: Mark Herman
Year: 2008
Runtime: 94 minutes
Rating: PG-13
50. Defiance
"Defiance" is based on a 1993 book by Nechama Tec recounting the World War II story of the Bielski partisans during the Nazi occupation of Belarus. When Polish Jewish brothers Asael, Zus, Aron, and Tuvia Bielski manage to evade the ghettoes and the Einsatzgruppe (Nazi paramilitary death squads) after their parents' deaths, they gather together with other refugees in the Naliboki forest. As their community grows and expands, they work together to raid the Germans and team up with Soviet partisans. "Defiance" is celebrated for its impressive cast performances and immersive atmosphere.
Starring: Daniel Craig, Liev Schreiber, Jamie Bell
Director: Edward Zwick
Year: 2008
Runtime: 137 minutes
Rating: R
49. Die Wannseekonferenz (The Conference)
Although it's horrifying to imagine today, there was a defining moment during World War II when German officials sat down to frankly discuss and ultimately agree upon the decision to commit genocide. This shocking meeting was the Wannsee Conference, and the 2022 film "Die Wannseekonferenz" captures it with brutal precision. This German docudrama details the meeting between SS leaders and Nazi government officials including Adolf Eichmann and Reinhard Heydrich. The cast is uniformly excellent, and the writing is chillingly sharp. "Die Wannseekonferenz" serves as a grim reminder that systematic murder was quietly signed into existence over a conference table.
Starring: Philipp Hochmair, Johannes Allmayer, Sascha Nathan
Director: Matti Geschonneck
Year: 2022
Runtime: 108 minutes
Rating: NR
48. Before the Fall
"Before the Fall" provides a rare look at life in a Nazi National Political Institutes of Education (NaPolA) school, a type of military boarding school meant to transform German youth into elite Nazi officers. When Friedrich, the son of a factory worker with anti-Nazi sentiments, gets accepted into a NaPolA on his boxing talent, he enrolls against his father's wishes by forging his father's signature and running away. The film brutally depicts the indoctrination the young men receives before getting churned out to die as fodder for the Nazi cause.
Starring: Max Riemelt, Tom Schilling, Jonas Jägermeyr
Director: Dennis Gansel
Year: 2004
Runtime: 114 minutes
Rating: NR
47. Valkyrie
"Valkyrie" depicts the failed 1944 Nazi plot to assassinate Hitler from the perspective of those involved in the conspiracy, an event that has come to be known as "Operation Valkyrie." Told from the perspective of Wehrmacht Colonel Claus von Stauffenberg (Tom Cruise), the film has been praised for its efforts to present a historically accurate version of the events, thanks in large part to an expert consulted during the film's development phase.
Director: Bryan Singer
Year: 2008
Runtime: 121 minutes
Rating: PG-13
46. The Hill
Set toward the end of World War II in a British military prison or "glasshouse" located in the Libyan desert, "The Hill" depicts the horrifying conditions of British soldiers convicted of often minor service offenses during wartime. There, the prisoners are subjected to endless abuses under the authority of sadistic prison guard Staff Sergeant Williams (played by Ian Hendry) in this character-driven drama. Critics laud its uncompromising depiction of this prison system.
Director: Sidney Lumet
Year: 1965
Runtime: 123 minutes
Rating: NR
45. Flags of Our Fathers
Adapted from the 2000 nonfiction book by James Bradly and Ron Powers about the heroism of the Easy Company in 1945's Battle of Iwo Jima that led to the famed flag-raising, "Flags of Our Fathers" is a big-budget depiction of the events from the American perspective. Its companion piece is Clint Eastwood's 2006 Japanese-language film "Letters from Iwo Jima," which is meant to humanize the experience of Japanese soldiers during the same event, and both films are commendable for their vision and performances.
Starring: Ryan Phillippe, Jesse Bradford, Adam Beach
Director: Clint Eastwood
Year: 2006
Runtime: 132 minutes
Rating: R
44. A Bridge Too Far
A depiction of the failed Operation Market Garden — a 1944 Allied attempt to move forces into the German-occupied Netherlands and use the Rhine to create a route into North Germany by seizing bridges — "A Bridge Too Far" is based on journalist Cornelius Ryan's 1974 book examining the tactical missteps that contributed to the op's failure. The film has been praised for its historical accuracy and was shot on location in the Netherlands.
Starring: Dirk Bogarde, James Caan, Michael Caine
Director: Richard Attenborough
Year: 1977
Runtime: 176 minutes
Rating: PG
43. The Wind Rises
A Japanese animated film from Studio Ghibli, "The Wind Rises" is an adaptation of Hayao Miyazaki's manga retelling and a partial re-imagining of the 1937 novel by Tatsuo Hori. The story depicts the experiences of World War II fighter aircraft engineer Jiro Horikoshi. After the aspiring young pilot's dreams of flying are dashed due to his myopia, Jiro's encounter with Italian engineer Giovanni Battista Caproni inspires him to a career in aeronautical engineering. The emotional story depicts his personal and professional lives as he creates planes that will be used for brutality and destruction when his only wish is to create something wonderful.
Starring: Hideaki Anno, Miori Takimoto, Hidetoshi Nishijima
Director: Hayao Miyazaki
Year: 2013
Runtime: 126 minutes
Rating: PG-13
42. Fury
"Fury" depicts Allied tank crews dealing with the Nazi paramilitary Waffen-SS. The film is inspired by service members in writer-director David Ayer's own family, as well as books about armored vehicles in the European theater. One such is Belton Y. Cooper's 1994 memoir "Death Traps," which ultimately argues against the use of the M4 Sherman tank. The film revolves around the wartime journey of a Sherman tank dubbed the Fury under the command of US staff sergeant Don "Wardaddy" Collier (Brad Pitt) and is admired for its brutal and honest depiction of the bloody horrors of war.
Starring: Brad Pitt, Shia LaBeouf, Logan Lerman
Director: David Ayer
Year: 2014
Runtime: 135 minutes
Rating: R
41. The King's Choice
"The King's Choice" is a Norwegian biographical film depicting the response of Norway's royalty after the Nazis arrive in the neutral country's territory in 1940. When the German envoy Curt Bräuer requests entry for German troops, despite the fact that they are already arriving, King Haakon VII, the Norwegian Cabinet, and the Norwegian Parliament face an attempted far-right coup in support of Germany's entry. The film has been praised for its thoughtful performances and compelling story.
Starring: Jesper Christensen, Anders Baasmo, Tuva Novotny
Director: Erik Poppe
Year: 2016
Runtime: 133 minutes
Rating: NR
40. Catch-22
Adapted from the 1961 satirical anti-war novel by Joseph Heller, "Catch-22" is a black comedy set during World War II at a fictional military base in Pianosa, Italy. The film provides a darkly comical critique of war through the eyes of U.S. Army Air Force B-25 bombardier John Yossarian (Alan Arkin), whose commanding officer continues to move the goalpost of how many missions an airman needs to complete before rotating home. After experiencing a mental breakdown from watching his friends die again and again but receiving no respite, Yossarian learns of the Army policy "Catch-22," which states that if airmen are sane enough to know they don't want to fly more missions, they are not unwell enough to go home, but if they continue to fly, they are crazy. The term for the policy, which essentially makes it impossible for airmen to leave, has come into common usage to indicate a paradox where someone is unable to escape a situation or rule situation due to a logical problem with the rule itself.
Starring: Alan Arkin, Martin Balsam, Richard Benjamin
Director: Mike Nichols
Year: 1970
Runtime: 122 minutes
Rating: R
39. Days of Glory
Titled "Indigènes" (meaning "Natives" in the original French-language production), "Days of Glory" provides a look at the important wartime contributions of North African soldiers in the French First Army during World War II and their efforts to liberate France from Nazi occupation. The film follows the stories of two Algerians and two Moroccan brothers who join the army for different reasons, training together with indigenous forces including troops from Sub-Saharan Africa as well as other Moroccans and Algerians before heading North to Italy and then the South of France. The film offers an important look at the discrimination against North Africans by the European French military and government.
Starring: Jamel Debbouze, Samy Naceri, Sami Bouajila
Director: Rachid Bouchareb
Year: 2006
Runtime: 123 minutes
Rating: R
38. The Tuskegee Airmen
Partially written and co-produced by wartime pilot Captain Robert W. Williams, "The Tuskegee Airmen" was developed for HBO with the hope of producing a historically accurate depiction of the all-Black 332nd Fighter Group trained in Tuskegee, Alabama, for World War II combat. Notable for its historical accuracy, the film uses fictional characters inspired by real combat veterans and a fictionalized version of Colonel Benjamin O. Davis Jr. as it depicts the squadron's training and deployment into combat, where they would prove themselves as some of the most heroic fighters in World War II.
Starring: Laurence Fishburne, Allen Payne, Malcolm-Jamal Warner
Director: Robert Markowitz
Year: 1995
Runtime: 106 minutes
Rating: PG
37. Atonement
Based on Ian McEwan's 2001 metafiction novel of the same name, "Atonement" is an epic romantic tale chronicling the tragic life of Robbie (James McAvoy), who is arrested and imprisoned based on bad information from the jealous little sister of his would-be love. The story centers around the sister's efforts to make things right after Robbie becomes seriously injured at Dunkirk during World War II and deals with issues of class, privilege, and the way an individual's perspective can frame his or her reality.
Director: Joe Wright
Year: 2007
Runtime: 123 minutes
Rating: R
36. Darkest Hour
"Darkest Hour" focuses on Winston Churchill's response during the early days of World War II as it became apparent that the Nazi war machine was kicking into gear. The film depicts Churchill's appointment by King George VI and the formation of the Churchill war ministry after the former correctly predicted the danger posed by Hitler. With a powerful performance as Churchill from Gary Oldman, the film presents the prime minister's refusal to give up in the face of certain defeat as he inspired the British to fight with his famous "We shall fight on the beaches" speech to Parliament in 1940.
Director: Joe Wright
Year: 2017
Runtime: 125 minutes
Rating: PG-13
35. The Best Years of Our Lives
A powerful depiction of the challenges faced by returning veterans during World War II, "The Best Years of Our Lives" follows the intertwining stories of three veterans after the war's end, each damaged in his own way. The film is notable for its use of deep focus, a cinematic technique that employs wide-angle lenses and keeps all elements of the screen including foreground, middle, and background in sharp focus in a way that enhances storytelling.
Starring: Myrna Loy, Fredric March, Dana Andrews
Director: William Wyler
Year: 1946
Runtime: 172 minutes
Rating: NR
34. Twelve O'Clock High
"Twelve O'Clock High" looks at the wartime contributions of the United States Air Force Global Strike Command's Eighth Air Force, a crew of airmen responsible for bombing occupied France and Nazi Germany by daylight during World War II. The story follows Brigadier General Frank Savage (Gregory Peck) in his efforts to rally an air group stationed in England in 1942, bringing them together despite previous morale problems. The movie received high marks for its character development and ample tension.
Starring: Gregory Peck, Hugh Marlowe, Gary Merrill
Director: Henry King
Year: 1949
Runtime: 132 minutes
Rating: NR
33. To Be or Not to Be
World War II was one of the few times in history when everyone pitched in no matter what they had to contribute, whether they were jumping in as Rosie the Riveter or growing their own victory gardens at home to help with the war effort. For the Warsaw theater company central to the black comedy "To Be or Not to Be," this meant using their acting skills to help defeat the Nazi occupiers. After the Nazis invade Poland, a troupe of actors uses Nazi disguises and a clever ruse to protect Polish airmen and their families in this humorous, but complex cinematic tale.
Starring: Carole Lombard, Jack Benny, Robert Stack
Director: Ernst Lubitsch
Year: 1942
Runtime: 99 minutes
Rating: NR
32. The Third Man
A moody and atmospheric film noir set in postwar Vienna, "The Third Man" is often cited as one of the best examples of British cinema. Through the heavy use of chiaroscuro and unsettling camera angles (a technique known as the "Dutch tilt"), "The Third Man" finds American Holly Martins (Joseph Cotten) investigating his friend's suspicious death in postwar Vienna. Set in the immediate wake of World War II, the film provides a powerful depiction of the despair and cynicism left behind after the Nazis were finally defeated.
Starring: Joseph Cotten, Alida Valli, Orson Welles
Director: Carol Reed
Year: 1949
Runtime: 108 minutes
Rating: NR
31. Das Boot
Based on the postwar writings of artist Lothar-Günther Buchheim, who served as a war correspondent and Nazi propagandist during World War II, "Das Boot" depicts life aboard a German patrol submarine during the protracted Battle of the Atlantic. The film follows the experiences of war correspondent and ensign Lieutenant Werner (Herbert Grönemeyer) aboard the U-96 U-boat under the command of the paradoxically anti-Nazi Kapitänleutnant (Jürgen Prochnow). Amid worsening conditions, Kapitänleutnant struggles to maintain the crew's morale. With a claustrophobic setting and sublime direction, the film is largely considered one of the most important war movies ever made.
Starring: Jürgen Prochnow, Herbert Grönemeyer, Klaus Wennemann
Director: Wolfgang Peterson
Year: 1981
Runtime: 149 minutes
Rating: R
30. Overlord
"Overlord" follows the wartime journey of British soldier Private Tom Beddoes (Brian Stirner), beginning with his enlistment, training, and service and building up to the historic events of D-Day. While most World War II films tend to focus on the battlefield heroics of the Allies, "Overlord" takes a closer look at the individual experiences of soldiers during wartime. The film uses real documentary footage and period camera work to lend to the realism of the storytelling, resulting in a purposefully bleak take on an otherwise celebrated moment in time.
Starring: Brian Stirner, Davyd Harries, Nicholas Ball
Director: Stuart Cooper
Year: 1975
Runtime: 84 minutes
Rating: NR
29. Stalag 17
Adapted from the Broadway play with the same name, "Stalag 17" is a World War II film centered around life in a German POW camp where 40,000 Allied soldiers are imprisoned. The story focuses on a barrack where a group of American airmen become suspicious that someone among them is a spy for the Germans. After the men turn on Sergeant J.J. Sefton (William Holden), suspecting him for his dealings with the Germans, he is faced with no choice but to uncover the person who has been trading secrets to the Germans. The film is heralded for nimbly balancing elements of comedy and drama.
Starring: William Holden, Don Taylor, Otto Preminger
Director: Billy Wilder
Year: 1953
Runtime: 120 minutes
Rating: NR
28. The Longest Day
Based on the 1959 account by journalist Cornelius Ryan, "The Longest Day" is an epic war film that tells the story of D-Day. Filmed in black and white, the story follows a fictionalized version of General Norman "Dutch" Cota (Robert Mitchum), who played a key role in planning the D-Day operation. While far less graphic than modern depictions of D-Day, the sweeping film is considered by many to be one of the best depictions of the Normandy landing to date.
Starring: John Wayne, Henry Fonda, Sean Connery
Director: Andrew Marton, Bernhard Wicki, Ken Annakin
Year: 1962
Runtime: 178 minutes
Rating: G
27. Empire of the Sun
Based on the 1984 novel by J.G. Ballard about the author's World War II experiences as a young boy, "Empire of the Sun" provides a glimpse into the Japanese occupation of the Shanghai International Settlement through the eyes of Jamie (Christian Bale), a privileged British boy living in Shanghai around the time of Pearl Harbor. Shortly after the occupation, Jamie ends up in a Japanese-run internment camp, where he finds his own way to survive by creating a trading network. The film is emotional and visually stunning and is considered one of director Steven Spielberg's most extraordinary works.
Starring: Christian Bale, John Malkovich, Miranda Richardson
Director: Steven Spielberg
Year: 1987
Runtime: 154 minutes
Rating: PG
26. Munich – The Edge of War
Set on the eve of World War II, "Munich — The Edge of War" is a spy thriller about the Herculean international effort to avoid a full-scale conflict with Hitler. When German translator-turned-diplomat Paul von Hartmann gets his hands on evidence of Hitler's plans to conquer Europe, he and his former classmate and friend Hugh Legat, who serves as private secretary to Prime Minister Neville Chamberlain, get lost in a labyrinth of espionage. This involves everything from M16 to a possible plot to kill Hitler. Notably, "Munich — The Edge of War" comes with a strong pedigree: It's based on a novel by bestselling author Robert Harris, known for his critically-acclaimed historical yarns.
Director: Christian Schwochow
Year: 2021
Runtime: 131 minutes
Rating: PG-13
25. The Thin Red Line
Based on the 1962 James Jones novel of the same name, the 1998 production of "The Thin Red Line" marks the second adaptation of the book for film. Set in the Pacific Theater, the film follows the wartime experiences of United States Army C Company, 1st Battalion, 27th Infantry Regiment, 25th Infantry Division, focusing on the Battle of Mount Austen as part of the larger Battle of Guadalcanal, the first Allied forces land campaign against Japanese forces. The title of the film is an allusion to a Rudyard Kipling poem about British soldiers during the Crimean War, and the film itself is quite poetic with its experiential imagery and thoughtful direction.
Starring: Sean Penn, Adrien Brody, Jim Caviezel
Director: Terrence Malick
Year: 1998
Runtime: 170 minutes
Rating: R
24. The English Patient
"The English Patient" is an emotional romantic wartime tale told from the perspective of a burn victim (Ralph Fiennes) as he recounts his life and World War II experiences to a French-Canadian nurse caring for him in a devastated Italian monastery toward the end of the Italian campaign. The patient tells nurse Hana (Juliette Binoche) that his real name is Count László de Almásy and he is a Hungarian cartographer who lost the love of his life to tragic circumstances. As he relates his own tale of love and loss, in a parallel story, Hana develops feelings for combat engineer ("sapper") Kip (Naveen Andrews), who is tasked with removing explosives for the British army. It's a beautiful film, but be sure to watch with a box of tissues in hand.
Director: Anthony Minghella
Year: 1996
Runtime: 162 minutes
Rating: R
23. Our Time Will Come
Framed through a cab driver's documentary-style narrative, "Our Time Will Come" is set in Hong Kong during the Japanese occupation of the city and looks at the youth-driven resistance movement, the members of whom risked everything for freedom. The story focuses on resistance fighters like Fang Lan, who became the leader of Hong Kong's East-side resistance. The film has been praised for its female-driven story as well as its powerful depiction of a war story that many Western audiences know little about.
Starring: Zhou Xun, Eddie Peng, Wallace Huo
Director: Anna Hui
Year: 2017
Runtime: 130 minutes
Rating: PG-13
22. Hacksaw Ridge
"Hacksaw Ridge" was inspired by the 2004 documentary "The Conscientious Objector," which looked at the wartime experiences of U.S. Corporal and combat medic Desmond Doss. For his heroic actions in the Philippines, Guam, and at the Battle of Okinawa, Doss would become the only conscientious objector to be awarded the Medal of Honor during World War II, despite his refusal to carry a weapon as a Seventh-Day Adventist. The film follows Doss through basic training and into battle as he enlists after the Japanese attack on Pearl Harbor. Despite Doss's refusal to participate in film adaptations of his story due to concerns about historical accuracy and the portrayal of his beliefs, his son would praise the harrowing film "Hacksaw Ridge" for its accuracy in an interview with People.
Starring: Andrew Garfield, Sam Worthington, Luke Bracey
Director: Mel Gibson
Year: 2016
Runtime: 139 minutes
Rating: R
21. Operation Mincemeat
Netflix's "Operation Mincemeat" is based on the book by British historian Ben Macintyre detailing the real wartime events of Operation Mincemeat, a surprisingly successful British disinformation operation meant to confuse the Nazis ahead of the Allied invasion of Sicily in 1943. After Winston Churchill's promise to invade Sicily, British intelligence hatches a plot to plant false papers on a body disguised as a member of the Royal Marines and have him wash ashore, tricking the Nazis into moving their troops ahead of an expected Greece and Sardinian invasion. Despite adding a fictional love triangle for a dramatic flair, the film provides a fairly accurate look at a fascinating wartime story that almost sounds like a tall tale.
Starring: Colin Firth, Matthew Macfadyen, Kelly Macdonald
Director: John Madden
Year: 2021
Runtime: 128 minutes
Rating: PG-13
20. From Here to Eternity
Adapted from James Jones' 1951 novel of the same name, "From Here to Eternity" is a romantic tale set in the Pearl Harbor naval base in the months leading up to the Japanese Attack on Pearl Harbor. The story revolves around a few officers, including Private Robert E. Lee Prewitt (Montgomery Clift), a champion boxer who hangs up his gloves after blinding a friend in the ring, much to the chagrin of his superior Captain Dana "Dynamite" Holmes (Philip Ober). As the feud between the two escalates, the captain's wife seeks comfort in the arms of Sergeant Warden (Burt Lancaster). The film was an instant hit due to its revered performances and well-developed characters.
Starring: Burt Lancaster, Montgomery Clift, Deborah Kerr
Director: Fred Zinnemann
Year: 1953
Runtime: 118 minutes
Rating: NR
19. Son of Saul
"Son of Saul" is a Hungarian film set in Auschwitz in October 1944. There, the Jewish-Hungarian Saul Ausländer (Geza Rohrig) is horrifically forced to work as a death camp Sonderkommando — a worker tasked with removing the clothing and valuables from the dead and cleaning the gas chambers on pain of death. While trying to find a rabbi to give a young boy a proper funeral, Saul stumbles onto a rebellion in the works, and what results is an intense film with stunning cinematography and captivating character development.
Starring: Géza Röhrig, Levente Molnár, Urs Rechn
Director: László Nemes
Year: 2015
Runtime: 107 minutes
Rating: R
18. Army of Shadows
A French-Italian adaptation of Joseph Kessel's 1943 book, "Army of Shadows" is based on Kessel's fictionalized account of his experiences as part of the French resistance under Vichy France, the collaborationist regime that would be officially seen as a puppet state in the post-war era. The story follows French Resistance leader Philippe Gerbier (Lino Ventura) after his betrayal, capture, and eventual escape from a Nazi prison camp. The film gives an unsettling glimpse into the paranoia that would have been endemic to the resistance in such treacherous times.
Starring: Lino Ventura, Simone Signoret, Paul Meurisse
Director: Jean-Pierre Melville
Year: 1969
Runtime: 145 minutes
Rating: NR
17. Patton
Heavily drawing on Ladislas Farago's "Patton: Ordeal and Triumph" and General Omar Bradley's memoir "A Soldier's Story," "Patton" is the cinematic biography of General George S. Patton. History buffs will no doubt know that Patton played a key role in the Allied victories in the Mediterranean and Europe before going on to criticize the United States for its post-war strategy. The film begins with Patton's entry into the fight in North Africa and follows his command through the war, providing a complicated but unvarnished look at the controversial leader.
Starring: George C. Scott, Karl Malden, David Bauer
Director: Franklin J. Schaffner
Year: 1970
Runtime: 172 minutes
Rating: PG
16. The Bridge on the River Kwai
Based on French author Pierre Boulle's 1952 novel "The Bridge Over the River Kwai," "The Bridge on the River Kwai" was penned by screenwriters Carl Foreman and Michael Wilson while they were on the Cold War-era Hollywood blacklist as part of the Red Scare. The Academy Award-winning film is considered by many critics to be one of the greatest war films ever made and deals with British POWs in Japanese captivity in Thailand. There, the POWs engage in constant sabotage while their captors force them to construct a strategically important railway bridge meant to connect Rangoon and Bangkok.
Starring: William Holden, Alec Guinness, Jack Hawkins
Director: David Lean
Year: 1957
Runtime: 161 minutes
Rating: PG
15. The Big Red One
Written and directed by World War II veteran Samuel Fuller based on his own experiences with the 1st Infantry Division, "The Big Red One" refers to the red shoulder patch numeral "1" worn by the division. The film follows the unit as they make their way through North Africa, Sicily, and across Europe during World War II. The production offers a glimpse of the war through the perspective of Fuller, who earned a Silver Star, Bronze Star, and Purple Heart during his tour.
Director: Samuel Fuller
Year: 1980
Runtime: 113 minutes
Rating: PG
14. The Counterfeiters
An Austrian-German production, "The Counterfeiters" provides a fictionalized look into the Nazis' secret scheme to take down the United Kingdom by collapsing its economy with a deluge of forged banknotes. After skilled passport and money counterfeiter, Salomon Sorowitsch (based on the real-life Salomon Smolianoff) is captured and placed in Mauthausen concentration camp, his talents in portraiture earn the attention of Nazi guards, eventually getting him transferred to the Sachsenhausen concentration camp. There, he lives in relatively better conditions and participates in forgery at the Nazis' behest, and the film is celebrated for its depiction of the imprisoned character's moral dilemma.
Starring: Karl Markovics, August Diehl, Devid Striesow
Director: Stefan Ruzowitzky
Year: 2007
Runtime: 98 minutes
Rating: R
13. The Imitation Game
Based on Andrew Hodges' 1983 biography "Alan Turing: The Enigma," "The Imitation Game" looks at the World War II contributions of English mathematician and cryptanalyst Alan Turing with a title derived from Turing's own work. Although the film would draw criticism for its handling of Turing's sexuality and a fair degree of historical inaccuracies, it offers an interesting introduction to Turing's development of a machine designed to crack Nazi codes designed with their own Enigma machine.
Starring: Benedict Cumberbatch, Keira Knightley, Matthew Goode
Director: Morten Tyldum
Year: 2014
Runtime: 114 minutes
Rating: PG-13
12. Rome, Open City
"Rome, Open City" is an Italian neorealist film set in 1944 Nazi-occupied Rome and follows Resistance leader Giorgio Manfredi (Marcello Pagliero) in his efforts to evade Nazi intelligence and Italian fascists. He enlists the help of another resistance fighter's pregnant fiancée and priest Don Pietro Pellegrini (Aldo Fabrizi) as he attempts to flee the city. The film has been hailed for offering a realistic and nuanced look at life in Rome under occupation.
Starring: Aldo Fabrizi, Anna Magnani, Marcello Pagliero
Director: Roberto Rossellini
Year: 1945
Runtime: 105 minutes
Rating: NR
11. 49th Parallel
Produced in 1941 and originally released in the United States under the name "The Invaders," the British film "49th Parallel" was intended as propaganda meant to inspire Americans to get behind the war. The film depicts Nazis on the American doorstep as a group of German soldiers attempts to enter the then-neutral United States after their U-boat is sunk in Canadian waters, with their efforts thankfully thwarted by the Canadian initiative. The picture is anchored by an all-star cast who truly believed in the message of the movie they were making.
Starring: Leslie Howard, Laurence Olivier, Anton Walbrook
Director: Michael Powell
Year: 1941
Runtime: 123 minutes
Rating: NR
10. Land of Mine
"Land of Mine" recounts the post-World War II agreement between the British, Danish, and German forces that led to German prisoners of war clearing Danish minefields after the war ended. According to the Israeli publication Haaretz, as many as half of the POWs involved in this controversial agreement would be maimed or killed, and many scholars believe the decision violated the Geneva Convention of 1929. The film presents an empathetic look at this darker side of the World War II aftermath.
Starring: Roland Møller, Mikkel Følsgaard, Laura Bro
Director: Martin Zandvliet
Year: 2015
Runtime: 90 minutes
Rating: R
9. Downfall
A German-Austrian-Italian production, "Downfall" looks at the last days of Adolf Hitler's reign as Allied forces close in on the Führerbunker. The story is told from the perspective of Hitler's final private secretary Traudl Junge, who remained with Hitler and Eva Braun in their bunker throughout Hitler's pathetic and rambling final days, and draws heavily on Junge's memoir "Until the Final Hour." In his Newsweek review of the film, David Ansen praised the film for presenting a more complex and humanizing portrayal of Hitler, arguing that "to pretend these villains were less than human is to let ourselves off the hook, to take the easy and dangerous exit of demonology."
Starring: Bruno Ganz, Alexandra Maria Lara, Corinna Harfouch
Director: Oliver Hirschbiegel
Year: 2004
Runtime: 155 minutes
Rating: R
8. The Great Escape
"The Great Escape" is a fictional wartime escape adventure inspired by the real events that occurred when British Commonwealth POWs in a German camp in what is now Poland staged a mass escape, as recounted in Australian fighter pilot Paul Brickhill's 1950 memoir. The film reimagines these events with Hollywood flair, emphasizing the role of Americans to make the story more appealing to a wider commercial audience. Set in the Luftwaffe-run Stalag Luft III POW camp, the story follows the POWs as they hatch an improbable plan to tunnel out of the camp and escape from the Nazis.
Starring: Steve McQueen, James Garner, Richard Attenborough
Director: John Sturges
Year: 1963
Runtime: 172 minutes
Rating: NR
7. Letters from Iwo Jima
Clint Eastwood's Japanese-language companion piece to the 2006 World War II film "Flags of Our Fathers," "Letters from Iwo Jima" was meant to portray the Japanese side of the Battle of Iwo Jima with humanity and moral complexity. Drawing heavily on Kumiko Kakehashi's "So Sad To Fall In Battle: An Account of War" and General Tadamichi Kuribayashi's "Picture Letters from the Commander in Chief," the film strives for a realistic and accurate historic portrayal when possible. "Letters from Iwo Jima" was warmly received by American and Japanese audiences alike and was praised for its sensitive treatment depicting of both Japanese and American experiences.
Starring: Ken Watanabe, Kazunari Ninomiya, Tsuyoshi Ihara
Director: Clint Eastwood
Year: 2006
Runtime: 140 minutes
Rating: R
6. The Pianist
Based on the 1946 memoir by Holocaust survivor Władysław Szpilman, a Polish-Jewish pianist and composer who survived Warsaw's occupation by Nazis, "The Pianist" depicts the days leading up to and the duration of the Nazi occupation from Szpilman's perspective. After he becomes separated from his family, the German occupation finds the radio station pianist (played by Adrien Brody) hiding around what is left of Warsaw while evading the Nazis. While many films depict more heroic aspects of the war, "The Pianist" shares a soulful look at one man's struggle to merely make it through alive, an experience shared by many who were not as fortunate as he was.
Starring: Adrien Brody, Thomas Kretschmann, Frank Finlay
Director: Roman Polanski
Year: 2002
Runtime: 150 minutes
Rating: R
5. Dunkirk
Christopher Nolan's "Dunkirk" looks at the chaotic Allied evacuation of soldiers waiting for rescue at Dunkirk after the Battle of France in 1940. As hundreds of thousands of British, French, and Belgian troops arrived at Dunkirk waiting for evacuation, they found themselves sitting ducks for the Germans to pick off while the Luftwaffe took out the ships coming to get them. Nolan employed a unique strategy depicting a week of land action, a day of sea action, and an hour of air action, emphasizing visual storytelling over heavy exposition to provide an intense wartime saga that avoids becoming formulaic.
Starring: Fionn Whitehead, Tom Glynn-Carney, Jack Lowden
Director: Christopher Nolan
Year: 2017
Runtime: 106 minutes
Rating: PG-13
4. Inglorious Basterds
"Inglorious Basterds" brings everything that's great about Quentin Tarantino's signature style together in a World War II anti-Nazi revenge film. The story centers around two plots to take out Nazi leaders during the German occupation of France. Key to the story is a commando unit called the Basterds, who menace the Nazis by scalping and torturing them. The Basterds operate under the leadership of Lieutenant Aldo Raine (Brad Pitt), who recruits Jewish-American soldiers to the cause. The fates of the Basterds converge with that of a Jewish woman named Shoshanna (Mélanie Laurent) at a theater in Paris in this genre-twisting alternate history.
Starring: Brad Pitt, Christoph Waltz, Michael Fassbender
Director: Quentin Tarantino
Year: 2009
Runtime: 153 minutes
Rating: R
3. Casablanca
"Casablanca" finds a Moroccan club owner (played by Humphrey Bogart) living in Vichy-controlled Casablanca caught up in a plot to smuggle a Czech Resistance leader and fugitive safely out of town. When Rick's former lover Ilsa Lund (Ingrid Bergman) comes walking through his door, though, he finds he can't say no to her even if it costs him everything. Beautifully performed, "Casablanca" is considered by many to be one of the most romantic films of all time.
Starring: Humphrey Bogart, Ingrid Bergman, Paul Henreid
Director: Michael Curtiz
Year: 1942
Runtime: 102 minutes
Rating: PG
2. Saving Private Ryan
"Saving Private Ryan" was inspired by the real wartime tragedy of the Niland family — a family with four sons from New York who served in the military, with only one initially believed to have survived the war. Like the story of the real-life brothers, "Saving Private Ryan" finds three out of four brothers killed in combat. When Department of War staff learn that the fourth brother is missing in action, they send a detachment led by Captain John Miller (Tom Hanks) into the war zone to find him and bring him home to his mother. The film is known for its realistic portrayal of the war and outstanding performances from the likes of Tom Hanks, Matt Damon, Jeremy Davies, Tom Sizemore, Vin Diesel, Adam Goldberg, and Giovanni Ribisi, among others.
Director: Steven Spielberg
Year: 1998
Runtime: 169 minutes
Rating: R
1. Schindler's List
"Schindler's List" is based on the true account of German industrialist and Nazi Oskar Schindler, recounted in Australian author Thomas Keneally's 1982 book "Schindler's Ark." The owner of an enamelware factory, Schindler was able to save the lives of around 1200 Jews (known as Schindlerjuden pr "Schindler Jews") by keeping them employed in his Kraków factory. Despite his Nazi leanings and initially selfish motives, Schindler is disturbed when the Nazi SS-Untersturmführer Amon Göth initiates the wholesale massacre of Jews in the streets. To save the lives of as many people as possible, Schindler maintains a relationship with Göth, bribing him as necessary. The film is shot in black and white with only the symbolic Girl in Red recolored, and the entire runtime is magnificent and haunting.
Director: Steven Spielberg
Year: 1993
Runtime: 195 minutes
Rating: R