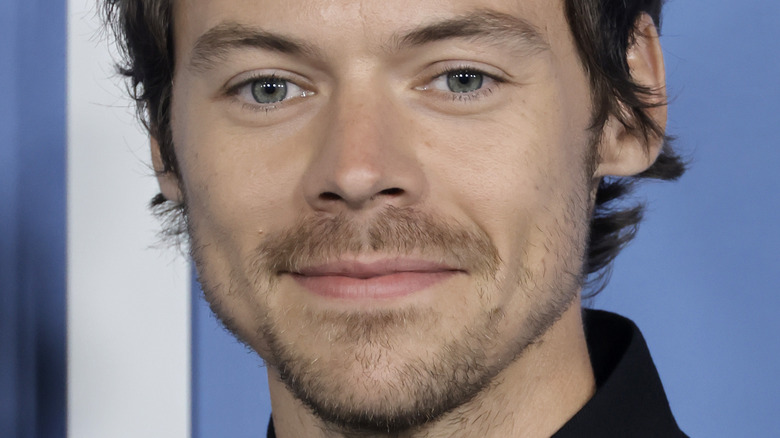 Harry Styles has been in the spotlight for over a decade now, though the former One Direction boy-bander is only getting started in his career. Styles rose to fame thanks to his audition on "The X Factor," which would prove to be a pivotal point in his life, despite the fact that he was initially rejected by the judges. One of those judges, Simon Cowell, didn't think Styles was ready for a solo career yet, though he did see some potential for a boyband — and thus, One Direction was born.
Of course, no one could know just how popular Styles and the rest of One Direction would become. Along with bandmates Louis Tomlinson, Niall Horan, Zayn Malik, and Liam Payne, Styles would spend much of his teenage years touring the world and enjoying the immense perks of having such a dedicated fanbase. "It can be difficult for some people," Styles told The Telegraph of fame in 2020 (via the Daily Mail). "… It's just one of those things where it's not really a normal thing and it can be quite strange." Noting the importance of a work-life balance, he added, "I'm very lucky to have a great friend group and people I work with, and my family really support me. … I think that helps me compartmentalize things to make it easier."
This multi-talent has come a long way from his teenaged reality TV days — let's take a look back at the pop star's time in the spotlight, from "The X-Factor" to being Olivia Wilde's ex.
Harry Styles: The baker boy from Cheshire
Before he was one of the world's most popular musicians, Harry Styles was a young boy who grew up in Holmes Chapel, Cheshire, England. Born on February 1, 1994, the son of Anne Twist and Desmond Styles had a humble upbringing alongside his older sister, writer-podcaster Gemma Styles. When the singer-songwriter was just seven years old, his parents divorced.
Along with attending school, a 14-year-old Harry made some dough at a local bakery. "He was the most polite member of staff we've ever had," his former boss told the Mirror. "… He was a really hard worker." When One Direction was at the peak of their fame, Harry visited the bakery while filming the 2013 movie "One Direction: This Is Us," even hopping back behind the counter and serving some customers who were likely very shocked to see the star return to his minimum-wage roots.
Meanwhile, Harry began exploring his musical talents as the lead singer of White Esk*mo. "We wrote a couple of songs," he recalled to Rolling Stone. "One was called 'Gone in a Week.' It was about luggage." A week after Harry joined the band, the group won their town's Battle of the Bands competition. After seeing the way her son excelled on stage, proud mom Anne encouraged him to audition for "The X Factor." "I went to the audition to find out if I could sing, or if my mum was just being nice to me," Harry admitted to Vogue. Little did he know this audition would change the course of his life.
One Direction catapulted Harry Styles into fame
Harry Styles was just 16 when he auditioned for "The X Factor." The fresh-faced teen was already rocking his signature curls, with undeniable charisma the moment he stepped on stage. An extended cut of Styles' audition revealed that he first sang Train's "Hey Soul Sister," before wowing the judges by belting out an acapella rendition of Stevie Wonder's "Isn't She Lovely." As previously mentioned, he faced elimination, but the judges offered him the chance to continue with four other boys as a group.
One Direction itself would finish in 3rd place, but with a growing and dedicated fanbase before even leaving "The X Factor" stage, their success only skyrocketed from there. Niall Horan, Liam Payne, Louis Tomlinson, Zayn Malik, and Styles became international heartthrobs overnight, taking over the world in an unstoppable way that can only be compared to Beatlemania.
1D's lead single "What Makes You Beautiful" was a defining pop sensation of the early 2010s, and it helped the band's debut album "Up All Night" snag the No. 1 on the Billboard 200 chart in 2012. According to Billboard, One Direction's six-year run saw them release five albums, land two "Saturday Night Live" performances, sell out arenas and stadiums, and win several awards. They even shot a Pepsi commercial with Drew Brees. Styles, then 18, was as cheeky as ever, but quickly maturing into an adult, with a more polished look to his dark curls.
Harry Styles' glossy curls grew into rockstar locks
By 2014, One Direction reached unprecedented amounts of fame. The boys we met in 2010 had quickly become young men, and with their newfound maturity came a more rugged look, typically laden with tattoos, scruffy beards, and ripped jeans. Gone were the days of bowties and suspenders: the 1D singers were channeling their inner rockstars with bops like "Midnight Memories" and folk-rock ballads like "Story of My Life." As their sex appeal increased, the public's fascination with their personal lives grew, as well.
Harry Styles, whose hair had grown from coiffed curls to an unruly mane had developed an admittedly unfair reputation as a womanizer as his relationships with the likes of Taylor Swift and Kendall Jenner made headlines — but he was seemingly taking the criticism in stride. Instead, the singer focused on touring with One Direction and taming his hair with various headscarves. Styles also began exploring his individuality through fashion. It started with a few hats and a patterned suit here and there, with the heartthrob gradually moving on to bolder silhouettes. His most notable fashion moment during this time was at the 2015 AMAs: styled by collaborator Harry Lambert, Styles wore a stunning floral Gucci suit with flared pants and his long hair messily brushing his shoulders.
We think he looked amazing, but he had never taken such a leap. Needless to say, the suit sent the internet into hysteria. Some were supportive, while others made memes comparing the suit to their grandma's couch. This was only the beginning of Styles' fashion journey.
When 1D went on hiatus, Harry Styles went solo
After five albums and their fair share of drama, One Direction reached a turning point. "Made in the A.M." was released in November 2015, fresh off the heels of Zayn Malik's departure that March, and the "Drag Me Down" hitmakers would eventually announce their hiatus. Harry Styles graced their final album cover with hair grown past his shoulders with a side-swept look. However, he soon shocked the world by chopping his shaggy curls for charity, debuting the cut with an Instagram photo of him holding his own braided ponytail.
While fans were no doubt heartbroken about saying goodbye to 1D, there was one big silver lining: the hiatus allowed each member to explore a solo career. Styles' self-titled debut was released in May 2017 to high anticipation from fans and critics alike. The dreamy, rock-inspired album shot straight to No. 1, birthing tracks like the epic piano ballad "Sign of the Times" and the energetic rock tune "Kiwi." Not only would this album establish Styles as a soloist, but it would reveal a softer, more alternative side to the singer, who found inspiration in '70s rock. In an interview with USA Today, Styles likened writing the album to therapy, saying, "It's so much easier saying something to an instrument than it is to a person."
Styles' newly chopped locks were kept short and flirty during this time, but he still occasionally experimented with scarves and claw-clips alike. On his first solo tour, Styles was mainly photographed in funky, fitted suits similar to his famous AMAs look.
Harry Styles found success outside of music, too
While Harry Styles is best known as a musician — both for his work in One Direction and as a solo artist — he's pretty accomplished outside of the music world, too. At the same time as he embarked on his solo music career, the multi-talented star also dabbled in the film industry. In fact, it turns out that haircut was tied to his first big screen project. In 2017, Styles starred in the Christopher Nolan war drama "Dunkirk." The film itself was met with high praise, sitting at 92% on Rotten Tomatoes. Making an acting debut in a war movie is no easy feat, but Styles managed to pull it off, with a USA Today critic praising his performance for having a "surprising amount of grit and pathos."
Though Styles focused on music for the few years following his "Dunkirk" debut, he found himself back into acting in 2020. The British heartthrob filmed "Don't Worry Darling," which also stars Florence Pugh, Chris Pine, and Gemma Chan. The film's director, Olivia Wilde, also opened up on Instagram about how much she enjoyed working with Styles on set, praising him for allowing his co-star Pugh to "take center stage." Wilde also praised Styles' work in the film, saying that the actor "infused every scene with a nuanced sense of humanity."
We'll dive more into this project and more below, but despite "Don't Worry Darling" only being Styles' second film, he was already proving to be as powerful an actor as he is a singer.
Fine Line landed Harry Styles with his first Grammy
Between touring his debut album, promoting "Dunkirk," and canoodling then-girlfriend and French-American model Camille Rowe, Styles began recording his sophomore album "Fine Line." The record dropped in December 2019 and debuted at No. 1 on the Billboard charts. The eclectic soft-rock follow-up to "Harry Styles" feels familiar but is more playful and complex than his debut. Styles sings more candidly about love and heartbreak in tracks like "Falling," embraces his identity on "Lights Up," and worships the female form with the cheeky "Watermelon Sugar."
Styles tapped into a different side of himself this time around, admitting to Zane Lowe that he also occasionally took mushrooms while writing. This might explain some of his more lively, musical theatre-like tracks such as "Treat People with Kindness" (aka the singer's motto) and "Sunflower, Vol. 6." The Guardian and Rolling Stone, among other publications, praised Styles for this experimental record, and "Fine Line" was nominated for three Grammys and several BRIT Awards.
When Styles took home his first Grammy for best pop performance for "Watermelon Sugar" in 2021, the singer wore a plaid yellow blazer, brown corduroys, and a lavender boa. The award was a huge victory for Styles, who admittedly felt more freedom to express himself with this record. "I think with the second album I let go of the fear of getting it wrong and … it was really joyous and really free," he told Vogue. "I think with music it's so important to evolve — and that extends to clothes and videos and all that stuff."
Harry Styles made history with Vogue
Not even a global pandemic could slow down Harry Styles. In late 2020, he made history as the first man to grace the cover of Vogue solo. The singer, who's pictured blowing a balloon in the middle of a grassy field, was styled in a fitted Gucci blazer and lace dress, with chunky rings and loose, tousled hair. It served as a beautiful example of Styles embracing femininity and fluidity, and in his interview, the musician expressed not wanting to be limited by traditional gender norms. "Clothes are there to have fun with and experiment with and play with," Styles said of the iconic fashion moment. "… There's so much joy to be had in playing with clothes. I've never really thought too much about what it means — it just becomes this extended part of creating something."
Though this moment was iconic, it unfortunately came with some backlash — from Candace Owens' own controversial cry to "bring back manly men" — to which Styles has an epic Twitter response — to Fenella Hitchcock, a lecturer at the London College of Fashion, criticizing any praise he received. Claiming that Styles wasn't being particularly "new or radical," per Dazed, she argued that the shift toward androgynous fashion had long been happening within the LGBTQ+ community.
However, as friend and then-creative director for Gucci Alessandro Michele told Vogue, "He's really in touch with his feminine side because it's something natural. And he's a big inspiration to a younger generation. … I think that he's a revolutionary."
He explored beauty with Pleasing
In 2021, Harry Styles shifted his attention to the beauty realm with the release of Pleasing. Despite the suggestive nature of its name, Pleasing is described as a life brand that specializes in nail polish, skincare, cosmetics, and even apparel for everyone. The colorful and inclusive brand was dreamt up in a moment of gratitude during quarantine and launched that November, with its first products being biodegradable nail polish and serums for your eyes, lips, and face.
"I really think that the essence of Pleasing is finding those little moments of joy and showing them to people," Styles explained to Dazed. The brand's tagline, "Find Your Pleasing," fits perfectly with his vision to empower others through individuality. In an interview with Harper's Bazaar, the singer-turned-businessman explained: "Starting the brand with beauty felt exciting because creating great products is a unique way to make people feel good. … I didn't want to make products to mask people, I wanted to highlight them and make them feel beautiful."
To absolutely no one's surprise, Pleasing's first launch sold out quickly and garnered positive reviews from the likes of Allure. The cute, Instagrammable brand has since expanded with hoodies, makeup, and even beach towels, featured its first collaboration with fashion designer Marco Ribeiro, and even boasted pop-up shops around the world. By January 2023, Business of Fashion dubbed it a bona fide empire. Though he isn't certain where the brand will be in a few years, Styles was optimistic and willing to learn. "That's what makes it exciting to me," he admitted to Dazed.
Harry Styles headlined Coachella in 2022
Harry Styles was very busy in 2022, starting with Coachella that April. He headlined the festival in front of a massive 100,000-person crowd to tease new music and usher in a new era. Styles sang some crowd favorites, as well as three new tracks, "Boyfriends," "Late Night Talking," and his then-new mega-hit single "As It Was," in sequined jumpsuits and feathered coats that perfectly captured his '70s pop-rock sound. Cue some funky images of nature on the screen, and Coachella was officially transformed into "Harry's House" — the name of his upcoming album — leaving fans at the edge of their seats in anticipation. Every look he wore was designed by Gucci — including the pink cowboy-inspired metallic set with his initials embroidered on the backside of the pants.
During both performances, Styles surprised the audience with a special guest: While weekend two saw Lizzo join her pal for a truly iconic rendition of "I Will Survive," weekend one marked a surreal, full circle moment for the British hitmaker. The stage went dark as the beginning notes of Shania Twain's "Man! I Feel Like a Woman" filled the air. Suddenly, Twain herself appeared onstage, and the two performed the hit together to roaring applause, before singing "You're Still the One."
Twain later told "Today" it was a career highlight for her, while Styles — who grew up listening to her with his mom and sister — admitted to the morning show (via Yahoo! Entertainment), "I'd love to say it was for the crowd, but it's just for me."
Harry's House brought his level of fame to another level
Harry Styles' third album "Harry's House" dropped in May 2022, and the cover immediately signaled a delicate shift away from the fuzzy, pink aesthetics of his two previous records. This time, things appeared more muted, with Styles' home literally upside down — prefacing some turbulence the singer would discuss on the album. However, much of "Harry's House" also features upbeat psychedelic themes, horns, and synths. The New York Times called the singer as a "dreamy cipher," which couldn't be a more accurate way to describe the intimate world Styles built here.
With singles like the inescapable "As It Was" — which broke records on Spotify and the Billboard Hot 100 — and "Late Night Talking," Styles invites listeners into his mind, where they can be vulnerable, compassionate, and kind without judgment. This era also brought out a more confident and whimsical side of Styles as an artist, crediting unplanned time off during quarantine for allowing him to work on himself in therapy and reprioritize his life. "Putting out the first single from this album was far and away the most relaxed I've ever felt putting anything out," he told Zane Lowe. "I no longer feel like my overall happiness is dependent on whether a song goes here or goes here."
The record-breaking album debuted at No. 1 in the U.K. and on the Billboard 200 chart and was critically acclaimed — it even helped Styles make history for selling out 15 shows at Madison Square Garden. "Harry's House" was also nominated for six Grammys.
He collaborated with Gucci on HA HA HA
Harry Styles' interest in fashion bloomed in 2022. Somewhere between Coachella, promoting his new album, and continuing his international "Love on Tour," the musician collaborated on a menswear campaign with Gucci. A longtime fan of the brand, Styles chose to build HA HA HA with Alessandro Michele as his "dream wardrobe," according to Esquire. The name is a combination of Styles' own initials and those of the former Gucci creative director, thus the repeated combination of "HA."
"We were thinking for a very long time of doing it, just for fun," Michele explained to the publication that June. "It started to be something really concrete maybe a year ago. And it's still pretty strange. It's still like 'hahaha,' you know? We didn't know, all of us, that it would become something big. Because it was not big. It was just a cozy thing."
The creative menswear line officially launched that October with 25 looks fit for everyday wear. The unveiling, which took place in Milan, revealed that HA HA HA is exactly what one would expect of a fashion collaboration with Styles: it's colorful, with bold animal prints and '70s aesthetics, with a mix of English and Italian fabrics tailor-made for Gucci, as reported by Vogue Business. The collection also features a lot of knitwear and cutesy bear accessories. Many of the pieces are fitted and vintage inspired because, as Michele told Esquire, "Harry loves vintage, too."
Harry Styles landed his first lead movie roles
In 2021, Harry Styles surprised Marvel fans with a cameo at the end of "Eternals." He appears in the after-credits scene as Eros, Thanos' brother, wearing heavy armor over a red jumpsuit. President of Marvel Kevin Feige has already excitedly teased that Eros will eventually be a regular. He'd later star as Jack, a doting and hardworking husband in a seemingly perfect 1950s-like town, in Olivia Wilde's "Don't Worry Darling."
The psychological thriller premiered in September 2022 but made headlines more for inescapable rumors surrounding alleged behind-the-scenes drama between Wilde and Florence Pugh than for the movie itself. Wilde and members of the "DWD" crew denied the reports. Amid the ongoing scrutiny, Styles' acting chops were questioned by his harshest critics, though once the media frenzy died down, he received some praise for his performance — as did the film, which performed well at the box office and on HBO Max.
Shortly after, Styles' second film of the year premiered at the Toronto International Film Festival. Directed by Michael Grandage, "My Policeman" is an independent movie that tells the story of love triangle featuring a forbidden queer relationship in 1950s England. While this project also faced controversy stemming from ongoing speculation about Styles' sexuality, The Guardian dubbed it "poignant," and the cast were awarded the TIFF Tribute Award for Performance. Ultimately, the drama worked out in Styles' favor, as he was officially an in-demand actor. However, he told Rolling Stone that his heart lies with music, saying, "I don't imagine I'd do a movie for a while."
His headline-making relationship with Olivia Wilde
Of course, we couldn't finish off without addressing Harry Styles' headline-making relationship with Olivia Wilde. It's assumed that these two met on the set of "Don't Worry Darling" sometime in late 2020. Coincidentally, Wilde's breakup with ex-fiancé Jason Sudeikis from months prior went public around this time. The following January, Styles and Wilde were spotted for the first time walking hand-in-hand as they attended a wedding, per Page Six. They wouldn't be seen together again until that June — though Wilde didn't shy away from praising her new boo on Instagram in between.
While she and Styles themselves would remain low-key about their romance for the entirety of their nearly two-year relationship, a media frenzy full of paparazzi snaps, unsubstantiated reports, and controversy ensued. Certain circles of Styles' fans on social media, in particular, slammed the duo's 10-year age gap and relationship timeline — the latter of which Wilde hit back at in Vanity Fair in October 2022. That August, Styles opened up about the hate they'd received. "That obviously doesn't make me feel good," he told Rolling Stone. "Can you imagine going on a second date with someone and being like, 'OK, there's this corner of the thing, and they're going to say this, and it's going to be really crazy, and they're going to be really mean, and it's not real. … But anyway, what do you want to eat?'"
By November 2022, People announced that Styles and Wilde were taking a break, but that they would remain friends.
The future feels bright for Harry Styles
The past decade or so has been a rollercoaster of success for Harry Styles, but this seems to be only the beginning for the multi-talent. The singer-actor, who will turn 29 in 2023, boasts a multi-faceted career that's going stronger than ever, from music to movies to fashion and beauty. As of this writing, he's still riding high on the success from his third solo album "Harry's House," and will continue his international "Love on Tour" through July 2023.
So, what's next for the pop star? Only time will tell, but through it all, Styles is dedicated to remaining humble. Despite his continuously growing success, for example, he still feels grounded and finds happiness in his projects. "I just put a lot more emphasis on trying to find the balance and trying to do what makes me happy rather than trying to work out what I'm supposed to be doing," he told radio host Tanya Rad from "On Air with Ryan Seacrest" back in 2020 (via People).
Clearly, he's doing something right: with a flourishing music and film career, along with a history of records with One Direction, Harry Styles is one of the most popular and talented stars of his generation.