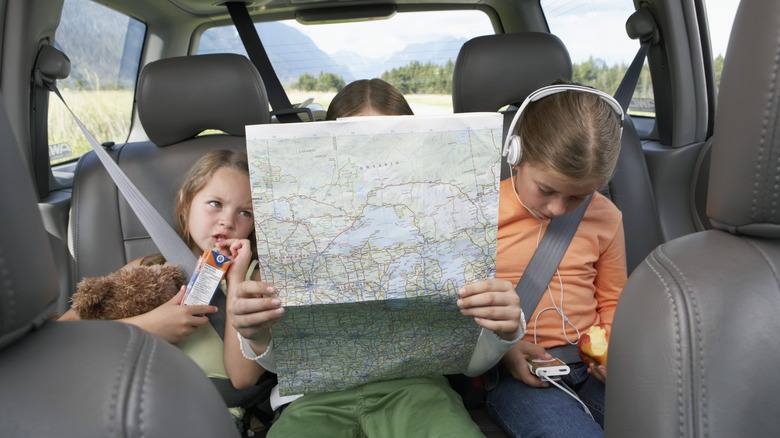 Travelers everywhere lean on the utility and functionality of a good map app. Maps help us to make sense of the world, and they are critically important for finding directions – whether in the city we know best or somewhere farther afield. Map apps have become exceedingly powerful over the last decade, transitioning from paper maps and hand-drawn routes that our parents might have used to facilitate a road trip to the atlases that rest in the palm of our hand and can provide up-to-the-minute traffic information and route planning capabilities (via Geospatial World). The most powerful apps include business ratings, public transit departure times, and many other great additions that make traveling, commuting, or simply browsing a new town interesting and highly informative.
But maps have limitations, as has always been the case with mapping technologies throughout human history. Early maps provided glimpses of the land, but the distortions created by inaccuracies or ignorance rendered them useless in comparison to the successive generations of mapped landscapes that would continue to come along. Today's maps include so much data and nuance that a stable internet connection is often required to get the most out of them. This isn't a problem in daily life, but what about when your data runs out or you're traversing a foreign country or a remote area and don't have cellular service? These five GPS apps provide the solution for offline navigation.
Sygic GPS Navigation
Sygic is a great option for offline navigational requirements. Sygic notes that its offline navigation function always works, no matter the location or your connectivity status. As well, the Sygic GPS Navigation app comes loaded with millions of points of interest (via Sygic), allowing you to add them to your route or highlight them in order to find something later on in your travels.
Sygic maps load quickly, and the outlet notes that it updates its navigational maps three times per year to account for road layout changes, construction, and any other factors that may affect your journey across more than 200 countries. In fact, Sygic reports that with a forthcoming update, the navigation app will offer offline GPS services to cover every country on Earth!
The application includes walking directions and features the locations of speed cameras and speed limit data to help you stay compliant with local laws and avoid getting nabbed for a fine. The app offers a premium, paid version, but can be used effectively with the free installation as well.
Maps.me
Another crucial asset that travelers can utilize when looking for a potent offline GPS system is Maps.me. The platform supports the GPS needs of 60 million users and has been downloaded 140 million times by a truly global audience (via Maps.me). The application provides free offline mapping capabilities (and a paid subscription that does away with ads for $0.99).
Maps.me notes that its service extends beyond a platform that provides accurate, offline maps and GPS services. As well as these key features, Maps.me includes a voluminous catalog of travel guides that are sure to enrich your adventures in any part of the world. Maps.me also provides 70 million points of interest that include categorizations ranging from religious sites to stadiums or health retreats and spas. You can find repair services, hotels and lodging, doctors and laundromats, and even pet stores.
Maps.me is a well-rounded travel app that helps users locate fantastic things to do and see around the world, then provides the directions required to get there and enjoy the experience.
HERE WeGo
HERE WeGo offers free offline navigation and includes real-time comparisons of various public transit options (including time to destination and pricing, according to Makeuseof). The App Store notes HERE WeGo users can save interesting destinations within collections provided by the app, and users can enable shortcuts to quickly program the app to direct them to commonly used destinations (like home, work, or a hotel that travelers might be staying at while on vacation abroad).
HERE WeGo is the product of decades of mapping technology (via HERE). The brand has been developing this global navigation application for use by individuals and corporate entities alike and boasts an impressive user base of over 170 million vehicles that rely on HERE mapping services. Similarly, the GPS data provided by HERE WeGo powers the navigational needs of more than 6,400 corporate users in 52 countries. This is a professional outlet that blends consumer GPS needs and more robust business requirements with ease – and places them all in an intuitive and cost-free package for casual navigation use that the average traveler will require. The App Store notes that HERE WeGo's maps cover public transportation routes in more than 1,900 cities worldwide, and offer voice guidance and parking locator assistance for drivers on the go.
Genius Maps
Genius Maps offers both driving directions and pedestrian navigation in an offline format. The GPS app helps with route planning and can add voice instructions and audio alerts for speed limits, rerouting, and more. Genius Maps adds 3D views of the landscape and buildings, making the interface something that's also interesting to explore while you traverse a city or plan out a route for future travel. The application also provides unlimited updates on the maps you've selected, offering up-to-date navigation at all times (via Mireo).
The app can be run for free with a seven-day trial, but with a purchase of the premium service (CNET notes that the upgrade for North America is $52.98) you'll get access to enhanced features for life, extraordinary route planning, and GPS exploration power. App Store users rate the app at a 4.9 and report that with each update there is a noticeable increase in mapping efficiency and utility. The company appears to be putting its full weight behind the product to establish something truly potent for the offline GPS user's needs.
Google Maps
Finally, there's Google Maps. It's an iconic example of a GPS application for your phone, tablet, and computer. But one feature that users might not be immediately aware of is the ability to download city maps for use when your phone loses its internet connection. This is a crucial tool for those who often go off on adventures abroad but don't want to pay the hefty additional price to include data roaming alongside their own meandering.
Google reports that downloading a map slice is simple:
On your Apple device, open the Google Maps app.
Select your profile sphere and then click on "Offline maps."
Tap "Select your own map."
Determine your download parameters, and then hit "Download."
Once you've downloaded a map slice, Google Maps will continue to perform seamlessly with or without a live internet connection. iGeeksBlog reports that Google Maps won't provide transit information with downloaded, offline maps, so this limitation may determine whether the use of Google's service or another is the best choice for your needs. Similarly, the outlet notes that maps are automatically deleted after 30 days, meaning you won't have to manually clean up storage space on your device. You can, instead, download the information you need and then let it expire on its own. Google is by far the most popular maps application provider, and this added wrinkle makes it so you can avoid keeping multiple GPS apps on your phone, potentially making your user experience more streamlined and data management simpler.