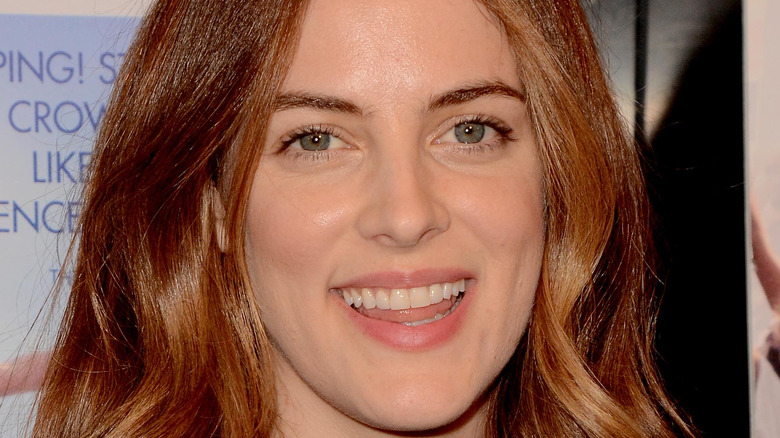 If you haven't heard the name Riley Keough yet, you will soon. Her star is on the rise with roles in films and shows like "The Runaways," "Mad Max: Fury Road," "The Girlfriend Experience," "Zola," and "The Devil All the Time" under her belt. Her rapidly growing resume is just part of the reason Keough is becoming a household name, though — she's also show business royalty.
Even if Keough's name isn't familiar to you, you've almost definitely heard of her family. Born to musicians Danny Keough and Lisa Marie Presley, Danielle Riley Keough is also the granddaughter of Priscilla Presley and the King himself, Elvis Presley, as noted by TV Guide. Her pedigree is impressive, but Keough's talents speak for themselves. Far from being just another celebrity offspring, Keough has worked hard to make a name for herself in the industry and it's easy to see why acclaimed directors like Steven Soderbergh and Andrea Arnold sing her praises — you will too after learning more about her.
Riley Keough was constantly uprooted as a kid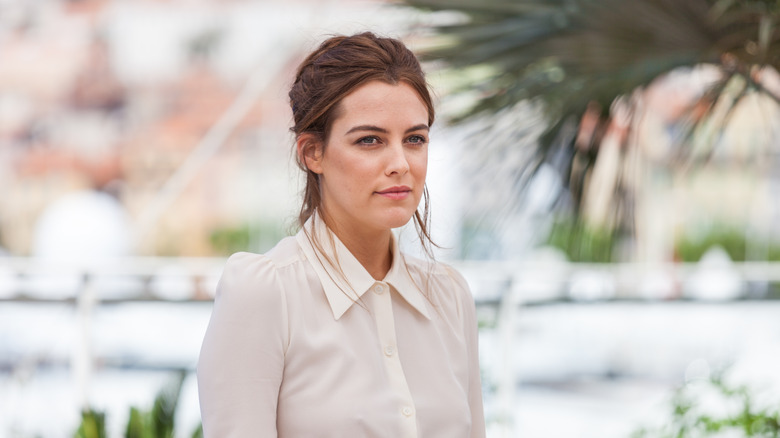 Riley Keough's parents, Lisa Marie Presley and Danny Keough, divorced when she was 5 years old. Consequently, she was shuffled back and forth between her parents and also moved around a lot. For a time she moved to Florida from her hometown of Los Angeles, and also spent long periods of time in Hawaii. It wasn't exactly a stable home life for the young Keough, who told InStyle that she "kind of always felt out of place."
Making the experience even more dizzying were her parents' very different lives. She told The Guardian she "grew up very privileged with [her] mother" but had a more down-to-earth experience with her dad, who "had mattresses on the floor of his apartments" and "lived in cabins and trailer parks."
Still, her childhood was a happy one. "My memories of growing up with him were so colorful and eccentric and fun," she said of her dad. "It was a good vibe, you know?"
Instead of feeling deprived with her less-privileged father, she said that she actually envied his simpler lifestyle, and that she once told him she "want[ed] to grow up and be poor" without understanding "how wildly offensive that was."
Riley Keough had some famous stepdads
It's safe to say that Riley Keough's childhood wasn't a typical one. Aside from moving around a lot and coming from a famous family, her mother was involved in some high-profile relationships. As noted by Biography, Lisa Marie Presley was married to Michael Jackson from 1994 to 1996, so Keough spent part of her childhood at her stepdad's Neverland Ranch. Keough told The New York Times Style Magazine that she "loved" Jackson and had a blast at the ranch. "There were toys everywhere, animals everywhere, kids everywhere," she said. "It was like being at Disneyland all day."
She had less praise for her mother's 108-day marriage to Nicolas Cage in 2002, however, telling the outlet, "My mom's a tough b***h."
That's a lot of upheaval for anyone, let alone a child, and it played a role in shaping Keough. "I think I've had a more complex life than people are aware of," she told The Guardian.
She always wanted to act, but never wanted to be a child star
Riley Keough always had plans to become an actress, and spent her childhood performing plays and even making her own movies at home but, as she told InStyle, she also "had a very practical mindset about it all for a child." While she knew that she wanted to enter show business one day, she also knew what she wanted to have a normal childhood and finish her education before starting her career, so she decided not to start acting professionally until she grew up.
Pragmatism aside, Keough probably could have been a child star had she wanted to go down that path. The signs of stardom were there, after all: As she told The Guardian, as a kid she'd stare into a mirror and practice crying on cue. "That's like the first sign that your child is going to be an actor. Is she crying in front of the mirror?" she joked.
Riley Keough dropped out of high school
Riley Keough told InStyle that she "really wanted an education," but school itself wasn't a pleasant experience for her. Coming from a famous — and wealthy — family meant that she needed a security detail to go to school. The strain of that eventually got to be too much, so she transitioned to home-schooling. It was a welcome change for Keough, who admitted to The Guardian that she "had … a bad reaction to authority" and that she has never been able to stand "anyone abusing their power."
Despite her desire for an education, she eventually ended up dropping out before getting her high school diploma. While you would think that her parents might have protested, she explained to The Guardian that they didn't have much footing for an argument as she signed with an agent within a week of moving to Los Angeles, and landed her first audition to boot.
That being said, Keough has regrets about her hasty decision not to get her high school diploma, saying "with hindsight it was stupid" and that "high school is important." In her interview with InStyle, Keough blamed part of dropping out of school on her upbringing, saying, "I really wanted to go to college, I just didn't have a lifestyle that would permit that."
She never met her famous grandfather
Riley Keough is okay with being known as Elvis Presley's granddaughter, but it's always been a bit of a surreal experience for her. Presley died more than a decade before she was born, after all, which means she grew up hearing about him in stories but never actually met him. She told The Guardian that she's "not ashamed of" her famous lineage but that she "didn't really think about it that much."
In an interview with Variety, Keough said that she doesn't even listen to her grandfather's music very much, saying, "I don't put it on," and you can't really blame her when you consider the "grief" she associates with his hits. "It was kind of a sad thing, tragic kind of a thing … and I could see from a young age, it would make my mom sad, and so I could feel that," she explained.
While she may have never met her grandfather, it would be easy enough for Keough to see someone dressed as him — something that strikes her as "pretty wild," as she told director Steven Soderburgh for Interview when he asked about how she felt about the "economic ecosystem built on people impersonating [her] grandfather."
She started modeling as a teenager
Riley Keough had her sights set on being an actress, but she actually got her start as a model. She told Interview that her parents tried to talk her out of an acting career, calling it "a heartbreaking industry," to which she answered that she would "just be a model then and make some money." While Keough said that her parents changed their minds about her becoming an actress, she nevertheless made her modeling debut at the tender age of 14.
Keough told Vogue that she fell in love with fashion after seeing her mother, Lisa Marie Presley, gracing the cover of the magazine. "I remember caring what I was going to wear even when I was little," she said (via Elvis Australia). She launched her career on the Dolce & Gabbana runway and, per Town & Country, also modeled for the likes of Tommy Hilfiger and David Yurman, and was also the face of the perfume Miss Dior Chérie.
Although acting was her ultimate dream, Keough enjoyed her time as a model, telling Harper's Bazaar, "I think I was really lucky being able to grow up modeling and getting the opportunity to travel the world and experience so much at a young age."
Riley Keough inherited an impressive set of pipes
With Presley blood running through her veins, you might be wondering why Riley Keough hasn't put out an album of her own yet — especially when you consider that her dad is a musician, too. While Keough took a different path to stardom, she did inherit some pretty impressive musical talent, telling Variety that, while she doesn't sound like her famous grandfather, she does "have kind of a country voice."
Those talents were put to good use singing backup for Orville Peck for a cover of the Lady Gaga song "Born This Way." The Amazon Prime series "Daisy Jones & the Six," set to release in March 2023, features Keough as the titular character, a singer in the 1970s (via Glamour). The actress also learned guitar for the role, telling Vogue that, while she doesn't have a background in music, she was eager for the chance to expand her musical skills. "I was like, 'I don't know if this is for me, but let's try!'" she said.
She met her husband on the set of Mad Max: Fury Road
Riley Keough's talent has brought her more than a steady career. It also helped her meet her husband, Ben Smith-Petersen. The two met on the set of "Mad Max: Fury Road," for which Smith-Petersen worked as a stuntman. The two didn't immediately start dating when shooting began, but got together several months later while doing re-shoots. After that, things developed quickly. "Two weeks into dating him, we were at a gas station and I was like, 'I could see myself having kids with this person,'" Keough told USA Today.
The couple tied the knot in 2015 when Keough was 25, and they have been together ever since. While 25 might seem young to get married — especially by Hollywood standards — Keough told The Guardian, "My mom had me at 21, and her mom had her at 21, so I think 25 is old."
The couple doesn't have kids and Keough isn't sure she wants any, saying that "the world is in a weird place." She added, "I'm kind of torn on whether to bring a child in, or to adopt. Like morally."
Her brother's death left her devastated
Riley Keough's younger brother, Benjamin Keough, died by suicide in 2020, per BBC. Keough was heartbroken by the death of her brother, telling The New York Times, "The first four or five months, I couldn't get out of bed. I was totally debilitated. I couldn't talk for two weeks."
While Keough gradually pulled herself out of her grief with the support of her loved ones, the loss of her brother is something that the actress will never truly get over. In an interview with the "Just for Variety" podcast, she said that after the death of her brother and "best friend," she tried to shed light on mental health by posting videos of Benjamin on social media (via Variety). She explained that while a lot of people have preconceived "ideas about suicide and what that looks like," she wants others to know that anyone could be struggling and "can take their life." Keough added that "taking away that bias around suicide … was really important" to her.
If you or anyone you know is having suicidal thoughts, please call the National Suicide Prevention Lifeline​ at​ 1-800-273-TALK (8255)​.
Riley Keough is a trained death doula
One way Riley Keough began to cope after her brother's death was by becoming a death doula. As president of the International End of Life Doula Association Janie Rakow told USA Today, a death doula "journ[ies] with the person who's dying and their family to help them navigate through the whole end-of-life process."
Keough announced that she had completed her death doula training in an Instagram post, writing, "I think it's so important to be educated on conscious dying and death the way we educate ourselves on birth and conscious birthing."
Keough spoke to The New York Times about becoming a death doula, saying that "being able to put myself in a position of service" helped her to find healing in the aftermath of her brother's death. "If I can help other people, maybe I can find some way to help myself," she said.
She has a lot of tattoos
Riley Keough is the type of person who likes to commemorate significant events with fresh ink. "It's like a scrapbook," she told The New York Times Style Magazine of the many tattoos on her body. Among her tattoos are the Gemini symbol and an image of the tarot deck's Hanged Man card. "The funny thing about tattoos is you get them and they have this deep meaning, but then you kind of forget they're on your body," said Keough.
Another of her tattoos is a Mayan symbol that marks her as "a Self-Existing World Bridger," as she told The Guardian. She also has ink dedicated to her late brother, Benjamin Keough, notes ET, having gotten his name tattooed above her collarbone after his death.
While many of her tattoos hold personal significance, Keough admitted to Flaunt that some mean more than others. The tattoo of the word "nope" on her right wrist, for example, is something she got on a whim while filming "American Honey." She explained, "Everyone was getting tattooed out of boredom, so I just got one, too." Just how many tattoos Keough has is unknown, but it's likely that the list will continue to grow over the years.
Riley Keough is an indie star, but doesn't want to limit her career
Some of Riley Keough's biggest roles have been in indie films, including "American Honey," "It Comes at Night," and "Zola" from independent film studio A24. While she admitted to Elle that she "love[s] art house movies" and "just kind of ended up in that world," she's not opposed to starring in a blockbuster franchise, either.
Keough said she'd have happily starred in the "Harry Potter" franchise if given the opportunity, and is also a fan of the Marvel Cinematic Universe. "I love filmmakers, I love film, but I love all films, and I'm not snobby," she said. She just wants to star in films that people love. She is, however, careful about the people involved with projects she signs up for, confessing, "I'm picky with the filmmakers."
If you want more proof that she's not exclusively about highbrow fare, consider what she watches in her down time. "I love cinema, but I also love HGTV," she revealed.
Her secret talent is not caring what people think
Living in the public eye isn't easy, and neither is coming from music royalty, but Riley Keough doesn't have time for haters. In fact, she doesn't care what they — or anyone else — might think of her. While this may seem like the kind of thing celebrities say in interviews to sound like they're above it all, Keough seems genuine in her disregard for anyone's opinion, telling Elle that it's an "incredible gift" and she is "going to hold on to it because I have a lot of insecurities in other areas."
It's definitely a talent that has helped her in such a cutthroat industry, saying, "If I mess up, I'm like, whatever. I'll try again, or I won't do that anymore if I'm not good at it."
It's not just about being thick-skinned, either. Keough told The New York Times that she simply doesn't "take things too seriously."
Riley Keough had high praise for the Elvis movie
2022 was a big year for the Presley family. Baz Luhrmann's "Elvis," about the life of the King of Rock n' Roll, was released to critical acclaim, and generated lots of awards buzz. Austin Butler even took home the Golden Globe for his portrayal of Riley Keough's famous grandfather, as Priscilla and Lisa Marie Presley — Keough's grandmother and mother, respectively — looked on proudly at the ceremony (via NBC).
The Presley women all had glowing reviews for the film, including Keough: "To capture an iconic figure like Elvis, thankfully, the visual genius Baz Luhrmann was up to the task. … Seeing my family history brought to life through Austin Butler's mesmerizing performance was an incredibly emotional experience and I feel honored to have this story in his hands" (via ET).
According to the Daily Mail, Keough and her family immortalized her grandfather's legacy with a Hand and Footprint Ceremony at Hollywood's famed TCL Chinese Theatre in honor of the film's release and the iconic rock star in June 2022.
She tragically lost her mother, Lisa Marie Presley
On January 12, 2022, Riley Keough experienced another premature loss. Her mother, Lisa Marie Presley, died at age 54 from heart complications, per CNN. She had been in attendance at the Golden Globes in honor of Baz Luhrmann's "Elvis" just two days earlier, when she got to witness Austin Butler take home the trophy for his portrayal of her dad.
Keough's grandmother, Priscilla Presley, confirmed the death of her daughter in a statement to People: "It is with a heavy heart that I must share the devastating news that my beautiful daughter Lisa Marie has left us. She was the most passionate strong and loving woman I have ever known. We ask for privacy as we try to deal with this profound loss. Thank you for the love and prayers. At this time there will be no further comment."
As of publication, Keough has not commented publicly on the passing of her mother, which comes just a few years after the tragic loss of her younger brother. Fans have tweeted their support for her and the rest of her family, per Just Jared.