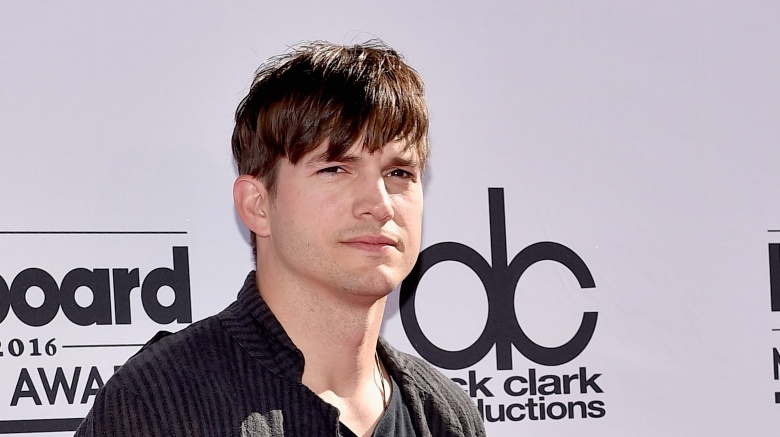 Ashton Kutcher first became a household name thanks to his breakthrough television role as the lovable doofus Michael Kelso in the hit sitcom That '70s Show, but he's also attempted to gain some traction on the big screen—with mixed results. Lately, Kutcher's movie roles have seemed fewer and further between; with that in mind, here are some theories as to why Hollywood doesn't have much room for him at the box office anymore.
He started as a small screen sensation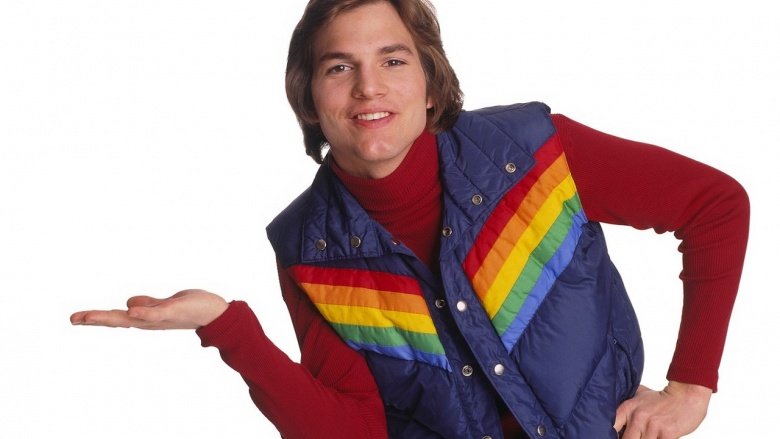 Viewers might have been split between Team Kelso and Team Hyde when it came to Jackie's love life throughout That '70s Show, but Kutcher's on-screen presence as the jovial bonehead simply could not be denied. The show catapulted the then-21-year-old into instant fame, and he went on to solidify his status as a small-screen A-lister by co-creating MTV's docu-reality prank series Punk'd, where his rolodex full of famous people came in handy as he pulled practical jokes on all his new Hollywood pals. He even single-handedly brought mesh trucker hats back into style.
But his movies haven't been as well received
Although Kutcher did have some initial success translating his slapstick humor to the big screen in 2000's Dude, Where's My Car?, and he charmed alongside Brittany Murphy in 2003's Just Married—both films earned scathing reviews.
Kutcher tried to turn things around with a starring role in the 2004 time-travel thriller The Butterfly Effect, but while the movie made a nice chunk of change, his Tomatometer average wasn't exactly improved as a result of the arguably underrated flick. Collectively, Kutcher's filmography has since been marred with pan upon pan by reviewers, and none of his movies—except for the 2014 documentary The Man Who Saved the World, which he barely appeared in—have ever even broken the 50% threshold in their Rotten Tomatoes scores.
He's also been typecast
Some of Kutcher's biggest commercial successes on the silver screen have remained in the comedic realm, including his 2008 rom-com with Cameron Diaz, What Happens in Vegas, his part in Garry Marshall's 2010 ensemble dramedy Valentine's Day, and his "friends with benefits" film with Natalie Portman, 2011's No Strings Attached.
In each of those movies, Kutcher's quirky demeanor helped his characters stick, and although none of them were as dimwitted as Michael Kelso or his Dude persona Jesse Montgomery III, they also weren't exactly Mensa material. Put simply: his fans seem to prefer when Kutcher sticks to the most basic levels of intelligence onscreen. His titular turn in 2013's Jobs, a much-hyped Steve Jobs biopic, failed to resonate with audiences or critics.
His return to TV was … not so triumphant
As his film momentum slowed, Kutcher made what was poised to be a "winning" return to television in 2011, replacing Charlie Sheen on Two and a Half Men after Sheen alienated creator-producer Chuck Lorre with his antics and was booted from the hit sitcom. Despite the fact that Kutcher seemed like an ideal addition to the show, which boasted sky-high viewership during Sheen's tenure, ratings rapidly declined. Kutcher again tried his hand at the big screen with a supporting role in 2014's Annie revival, but that film was a disappointment with critics and audiences alike, and he again returned to TV with the Netflix sitcom The Ranch in 2016.
The Ranch put him out to pasture
Netflix's The Ranch had the potential to present a true return to form for Ashton Kutcher. The buddy comedy series featured Kutcher opposite That '70s Show's Danny Masterson as brothers who learned to work together on their family's ranch after Kutcher's character Colt Bennett spent years away being a football stud. Like Kelso and Hyde, the two brothers were polar opposites of one another, and the best jokes were often made at Kutcher's expense. Reviews for the series were mostly middling, however.
Making matters worse, Masterson was accused of sexual assault by multiple women in 2017 and was ultimately fired from the series mid-production as a result of public outcry over his continued involvement in the show. Not only was Kutcher's TV comeback unable to return him to his status as a staple of small screen comedy, but the show was marred with a major #MeToo era controversy as well.
Capital ventures
While Kutcher's on-camera career has started to wane, he's found a new calling as a technology aficionado. He credits his experience starring in commercials with inspiring his initial interest in getting behind the scenes of product development. He told Forbes, "I had done a [traditional endorsement] deal for Nikon at the time. I'm like, 'Whoa, hold on, wait a second. I've got to figure out how to get in the equity game, because it just makes so much more sense.'" He then decided to channel his fame and fortune into funding startup ventures in Silicon Valley with people he considers to be "the smartest and brightest people in the world on some of the hardest challenges."
The two funds he started with Guy Oseary, titled A-Grade Investments and Sound Venture, have been highly successful with investments in companies like Uber, Airbnb, Spotify, Pinterest, Acorns and Warby Parker, to name a few. He was even named one of TIME's 100 Most Influential People as a result of his entrepreneurial activities. He is estimated to have to turned a $50 million investment into over $250 million (and counting), and he shows no signs of slowing down. Suffice it to say, most actors could only dream of having a fallback career like the one Kutcher has carved out for himself.
Saving the world, one child at a time
In addition to tearing it up in the business world, Ashton Kutcher has also dedicated a great deal of his professional efforts to ending child trafficking and sexual exploitation at home and around the world. He and his then-wife Demi Moore co-founded an organization called DNA (short for Demi N Ashton) in 2009 after the two watched a Dateline documentary on the subject of human slavery. After their marriage dissolved, the charity was rebranded as Thorn: Digital Defenders of Children, but they both remained on board. The organization couples Kutcher's love of technology with his philanthropic interest by using internet and technology resources to help combat human trafficking. Of the project's unique approach to the issue, he said, "You can roll up your sleeves and go try to be like a hero and save one person or you can build a tool that allows one person to save a lot of people."
Kutcher in particular has become a reputable expert on the subject of using Thorn's technology to tackle the crisis on a grander scale and even testified before Congress in 2017 about Thorn's efforts to address the crisis, which he referred to as his current "day job." As of 2018, he and Thorn have helped to save an estimated 6,000 children from sexual abuse.
He's made some errors in judgment
Despite his good deeds and digital savvy, Ashton Kutcher has also seen his reputation take a few hits that might've cost him a job or two. For example, in 2011, he reacted to the news of Penn State football coach Joe Paterno's firing by writing, "How do you fire Jo Pa? #insult #noclass as a hawkeye fan I find it in poor taste." He later claimed to have been unaware of the circumstances surrounding Paterno's ouster — namely, the accusation that he had overlooked multiple accounts of sexual abuse against children by former assistant coach Jerry Sandusky — and later apologized for the terrible hot take. Even so, he drew a lot of ire for his mis-tweet.
Then in 2017, he was again forced to eat his words after he posted a tone-deaf list of questions he planned to pose about what constitutes improper workplace behavior. He later admitted he was taking the "wrong" approach and thanked followers for their profuse condemnation. The damage was done, however, and many wondered whether Kutcher was as forward-thinking as his work suggested. On top of those gaffes, Kutcher was also accused of having a "bad attitude" during an interview with The Talk's Sharon Osbourne after she got his name wrong, even demeaning her accomplishments by asking her, "What have you done in this industry?"
He's become famous for being famous, too
Another hindrance to Kutcher's film career is, ironically, his offscreen success, as he tends to make more headlines for his personal life than his onscreen accomplishments.
For example, Kutcher and his first wife, Demi Moore, were regulars on the red carpet and used their social network platforms to document virtually every detail of their marriage. He basically helped put Twitter on the map by engaging in (and eventually winning) a popularity contest on the network with national news station CNN in 2009, and his digital influence has remained intact. He and his current wife, Mila Kunis, continue to attract paparazzi; even as audiences avoid Kutcher's films, a lot of people still have the time to wonder what their children are up to.
What happens next?
Although Kutcher has certainly endured his fair share of silver screen setbacks, he seems to be trying something new by starring in James Franco's writer-director effort The Long Home, an indie drama that features him alongside Franco and Josh Hutcherson, Giancarlo Esposito and Zoe Levin. This isn't your ordinary popcorn blockbuster, per se, but a low-budget production like this might just help to boost his rep among critics and mark the beginning of a new career era. We'll see.