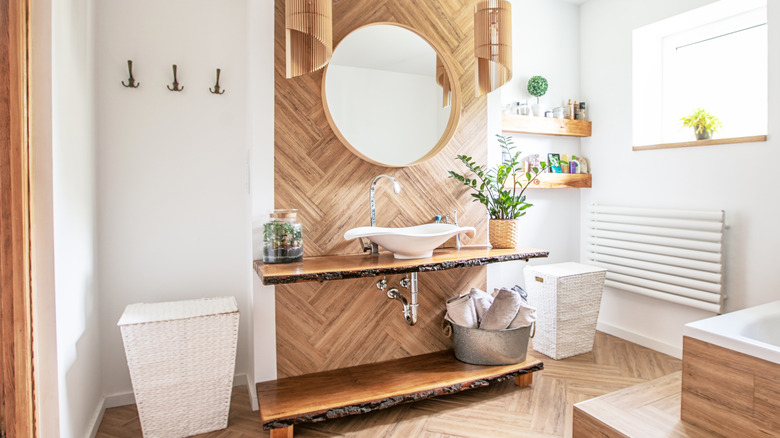 When considering styles for your countertops, bathrooms offer nearly as many options as your kitchen. However, some of them will run homeowners a pretty penny. Generally, a bathroom renovation can set you back between $6,620 to $16,670 on average (per Angi). Still, like anything, the total cost you pay will vary depending on the square footage and, most importantly, the materials you choose for the redesign. The company explains that countertops can cost anywhere from $400 to $4,300, and if you are on a budget, you may opt for thrifty materials such as porcelain, laminate, and wood. However, being on a budget doesn't mean you can't use luxurious options like granite or marble, especially if you are working with a small footprint.
If you're in need of ideas for updated bathroom countertops, you've come to the right place! Whether you're seeking a design with a classic appeal or something unconventional and inexpensive, these budget-friendly bathroom countertop ideas are worth considering.
Sophisticated concrete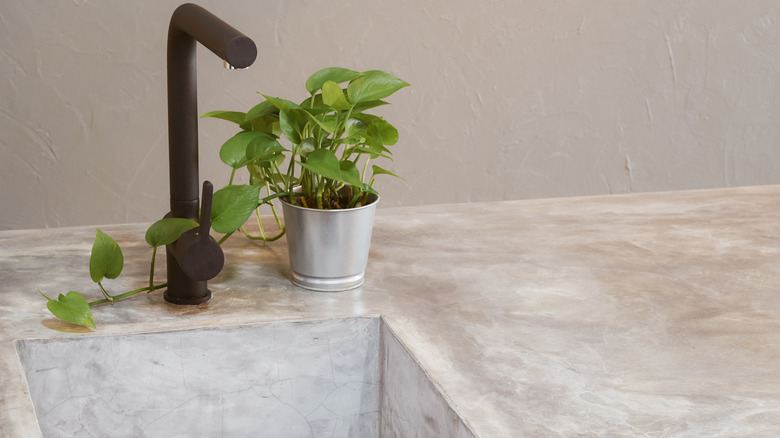 Think outside the box by installing an industrial-style concrete countertop with an integrated sink in your bathroom. Not only does it look simple and chic, but it happens to be a durable option.
Au natural
This medium-hued wood countertop is all-natural, proudly showing the wood grain on the surface. It's also a lovely option if you don't want to break the bank during your bathroom reno project. If you'd like to give it extra protection, you can put on a coat of polyurethane.
A DIY Idea
Bathroom vanities don't have to be the regular, run-of-the-mill variety. For example, a wood table or desk can be easily DIYed into a unique and affordable countertop in your bathroom.
Crisp white granite
This granite countertop looks flawless against the natural wood vanity, while the mirrors trimmed in black and unique light fixtures tie the modern farmhouse look together.
Minimal marble
A compact vanity with a small slab of marble is an affordable way to bring luxury into the space without going over your budget. The navy blue vanity with chic brass fixtures grounds the marble.
Earthy limestone
A neutral limestone counter gives this bathroom an elegant feel. It's a great starting point to bring in pops of color with bold accessories and fixtures.
Floating wood
A thin piece of floating wood with a traditional vessel sink is an affordable and trendy option for your bathroom. What these homeowners didn't spend on the countertop probably went to the luxurious marble accent wall, which pops against the blue walls on either side.
Mix it up
An elegant bathroom comes alive with a brown vanity cabinet that pairs beautifully with a sophisticated white marble countertop. Minimal countertop space will give you more room in your budget for this luxury material.
An antique dresser
A historic home's spacious bathroom keeps the style alive with a one-of-a-kind antique dresser vanity. There are many countertop options you could go with, from marble to laminate, depending on your budget.
Black granite stunner
For a simple countertop idea, black granite with a light wood vanity creates an appealing contrast. Painting the top portion of the bathroom in a bright teal makes the rest of this space stand out.
Layer the marble
If you want to renovate a half bathroom in the most luxurious way possible, think about going with layered marble. You'll save money since you're working with a smaller footprint but still come out with an elegant space when employing white marble for your bathroom countertops, backsplash, and sink.
Mid-century sophistication
If you love the inexpensive idea of replacing a typical vanity with a dresser, consider a mid-century modern option doused in white for a thrifty way to make your bathroom shine.
An industrial style
One of the most cost-effective ideas you can employ for a bathroom countertop is to get a streamlined industrial table. It looks chic, has room for storing your necessities, and looks great against the boldly painted walls. If you're in the mood for a DIY project, consider spray painting the steel in a metallic shade.
Keep it simple
This small vanity has white drawers and a natural wood countertop with an elegant vessel sink to create a look that is simple and, most importantly, affordable!
Laminate countertops
Concrete is a brilliant option if you're looking for countertops to fit in with a monochromatic color scheme since it can be dyed a variety of colors to go with any bathroom style.
Brown-speckled granite countertops
If you want to employ a neutral color palette, brown-speckled granite countertops are a chic look for your guest bathroom.
Modernly perfect
A minimalist floating wooden vanity contrasts nicely with a black porcelain sink. The ensemble stands out against luxurious marble tile, drawing the eye.
Eclectic and well-traveled
A simple floating wooden shelf is an excellent budget-friendly countertop option. This bathroom is exceptional thanks to the unique sink that looks like it was picked up on a far-flung international trip.
Modern mix
Here's a modern bathroom featuring gorgeous subway tiles that complement the French provincial-style dresser used as a vanity. The mix of historical and modern is sure to turn heads.
A homey retreat
This half bath will give your guests a homey feel. Its soothing gray walls are accented by trendy shiplap and a small vanity featuring a speckled granite countertop.