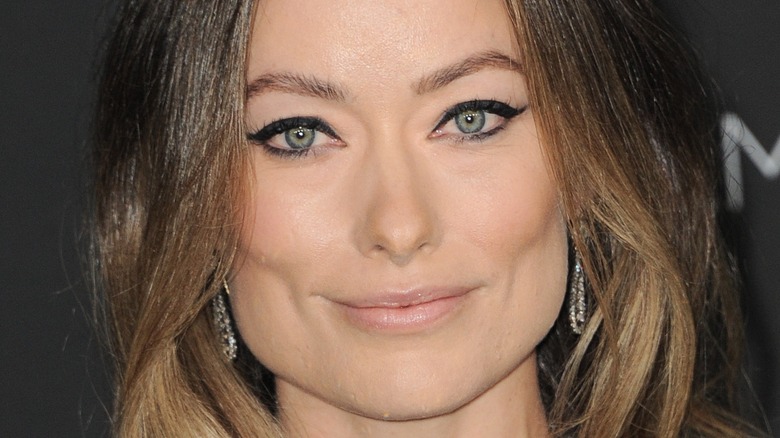 Olivia Wilde and Harry Styles were typically secretive about their headline-making romance, but that never deterred fans' interest. The former couple was first spotted holding hands back in January 2021, which instantly gave way to rumors of a budding relationship. According to a number of sources, Wilde and Styles fell in love on the set of "Don't Worry Darling," a film which Wilde directed and Styles co-starred in. As one insider told ET at the time, "Olivia and Harry are together for long days on set and have gotten to know each other really well, so it's all very organic."
The surprise union sparked endless discussions about age gaps (Wilde happens to be 10 years older than Styles), as well as serious backlash for Wilde, whose split from fiancé Jason Sudeikis hit newsstands just two months earlier. However, according to a source who spoke with People in February 2021, the relationship wasn't a mere fling or rebound, it was a true romance. The insider claimed that Styles made Wilde happy and that they simply couldn't spend enough time together. "During breaks, he hasn't been able to stay away and visited her trailer," they told the mag.
In the years since, the relationship unfortunately continued to stir up drama in the social media sphere, but Wilde and Styles stood by it — even speaking about it occasionally, if briefly — before calling it quits. Here's a look inside Olivia Wilde's relationship with Harry Styles.
Olivia Wilde and Harry Styles tried to keep their love secret
It was in November 2020 that Olivia Wilde's split from fiancé Jason Sudeikis made headlines and, just two months later, the Daily Mail spotted her arriving at Harry Styles' Los Angeles home in January 2021. According to one insider, it was nothing new. "She has been seen visiting his home on several occasions," they said. That same month, Page Six published images of the couple holding hands while attending the wedding of Styles' manager and longtime pal, Jeff Azoff, which the singer officiated. According to Us Weekly, Styles actually referred to Wilde as his girlfriend during the nuptials, solidifying their status.
For their part, however, Wilde and Styles did their best to keep their romance secret, especially during the "Don't Worry Darling" shoot. In fact, as one insider told Us Weekly, "They were very careful about it and even sleuthy at times, although the small group of people who were on set with them every day eventually figured it out."
Wilde herself later explained the reason for the secrecy to Variety in August 2022, saying, "I'm not going to say anything about it because I've never seen a relationship benefit from being dragged into the public arena." She added, "We both go out of our way to protect our relationship; I think it's out of experience, but also just out of deep love." Meanwhile, Styles previously echoed this sentiment, telling Dazed, "I've always tried to compartmentalize my personal life and my working life."
They absolutely loved working together
Working with your partner can be difficult, but that wasn't the case for Olivia Wilde and Harry Styles. In fact, it seems they absolutely loved working together. Styles spoke fondly of his time shooting, telling Howard Stern in May 2022 (via Page Six) that Wilde was an incredible director. "Acting is kind of very uncomfortable at times," he shared. "It requires a lot of trust if you want to kind of give it everything, and I think being able to trust your director is a gift, so that was very helpful." He again praised her skills behind the camera to Variety, saying, "She communicated what she was looking for from the cast with both clarity and respect."
For her part, Wilde also had a deep appreciation and respect for Styles as a colleague and she let it be known in a gushing Instagram post. Sharing a black-and-white photo of Styles on set in February 2021, she praised him for being willing to take a backseat to a female lead. "Not only did he relish the opportunity to allow for the brilliant @florencepugh to hold center stage as our 'Alice,' but he infused every scene with a nuanced sense of humanity," Wilde enthused. "He jumped on board with humility and grace, and blew us away every day with his talent, warmth, and ability to drive backwards."
Did Harry Styles cause her and Jason Sudeikis to split?
Fans were shocked when Olivia Wilde and Jason Sudeikis broke off their engagement after seven years, but they were even more stunned at how quickly the actor-turned-director seemed to move on. Following the initial announcement of their separation, a source told ET, "There was absolutely no drama or scandal, they just didn't work as a couple anymore." They also emphasized that "if you're looking for a juicy story, there just isn't one."
Despite such assurances, folks began to wonder whether Harry Styles had anything to do with the split. After all, Wilde and Styles met and began working together on "Don't Worry Darling" before the breakup was announced. "Harry and Olivia had chemistry almost instantaneously on set," according to a source who spoke with Us Weekly, while another insider told People their friendship "quickly turned romantic." Indeed, things between Wilde and Sudeikis seemed fined at the start as, according to Page Six, he reportedly visited the set with their two kids, Otis and Daisy.
The timing seemingly suggests the singer may have been at the root of the breakup, but while sources have continued to go back and forth on the timeline, Wilde bluntly set the record straight in September 2022. "The complete horses**t idea that I left Jason for Harry is completely inaccurate," she told Vanity Fair. "Our relationship was over long before I met Harry. … We officially dissolved the relationship towards the beginning of the pandemic."
Their union inadvertently sparked a lot of drama
Olivia Wilde and Harry Styles' on-set romance eventually gave way to rumors of major on-set drama between Wilde and her leading lady, Florence Pugh. According to an insider cited by Page Six, Pugh allegedly didn't appreciate her boss and co-star becoming romantically involved. However, it's worth noting that Pugh and ex-boyfriend Zach Braff similarly met while filming "In the Time It Takes to Get There," and sources close to the "Don't Worry Darling" production swiftly disputed the claims.
Still, speculation continued to brew. Adding fuel to the fire, Pugh skipped the Venice Film Festival press conference to promote the film, although People reported that was simply because her flight didn't land on time. The "Dune: Part Two" star did show up on the red carpet later that day, but then announced she'd be skipping the New York premiere, per Rolling Stone. A source told the outlet, "From what I understand, there is friction, but I don't know why." On the flip side, other insiders were adamant that Styles didn't receive preferential treatment and that it was a professional, pleasant shoot.
Pugh didn't address the drama but did appear to slam Wilde in a Harper's Bazaar interview for hyping up the movie's sex scenes: "When it's reduced to your sex scenes, or to watch the most famous man in the world go down on someone, it's not why we do it." As for Wilde, she chalked it all up to "baseless rumors and gossip," which she told Vanity Fair was unfairly "overshadowing [Pugh's] profound talent."
Olivia Wilde and Harry Styles were reportedly living together
Olivia Wilde and Harry Styles fell in love quickly, and they reportedly hit their next big relationship milestone — living together — just as fast. In February 2021, just one month after they were first spotted together, Page Six shared photos of Wilde moving several suitcases into Styles' Hollywood Hills, California home on Valentine's Day. According to the New York Post, the house was actually owned by Styles' manager, Jeff Azoff, and the crooner was living there while filming "Don't Worry Darling." Wilde had previously been living in Silver Lake, California in a home she bought with ex Jason Sudeikis for $3.5 million in 2019.
Jump to August 2021, and the New York Post reported the pair had moved out of Azoff's place and into a five-bedroom home in Los Feliz, California. According to the outlet, the newly renovated abode was likely costing them a whopping $10,000 per month. In addition to life in sunny Los Angeles, Wilde and Styles have also appeared to be spending plenty of time in the singer's native London, per the Mirror. It's there that the Daily Mail spotted them checking out listings in a realtor's window in June 2022, and where Wilde reportedly wants to settle down more permanently.
That August, the same outlet obtained court documents filed by Sudeikis in his and Wilde's ongoing custody battle. While referencing the fact that she was living with Styles in his London home, the "Ted Lasso" star alleged, "Olivia said that she intended to relocate with the children to London following the close of school in 2023."
These two tuned out the haters
Olivia Wilde and Harry Styles unfortunately faced plenty of criticism after going public with their romance, but they thankfully haven't allowed it to faze them. Speaking with Vogue in December 2021, Wilde explained why they'd chosen to tune out the detractors. "It's obviously really tempting to correct a false narrative, but I think what you realize is that when you're really happy, it doesn't matter what strangers think about you," she reasoned. "All that matters to you is what's real, and what you love, and who you love." Adding she was the happiest and healthiest she'd ever been, the actor-director refused to apologize for her joy and shot back at the haters. "It's very easy to control women by using guilt and shame, and I have no time for misplaced guilt and shame," she said.
Wilde has also addressed the double standard she's had to face as a woman and mother. "When people see me not with my kids, it's always 'How dare she,'" she later told Variety. "I've never seen anyone say that about a guy."
As for Styles, he admitted to Rolling Stone in August 2022 that dealing with negativity from certain fans hadn't been easy. "It's obviously a difficult feeling to feel like being close to me means you're at the ransom of a corner of Twitter or something," he said. However, Wilde understands all about fame and didn't blame Styles, nor his fans, telling the outlet, "I don't personally believe the hateful energy defines his fan base at all."
How her kids felt about Harry Styles
Olivia Wilde's two children with Jason Sudeikis — Otis and Daisy — were reportedly smitten with Harry Styles during their relationship. "He's a big kid at heart and spends hours playing and entertaining Olivia's kids," a source told Life & Style in November 2021. "He enjoys taking them to the park, playing hide and seek and making sandcastles on the beach." They also totally approved of his music. They made that evident during Styles' concert in San Diego, California that same month. While at the show, the kids were spotted having a blast alongside Styles' mom, Anne Twist, per Page Six. So much so that they were jumping, running around, and dancing their hearts out at the show.
That December, a source told People that while the singer was building a solid relationship with Wilde's kids, he was doing so slowly and not rushing things. Whatever the speed, Styles seems like he would be a great figure in any child's life. Speaking with Rolling Stone about the potential of becoming a father, he shared the one thing he'd definitely do as a dad, and it was truly touching. "Well, if I have kids at some point, I will encourage them to be themselves and be vulnerable and share," he told the mag.
Did Olivia Wilde inspire the pop star's music?
When Harry Styles released his third solo album, titled "Harry's House," in May 2022, fans wasted no time concluding that many of the songs on the record were probably about Olivia Wilde. Among all of the loving lyrics, two songs in particular stood out, starting with "Cinema." "There's no way 'Cinema' isn't about Olivia Wilde," tweeted one fan. Indeed, when Styles spoke about the inspiration behind "Cinema" on the "Spout Podcast" in June 2022, he admitted it was a love song highlighting what it's like to be in a new relationship. Honing in on one of the lyrics, in which he wonders if he's cool enough for someone he likes, Style explained it exemplifies "when you like someone … that kind of initial phase of like, 'Am I doing things right?'"
There have also been plenty of arguments made that "Late Night Talking" may also be about Wilde. As we previously reported, Styles sings in the first verse, "It's only been a couple of days and I miss you," which was admittedly in keeping with their life together as they tried to balance busy schedules and reportedly couldn't get enough of each other.
And it's not just Wilde that folks thought influenced Styles' record. At one point, listeners were sure that one of Wilde's kids was responsible for the child's voice heard on his hit single "As It Was." However, the singer quickly set the record straight on Heart, clarifying, "It's my goddaughter at the start of the song."
They were doing their best to balance work and love
Olivia Wilde and Harry Styles didn't let romance slow down their busy careers. As one source told Us Weekly in July 2021, "They love and support each other, but also let each other be free and work on their own." What's more, according to the insider, "Both of them respect the other's work and never want to get in the way of each other." It seemed the two stars were doing their best to balance work and love, while also trying to minimize how much time they spent apart. In March 2022, a source told ET that "while they have busy schedules and a lot of personal commitments, they make a point to prioritize time with each other."
When they felt like they were spending too much time apart, they reportedly made a habit of traveling to Italy and visited the country twice in July 2021 and May 2022. According to an insider cited by Us Weekly, "It's [one of] their favorite place[s] to unwind and reconnect as a couple." And when Styles hit the road again for his "Love on Tour" in support of "Harry's House," which was scheduled to run through July 22, 2023, they reportedly vowed to see each other regularly. "Harry's excited about his tour but bummed it'll take him away from Olivia for a while, but she'll come to a few of the gigs and they're planning on making fun little trips in various cities when she can take a break herself," a source told Us Weekly.
It all came to an end with some cryptic words
Olivia Wilde and Harry Styles appeared to be going strong when, in November 2022, their inadvertent drama-causing romance came to a halt after nearly two years. According to one source who spoke with People, the couple had decided to take a break, rather than call it quits for good, and were still friends. Apparently, their conflicting schedules and differing priorities were taking a toll on their union and so, they chose to press pause. "He's still touring and is now going abroad; She is focusing on her kids and her work in L.A.," the insider claimed. "It's a very amicable decision."
Neither actor addressed the split head-on, but despite claims that it was a friendly separation, it allegedly hit Wilde pretty hard. "Olivia is still very much upset about the breakup," a source told Us Weekly that December. They added that the director had turned to her friends for support and wasn't thinking about dating again.
Jump to January 2023, and she finally appeared to address the breakup via a cryptic quote from the 2004 film "Tropical Malady" shared to her Instagram Stories. "I'd hate to die without having loved," read the post, per Us Weekly. What she actually meant is still unclear, however. Was Wilde implying that she didn't experience love with Styles, or that she did and it was worth it, despite the heartbreak that followed? We'll be keeping our eyes open for more subtle (or not-so-subtle) social media clues.