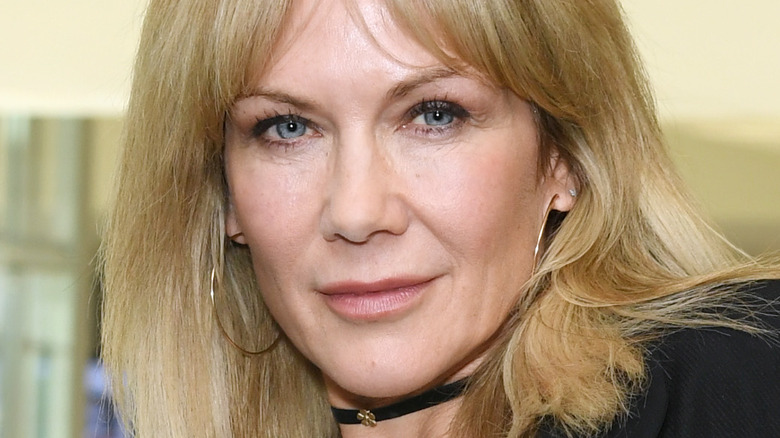 "Days of Our Lives" viewers know that the DiMera family tree is full of interesting characters. Stefano DiMera was the biggest villain in the soap opera's history, and many of his children have followed in his footsteps over the years. Although not much is known about Stefano's parents and siblings, the character certainly left his mark in Salem through his devilish actions and through his many children.
Stefano was the father of three biological daughters, which included Renée DuMonde, Megan Hathaway, and Lexie Carver. Stefano also had many biological sons such as Benjy Hawk, EJ DiMera, and Chad DiMera. He also fathered twin sons, Stefan and Jake, although he died before getting to meet them. In addition to his many biological children, Stefano also adopted three children, Tony DiMera, Peter Blake, and Kristen Blake DiMera, per Soaps.
While many of Stefano's biological children have taken after him to show signs of some villainous behavior from time to time, it may be his adopted daughter, Kristen, who is the most like her father. Over the years, Kristen has embodied the DiMera name and followed closely in her father's footsteps (via Nine). While Stefano is no longer living, Kristen continues to carry on his devious legacy.
Kristen's early years in Salem were full of drama
Kristen DiMera first came to "Days of Our Lives" in 1993, played by actress Eileen Davidson. The character was introduced to Salem as the ward of Stefano DiMera. However, she appeared to be nothing like her benefactor. She seemed to be a kind and sweet woman, and she was employed as a social worker. Shortly after coming to Salem, Kristen met John Black (Drake Hogestyn), and the two quickly developed feelings for each other. However, despite her strong feelings for John, Kristen was bound by a shocking promise to her adoptive father, Stefano (via Soap Central).
While Stefano believed he was dying of a brain tumor, he made one deathbed request of Kristen. He asked her to marry her adoptive brother, Tony DiMera (Thaao Penghlis). Kristen agreed to marry Tony and intended to keep her promise to Stefano. Kristen married Tony, but she still pined for John. Finally, after ending the marriage, Kristen was ready to run back into John's arms. However, that plan was shut down when she learned that John had become a priest, per Soaps in Depth.
According to Soaps, when the devil possessed Marlena Evans (Deidre Hall), John and Kristen were by her side and even held an exorcism to save Marlena's life.
She held Marlena prisoner in the DiMera secret room
Following Marlena's possession, "Days of Our Lives" fans watched Kristen invite her to live at the DiMera mansion with her and John. However, that plan backfired when Kristen found John's letter to Marlena confessing his undying love for her. Kristen hid the letter and was terrified of losing John. Kristen's DiMera instincts kicked in, and she and Stefano conspired to fake Marlena's death and keep her captive in the secret room underneath the mansion (via Soap Central).
When Kristen learned that she was pregnant, John was thrilled. However, Kristen lost the baby and was too afraid to tell John the truth. So, Stefano brought Susan Banks (also Eileen Davidson) to live at the mansion. Susan was pregnant at the time and looked very much like Kristen. Susan agreed to give her baby to Kristen and John, and she even agreed to wear a wig and false teeth to impersonate Kristen when needed. However, after the baby was born, Susan went rogue. She locked Kristen in the secret room with Marlena and took over her life, per Soap Hub.
John eventually found out the truth about Susan and Kristen's schemes and dumped Kristen. He and Marlena reconnected and Kristen was left out in the cold.
Kristen hurt Brady and assaulted Eric
After losing John, Kristen opted to leave Salem and move to Europe. However, she returned years later, much to the delight of "Days of Our Lives" fans. Upon returning to Salem, Kristen bumped into John's now adult son, Brady Black (Eric Martsolf). The two hit it off and sparks began to fly. Of course, John and Marlena were appalled by Brady's affection for Kristen, and they were worried that Brady would get hurt (via Soaps in Depth). Kristen used Brady's feelings to her advantage and even hired a man to attack her in front of Brady so that he could save her. However, Brady ended up in the hospital due to the attack.
Brady and Kristen later got engaged, but when Marlena told Brady that Kristen had set up the attack that landed him in the hospital, he called off the wedding. Kristen wanted to get revenge on Marlena for ruining her wedding to Brady. She drugged Marlena's son, Eric Brady (Greg Vaughan), and raped him, per Soaps. She filmed the encounter and edited the video to make it appear like Eric consented. Kristen planned to use the video to ruin Eric's career as a priest and hurt Marlena in the process.
However, shortly after that, Brady revealed he wanted to give Kristen a second chance. They eventually got engaged again. According to Soap Central, at their wedding ceremony, the video of Kristen and Eric was played, shocking all in attendance.
If you or anyone you know has been a victim of sexual assault, help is available. Visit the Rape, Abuse & Incest National Network website or contact RAINN's National Helpline at 1-800-656-HOPE (4673)
She stole Brady and Theresa's baby
After two failed weddings to Brady, "Days of Our Lives" viewers watched Kristen become obsessed with the idea of getting her lost love back. She even resorted to kidnapping in hopes of luring Brady to her. However, her plans were thwarted. When Brady began dating Theresa Donovan (Jen Lilley), Kristen was unhappy. Brady and Theresa had gotten serious, but after they split, Theresa learned that she was pregnant. Before she was able to tell anyone, Kristen had her drugged, stole the embryo from her body, and had it transplanted into her own womb. Kristen then left Salem (via Soaps in Depth).
Theresa tried to tell Brady that she had been pregnant, but was hazy about what had happened to her. Eventually, Theresa started to remember, and she and Brady tracked down Kristen. It was revealed that Kristen had carried and given birth to the couple's son, who she named Christopher. Thankfully, Kristen was stopped, and the little boy was reunited with his biological parents, who renamed him Tate.
During the fight for the baby, Kristen got into a physical altercation with Marlena and the two struggled. Kristen fell out of a window and was presumed dead, per Soap Central. However, that wasn't the case.
Kristen impersonated Nicole and drugged Sarah
In 2018, Kristen returned to "Days of Our Lives" with actress Stacy Haiduk in the role. Since that time, Kristen has been causing plenty of problems in Salem. She disguised herself as Nicole Walker (Arianne Zucker) in order to get intimate with Brady, per Soaps in Depth. That encounter resulted in a pregnancy, and the couple welcomed a daughter, Rachel. Kristen has also locked Sami Brady (Alison Sweeney) and Lucas Horton (Bryan Dattilo) in the secret room and kidnapped Steve Johnson (Stephen Nichols) and Kayla Brady (Mary Beth Evans). She held Sarah Horton (Linsey Godfrey) hostage for months. Kristen also drugged Sarah to make her believe she was Stefano's long-dead daughter, Renée DuMonde.
Kristen also blackmailed Brady into breaking up with his girlfriend, Chloe Lane (Nadia Bjorlin), and allowed her to move into the penthouse with him, Rachel, John, and Marlena (via Soap Central). Kristen possessed a rare orchid, which held the cure for a deadly toxin that Marlena, Kate, and Kayla had been exposed to, so she used it to her advantage in hopes of getting close to Brady again.
There seems to be no end to what Kristen will do to get what she wants. Although fans have seen the character be soft in moments with her daughter, she is truly an unforgettable DiMera villain at heart.