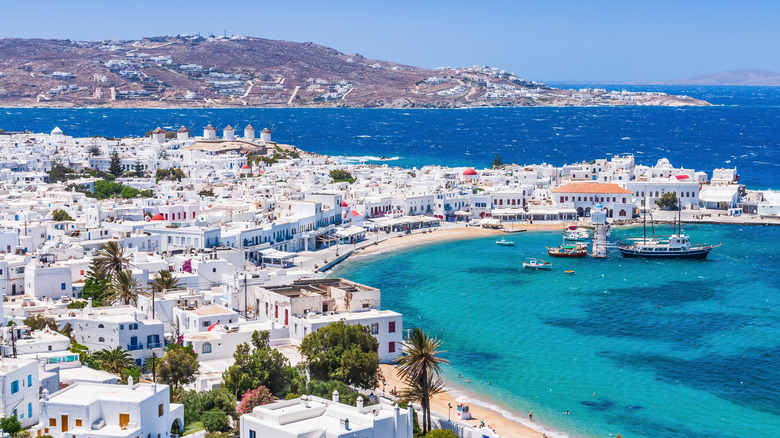 While most travelers look for accommodation deals, travel packages, pocket-friendly flight tickets, or wait for the low season to go on a vacation, it's a different ball game for the rich and famous. For billionaires and celebrities, it's all about enjoying the fine things in life without worrying about budgets. What matters to them is exclusivity and sophistication.
Some of the things that attract these a-list individuals include private yachts, secluded hotels, five-star suites, private island resorts and beaches, perfectly-textured landscapes, and the most luxurious meals. In an interview with USA Today, Mindy Weiss, a renowned event planner, said, "Kanye (West) really makes you think – 'Nope, bring it to the next level.'" She has also worked with the Kardashians, and when asked about how it feels working with them, she said, "They are so creative, and they push me to another level." As you can tell, celebrities love to push the limits of everything they do, including vacations.
You might be wondering which vacation destinations meet the high standards required by billionaires or your favorite celebrities. Fret not, we've got you covered, here are covetable spots for an ultra-lavish vacation.
Los Cabos, Mexico
Los Cabos is a highly sought-after vacation spot known for spas, golf courses, and thrilling tours. It is a diverse destination with a stunning natural environment, including a desert, dramatic rock outcroppings, and a coastline. For foodies, a culinary tour in Los Cabos is one of a kind, especially since there is a myriad of such luxurious resorts (via Los Cabos Guide). With all these offerings, it's easy to understand why Los Cabos attracts celebrities. Hollywood star George Clooney fell so in love with this place that he built a vacation home. Rande Gerber and Cindy Crawford, Clooney's close friends, also built vacation homes next to his. In November 2022, Gerber and Clooney were spotted in a lavish vacation home in Los Cabos taking in the sun (via The Cabo Sun).
According to Daily Mail Online, Las Ventanas Al Paraiso is a top-rated resort in Cabos that has attracted the likes of Jennifer Aniston, Jennifer Lopez, and George Clooney. Aniston was introduced to Los Cabos by Brad Pitt, and it seems like she never gets enough of it since she visits the place frequently. The resort is a celebrity magnet because it offers some luxurious services that are hard to find in most resorts. For instance, guests can enjoy a three-yacht fleet if they would like to go out sightseeing. They can also be picked up at the airport in a VIP motorcade that features Mercedes G-Class SUVs (per Jetset Report).
Turtle Island, Fiji
Since only 28 guests are allowed in Turtle Island at once, the demand to visit is quite high. With such exclusivity, only a few people can afford the costs. What makes this place so special? It's the splendid views of the Fiji Islands and Blue Lagoon, coupled with fresh seafood and a relaxing, cool breeze. Plus, visitors get access to any of the 12 privately-owned beaches (via Turtle Island Fiji). Due to the limited access, billionaires and celebrities don't have to worry about paparazzi taking pictures of them on vacation.
This is a spectacular island, so it's no wonder it was chosen as a filming spot for "The Blue Lagoon," a movie featuring Christopher Atkins and Brooke Shields that was released in 1980 (via Stuff). Since then, this tropical island has grabbed the attention of celebrities such as Pamela Anderson, Tommy Lee, Pierce Brosnan and Eddie Van Halen as a vacation destination (per Signature Luxury Travel).
St. Barthelemy, French West Indies
St. Barthelemy, or St. Barts, is best known for its luxurious lifestyle, tranquil environment, and first-class cuisine. Vacationers are treated to a wide range of activities such as snorkeling and sunbathing. For a more luxurious vibe, guests can watch sunsets on a yacht. One of the things that make this Caribbean Island special is that it's not open for mass tourism. As such, you won't find fast-food chains for affordable meals (via St. Barths). All this implies that it can be expensive to go on vacation on this island, but it also offers much-needed privacy for those willing to foot the bill.
Billionaire Jeff Bezos is one of the elites that has been spotted on this phenomenal island. The Amazon tycoon and Lauren Sanchez enjoyed their 2021 Christmas vacation at St. Barts by hiking and relaxing in a superyacht (per Daily Mail Online). Leonardo DiCaprio and Camila Morrone have also vacationed in St. Barts. The couple had a good time at the beach where Morrone seemed to enjoy the warm weather. The Titanic actor was later joined by Lukas Haas, a renowned actor, and together they continued exploring the beautiful scenery of St. Barts (via E Online).
Dominican Republic, Caribbean Islands
The Dominican Republic is easily accessible from the U.S. and Europe, and this makes it a great pick for Hollywood stars. For example, it only takes about four hours to get to the Dominican Republic from New York. For European tourists, the flight takes approximately eight hours. When vacationers arrive, they'll have miles of coastline, immaculate beaches, awe-inspiring resorts, stunning national parks, and delicious Dominican gastronomy waiting for them (per Go Dominican Republic).
When it comes to flaunting a well-curved body and striking poses, Kim Kardashian takes the cake. Many of her viral bikini-clad photos were taken on the beaches of the Dominican Republic (via Daily Mail Online). Casa de Campo resort is another spot that celebrities like the Kardashians and Jennifer Lopez visit. The resort features three golf courses, a yacht club, luxurious restaurants, and a shooting course, among other mind-blowing amenities. Other celebrities who have visited this resort include Pharell Williams, Beyonce, and Pitbull (per US Weekly).
Dubai, United Arab Emirates
Dubai has made a name for itself as a destination for luxurious shopping, vibrant nightlife, and mind-blowing architecture. Fortunately, there are lots of things to do for vacationers on a tight budget. But that doesn't mean that billionaires and Hollywood stars want to miss out on the fun and beauty of this place. Whether it is helicopter rides, dhow cruises, desert tours, glamping, or eating at luxe restaurants, you will find a way to have fun like a millionaire (per Emirates Vacations). Plus, you could be lucky to spot superstars such as Justin Bieber and Robert de Niro.
According to Gulf Today, Will Smith, an Oscar-winning actor, celebrated his 50th birthday in style at this exotic locale. The Hollywood superstar shared videos of his exciting moments at the Deep Dive Dubai, which is a swimming pool that is a whopping 60 meters deep. Did you know that no other pool on earth is as deep as this one? Tommy Furry and Molly-Mae Hague also joined the list of celebrities who have visited Dubai for a vacation. The two lovebirds booked accommodation at Jumeirah Al Naseem, a luxurious hotel that charges up to 1,200 Euros per night. At the hotel, you can enjoy the breathtaking views of Burj Khalifa. The couple also spent some quality time on Jumeirah Beach (per Daily Star). Chris Taylor and Maura Higgins are another celebrity couple that has visited Dubai. The two lovers enjoyed partying at rooftop bars and went on boat tours.
Lake Como, Italy
Italian Luxury Consulting notes that when it comes to serenity, Lake Como is one of the top contenders because it doesn't encourage mass tourism. One of the other standout features of this place is the host of shades the environment features. From any position, you can capture Instagram-worthy photos. The surrounding mountain, rocks, and water contribute a different shade that makes the place stunning.
This spot has a unique landscape, making it a hotspot for wealthy and famous people, including Roman emperors. Lake Como is so alluring that celebrities such as Richard Branson, Gianni Versace, George Clooney, Ronaldinho, and Madonna decided to purchase villas by the shores. To be precise, Clooney owns a 22-room home that he visits during summers (via Express). There are several other lavish lakeside villas available for rent. While some of them are used as private wedding venues, others are now opulent hotels that a few can afford. Avril Lavigne and Philip Sarofim are among the celebrities spotted enjoying their vacation in Lake Como. The couple was captured on camera kissing as they walked around taking in the breathtaking views of the lake (per E New Online).
Aspen, United States
Aspen has a lot packed for a winter vacation of a lifetime. This celebrity hotspot is popular for Rocky Mountain peaks, luxe villas, and skiing. It features four ski mountains, creating the perfect grounds for snowshoeing and skiing. Other activities that tourists can engage in during warmer months include hot-air ballooning, horseback riding, rock climbing, paragliding, and fly fishing. When you get tired of exploring what this place offers, world-class restaurants await to serve you sumptuous meals (via Colorado).
According to Mirror, Aspen attracts A-listers from all walks of life looking to enjoy a fun-filled winter vacation. It's not just the activities that make this place outstanding, the rich and famous who have visited this place such as Kanye West, Elton John, and Jack Nicholson find palatial hotels worth their stature. Examples of hotels they book include Hotel Jerome, Viceroy Snowmass Hotel, and The Little Nell. Hotel Jerome oozes pure elegance and class, and it has hosted prominent people such as Bill Murray and Jack Nicholson. Kanye West and Kim Kardashian also came to Aspen to get pampered. In the company of their daughter, North, they booked the St. Regis Hotel, which features a personalized interior by Ralph Lauren. The other stars who have been to this hotel are Uma Thurman, a renowned actress, and Paris Hilton.
Bora Bora, French Polynesia
Featuring overwater bungalows and world-class hotels, Bora Bora is an exquisite island getaway that's a top consideration for A-list clientele. One of the exceptional features of this place is the overwater bungalows that offer the utmost comfort and luxury. Imagine viewing underwater life and natural features through a glass-bottomed floor without stepping out of your hotel room. Believe it or not, that's a reality here (per Bora Bora).
Celeb Magazine notes that one of the luxurious places to visit for a honeymoon or wedding anniversary is the Four Seasons Resort. Guests start enjoying VIP treatment from the airport because they are picked up by a private water taxi and taken to the resort. The hotel also has a helicopter landing pad, so guests can opt for air transportation, as well. With such amenities, this place attracts millionaires and superstars such as Jimmy Kimmel, Jason Bateman, Jennifer Anniston, and Shayne Lamas, among others.
Paris Hilton, a media personality and model, is another guest of Bora Bora. Together with her partner, they enjoyed their honeymoon getaway at Conrad Hotel. St. Regis Resort is another hotspot for celebrities visiting Bora Bora. It has hosted stars such as Carrie Underwood and Nicole Kidman (per FIV Magazine).
Mykonos, Greece
Mykonos, Greece is a popular party spot where billionaires don't mind spending their money. From the Mykonian architecture to golden beaches, this picturesque destination is the place to be if money is not a problem for you. If you want to go on a shopping spree, this spot features art galleries, goldsmiths boutiques, and luxury stores. History buffs can visit archeological sites in the area to learn more about the history of Greece and local traditions (via Visit Greece).
According to Villa Artisti Mykonos, some of the celebrities that have been spotted on this Greek island include Ariana Grande, Leonardo DiCaprio, and Paris Hilton. Kendall Jenner was also on vacation here. The reputation of Mykonos as a luxurious destination has been intact for decades. Some of the celebrities who made this place popular in the 1960s were Grace Kelly and French actress Brigitte Bardot.
If partying is your thing and you swim in money, Billionaire nightclub offers an electrifying experience. The entertainment offered here is out of the ordinary since it comprises world-class acrobats, singers, and dancers. Guests also get to enjoy scrumptious meals presented with a touch of class (via Greek City Times). Billionaire Elon Musk was spotted shirtless on a yacht in Mykonos. In the scorching temperatures, Musk seemed to enjoy a drink in the company of Ari Emanuel and Sarah Staudinger. The three enjoyed themselves to the fullest as they soaked in the calm water (per Daily Mail Online).
Ibiza, Spain
Ibiza is an amazing place where you can party with your favorite celebrities, especially since it features exotic nightclubs such as Pacha, Amnesia, Space, and Eden. Better yet, it takes only a few minutes to get to these clubs from the airport. The central location of Ibiza also provides easy access to phenomenal beaches like Platja des Cavallet and Platja de Ses Salines, so those who love water activities will not feel left out (via Spanish Fiestas).
If Oprah Winfrey found it worthy of clubbing in this place, then it must be special. The billionaire and television personality was seen partying with Gayle King in Ibiza in August 2015. Gayle was excited to share photos of her experience in Ibiza on Instagram. In one of the photos, where she is accompanied by Will-I-am, you can see her taking shots (via ABC News).
According to Vanity Fair, several celebrities partied here in one weekend. Kim Kardashian posted a photo on her Instagram account where she seemed in a jovial mood with Paris Hilton. Her caption read, "Reminiscing about the 1st time we went to Ibiza in 2006!" Justin Bieber also flaunted pictures of him and Kylie Jenner on Instagram, and his hilarious caption read, "who's your daddy."
Maui, Hawaii
Maui is best known for its top-rated beaches and whale-watching. Vacationers here are treated to glorious sunsets and first-class cuisine. It also features magnificent beaches where sunbathing is the order of the day. Other activities you can try out include snorkeling, zip lining, kayaking, surfing, paddle boarding, and scuba diving. For a more luxurious way of viewing everything this spot has to offer, helicopter tours are available (via Maui Information Guide).
Justin Bieber and Selena Gomez are examples of superstars who have enjoyed their vacation in Maui as they were spotted kissing and jet skiing. Although the stars are no longer together, their pictures holding each other while parasailing and on the beach set the internet on fire (per US Weekly). Another star is Kate Hudson, who visited with her mother. The two seemed to enjoy their yacht vacation. They later went to watch dolphins as they enjoyed their Memorial Day getaway (via The Sun).
Elvis Presley is another iconic actor and singer who made Hawaii more famous in the '50s, '60s, and '70s. Not only did he film movies here, but he also composed songs that were inspired by the destination. From the movie, "Blue Hawaii", the world saw what Maui could offer. As if not enough, Elvis filmed two more movies here, "Girls! Girls! Girls!" and "Paradise, Hawaiian Style" (per Shaka Guide).