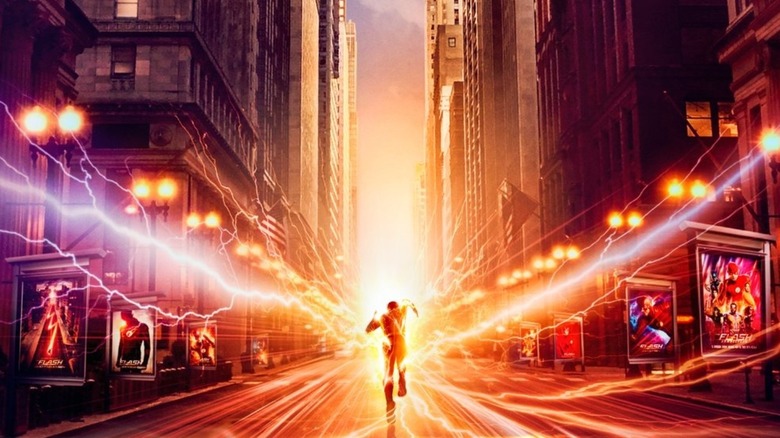 (Superhero Bits is a collection of stories, updates, and videos about anything and everything inspired by the comics of Marvel, DC, and more. For comic book movies, TV shows, merchandise, events, and whatever catches our eye, this is the place to find anything that falls through the cracks.)
In this edition of Superhero Bits:
Christina Ricci is our latest Harley Quinn in a new DC podcast.
Kumail Nanjiani has no idea if his "Eternals" character Kingo is coming back.
"The Flash" delivers an emotional trailer for its final season.
The NAACP Image Awards go big on "Wakanda Forever."
Jada Toys is releasing some fun Marvel heroes and vehicle combo packs
The folks at Jada Toys are introducing some new toys that will give a couple of classic Marvel heroes a sweet ride to cruise in whilst crime fighting. As showcased in the above video, the toy company is bringing us a version of Spider-Man with his buggy, as well as Thor with a Dodge Challenger. Yes, Spidey did, at one point, get around in the comics with an unconventional whip, rather than a thwip, as it were. And, not that Thor needs anything other than his hammer to get around, but if he were to drive a car, this seems like a good fit. These toys will be available through Jada's Amazon shop.
Elizabeth Tulloch debuts her new Margot Kidder-inspired Lois Lane look
"Superman & Lois" star Elizabeth Tulloch has revealed her new look as Lois Lane for the show's upcoming third season on social media. As we can see, the actor is rocking some thick-rimmed black glasses, which is very much in line with a rather classic look for the character. In particular, responding to her original tweet, Tulloch shared an image of Margot Kidder from her time as Lois Lane in the original screen version of "Superman." "I picked these glasses for her because they reminded me of Margot Kidder's in this pic," Tulloch explained. Be on the lookout for this new look in the show when it returns to The CW on March 14, 2023.
Check out this clip from DC's Legion of Super-Heroes movie
The folks at Comic Book Resources have brought us a new clip from the upcoming DC animated movie "Legion of Super-Heroes" today, ahead of the film's release on February 7, 2023. In it, we see Batman and Superman having a little debate about Supergirl. As is often the case with these two, things get a little heated — especially since this is a family affair for Supes. If this strikes your fancy, look for the movie on Blu-ray, 4K, and Digital next month.
Ke Huy Quan shares delightful story about being asked to join the MCU
There was perhaps no better comeback story in all of 2022, in any arena of life, than that of Ke Huy Quan. The "Goonies" star had been away from the acting world for years, but enjoyed a massive re-emergence thanks to "Everything Everywhere All at Once." Now, he's joining the Marvel Cinematic Universe as part of the cast of "Loki" season 2. Speaking on the "Happy Sad Confused" podcast about it, Quan shared a pretty delightful anecdote about his casting in the show:
"When our movie came out, the first phone call I got was from Kevin Feige. Who graciously asked me if I wanted to join the MCU and I called Jonathan and the gang, and I said, you know what, nobody wants to hire me except Stephen Spielberg, George Lucas, The Daniels, and Kevin Feige. It's been incredible. 2022 is the year I will always remember because it's one of the happiest years of my life."
And on top of all that, he's pretty much the front-runner to win the Best Supporting Actor Oscar this year. Good for him!
Spotify announces Harley Quinn and The Joker: Sound Mind podcast
Spotify has announced its latest podcast set in the world of DC Comics, and it boasts an absolutely stellar cast. "Harley Quinn and The Joker: Sound Mind" will be headlined by Christina Ricci ("Yellowjackets") as Harley Quinn, with Billy Magnussen ("Game Night") as Joker. The ensemble also includes Justin Hartley as Bruce Wayne, Mary Holland as Margaret Pye aka Magpie, Elias Koteas as Nicky Qunzel, Fred Melamed as Bob, Stephen Root as Grunfeld, Andre Royo as Arnold Wesker aka The Ventriloquist, and Amy Sedaris as Harleen's Aunt Rose. A synopsis for the show reads as follows:
We've heard Harley Quinn's origin story — the one where she was manipulated into being The Joker's doting, mad lover. But what if there's more to it? What if there's a Gotham City where Harley let The Joker believe she loved him, to get what she needed? When we meet Dr. Harleen Quinzel, she's fresh out of grad school, a new psychologist at Arkham Asylum, determined to help the patients her colleagues have written off. But her dad is sick, and in need of an expensive, life-saving operation she can't afford. Pushed to her breaking point, Harleen is tired of playing by the rules. So when she meets "Patient J," a magnetic inmate able to manipulate everyone but her, Harleen makes a fateful decision: to use her relationship with The Joker to get what she wants, leading both of them down a dangerous path that will change them, Bruce Wayne, and Gotham City forever.
"Harley Quinn and The Joker: Sound Mind" arrives on January 31, 2023, with all seven episodes dropping at once for you binge-listening pleasure.
Black Panther: Wakanda Forever nabs amazing 15 NAACP Image Award nods
Congratulations to the cast and crew of Marvel Studios' Black Panther: Wakanda Forever for their 15 NAACP Image Award nominations including Outstanding Motion Picture #NAACPImageAwards pic.twitter.com/XPint9kt8x

— Black Panther: Wakanda Forever (@theblackpanther) January 12, 2023
As noted in this column recently, Angela Bassett won a Golden Globe for her performance in "Black Panther: Wakanda Forever," which seemingly teed up the ball for a big run for this movie on Oscar night later this year. To further build a case for that, the NAACP Image Award nominations have been revealed and director Ryan Coogler's sequel nabbed an astonishingly great 15 nominations, including Outstanding Motion Picture. So yeah, it could end up being a good day for Marvel Studios when the Academy Award nominations are announced later this month.
Is Kingo coming back to the MCU? Eternals star Kumail Nanjiani has no idea
"Eternals" proved to be pretty divisive upon its release in late 2021, though it did still clear $400 million worldwide under pretty difficult conditions in the marketplace. In short, there's no telling what the future is for this franchise or these characters. To that end, Kumail Nanjiani, who plays Kingo in the movie, has no clue if he's coming back to the MCU. Speaking with Total Film, the actor addressed the topic, explaining that he would like to revisit the role, provided the opportunity:
"Yeah! I mean, listen, I have plans today. I don't know if they have plans. I would love to come back. But I'm sort of waiting to hear when or if that's going to happen. I'm hoping I get to do more. I had a great time playing that character. It'd be a shame if he's a sort of one-and-done. But, you know, the decision's not mine to make."
In short, Nanjiani would be happy to take your call, Kevin Feige.
Get ready to say goodbye to The Flash with this season 9 trailer
Lastly, The CW has revealed a brand new trailer for "The Flash" season 9, which will bring the long-running DC show to a close. While "Arrow" kicked off the Arrowverse, it is Grant Gustin's Barry Allen who had the longest run (pun!) on the network, but that is all coming to an end beginning next month. Essentially, with most of the other DC shows on the network gone following its sale to Nexstar, this is probably going to be just about it for the Arrowverse overall. Get ready to bust out the tissues, because this figures to get emotional. To go along with the trailer, we also have a new poster, which you can check out below. The season premiere is set for February 8, 2023.
Saving the world comes at a cost. The final season of #TheFlash begins Wednesday, February 8 on The CW! #TheFinalRun pic.twitter.com/BCeu4LkIoF