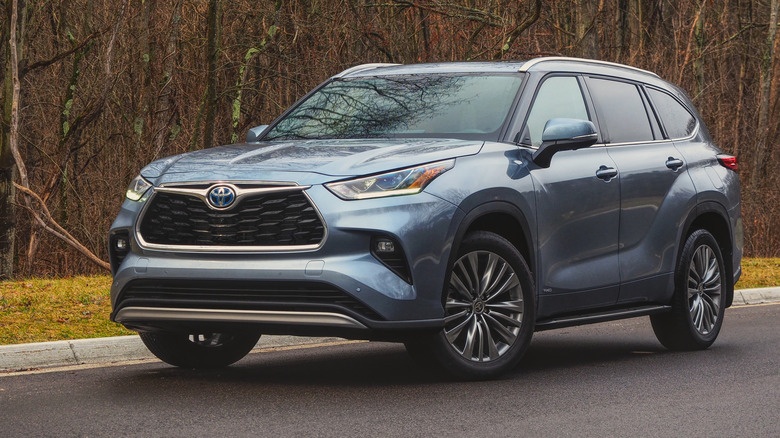 Picking a three-row SUV for a growing family, without breaking the bank in the process, could either be a beguiling challenge or — maybe more likely — just another stressor for busy parents. The 2023 Toyota Highlander makes no promises to wow eager drivers, nor to drop jaws with its outlandish tech or head-turning style. Instead, it's practical, affordable, and about as reassuring as a modern Toyota gets.
It's most recent restyle left the Highlander handsome but not too challenging, aesthetically. At the front, the headlamps have an angry squint and the trapezoidal grille only adds to that grumpy aesthetic, but reasonable restraint with chrome works here nicely. Compared to the love-it-or-hate-it design of the Hyundai Palisade or Kia Telluride, I suspect the Highlander's more subtle looks have broader mass-market appeal.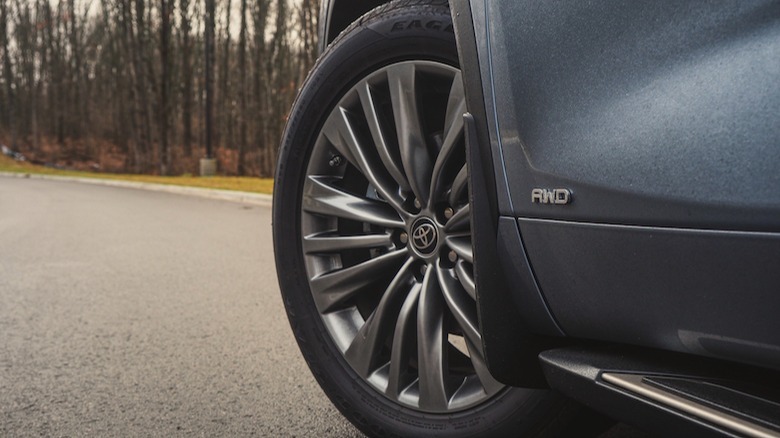 The line-up kicks off at $36,420 (plus $1,335 destination). Side privacy glass is standard, and a moonroof comes on the XLE trim and above. Platinum trim (from $49,075) gets a panoramic glass roof with an opening moonroof section. Base L through XLE cars have 18-inch alloy wheels; XSE and above switch to 20-inch wheels. A Highlander Bronze edition dresses things up in a little more glitter.
A power tailgate comes standard with all but the base trim; Limited and Platinum trims add hands-free activation to it. LED fog lights are standard on LE trim and above, while LED projector headlights arrive with the Limited trim level. XLE and above get roof rails as standard.
The cost of electrification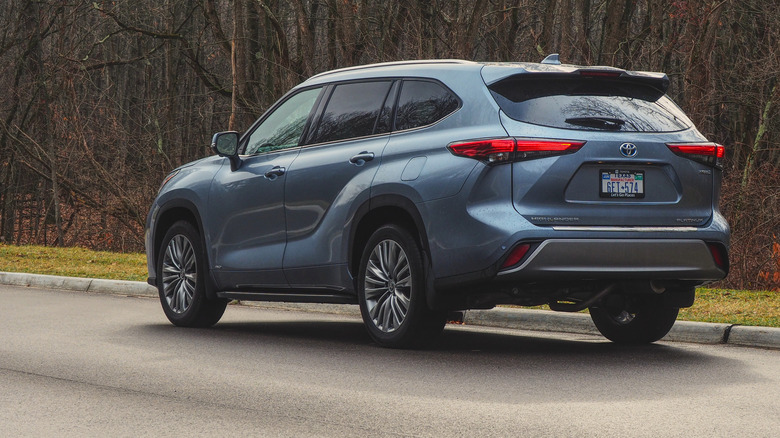 You pay a roughly $1,000-1,500 premium to get a hybrid version of the Highlander on your driveway. The standard SUV has a 2.4-liter turbocharged inline-4 gas engine — replacing the old V6 — with 265 horsepower and 310 lb-ft of torque and can be had in front-wheel drive or all-wheel drive configurations.
From the Highlander LE up, though, you can switch to the hybrid drivetrain (bar the XSE). It combines a 2.5-liter inline-four gas engine with either two front electric motors for front-wheel drive or three for all-wheel drive. Toyota also swaps the standard eight-speed automatic transmission for a CVT.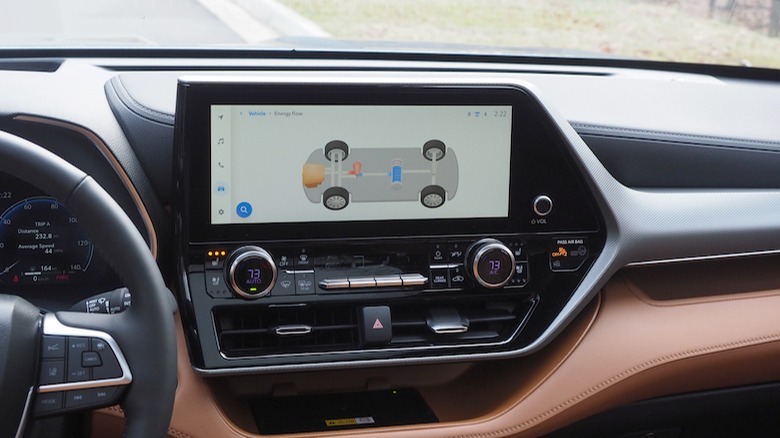 Unusually, opting for the hybridized Highlander doesn't get you more overall power; we're used to seeing the electrified version of cars benefit from extra punch. Instead you get a total of 243 horsepower to play with. Towing capacity dips, too: from 5,000 pounds with the non-hybrid — to 3,500 pounds. It's worth noting that this is a mild-hybrid not a plug-in hybrid, its small battery is recharged as you drive rather than from an external charger. There's an EV mode, yes, but it'll only work for short distances and at low speeds.
Economy is key, here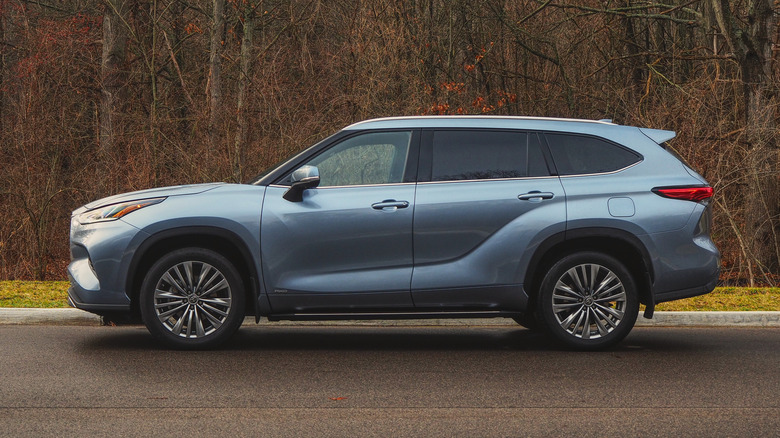 In fact, the hybrid version is really focused solely on economy gains, and on paper there's a stark difference between the two drivetrain flavors. The gas-only Highlander AWD is EPA rated at 21 mpg in the city, 28 mpg on the highway, and 24 mpg combined. The hybrid Highlander AWD, in contrast, is rated for 35 mpg in the city, 35 mpg on the highway, and 35 mpg combined.
You'll need a fairly light right foot in order to hit those numbers, mind. My own, mixed driving — including a decent chunk of highway time — saw the hybrid SUV hit around 29 mpg on average. Short on what the EPA expects, but still a fair sight better than, say, a Hyundai Palisade with its non-electrified V6.
I prefer how the Palisade drives, though. The Toyota feels perky enough for urban maneuvering, but hit the gas more aggressively and it neither sounds nor feels happy. The drone and grunt of the gas engine is unlovely, and there's never that surge of speed we've come to associate with electrified vehicles. Switching to Sport mode doesn't do much to address that.
Seating for seven or eight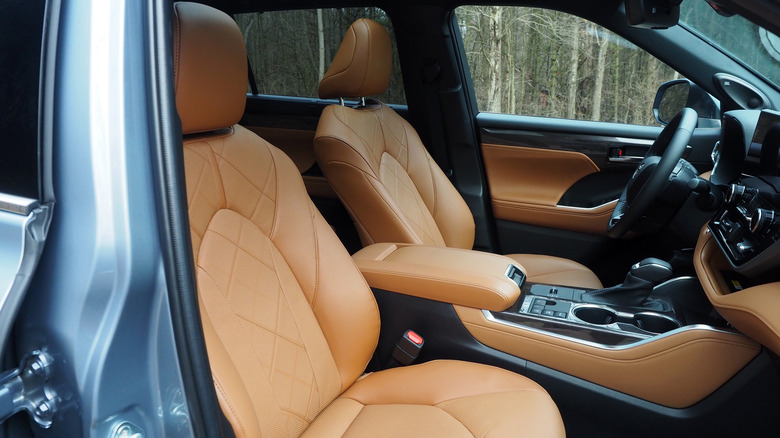 Better, then, to see the Highlander for what it is: a solid way to transport the family. Predictable handling along with a reasonably smooth ride makes for a comfortable long-distance cruiser, as does a 600+ mile total range with a full tank of gas. I'd love to see just what Toyota could do with a plug-in hybrid, but a "Highlander Prime" doesn't appear to be on the cards.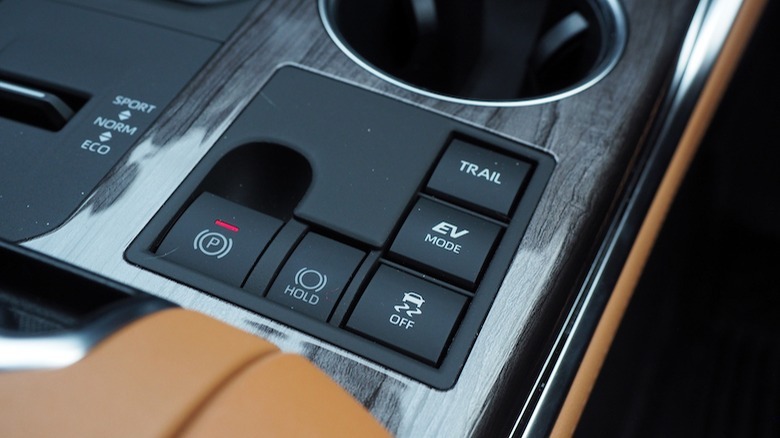 Maybe that's because more batteries would eat into the cabin. Toyota has two layouts for the Highlander, with lower trims getting eight seats courtesy of benches in the second and third rows. There's LATCH support with lower anchors and tethers on the outer second-row seats and tether anchors on the second-row middle seat and in all three third-row positions. XLE and above drop a seat and switch to two captain's chairs in the second row.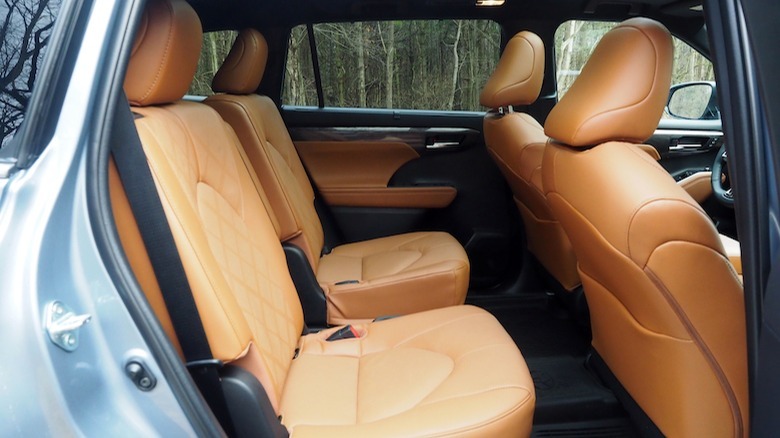 Adults will be happy there and in the front row. By the time you get to the rearmost seating, things are decidedly snug, with legroom particularly tight. That's par for the course for SUVs of this size, certainly. With all the seats up you're looking at 16 cu-ft of cargo space, two cubic feet less than in the Palisade. That expands to 48.4 cu-ft with the third row dropped, though — two more than in the Hyundai — and 84.3 cu-ft behind the front seats. Toyota also fits a couple of 120V AC outlets on select trims, too.
Lexus-like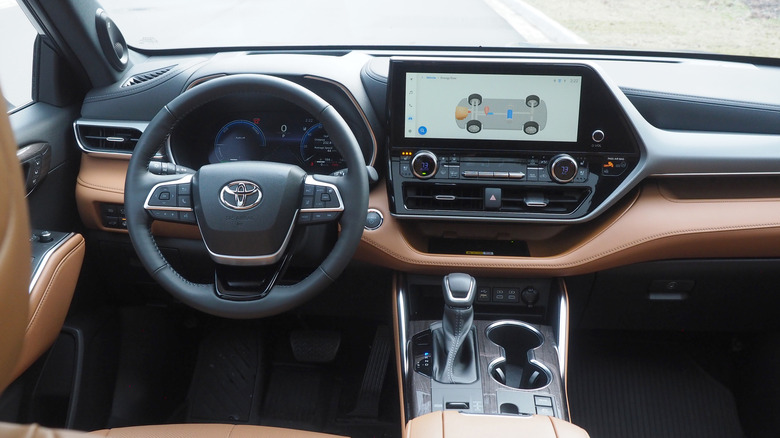 By the time you get to this Platinum trim, Toyota's materials feel positively fancy. There's plenty of soft-touch plastic and, though I'm not much of a fan of glossy "wood," the stitched fabric across the dashboard lends the Highlander a Lexus-lite feel. Everything is sturdy and reassuring, even if not quite as avant-garde as some rival SUVs are going.
The biggest improvement is the infotainment system. Gone is Toyota's old, dreary, ugly interface, replaced by a far superior UI on a bright and easily-used touchscreen. That's 8 inches in the lower trims or 12.3 inches in the more expensive models. Limited and Platinum trims get a matching 12.3-inch digital driver display, too, and there's a 10-inch color head-up display on the Platinum.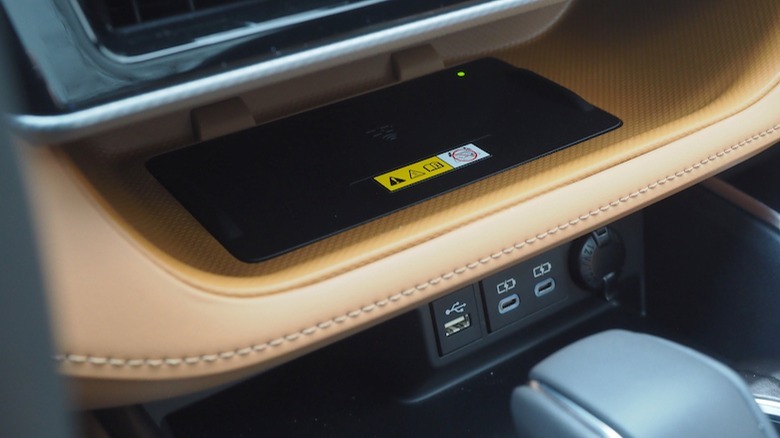 There's Android Auto and wireless Apple CarPlay support, along with solid voice recognition — with a keyless "Hey Toyota" wake word — and five USB ports. Upper trims get a Qi wireless phone charger, too, and upgrade the standard 6-speaker audio system to an 11-speaker JBL version with a subwoofer. Toyota is also liberal with its physical buttons and knobs for the HVAC system, triple-zone with individual second-row controls across all trims.
No shortage of active safety tech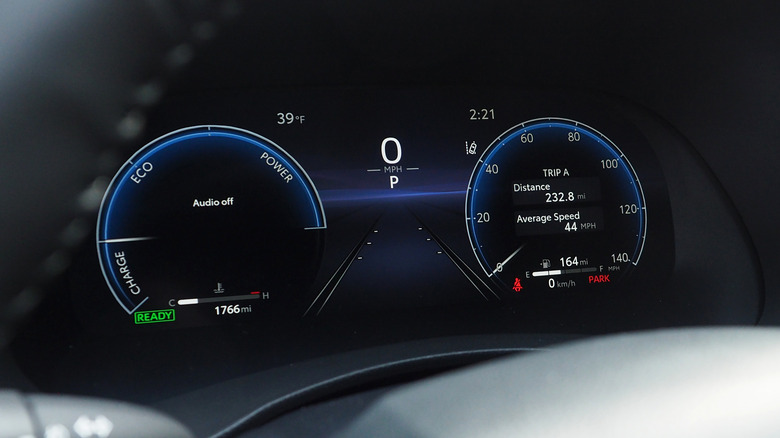 Toyota is similarly liberal with its active safety technology. All trims get Toyota Safety Sense 2.5+ including pre-collision with pedestrian detection, lane departure alerts and steering assist, auto high-beams, lane keeping assist, and road sign assist. Adaptive cruise control is also standard. I found the lane-keep warnings could be a little over-enthusiastic, and the steering assistance doesn't feel quite as confident on the highway as Hyundai's HDA.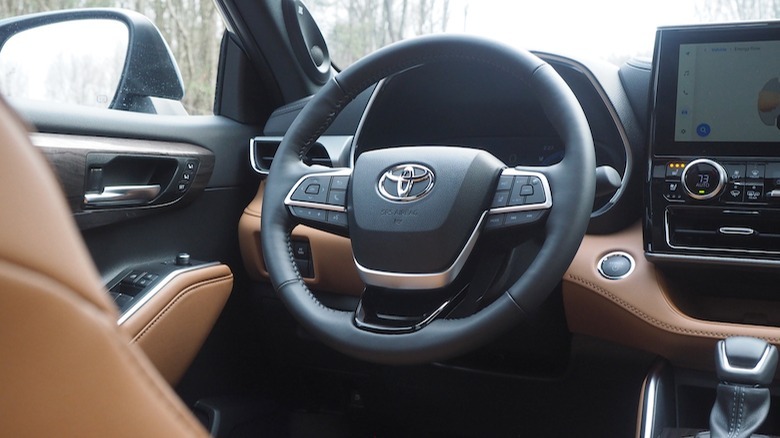 All but the base Highlander trim get blind spot warnings with rear cross-traffic alerts. Limited trim adds front and rear parking assistance with automatic braking, while Platinum trim gets a 360-degree bird's eye view camera. It uses software magic to show you what's going on underneath the Highlander, too.
2023 Toyota Highlander Hybrid Verdict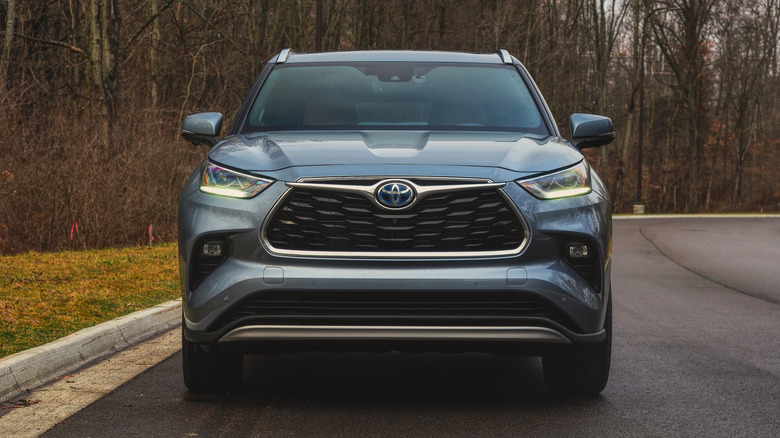 There's not a lot to dislike about the 2023 Toyota Highlander. Its looks won't divide opinion; its cabin is comfortable, spacious, and won't leave you cursing the automaker's designers for ditching physical controls. In hybrid form it's frugal, and though Toyota's array of trim and drivetrain combinations could be confusing in the dealership, that sort of flexibility in spec can be welcome when many rivals are paring back choice in favor of manufacturing simplicity.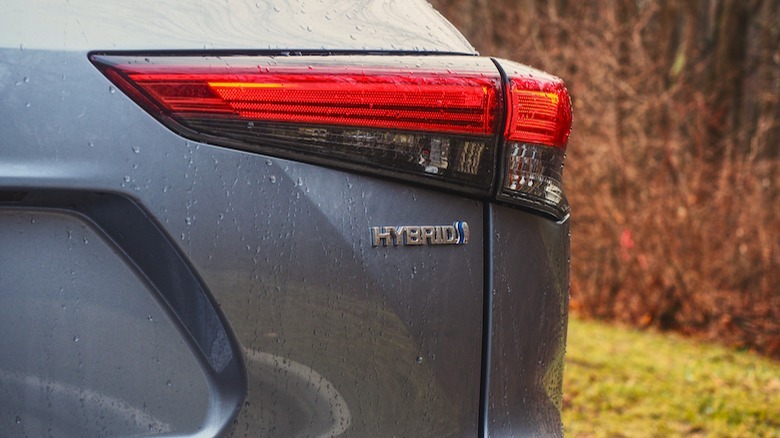 Nice though this fully-loaded Highlander Hybrid Platinum AWD is, though, at $52,425 (plus destination) it's a big chunk of cash. For most, I suspect the sweet spot is the XLE (from $43,220 plus destination). Those who want to tow regularly should stick with the standard turbo gas engine for its burlier rating; everyone else will probably benefit more from the economy improvements of the hybrid.
If there's a downside to the Highlander, it's that its inoffensiveness could also be interpreted as a lack of identity. Other three-row SUVs are more fun to drive, or have more space inside, or look more memorable. Whether that's a problem will likely come down to whether you see your car as an appliance or something more aspirational: Toyota has made a good, well-equipped SUV, but personality isn't on the options list.