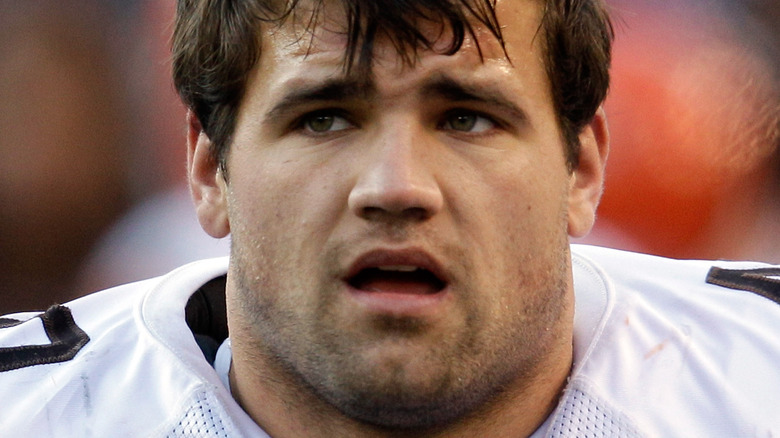 This feature discusses mental health issues, suicide, and domestic violence.
In 2015, after playing for the Denver Broncos, Cleveland Browns, Kansas City Chiefs, Tampa Bay Buccaneers, and the New York Giants, Peyton Hillis retired from the NFL. Per Bleacher Report, the player experienced a great number of health issues and injuries prior to hanging up his kit, including several concussions, which led doctors to advise him against continuing the sport. Hillis' health became a major news story once again in 2023 when he was airlifted into intensive care after a swimming accident.
As reported by Today, the former NFL star was in Pensacola, Florida on January 5, when Hillis struggled to save his children from drowning. While his kids were thankfully unharmed, doctors were concerned about whether Hillis' lungs or kidneys could recover from the trauma. However, six days later, his girlfriend, Angela Cole, reported on Instagram, "Peyton is off the ventilator and is on the road to recovery." On social media, people paid tribute to the athlete's bravery. Fellow footballer, Ryan Clark, tweeted, "What a hero he is. Saving his kids from drowning is something fathers get. He risked his life for his babies … I pray he finds a way back to his family. He deserves to see them grow."
Hillis joins an illustrious group of other sporting legends who likewise risked their lives to save others. Evidently, all of these names aren't just heroes on the field, in the ring, or on the court, but also in real life as well.
Muhammad Ali
In January 1981, the legendary boxer, Muhammad Ali climbed out on a ledge to help save a suicidal man. As CBS News reported, a crowd had gathered below the Los Angeles building as the young man announced his imminent death to them. Howard Bingham, Ali's public relations manager, was one of the onlookers and he decided to call his most famous client for assistance. "I told Ali there was a guy up here on a building about a mile from his house and maybe he could get through," Bingham later recalled, per The Bulletin. "About four minutes later, Ali comes driving up the wrong side of the street in his Rolls-Royce with his lights blinking." When the troubled man didn't believe it was really Ali, the boxer ran up to talk to him on the tenth floor.
The unemployed 21-year-old was experiencing depression and thought he was unloved. Ali convinced him otherwise, and was heard telling him, "You're my brother! I love you, and I wouldn't lie to you." Eventually, the boxer persuaded him to leave the ledge, and he was taken to a nearby hospital. Ali promised to stay involved in his life and to help him enroll in education and to find a job. "[His mother and father] called him a nobody, so I'm going home with him," the former heavyweight champion said, via The Bulletin. "I'll walk the streets with him, and they'll see he's big."
A police spokesman told the Toledo Blade, "No doubt about it, Ali saved that man's life."
If you or anyone you know is having suicidal thoughts, please call the National Suicide Prevention Lifeline​ by dialing 988 or by calling 1-800-273-TALK (8255)​.
Erron Kinney
Erron Kinney has been an enthusiastic advocate for firefighters for a long time. The former Tennessee Titans tight end first got involved with the fire service when he was only 13, long before he was drafted to the NFL team.
When he was a college football player at the University of Florida in 1999, the burgeoning star had an extraordinary brush with danger. At the time, he was working with the Archer Fire Department when the crew was called out to a 100-foot inferno at the Monterey Boat Plant. "We did everything we could and then got the evacuation tones," he recalled in a speech, per Firehouse. But the fire overwhelmed one of his fellow firefighters, Paul James, who collapsed to the ground. "I thought, 'What do we do?' I was very scared," he added.
Rather than evacuating with the others, Kinney hauled his co-worker to safety himself. "I carried Paul, picked him up and cradled him like a baby, and carried him out," he stated. "The training went out the window and it was all adrenaline." That rushed chemical response carried him and James for a long distance said to be the equivalent of several football fields. As Kinney observed, his NFL training might have been a crucial factor in giving him the strength and stamina to save his fellow firefighter's life. "If that happened today, I'm not sure if I could do it," he added.
Chris Seitz
In 2012, FC Dallas goalkeeper, Chris Seitz put his career and health in jeopardy to donate bone marrow to an individual who was dying of cancer. As he told ESPN after the operation, the soccer player wasn't even sure his team would allow him to take time off for the procedure. "You never know how people are going to take something like that," Seitz reflected. "… But at the same time, it's about more than just a game."
This cause was close to the soccer star's heart — his dad had recently saved his uncle's life by donating blood cells. However, the spinal donation procedure Seitz would undergo was far more invasive and was a huge risk for the professional athlete. However, once FC Dallas gave him their blessing, he decided that he had to go through it. "I would look back at it and shoot myself in the foot if I didn't do it," Seitz declared, pointing out what it would mean to him or his wife if they were dangerously ill. "And it had just happened in my family," he continued. "I saw it as my chance to give something back."
Seitz had to spend a lot of time in rehabilitation before returning to Dallas. "Missing these weeks has been really difficult for me, but it would have been a lot more difficult had I said no and had to deal with that guilt," he insisted. In response to his self-sacrifice, Major League Soccer named Seitz their 2012 MLS W.O.R.K.S. Humanitarian of the Year.
Guy Mezger
In 2011, UFC fighter Guy Mezger put his MMA skills to the test when he got in a fight with a knife-wielding man who had assaulted a woman on the street. As he explained in an interview with "The Hannibal TV," Mezger was doing Christmas shopping at a sporting goods store, buying a bike for his daughter. After realizing that he had left his wallet somewhere, he went back to his truck. "I look up and I see this woman go flying back against this car and falls down," he recalled. "This guy's looming over her." Nobody was helping, so Mezger went over to try and reason with the clearly unstable man. "Long story short, he started swinging on me," the fighter explained, adding that he completely lost his patience when the assailant bit him.
As Mezger admitted, it wasn't a fair fight as he was still an active professional athlete at the time. "When he hit the ground, I thought it killed him," he said. The fighter used his paramedic training to check on the abusive man and offered the woman a lift home. Suddenly, her attacker sprang to his feet holding a knife. Although the man reportedly broke his cheekbone, his orbital socket, and his nose, Mezgar wasn't unscathed either. "I didn't even feel it, but he sliced right through my thumb," he revealed. The injury required surgery, but the MMA professional was still pretty confident that he came out of that fight with the upper hand.
If you or someone you know is dealing with domestic abuse, you can call the National Domestic Violence Hotline at 1−800−799−7233. You can also find more information, resources, and support at their website.
Danous Estenor
Danous Estenor was praised for his heroism in 2011 when the USF Bulls player lifted a 3,500-pound car to save a man's life. The football player was in a Tampa café when he heard a commotion in the parking lot. Upon investigation, he discovered a father of four, Pedro Arzola, pinned beneath his Cadillac Seville. "I'm thinking, "Oh, God, this guy is going to die," Estenor later told the Tampa Bay Times, recalling the sight of the man's legs. "When I first tried [to lift the car], it didn't budge … But I felt this energy come, and I lifted it. I don't know how, but somebody pulled him from the car." Although he dislocated his shoulder, Arzola miraculously avoided any other severe injuries. His wife was beyond grateful, stating, "I appreciate [Estenor] doing what he did, saving my husband's life."
The 21-year-old football player was understandably shaken following the incident and humbly left the scene without wanting a fuss made of him. However, the café employees let Estenor's coach know about the incredible feat and it quickly became a running joke for the team, who started affectionately quipping, "Oh, where's your cape?"
All jokes aside, his team must have also been relieved that he didn't injure himself since he had already torn the meniscus in both knees while playing at South Florida. "That was the last thing I was worried about," Estenor told The Palm Beach Post, insisting that God put him in that situation for a reason. "I just wanted to help that gentleman."
Shawn Daivari
When a train passenger started yelling racist abuse and threatening to kill everyone around him, WWE star, Shawn Daivari intervened. "I got on the train and there was this guy saying racial and anti-Semitic stuff really loud, specifically at a few passengers, and you could tell they were really uncomfortable," he recalled in an interview with WWE, adding that he'd been visiting family members in Minneapolis at the time. "One guy had actually pushed the emergency call button on the train. And this guy kept going on and on, and nobody was showing up to help."
After one older man tried to intervene, the aggressive passenger started threatening the man's life. "I didn't know if this guy had a knife in his pocket or a gun in his backpack," Daivari explained, noting that the other passengers began panicking. "So I just went up to him, turned him around, grabbed him in a rear naked [choke] hold, and held until I felt his body go limp." Daivari clarified that he learned the move from fellow wrestlers who had real MMA and jiu-jitsu training. After dropping him, Daivari locked his body in a scissor hold and held him there for a little under a minute. At the next stop, he threw the guy off the train.
When asked why he used a naked choke hold on the assailant, Daivari quipped, "Well, they were using the Figure-Four in car one, and I didn't want to steal their finisher."
C.J. Leslie
After the North Carolina State Wolfpack won a 2013 basketball game against Duke University, fans rushed the court in a scene that could have been ugly if not for C.J. Leslie. The basketball star intervened in a potential crowd crush and lifted a wheelchair user to safety. The six-foot-nine player spotted superfan, Will Privette as he got caught up in the crowd. "I got hit from one side. It was like a wave," the college student told USA Today, adding that the mass of fans had sent him flying out of his wheelchair and onto the ground. In the space of a few seconds, his phone and glasses were also knocked away from him. Luckily, Leslie was nearby. "I knew him from being around campus," Privette revealed. "He pushed everyone back and told [them], 'Get back, get back.' Once everyone moved and realized what was going on, he picked me up and I've described it as like how you'd hold a baby."
The superfan realized he had been lifted to safety and started shouting his encouragement as Leslie tried to negotiate the crowd. "C.J. held me for a little bit because we lost my wheelchair in the sea of people," Privette stated, adding that he thanked the footballer before arena staff led him off in his chair. The footage quickly went viral and Leslie was praised for his quick thinking. "It was the dumbest thing I've done in college but it was awesome," Privette concluded.
Nomar Garciaparra
MLB shortstop, Nomar Garciaparra risked his life in 2005 when he dove into the Boston Harbour to rescue two women who had fallen into the water. The incident took place right outside the former Red Sox player's condominium, so he and his uncle, Victor Garciaparra, sprang into action as soon as they heard the splashing. The six-time All-Star had to drop 20 feet into the harbor to reach the struggling women.
Victor told the Boston Herald (via ESPN), "I swam towards them and by the time I reached them, Nomar was already there holding the girls up. But he couldn't get them up without help." One witness reported that it was chaos once everyone noticed what was happening, "A bunch of us came running over," he recalled. "Nomar was like jumping over walls to get to the girls and the other guy leaped off the balcony. It was unbelievable."
One of the women, who had hit her head on the pier, recognized the baseball star as soon as she regained consciousness, and asked him, "Are you Nomar?" according to Victor. "They were kind of combative at first," he told the Chicago Tribune. "I think they were in shock from the fall." Due to how quickly the women's husbands were able to rush them to the hospital, the two men didn't find out the women's names. Upon reflection, Victor was unsure how they'd even achieved the heroic act. "That water was pretty cold," he said. "But I think the adrenaline was really pumping in both of us."
Timothy J. McCarthy
Former Illinois Fighting Illini football player, Timothy J. McCarthy made headlines around the world when he jumped in front of a bullet for Ronald Reagan. After earning a scholarship by playing football in college, McCarthy spent nine years with the Secret Service. And the most notable moment of that second chapter came in 1981, as he told the Chicago Tribune. "We just about got to the car and everyone is yelling, 'Mr. President, Mr. President,' like they always do," McCarthy recalled, adding that they weren't prepared for Reagan to interact with the crowd during that event, so the Secret Service was already on edge. "All of a sudden, John Hinckley pushed himself forward," he continued. Reflecting on the moment when gunshots started ringing out, he explained, "I turned toward the direction the shots were coming from." He was shot in the right chest and was hospitalized in critical condition.
Jerry Parr, the other Secret Service bodyguard who was there during the attempted assassination, praised McCarthy for his quick reaction. "If (Tim's) not there, I'm sure that either I or the president would have been hit that day," he told the Chicago Tribune. "The only thing between the president and this guy was McCarthy's big Irish body." But the one-time football player played down his heroic feat, insisting that any agent would have instinctively followed their protocol in the same way. "The theory is cover and evacuate," he explained. "It was training. No more than that."
Joe Delaney
In 1983, NFL star, Joe Delaney tragically died while trying to save three kids from drowning in a pond. As The New York Times reported at the time, the Kansas City Chiefs player was in a public park when three young boys who had been playing in a nearby water hole started to struggle. According to Sports Illustrated, he'd told a nearby witness, "I can't swim good. But I've got to save those kids. If I don't come up, get somebody." One boy fought his way back to land, but the other two 11-year-olds drowned, along with the 24-year-old man who had been trying to rescue them.
"People ask me, 'How could Joe have gone in that water the way he did?'" his former coach at Northwestern Louisiana stated at his memorial service, reflecting on the professional running back's character. "Why, he never gave it a second thought, because helping people was a conditioned reflex to Joe Delaney." Ronald Reagan and his vice-president, George Bush gave him a posthumous Presidential Citizens Award, declaring in a written statement, "By this supreme example of courage and compassion, this brilliantly gifted young man left a spiritual legacy for his fellow Americans." He was survived by his wife and three young daughters, Tamika, Crystal, and JoJo — who was barely four months old when her father died.