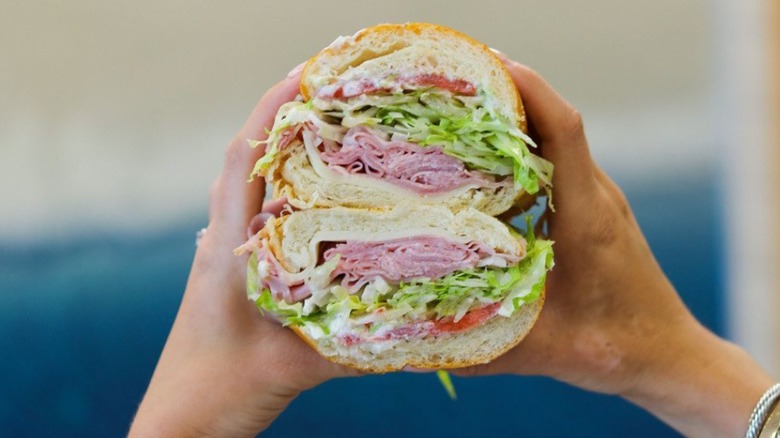 Sometimes you want something quick and easy to eat, and a sandwich, a bag of chips, and a fountain drink usually hit the spot. With so many sandwich chains out there, though, it can be tough to narrow down a favorite. It's like movies or books — choosing a sandwich chain can be just as personal, depending on which aspects you value most. And people often have strong opinions on the best place to get a delicious sub.
We decided to compare Jersey Mike's and Jimmy John's, two of the largest sandwich chains in the U.S. based on 2021 sales (via Restaurant Business). We looked at the ingredients, nutritional information, variety of menu items, rewards programs, and more to give you everything you need to know before you order your next sandwich. What we learned may surprise you.
If you live near one of these sandwich chains or plan to visit one during your travels, keep reading to discover some of the differences between Jimmy John's vs. Jersey Mike's: Which is better?
Both chains sell a variety of sandwiches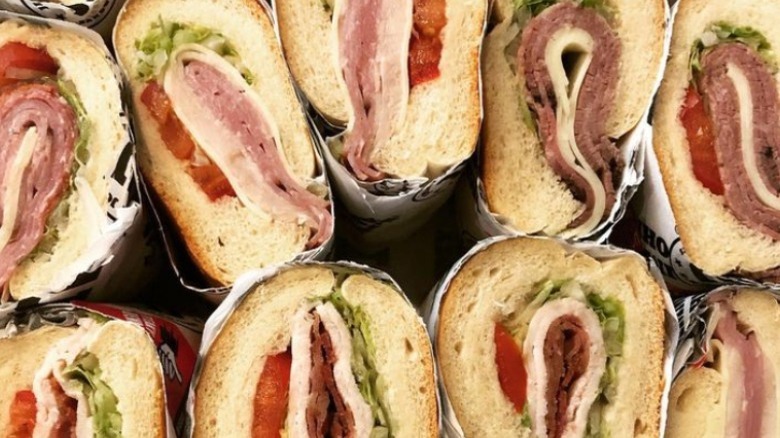 If you like variety, look no further. Jimmy John's and Jersey Mike's both offer an incredible selection of sandwiches that you can customize to your liking.
Jimmy John's separates its menu of more than two dozen sandwiches into sections: favorites, originals, Little Johns, and Plain Slims. Jimmy John's favorites include club sandwiches, like the Billy Club, which contains roast beef, ham, provolone, dijon, lettuce, tomato, and mayo. The Originals menu offers more standard sandwiches like the Turkey Tom: turkey, lettuce, tomato, and mayo. Sounds simple enough. Well, the Plain Slims category strips it down even more to just the basics: only meat, only cheese, or meat and cheese — no condiments here. For those with smaller appetites, stick with the Little Johns, which are the kid-size version of Jimmy John's favorites.
On the other hand, Jersey Mike's serves practically every sub sandwich you can imagine. Its menu is split into cold subs and hot subs. Among its 14 different cold subs, you can find a basic turkey and provolone or spice things up with The Original Italian, which has provolone, ham, prosciuttini, cappacuolo, salami, and pepperoni. A dozen options under hot subs include Mike's Famous Philly with steak, grilled onions, peppers and American cheese and its Big Kahuna Chicken Cheese Steak, which has chicken, grilled onions, peppers, mushrooms, jalapeños, and American cheese. These sandwiches have all the meat, cheeses, and condiments you desire to keep you full and satisfied.
You can only find hot sandwiches at one of these chains
If the idea of a hot sandwich for lunch makes your stomach do a little dance, then only one of these chains will satisfy your craving. Jimmy John's has cold subs but slacks in the hot subs category. On the other hand, Jersey Mike's serves comforting hot subs and cheese steaks with tender meat and melted cheese.
If you want a sub that's grilled fresh for every order, head to Jersey Mike's. The chain offers delicious hot subs such as the Chipotle Cheese Steak made with grilled steak, melted American cheese, peppers, onion, and spicy chipotle mayo. The Buffalo Chicken Cheese Steak is another crowd favorite with Frank's RedHot sauce, lettuce, tomato, white American cheese, and blue cheese dressing.
You can't go wrong with a toasty grilled sub from Jersey Mike's, and everyone can find something they'll love. Jersey Mike's even has vegetarian options like Grilled Portabella Mushroom & Swiss.
One chain provides more gluten-free options
Whether for preference or because of an allergy, eating a gluten-free diet can make it challenging to order and enjoy food at restaurants, especially ones that serve sandwiches. One of our chains makes it easier to eat the foods you love without sacrificing the bread.
Jimmy John's offers an Unwich option, which essentially wraps ingredients in lettuce. But not all gluten-free eaters want to ditch the bread altogether. Jersey Mike's comes in clutch with gluten-free sub rolls for any regular or giant-size sandwich.
One Reddit user raved about their pleasant experience at their local Jersey Mike's store and noted the gluten-free offerings. "They had a special section with clean knives and what not, and it was really well prepared. The bread was good." Other users commented on the thread to further appreciate the chain's commitment to ensuring no cross-contamination between gluten and non-gluten products.
If you're looking for a delicious sandwich that's also gluten-free, Jersey Mike's has you covered.
One focuses on providing more healthy options
We already mentioned Jimmy John's Unwich option, aka a lettuce-wrapped sandwich. While you can order this as a gluten-free option, many also enjoy it as a customizable low-carb version of their favorite sandwiches.
An Unwich contains fewer calories without the bread. It has fresh lettuce, veggies, and all-natural meats. According to Jimmy John's nutrition info, any sandwich as an Unwich contains 10 grams of carbohydrates or less.
Ordering an Unwich provides some of the same delicious components of a sandwich without the added carbs and calories for anyone looking to lose weight or make some healthy swaps in their diet. With many of Jimmy John's Unwich options, you can order two Unwich sandwiches and still consume fewer calories than one traditional sandwich.
Whether you plan to ditch the bread or not during your next visit, it's comforting knowing one of these sandwich chains offers some healthy options.
One company really knows its oil and spices
If you're ordering a cold sub at Jersey Mike's, you'll likely get it Mike's Way unless you request otherwise. Subs prepared Mike's Way contain lettuce, onions, tomatoes, oil, vinegar, and spices. For most people, you either love it or hate it.
If you read through some online forums or social media comments sections, you'll find differing opinions on sandwiches ordered Mike's Way. While some Reddit patrons welcome the oil, vinegar, and spices, others suggest, "I want it Mike's Way, dry," without the liquid but with added pickles and jalapeños.
Jimmy John's has oil and vinegar on hand for its Italian Night Club sandwich, but for the most part it keeps to more traditional condiment offerings like mayo and mustard. We'd love to see the chain add more variety to the menu, which will add extra flavor to the sandwiches. Until then, we'll stick with Jersey Mike's for our oil, vinegar, and spice needs.
When it comes down to it, Jimmy John's is faster
In our experience, one of these chains gets your sandwich to you "freaky fast." Jimmy John's, with its more than 2,700 locations in 43 states, earned the reputation for its "Freaky Fast" creation of sandwiches and delivery, thus the catchy slogan. The slogan isn't only tuneful but also accurate. We have personal memories of Jimmy John's drivers flying across our college campus on their bikes to deliver an order to the library in no time. The chain doesn't mess around in this department.
While the Jimmy John's slogan suggests a speedy sandwich creation, it doesn't guarantee a specific delivery time. Luckily, in our experience, we've never waited even close to 30 minutes. We cannot say the same for many of our other Uber Eats and Door Dash deliveries. Thankfully, all of Jimmy John's sandwiches are served cold, so whether you wait 5 minutes or 25, you won't have to worry about the temperature of your sandwich.
It's easy to find birthday meals at both locations
Many things come with turning another year older, like knowledge, experience, and, most importantly, birthday rewards from your favorite stores and restaurants. Both sandwich chains offer bonuses on your birthday, but does one take the cake (pun intended)?
Enroll in Jimmy John's and Jersey Mike's rewards programs online or through their mobile apps before celebrating another year of getting older for birthday reward consideration.
According to one Reddit fan, Jersey Mike's changed its birthday rewards program in 2021, and now instead of offering a free sandwich on your birthday, it will give you rewards points, but more points are needed to cover the price of a free sandwich. We fact-checked this on the website, which still states, "Join our email club and enjoy a free birthday sub on us each year." To ensure you get your free sub, enroll in their email list and join the rewards program.
Jimmy John's Birthday Surprises reward includes a free sandwich on your birthday. We appreciate this type of reward, as your birthday only falls once a year and deserves some recognition.
Both have rewards programs
We highlighted the birthday component of both chains' rewards programs, but members of these programs also benefit on other days of the year.
Jimmy John's suggests members of its Freaky Fast Rewards program receive special surprises, bonus challenges, faster checkouts, the option to pay by phone, and sneak peeks on new menu items before the general public. You can redeem your rewards on the phone, in the restaurant, or on your mobile app.
At Jersey Mike's, you'll earn points with every purchase, so each order gets you closer to a reward. With its system, you can opt-in to get notified of double Shore Points days, special promotions, and offers in your area to help you reach your reward even faster.
Both chains offer similar rewards systems, so if you eat at these restaurants, we found no reason not to join Jimmy John's and Jersey Mike's programs.
Both sandwich chains give back to charity
Giving feels better than receiving, so we feel it's equally, if not more, important to highlight the ways these chains give back to others. Both Jimmy John's and Jersey Mike's give back to charity, making the question of which is better more difficult to answer.
The Jimmy John's Foundation strives to empower the next generation to "dream boldly and thrive." The sandwich chain is able to successfully promote this mission through its partnership with the Boys & Girls Clubs of America. Jimmy John's supports a Workforce Readiness Initiative, which helps youth develop skills and experiences to prepare them for the real world.
Jersey Mike's suggests its culture of giving is as much "a part of our heritage as oil and vinegar." We love the chain's strong desire to make a difference past just making a good-tasting sub sandwich. For example, during the month of March, Jersey Mike's invites customers to donate to a local charity partner of their choice. Getting everyone involved makes giving more personal and special.
Each chain offers merchandise aside from sandwiches
Sandwiches aside, do you love repping your favorite chains? If you answered yes, both Jimmy John's and Jersey Mike's sell merchandise in addition to food offerings. Some of the options may surprise you.
First, we dove into Jimmy John's online shop to see what it offers. Aside from shirts, sweatshirts, and even dog bandanas, you can find Jimmy John's branded playing cards and a pickle ornament for your Christmas tree. If you really like pickles, JJ's also sells branded socks and bucket hats covered in its signature pickle wedge.
Jersey Mike's takes it a step further and offers a wide variety of merchandise aside from clothing. On its online store, you can find shirts, sweatshirts, and even beanies with Jersey Mike's logo on them. In addition, you can find water bottles, camping equipment, coolers, skateboards, and more.
We don't feel the need to buy anything branded with a chain logo, but if you feel compelled, Jersey Mike's definitely wins in the variety department.
Each place offers catering for parties
Feeding a large group of people is no easy feat. Thankfully, both Jimmy John's and Jersey Mike's offer sandwich catering services to keep your crew full and satisfied. Both chains offer customizable options based on the event size and type.
Jimmy John's can serve up Party Boxes, Box Lunches, and Mini Jimmys for your next gathering. For any catering order, you get to choose from the 8-inch favorites, originals, or even Unwich sandwiches. Chips, pickles, and cookies are encouraged, but again Jimmy John's lets you be the conductor of this catering train. The variety continues on Jersey Mike's catering menu. If you choose this chain, you can expect a variety of subs, salads, and freshly baked cookies. With the subs, you can order a box, individually bagged sandwiches, or boxed lunches to simplify lunch meetings, outdoor gatherings, or other events.
You can't go wrong with either catering option.
Both chains offer many U.S. locations
Both chains offer more than 2,000 locations nationwide, so you'll never be far from a delicious sandwich or sub. You'll have to check out the online store locators to find the closest shop to you; however, we have a feeling you'll find one not far from home. If you can't find a location near you, keep these chains in mind if you're ever on a road trip and craving a savory sub sandwich.
Jimmy John's promotes its more than 2,700 locations in 43 states. Two of those missing states, Rhode Island and Hawaii, contain plenty of Jersey Mike's locations to fill the void.
With so many locations, what more could you ask for? Jersey Mike's answers that question with a highlight on its website that as of December 2022 it has 2,399 locations nationwide with 262 more coming soon. Finding a Jersey Mike's will be easier than ever in the next few years.
One chain provides more variety of sides and desserts.
Ordering a delicious sandwich is one thing, but a meal is only complete with sides. Thankfully, both chains offer chips and desserts to complement whatever sandwich catches your eye. But which chain does it better? Few food pairings satisfy a salty craving, like a bag of chips with your favorite sub. Jimmy John's chips come in Regular, BBQ, Jalapeno, Salt & Vinegar, or Thinny Chips (via Jimmy John's). On the other hand, Jersey Mike's only advertises Lays on its website, but we noticed Cheetos, Doritos, Miss Vickie's, and a few other bags near the register at our local store. Regarding variety, Jersey Mike's comes out on top, but we prefer the Jimmy John's brand taste-wise.
Once you've secured something salty, you must also buy something sweet. Jimmy John's offers two flavors of cookies, Oatmeal Raisin and Chocolate Chip, both of which we found to be delicious but not overly fresh. Jimmy John's does not make its cookies in-house; each cookie comes individually wrapped to preserve freshness. On the other hand, Jersey Mike's serves freshly baked chocolate chip cookies and brownies. There are also gluten-free cookies available. One Jersey Mike's employee on Reddit describes the gluten-free cookies (which come from Udi's) as "soooo soft and yummy." We would pick a Jersey Mike's cookie over Jimmy John's any day of the week.
So, which one is better?
Jimmy John's and Jersey Mike's both have a lot to offer as far as sandwich joints go. Both sell a variety of sandwiches and subs and offer rewards programs and birthday surprises as well as branded merchandise. In addition, both chains donate to charity and will provide the food you need to cater your next gathering. With so many incredible offerings, it can be difficult to stand out among the competition.
Jersey Mike's offers its famous oil, vinegar and spices as well as the option for a hot sub sandwich. You won't find a cheesesteak at Jimmy John's.
The race was tight, but in the end, Jimmy John's pulled ahead for us due to its consistency, fresh ingredients, and "freaky fast" delivery. We love knowing that although sandwiches are being made quickly, Jimmy John's doesn't sacrifice care and attention for each order. If we want a delicious sandwich fast, we're heading to Jimmy John's.